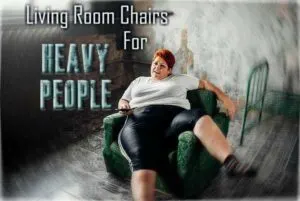 Below you can find suitable living room chairs for heavy people from 300 lbs weight capacity up to people that weigh 500 pounds. These options have been selected based on their heavy-duty construction, oversized seat, design and the ability to hold a plus size heavy person.
It's important to understand that not all living room chairs on the market have been weight tested, so as a big guy or girl, it can be like buying blindfolded.
For the interest of your safety and to not void the warranty of the chair, I always recommend you buy products with a specified weight capacity.
This will save you headaches further down the line should the chair break, provided you weigh less than the specified weight rating. Plus, knowing that the chair has been tested to hold 500 lbs, 600 lb, etc will give you peace of mind when trying to relax in the chair.
Be Sure To Check Out Our Oversize Armchair Guide Also!
Compare Heavy Duty Living Room Chairs
330 Lb Capacity Lounge Room Chair

This living room chair is a great choice for plus size people. It has a 330 lb weight capacity and a nice tall backrest The backrest measure 23 inches so you're able to really stretch out and put your body into this chair.
Its a fairly wide chair as well with the overall width being 31.5 inches wide, you get a lot of room for your backside to snuggle into in. There's a reason it's called the lazy chair because it's so comfortable to lay back in that you really don't feel like doing anything else.
The lounge room chair is one of the most important chairs in the house as it's the chair where you can just sit and relax and unwind. This is something that Giantex who is responsible for this excellent lounge room chair understands.
Heavy Duty Iron Frame
Some smart design choices were made with this chair to make it very durable and comfortable. Making the frame of the chair out of iron gives it that excellent durability which you might think could make it uncomfortable. That's not the case thanks to the really thick sponge filling of the chair that stops this from happening.
To improve the comfort even further they included a footrest that allows for full relaxation on this chair. When you add the different positions you can put this chair in and add the footrest you get one of the more comfortable experiences a chair can offer.
Something that is overlooked with a lot of chairs is how the feet can actually damage certain types of floors. Giantex put some protective footpads on the wooden legs to help with preventing this which will help with protecting your floors.
Available In Multiple Colors
The upholstery on this sofa is made of soft polyester fabric which feels great against the skin. The padded PP Cotton makes you never want to get off this cloud. Cleaning it isn't to difficult as well which is a nice touch for when those accidents do happen. A small thing but something that I really like.
---
Strong Living Room Chair For 300 LB Person

Giantex is getting a reputation for making comfortable and durable lounge room chairs which they continue this trend with this impressive chair. This comfortable and stylish chair is made even better by the impressive weight capacity of 330 lbs, which will give you peace of mind when sitting on it as a 300-pound person.
Having a high-density foam filling is a smart design choice as it helps improve the heavy-duty nature of this chair. The high-density foam holds its shape a lot better than most other types of filling while still being nice and soft.
As a bigger person, foam needs to be high density to correctly support the heavier weight. Otherwise, the seat can flatten out like a pancake and offer no support. This high-density padding makes relaxing on this chair for long periods much easier to do.
Being made out of a hardwood frame is important in adding that extra level of durability that you want in your chairs. This works really well with the strong wooden legs this chair also has that makes it one of the more heavy-duty chairs on the market.
Extra Wide Seat Living Room Chair
The size of the seat is a good size with it being 29-inches wide and 20.5-inches deep. The width of a chair can be an issue for some of the wider people out there who need the extra space. This chair doesn't have armrests which do remove some of this worry in my opinion.
But having an extra-wide seat of 29 inches is incredible in itself, not too many single living room chairs have such a wide seat. The fact there's no arms means the heavy person is not limited in space to spread out.
Not only is the fabric stylish, but it's also really easy to clean which can make one of the most annoying parts of a chair easy. Cleaning is a very simple process of just using a dry cloth to wipe it down which is something that I really like.
---
Heavy Duty Living Room Chairs 300 Lbs

If you're looking for something that has the classic antique look for your new living room chair then this model by Apeaka is a good option. On style alone, this is one of the best living room chairs on the market which is made better by coming in 3 different colors.
For The Big And Tall People
When it comes to being big and tall, this living room chair ticks all the boxes. To start with, it has a 300-pound weight capacity, making it suitable for most overweight people. As there are no arms, you're not limited by how wide your backside is when sitting down. Not that it matters a great deal as this chair is an impressive 33 inches wide.
If you're big and tall, you will appreciate the tall backrest area of the chair. Plus the curved nature of the headrest allows you to comfortably position the back of your neck on the roll. The seat height is not all that high, unfortunately, so if you can find yourself sitting at about 15 inches off the ground too hard, then perhaps this is not the living room chair for you.
When you first sit on this chair you will think that it's a little stiff since the filling isn't very thick. It does take a little bit of breaking in to get the best value of out this chair but once you do you'll have a very comfortable and stylish living room chair.
Putting the chair together is a very simple thing to do so there is nothing to worry about if you're not the most confident in your capabilities. Assembly is as simple as screwing the legs in so you don't have to worry about there being anything difficult.
Heavy Duty Lounge Room Chair Made From Sold Wood
It's an extremely well-made chair made out of a solid wood that adds the durability of this chair. This works really well with the dark finished legs that improve upon not just the durability but also adds to the already stylish chair in my opinion.
Moving this chair is very easy to do as it's very lightweight which does make positioning it very easy to do. The 32.4lbs weight also means that almost anyone can move it so it can make a great addition if you're not capable of carrying heavy objects.
The linen fabric is surprisingly breathable which does make it good for sitting for extended periods of time. This makes it really good for those who require long breaks and need to sit down.
---
High Weight Capacity Living Room Chairs 330 Lb
There is a lot to like about this living room chair by HomCom that will allow you to sit in comfort and style. The stylish high back design of this living room chair gives the back more support than your standard chair which is normally much lower than this model.
The seat of this chair is a good size with a good amount of thickness to the seat with it being 8-inches thick. This level of foam padding is made even better by how the seat is 27.75-inches deepg and 26.5-inches wide. I really like this level of space as it gives your legs plenty of room when they're together.
Something that is often overlooked is the seams of a living room chair even tho they're important. The seams on this chair are done in a welting style which is durable which will give it a longer lifespan. This was a nice touch by HomCom that make this living room chair that much easier to recommend.
Since this is made with the classic French wingback design does mean the armrests are very small and don't go the length of the chair. But I like this design as it doesn't make your hips and legs feel cramped in the seat regardless of your size.
It's still very comfortable to sit on but if you're looking for something with armrests you might be better suited with one of the other models on this list.
There is a lot to like about this chair and will make a great addition to your living room. The durability, comfort, style, and really impressive weight capacity of 330 pounds make it an easy living room chair to recommend, especially if you weigh close to 300 lb.
---
Extra Wide Living Room Chairs 500 lb Capacity

The first thing you'll notice about this living room chair by Rosevera is just how wide it is compared to other chairs. This is one of the best features of this chair is how the chair is 33-inches wide and the seat itself is 30-inches wide. This makes it excellent for people who need the extra width but don't have a lot of space to put the chair.
It's not easy to find extra wide living room chairs with such a high weight capacity, so the fact Rosevera has managed to pull this off is something special.
Everything about this living room chair was designed to be heavy-duty and it really shows with the impressive 500lbs weight capacity. It has the ability to handle this weight since it has a strong hardwood frame which is one of the key features for a heavy-duty piece of furniture.
When it comes to comfort this living room chair is really high thanks to the firm padding. The firm padding will take a little bit to break in but once you do break it in the comfort is excellent. It also doesn't lose its shape if you sit on it for long periods of time.
There are two options for color which does allow you to find something that will suit your room. The two options are beige and grey which will cover a wide variety of different room colors so there is a good chance it will suit your needs.
The depth of the seat is 23-inches of the seat itself is fairly decent but might be a little long for someone shorter. But for your average height person and the big and tall people, it won't be too much of an issue in my opinion.
---
Best Oversized Living Room Chair Plus Size

Safavieh Mercer are the market when it comes to high-quality and extremely durable furniture in my opinion. While it may not have the largest weight capacity on this list it still has a 275 lb capacity, so it can still handle some heavier individuals who want the more modern look.
One of the issues that can come with living room chairs is that the seat itself is lower to the ground which can make it hard to get in and out of. This is one of the reasons I really like this chair since the height of the seat is 21.5-inches. This isn't too high or too low in my opinion and getting out of it is easy.
The frame of this chair is made out of hardwood and made with mortise-and-tenon joins which makes it extremely durable. The reason this is the case is that mortise-and-tenon joins are considered one of the strongest joints you can get in woodworking.
The base of the chair has a spring system in it which does make it more comfortable since it's not just wood. This adds another level of comfort that can be lacking in some living room chairs. This makes sitting in this chair for long periods of time much more comfortable and easier to do.
---
Alternative Lounge Room Chairs For Heavy People
What To Consider When Buying A Heavy Duty Living Room Chair
As a large person, choosing everyday products is a challenge. There are many things to consider in order for the product to be safe and effective for our size.
Most people will base their buying decision on quality and style, especially chairs for the lounge room. This is a nice freedom to have as you have 1000's of chairs to choose from. But as someone that weighs more than 250 pounds, the options become smaller and smaller the heavier you are.
So choosing a living room chair for a heavy person is not easy. But to help you with your buying decision, these are the critical component to consider.
Weight Capacities
Not all chairs will state their weight capacity and many will indeed not have been tested to hold 600 lbs or 700 lbs etc. So it can be a bit of a gamble when buying a chair that does not clarify its weight limit. Ideally, you want to find a chair that has a specified number so you can feel assured that you're buying a chair that can hold your body weight.
Seat Size
The next important component to consider is the seat size, it can make or break the chair for a big man. If the seat is too narrow, and it has arms, then you're simply not going to fit. So you need to ensure the width between the arms is greater than your hips.
If there are no arms on the chair, sure you sacrifice a little comfort, but you greater wiggle room on the seat when you have wider hips. Having no arms on the chair is ideal if you are obese to the point where you won't fit into a chair like the above with a seat size of 30 inches wide.
Heavy Duty Construction
The frame of the living room chair will determine the weight capacity of the chair in most cases. Solid heavy-duty hardwood is ideal for heavy people. This is because hardwood won't bend under heavy loads as steel may do. However, if the steel has a low gauge rating, it is reinforced enough to be extra strong and intended to hold heavy weights. Finding out what the frame of the living room chair is made from is critical for the heavy people.