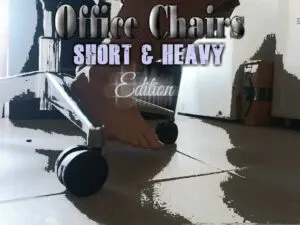 When it comes to finding office chairs for short heavy people, the task can be quite difficult. Its far easier to buy an office chair when you are of average height and are not classified as overweight.
But when you're shorter than most yet bigger than many the challenge is ten times harder. Sure there are many options available for the big and tall, but once you start looking for chairs when you're below the average height of 5'9″ for men and 5'4″ for women, the options become more scarce.
That's not to say that there are no office chairs for short people, because there are many to choose from. But finding ones suitable to someone over 250 pounds is when the challenge really begins. There's far more to consider as a short heavy person compared to a taller heavier person.
The Short Heavy Persons Guide
There are numerous reasons which make buying a computer chair for a heavier short person quite difficult. While there is no one perfect chair that will suit every person living under the national average height, the below guide will help you narrow down the few options you have. Following this guide will be the appropriate office chairs regarding height and weight capacity.
(SKIP GUIDE> View Chairs Now)
Weight Capacity
Most office chairs these days have a weight capacity of 200 to 220 pounds. For a heavy person this is not enough and will eventually cause the chair to buckle under the pressure. While there are many high weight capacity office chairs, many of them are aimed at taller people.
Seat Height
For whatever reason, most people assume that a big person must be tall. So many of the high weight limit chairs are aimed at taller folks. Which for a short person is simply not compatible.
People around or over 6 foot tall have many options. Someone that is 6 foot can comfortably sit in a chair that is 23 inches tall. However, a short person will be left dangling their feet, which is not the most ergonomic position. So for someone much shorter at around 5 foot, the maximum height for the seat should be between 15 inches and 18 inches.
Seat Depth
This may not apply to all short people as some folks have longer legs than someone thee same height. But for the most part, a short person needs a seat depth that is much shorter. Otherwise the knees wont be able to bend down to a ergonomic 90°. Anything above 20 inches is going to be too deep for a short person.
Seat Width & Arms
Seat width, or length, is crucial for a bigger person. A seat that is too small is simply going to be uncomfortable. Its extremely difficult to find the perfect seat size when you're shorter and wider than average size. Most seats are very square in shape which means we either sacrifice width or depth in the process. Both of which are important for a short heavy person.
This is when flip up arms or no arm chairs play a vital role. If the seat size is the right depth, but the seat isn't wide enough for you body to fit between the arms, perhaps a arm-less chair is a better choice. Flip up or removable arms are another good option.
The Office Chairs For Short Big People
Below you can find an assortment of office chairs that have varying weight capacities from 250 pounds and all have lower seat heights than average. The order will go from highest weight capacity down to 250 pounds.
500 Lbs Short Person Office Chair

The Safco Vue office chair is often misunderstood as a big and tall chair where in reality its more suited to shorter and bigger people. While there's no confusion over the 500 pound weight capacity, the confusion starts with the lack of height suitable for those over 6 foot.
Having no arms and the capacity to hold up to 500 pounds makes this Safco Vue ideal for obese people. The 20.5 inch seat is wide enough for very big people to comfortably sit without restrictions of the arms.
However the depth of the seat will be pushing the limit for some short people as it is also 20″. Had this office chair been closer to 18 inches deep, it would have been the perfect big and short chair. But finding office chairs with 500 pound capacities that sit this low with a shorter seat is near on impossible.
Is It Suitable For Shorter People?
In terms of height, the maximum the very tip of the chair raises to is just 37 inches. So it is certainly not for people over 6 foot tall as it won't even support the top half of your back. Which is good news for short people.
The seat height mentioned on the Safco website states 17.5″. Which is not too bad for a short person considering the big and tall chairs go up to 28 inches tall.
So while its not the perfect short and heavy person office chair for everyone, its the best option I've found with such a high weight capacity. The minimum height is decent for short people while the fact it has no arms, 500 lbs capacity and a 20.5″ wide seat makes it suitable for heavier folks.
Safco Vue Mesh Padded Office Chair
330 Lbs Capacity With Minimum Seat Height 15.7″

This office chair by Ticova is certainly designed for shorter people with its very low sitting seat at 15.7″. The maximum the seat raises to is just 20.5″, which is too low even for 6 foot people.
The seat size is pretty much the same as the above Safco Vue, 20.5″ x 20″. Again a couple inches less in the front would have been ideal.
However this chair does come with arms which are adjustable that many chairs in this price tag do not have, but they remain fixed in place. So its essential that you can fit into a 20 inch wide seat before buying this chair.
The weight capacity is a nice sturdy 330 pounds which does leave quite a big gap between the above 500 pound and this 330 pound. But there really was not much available in the 400 lbs category with a documented low seat height.
Besides this Wahson office chair on amazon here which has a low seat of 17 inches, but the documentation was confusing as to whether it is a 400 pound capacity or 300 pound.
But with this 15.7″ high office chair being suitable for people 5 foot and a decent weight capacity of 330 pounds, it makes sense to at least give this chair a thought. Just be sure that the distance between the arms is enough for you to fit in between.
Ticova 15.7" Min Seat 330 Lbs Office Chair
Short Stumpy 300-330 Lbs Office Chairs
When you weight around the 300 pound mark there are more opportunities for a shorter computer chair. Instead of talking about all four of them, you can check them out below by clicking on the links which take you to the description page on amazon.
All four of these chairs have between 300 and 330 pound weight capacities and have a minimum seat height in the 17 inch range.
Short Computer Chair For Plus Size Persons

This next chair has a more modern approach to office chairs with its style, colors and design. With the 280 pound weight capacity and its shorter 18.5″ depth the two tone NEO chair a great option for plus size people.
While there are built in arms, they are not your traditional office chair arms which can fully restrict a wider person from fitting on the seat. The seat measures between the arms 19.29″, which isn't too bad considering the lower weight capacity of 280 pounds.
Complementing the shorter seat is the low sitting height of just 16.53″ which makes it a great height for short office workers.
The design of this chair is something special. The backrest has a nice natural curve to help align your spine correctly. While it looks amazing, it actually serves a purpose. Overall the chair looks amazing anyway, but its not all about looks as we all must know by now.
The total height of the NEO is just 33.85 and extends to maximum of 37 inches just like the Safco Vue. Certainly not a chair for taller folks, but short and plus size are welcome. Also available in a few bright and colorful two toned options including pink for the Women.
280 Lbs Min Height 16.53 Two Toned NEO Chair
Short Overweight Office Chair (250 Lbs)

The last option if you are overweight yet quite short is this awesome chair by OFM. This chair has all the short person requirements and has a 250 pound weight capacity. Not a huge capacity but strong enough for people that have put on a few pounds over the festive season and want something guaranteed to hold their weight.
For The Shorter Person
The seat height on the OFM goes all the way down to 16.5″ according to the OFM website. Which is much lower than your standard office chair. So it gets a pass there.
But it also has a nice size seat for the shorter legs. The depth on this chair is just 16.5″ with a width of 18.25″. So it has the width for larger people while not restricting the legs from reaching the floor.
The perfect chair for a shorter individual but its just a shame they didn't reinforce this chair to hold closer to 400 or 500 pounds. I also like that it has no arms to restrict our larger mid regions and that it is a mesh padded chair. Keeps you cooler in the warmer months with extra air flowing through all those tiny holes.
Swivel Mesh Task Chair OFM
Conclusion
So as you can see, there's a few options available for the heavier and shorter person. Not a massive selection but at least there are some. If you have come across any other suitable office chair for short heavy people, please feel free to leave your recommendations in the comments box below for other readers to benefit from.