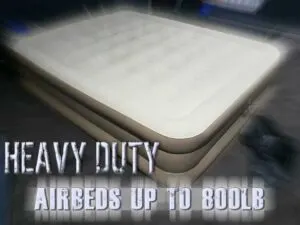 When you're on the search to buy the best heavy-duty air mattress, you should keep a few things in mind before purchasing the first thing you see.
Air mattresses for heavy people certainly are a case of one size does not fit all. But there's more than just the plus size you need to consider.
Other aspects come into play when you are placing heavy loads on top of an inflated device. Such as seam stitching quality, material thickness, internal support coil construction, and comfort.
To help make life a little easier for us big guys, we have narrowed down to weight capacity for the temporary and camping air mattresses for heavy people.
Do note that some air mattresses are rated to 300, 500 to 800 lbs. But do consider if this is a twin size or queen and if you're going to be using this mattress for 1 or 2 people. First, we will have a look at some of the important features I look for in an air mattress.
Compare The Best Heavy Duty Air Mattresses
What I Look For In An Air Mattress
The height of the air mattress from the ground is a critical factor I consider. This is because if the mattress is too low to the ground it makes it that much harder to get in and off the mattress.
The thickness of the mattress is also important for buying an air mattress for the overweight or obese persons.
Heavy-Duty Label: It's got to be made from the highest quality materials built to withstand our heavy body weights.
The size of the air mattress is very important if you plan to have 2 plus size people sleeping on it. In particular, make sure you check the width of the air mattress so you not constantly rolling off it. Twin size, Queen size or King size, etc.
A built-in pump is always a winner for me if its intended use is around the home. Just for the pure convenience of it. But this is less important for camping air mattresses.
Many people find air beds to be better for bad backs and at times have used air beds as a replacement for their normal mattresses for heavy people.
*Recently Added 800-pound Capacity Air Mattresses
Our Recommendation For Best Camping Air Mattress For Heavy People
Coleman Double High Queen Air Bed

While many of the heavy-duty air mattresses here can be used for camping, the Coleman Queen Size Air Bed is my personal favorite. It ticks all the above requirements. Especially for height from the ground.
This enormous air bed sits a nice 18 inches from the floor when pumped up. This creates a more comfortable night's sleep and assists us bigger guys to get in and out of better much easier.
The air mattress itself is waterproof and to me, that's a no brainer for when it comes to camping. The soft suede topping is very comfortable. You will not really need an additional mattress topper like on some other air beds. While there's no official weight rating, it's a good idea to read reviews to get a grasp. Other similar Coleman air beds hold 600 lbs.
The integrated pump works amazingly. It plugs in and pumps up the bed in just mere minutes, deflating is just as easy. The air bed should stay firm all through the night and hopefully won't leave you laying flat on the hard ground.
Coleman Double High Air Bed - Built In Pump
500 Lbs Permanent Air Mattress
Dual Comfort Control Pumps By Serta

If you're looking for an air mattress up to 500-pound weight capacity that you don't need to continuously pump air into, then you should check out the Raised Air Mattress by Serta.
This air mattress boasts 2 air pumps for complete control over your comfort level. For customization of comfort you simply just select whether you want a plush, firm or medium settings.
The 'Never Flat' pump works for you to ensure that the air mattress stays at your desired comfort level without going flat. Excellent feature but one that requires power to work.
So not ideal for non powered camping sites. When the Never Flat pump detects any air loss in the mattress it automatically tops up the mattress to the settings you entered.
The brand behind this air mattress is Serta, who is famous for providing plus sized office chairs for the overweight community. I think Serta have delivered again in terms of quality and affordability with this plus size air mattress.
I consider this air mattress a good choice for people who suffer from bad backs as well. One can suffer from a bad back and decide to try out an air mattress as temporary relief. I know I have done this before, but would suggest seeking medical advice for long term sleeping.
But because of the Never Flat technology, I find it's a really good bed for back pain sufferers. Knowing that the mattress will be set to your desired level of comfort is huge for me.
I think a lot of comfort has to do with the ability to control the comfort levels from the dual pumps. Without deflating during the night it helps keep the ergonomic levels at an acceptable level.
The pump sounds like a gentle refrigerator noise while it's maintaining air level stages. So you shouldn't even notice it unless you're a light sleeper. I would definitely consider this mattress as my (Powered) camping sleep solution as it ticks all my required boxes.
Serta Air Mattress 500 Lbs Capacity
Best Support Air Mattress Up To 500 Pounds
SoundAsleep's Dream Series – 500 Pound Queen Size Air Bed

SoundAsleep present this magnificent Dream Series 500 lbs capacity air mattress which has many of the bells and whistles one may come to expect.
I found it to be one very high-quality product. It looks as tho every part of this air bed is made from tough thick and quality materials. I was very impressed when I first laid down on this mattress.
It sits at 19″ from ground level which made getting in very easy (The highest from ground level is 22″ in my experience). The soft padding instantly made me feel like "yes, this is the one".
The air mattress by SoundAsleep is one of the leaders in this field in regards to innovating the simple air mattress. The comfort coil technology is what provides an amazing level of comfort. Its basically 40 air coils spread evenly inside the bed to create the evenly comfortable platform.
But the uniqueness comes from these 40 air coils being vertical support beams rather than horizontal channels. Horizontal beams tend to warp out of shape and create a big air bubble in the middle of the bed. But with these vertical channels, they act like soft posts supporting your entire body evenly.
As for setting this SoundAsleep mattress up, it's nothing unusual. Pretty basic and very fast. The pump adds exceptional value to this product. On your first night's sleep and possibly the first few night's sleep, you may notice that the mattress has deflated just a little bit.
Don't worry, the rep's from SoundAsleep have explained whats happening and it's quite normal. Basically just the PVC stretching as all plastics do. Once you deflate it and pump it up again. The air bed should be good to go.
SoundAsleep 500 Lbs Capacity Air Bed
Guest Air Beds For Heavy People
The Insta-Bed Heavy Duty Air Bed

The Insta-Bed has the highest height from the ground of all the heavy-duty air mattresses discussed here. It raises to a very helpful 22 inches. The gripping bottom of the air bed works extremely well, so well I can see this being used as a full time bed.
However, if you need a bed set up in a hurry for unexpected guests, this Insta-Bed may do the trick. Very simple and fast to pump up with the built-in pump. I believe the Insta-Bed is one of those beds likely to impress even the harshest of sleep critics.
What is fascinating about this style of air mattress is its unique chamber. It's a dual chamber that prevents air movement inside the mattress which then forms a stronger stable outer edge. This helps for easily getting into and out of the air bed. So when you press on the edge of the bed, you shouldn't slip off. I've done this on many normal mattresses and many other air beds as I am sure you have too.
Overall I find The Insta-Bed to be a really good choice for a guest bed or temporary travel air bed because of its portability and supreme comfort. The weight capacity of 500 Lbs is very appealing to us bigger Guys and seals the deal for me.
Insta-Bed Air Bed
Insta-Bed Air Bed Video Review
Watch this video review about how to set up the Insta-Bed with ease.
The Best Air Bed For Big And Tall Persons
The Quick Luxe Queen Size Air Bed – 600 Lbs Capacity
The Quick Luxe seems to sell out rather fast, so please check availability on amazon here.
The thing with air beds and especially when being frequently used by big Men or Women is that they can easily get damaged. A lot of other air mattresses don't come with a great length of warranty for this reason. However the Quick Luxe defies the odds and usually offers a 6-month replacement warranty which is pretty cool.
The Quick Luxe is another quality product catering to the XL market. This air bed can hold up to 600 Pounds. It also sits 20 inches from ground level which isn't too bad to get in and out from. Unlike some cheaper beds, I have found this bed has less sag in the middle and keeps a firm yet comfortable surface for a good nights sleep.
If you're planning to set this bed up for an extended period, I would say that the Quick Luxe may last 2 weeks before needing to put more air in it. Which is a pretty long time to be camping, especially with the kids.
However with the built-in air pump, it's super quick and easy to inflate and pump up. So if you can spare a few minutes every day, this air bed makes a good guest bed as it can be stored away so quickly. I couldn't find too much negative about the Quick Luxe, even the support staff were amazing.
Which I know is not all that common these days. So if you're after a heavy duty and reliable air bed catering to high weight capacities, then I suggest you consider the Quick Luxe as your next buying option.
Quick Luxe Air Bed
800 Pound Capacity Air Mattress By Coleman

This was a request by a reader to source out a 800 lbs weight capacity airbed. The only applicable air mattress I could find that holds 800 pounds is the Coleman All Terrain Plus Double High.
Unfortunately I am not familiar with this mattress, but it does look to be rather strong going by the product description. I urge you to do your due diligence on this air bed if you are needing a Queen air bed at this high weight rating.
800 Lb Capacity Single High Airbed

Being a Coleman product means that this air mattress has a lot to live up to since Coleman is responsible for some excellent camping products which makes them the market leader in my opinion. This air mattress does a good job of living up to the standard put forth by their other products.
There is a good amount of room on this air mattress that accommodates the 800lbs weight capacity really well. With it measuring 73-inches long by 38-inches wide by 8-inches high you'll have a lot of room for you bigger folks out there allowing you to be more comfortable.
As you can tell from the measurements, this 800 pound capacity airbed is designed for a single person. So if you're quite a large person, this is the bed to choose from. It has a huge capacity and is wide enough for just one. The only thing I dislike is that it only sits 8 inches off the ground. While this is fairly normal, I find it hard to get down this low at times.
Designed For Comfort
In my opinion, Coleman has knocked it out of the park with this air mattress and the clever design choices behind it. The excellent coil construction was designed to help with the bulging you can get on other standard air mattresses making this really comfortable.
The comfort of this air mattress is taken even further thanks to the double lock valve that helps keep the air in. This helps with preventing the usual deflation you get with an air mattress which does add to the comfort of this mattress in my opinion.
One Of The Best Heavy Duty Airbeds
One of the biggest issues with an air mattress is that they are susceptible to puncture which can put people off. Coleman has decreased the likelihood of this air mattress getting a puncture thanks to the guard bonded fabric that reduces punctures by 47%.
While no air mattress is indestructible, having reinforcements in place to resists punctures is a highly valued feature. This can give you peace of mind when taking it camping or even just using around the home.
A Small Downside
While it isn't a dealbreaker it's a strange design choice from Coleman, which is that they don't include a pump to inflate the air mattress. This might not be a problem for a lot of people but I would have preferred if they had included one with it for convenience of the folks that don't go camping on a regular basis. It just takes the hassle out of buying a pump on top of an air mattress.
Coleman All-Terrain Single High Airbed
Air Mattress That Holds 800 Lbs

If you want a comfortable night's sleep when going camping then this incredible air mattress from Englander is a great option. Just from a quick glance, you can get an idea of the incredible design and effort that went into this air mattress and will make everyone jealous during your next camping trip.
California King Built-In Pump Air Mattress
Being a California king-sized air mattress does mean you're going to have plenty of space on this mattress when you're sleeping, especially as a big person. You might think with this being such a large mattress that it would weigh a lot. Somehow Englander has managed to keep the weight down to just 12.8lbs making it easy to carry in its included carry bag.
It should go without saying just how comfortable this air mattress is. The microfiber fabric on top is soft which only adds to the comfort. But, if you're looking for something that will give you the feeling of being at home in your bed, then this air mattress is worth your consideration.
Solves A Big Issue For Bigger People When Camping
Something that is rarely talked about when it comes to air mattresses and camping is how low to the ground they are making them difficult to get on and off of. This air mattress is 20-inches high making it far easy to get on and off of which is really useful for not only bigger people but also older people.
Something To Consider
It isn't all positives for this air mattress sadly, with it having a fairly big issue for when you want to go camping with it. The built-in pump requires power for it to work so you either need to be at a powered campsite or have a generator. If you have either of these things then you'll have a great air mattress otherwise I'd recommend a different model.
Microfiber California King Air Mattress 800 LB
Best Air Mattress For Heavy Person 700 Lbs
Weight capacity For Queen & King 750 LB

There is a lot to like about this air mattress from Fox Air Beds who have made a comfortable and durable air mattress that comes in a variety of different sizes. If you look after this air mattress you'll have an excellent mattress for years to come.
If you've ever slept on an air mattress before you will know that some have an issue where the sides will sag making it difficult to stay on it. This air mattress has side chambers that help with preventing this that increases the overall comfort.
This feature offers great edge support for the heavy person. As we tend to sit around the edges of the bed while getting dressed, undressed, putting shoes on, etc, this edge support is a crucial feature. With the bed being able to handle up to 750 lb, it's a great feature to have.
Heavy Duty Support
Something that I really like about this air mattress is that it offers a lot of back support when you're laying on it. This is mostly thanks to the I-beam coil system they used for the insides of the air mattress.
While the I-beam coil system is a big part of the reason this bed has a lot of support, it's not the only reason. They went with a thicker vinyl that is more durable and holds its shape better that further increases the support you will get on this air mattress.
For Both Camping And At Home Use
The biggest issue you can get with these larger air mattresses is that they have a built-in pump that requires a power outlet. While this air mattress has this as well, it also includes an additional valve that will allow you to fill it up with an external pump solving this issue that plagues so many air beds.
Fox Air Beds really knew what they were doing when they designed this air mattress. Something that can be an issue is the size of the bed isn't true, meaning that while it might say it's a king but your king sheets don't fit it. That isn't the case here as this bed is true to size so your sheets will fit it.
Inflatable Bed by Fox Airbeds 750 LB
Best California King Air Mattress
600 Lbs Capacity

Want to sleep like a king? Then going with this King Koil is a great way in helping with that goal. Comfort is the name of the game with this air mattress with it being one of the most comfortable air mattresses on the market in my opinion.
To help with increasing the comfort King Koil went with a thick waterproof comfort top. This extra level of comfort will help you get a good night's sleep making your next camping trip that much enjoyable.
Sinking on an air bed is one of the most common issues you will come across with them. While this air bed still does leak it does hold the air in better thanks to the excellent plug. It's a nice feeling waking up in the morning and not being on the floor from deflation!
High-Quality Design
Some of the most important things of an air mattress are on the inside where you can't see them. Such as the excellent coil system inside of this air mattress that helps keep your spine aligned when you're sleeping. Having this support is good for those who do get back pain.
I really like how they made the bottom of this air bed have a non-slip bottom that stops it from moving around. I'd still recommend having something underneath it to protect the bed, it's a nice touch by King Koil in my opinion.
Same Downsides As Several Others
Requiring a power outlet or a generator to inflate your air mattress can be an issue for a lot of people but it's important to know if you need it. Sadly that is the case with this air mattress which does take it from a must-own to if it suits your needs.
I will say if you have these capabilities then this air mattress is top of the pack. Considering a California King air mattress with a built-in pump is considerably hard to find in general, the fact it has a high weight capacity and is suitable for heavy people is just the icing on top.
King Koil California King Luxury Raised Air Mattress
Heavy Duty Air Bed For Plus Size People
600 Lbs Capacity

Ever wanted an air mattress that when you look at it doesn't actually look like one? Thanks to the included fitted sheet that has a bed skirt attached to it most people won't even notice it's an air mattress. If that does interest you then this air bed is for you!
Thankfully this air mattress was made with common sense and doesn't have the problem other air beds do. It can be inflated with either the built-in pump that requires power or use a pinch valve and a hand pump to inflate. While it will take longer it's still a cheaper alternative to requiring a generator.
True King-Size
The size of this air bed is great for those who need the extra room for themselves or need it for them and their partner. It measures 81-inches long by 74-inches wide and 19-inches high which combine for a lot of space that will help you get that comfortable night's sleep.
To increase the durability of the vinyl of this air mattress that reinforced it with a nylon laminate. This will give you peace of mind when sleeping on this air bed that it's tough and can actually handle the 600lbs weight capacity it has.
Firmness Is High
In my opinion, the biggest difference and best feature of this air bed are that it's more firm than other ones on the market. It has an impressive level of firmness that will help those who need that extra bit of back support when they're sleeping.
A nice side effect of this air mattress being firm is that it's comfortable to sleep on since it holds its shape a lot better. This is a nice advantage over other beds on the market and does make this air bed hard to pass up when wanting a new camping air bed.
Air Mattress King Size
What Makes An Air Mattress Heavy Duty
After reviewing the above airbeds, its easy to see the difference between a heavy-duty air mattress and some cheap plastic type inflatable bed. But unfortunately, a lot of us shop with our wallets rather than our heads.
By this I mean, it's hard to justify spending $100 on an air mattress, especially if you're only going to use it during the warmer months when camping.
It's a battle, but you need to put those thoughts out of your head. An air mattress is an essential item and one that can either give you the best night's sleep or turn your camping trip into a nightmare.
So spending a little extra to ensure you get quality stitched seams and thicker more durable materials used in the bed are well worth the investment. Especially as a heavy person, the last thing you want is to pop the seams on the first night.
A quality air mattress that has been looked after can last you a long time. So spending the right amount of money on one compared to buying a dozen cheap models makes no sense at all. Buying quality will ensure your body has a good nights rest and survive many camping seasons.
Heavy-Duty Internal Coil System
To really get the most out of a heavy-duty air mattress, you need to ensure it has an internal coil system. These air coils are what provide your body with the support it needs. Don't be fooled into thinking all air mattresses have this feature.
The cheaper options are typically horizontally running air chambers. These don't provide very good support, especially for a heavy person. These types of inflatables are usually the ones you see with a huge bubble in the center. This is how the air tries to escape as a result of the bed not having internal air coils.
With an air coils system, the air travels up and down these coils which act as support beams underneath your body. They contour to your body and provide even support in which the horizontal chambers on the cheaper models do not.
Even when you sit on the edge of a high-quality air mattress with an internal air coil system, the bed won't cave in. You get enough support to sit on the edge of the airbed, even as a heavier person. This, in my opinion, is one of the best features of a heavy-duty air mattress. Makes getting in and out of bed for a heavy person so much easier.