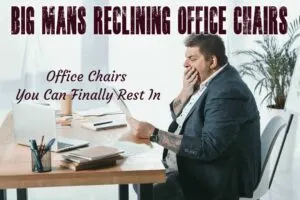 An office chair that reclines with a pull out footrest is the ultimate way to get a quick 5-minute relaxation session in while working behind the desk. Working in a relaxing environment like this has recently been proven to increase job performance and work morale.
But for us heavy people it's not all that easy to simply kick the legs up and relax in any old chair lying around the office. Due to our higher body weight its not a safe procedure unless you are 100% confident that that the big and tall reclining office chair can handle your weight.
The idea of putting my faith in an office chair that allows you to recline 150° without my feet firmly planted on firm ground can be quite frightening. All sorts of bad thoughts run through my mind. What if the chair topples over, can the chair hold my oversized body, will the base of the chair simply collapse.
Eek, it's enough to make you stick to ordinary big and tall office chairs. Fortunately, some companies have come to the party and constructed heavy-duty reclining office chairs with weight capacities up to 400 pounds.
Below you can find these reclining chairs which all feature a built-in footrest. I haven't listed any chairs that come with an ottoman or such as I feel us bigger people don't need extra stuff on the ground to potentially cause a tripping hazard. Plus the fact a footrest which pops out takes up no extra room in the office which is important when working in small spaces.
Compare Office Chairs With Footrests By Weight Capacity
Best Reclining Chair For Big And Tall People

What makes an office chair the best?. From my experience, it's all about creating an ergonomic working environment and this Hbaba reclining chair does just that with is ability to be adjusted.
By this I mean the lumbar support and the head rest. For many bigger people, lower pain is a daily problem, so having the ability to shift the lumbar support up or down into position is a much welcomed feature. Plus its padded so it won't feel uncomfortable in position.
The footrest is also padded to about 2 inches thick so your feet don't feel like they are resting on concrete slabs. The footrest can also be adjusted, but not a terrible amount. But overall it's a decent size footrest for a larger type of office chair.
For The Taller People
For the taller people, the height adjustable headrest is a much welcomed addition. Most other recliner office chairs don't have a headrest leaving us taller folks with a sore neck after a long day in the office. It has 7 levels of height adjustment and the headrest itself can tilt 30° so that you can find the optimum position for your height.
The backrest is also quite tall, when you measure the headrest and the back together you get about 31 inches of back and neck support. People that are 6'3″ have found this chair quite comfortable to sleep in (While pretending to work I must say).
For The Heavier People
For the heavier and larger person, the seat between the arms is about 21 inches wide and 20 inches deep. So it's a few inches bigger than a regular size seat while boasting an almost 4 inch thick padded seat. But do note that the arms are permanently attached as they are connected to the backrest. So if a 21 inch wide seat is not big enough, you will have to pass on this option.
In terms of weight capacity, there is mixed information online which makes it difficult to confirm. For the black version of this chair it states that the maximum is 300 pounds, while the white version has a 250 lbs capacity label.
---
400 Lbs Capacity Reclining Office Chair With Footrest

While this chair by Vonesse is classified as a gaming chair, it's not unusual to find these types of chairs in offices all over the world. Being a true 300 pound weight limit reclining chair with footrest, I could not leave it off this list just because it looks like a gaming chair. In this day and age, most people love to play games anyway.
Big and tall people love these types of chairs because they are often very well padded and are quite spacious to sit in. The Vonesse is no exception. In fact Vonesse started manufacturing chairs like this a few years ago as a way to bring ergonomic yet well padded chairs to gamers without costing them the world.
Big & Tall Related Specs
300 Lbs capacity

Wide seat measuring 21.3″ with a 21.8″ depth

High backrest with built in headrest measuring 30.7″

Seat height from 15.6″ to 19.3″
It's A Rare Find
It's not everyday you find a reclining office chair with specifications that meet the big and tall persons needs. Killabee have got it all just about right. While this chair is not as wide as their big and tall gaming chair, that chair also doesn't include the option of a retractable footrest.
To be able to comfortable recline and take a 5 minute nap at a 160° angle while weighing close to 300 pounds is almost unheard of. Most chairs would simply topple over, which is why there are very few chairs like this on the market.
But it's not perfect. Ideally I would like the extra large seat which measures closer to 22 inches wide to give a little extra wiggle room. Also the seat height would be ideal if it extended up to about 24 inches rather than 19.3″. Perhaps the reason for this is the strain on the gas springs due to heavier loads at increased heights.
But overall its hard to find a better suited reclining office chair with a footrest built in which has a 300 pound weight capacity. Everything is so well padded, including the armrests and the memory foam lumbar support.
---
400 Pound Capacity Reclining Footrest Chair

The next highest weight capacity office chair with a built in footrest an recline function is by GXJ. The big 400 pound weight capacity is ideal for overweight people or people that just want the freedom to stretch out in a very well padded chair.
The padding on this chair is even thicker than those mentioned above. With an almost 5 inch thick seat, it's going to be hard not to cat nap in this executive chair with the foot rest up.
The Important Stuff
Seat size: 21.7″ both wide and deep

29.5″ high backrest

Maximum seat height of 21 5/8″

Recline to a maximum of 160°
Solid Choice For Overweight People
So as you can see from the above specs, it's one of the largest reclining chairs with a foot rest out there. It is a very good build designed for heavy people to a maximum of 400 pounds. Some people may find the 160° recline too much.
There's a built in head support which is a very nice touch for moments that you do lay down for a power nap. This is a feature where the two side wings on the back rest flip up and provide a safe area for your head to lay without the fear of rolling your head off the chair when you're asleep.
Overall I find the GXJ reclining chair a very decent chair. The fact it has a high weight capacity and the ability to recline with a flip up footrest speaks volumes for the strength of the foundation. Once again the lumbar support cushion can be adjusted so that you can make it perfect for your body size and height.
---
Plus Size Reclining Computer Chair

Big and tall but not bulky is how B2C2B describe this reclining computer chair for plus size people. With very thick and supportive padding this chair can handle 280lbs to 300lbs of weight. The large 28 inch 5 star metal chrome base provides the foundation for creating stability and reliability when sitting and napping in this computer chair.
What I find special about this chair is the large footrest. With the pull of a tab you can manually pull out the footrest. Its large enough to fit both of your feet comfortably which is nice for a change. It's also quite thick (3.93″) so those tired aching feet can take a well earned break.
In terms of height specifications it's capable of extending the seat from 18.1″ to 21.2″ tall. So certainly not a viable option for someone shorter than 5'3″. In between the arms you get a 20.9″ seating area with a depth of 20.1″. The backrest is also quite high at 25.6″ making it a good height for tall people.
As I said earlier, this office chair is very well padded. Its a little more firm than soft, but this is good for providing solid support for the heavier people. While the chair is made from PU leather, not my favorite material, the center of the backrest is a mesh like padding.
I do like this idea as it eliminates excess sweat build up on leather like products and encourages better airflow to your back. Overall the B2C2B chair is a decent buy. For the price you pay you get a good deal in my opinion.
Even the head rest is well padded so when you do lay back into position, you feel like your on a pillow. While I'm not the biggest fan of PU Leather, the mesh padding gets this bad boy over the line for me.
Looking For 500 Pound Capacity Reclining Office Chairs
While I haven't been able to locate any 500 pound capacity recliner office chairs, perhaps one of you has come across one. If you have it would be great to leave your suggestion in the comments box below to help out other big and tall people. In the meantime you can check out other 500 pound capacity office chairs.