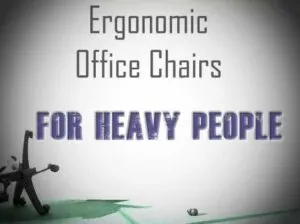 Skip the intro and go straight to the list of office chairs for heavy people here. But keep on reading if you need to know more information about the ergonomics of these chairs.
As a big man myself I know all to well the discomfort of an office chair that is not properly optimized. Ergonomic office chairs for heavy people are the solution to this discomfort. These specific types of chairs have been designed with support and comfort in mind.
Being oversized is tough enough when tying to find a suitable size office chair, but finding one that is ergonomically fit which eases pressure points is another challenge in itself. Because we have larger bodies, we have greater areas of pressure points that can cause all sorts of pain.
Especially when you need an office chair for work purposes. Being stuck in a chair that is not at all supportive can do some serious damage. Both in the present with back pain, compressed nerves and long term damage to your spine and posture. Before we look into the best ergonomic office chairs for heavy people, it's important to understand what features make a chair ergonomic in the first place.
STOP! Are You Short?
*Most chairs on this page are for the big and tall people. If you're a shorter person you need to check out the range of short and heavy office chairs. These chairs are specifically for people between 5 feet and 6 feet tall up to 500 pounds.
Quick Office Chair Comparison
Most Supportive Office Chair for The Big Guy
Weight capacity should always be the starting point when choosing a office chair as a heavier person, but it it is not the only thing to consider.
Take this Plushcore™ Executive office chair for example. It has a 400 pound weight capacity, which is a solid start, but it offer much more than just a heavy duty base.
The reason I find this to be one of the more ergonomic executive office chairs when you have a bigger body is because of the ample padding the chair has. But it's not just the level of padding, its the precise placement that makes it a stand out.
The backrest and the seat have essentially been reinforced with a second layer of additional padding. This dual layer padding targets the pressure points in our back, hips and thighs to provide sustained support over a long period of time. It's almost like it was crafted around a big guy sitting on a chair (blank canvas).
However, It's For The Big & Tall Only
Unfortunately the shorter folks miss out here as the chair has a very tall seat. The minimum the seat goes down to is 20 inches, which for some standard office chairs is the maximum height.
With a top seat height of 23 inches, it certainly is a great choice for anyone over 6 foot tall. Even as a short person, I would still be tempted to give this chair a chance and perhaps use a footrest under the desk.
It has a 23 inch wide seat, which is about 3-4 inches wider than average. What I like about this is that the armrests don't protrude too much on the seat space, so it leaves plenty of seating area for the larger backsides.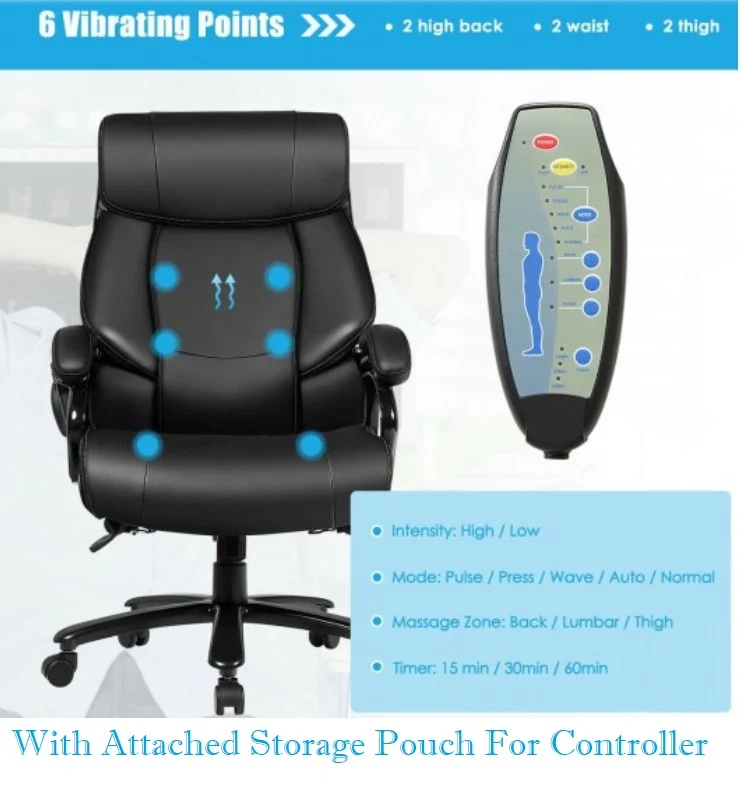 The Ultimate In Ergonomics
Having a ergonomic workspace is all about feeling comfortable and positioned correctly so your body is aligned correctly for maximum efficiency. So why not add in a calming massage while working away at the computer?
Yes, the PlushCore also features a massage feature! I was quite surprised to see a massager built into this chair, given the lower price tag. (Last I checked, the store selling this chair had a 10% off discount coupon available, so keep an eye out). However, I'm not one to complain.
The vibrational massage has 6 pressure point locations and can operate under two levels of intensity. With a choice of massage types and the ability to control the massage from a handheld controller while typing away on the laptop is amazing.
Overall, I think the majority of big and tall people will find the PlushCore 400 LB Executive office chair quite comfortable. Given the 7 inch thickness of the padding, reinforced padding and of course the massaging feature. It's hard not to consider this chair when you compare it to others with a similar price tag.
Powerstone 500 LB Massage Office Chair
What Makes A Office Chair Ergonomic
The term ergonomics means to have furniture and items that are around you to be arranged in a way that encourages posture support, work efficiency and most of all comfort.
So when it comes to an ergonomic office chair, there are going to be some specific needs unique to your personal situation. The office desk you sit at, where you work and the space that you need are all contributing factors to consider. As a larger person myself everything is oversized, including my office space. This is to make my time on the office chair as ergonomic as possible.
But there are specific things you can look for to make your chair more ergonomic. Simply purchasing an office chair that claims to be ergonomic can be a mistake. This is because an office chair is ergonomic to your body size. Not because a product says so. No one chair is suitable for everyone as we all have unique body shapes and sizes.
So it's important to know your own measurements and have an office chair that is ergonomic to your individual needs. While the office chairs listed below are certainly for heavy people, it's important to remember that they are ergonomic if they suit your body size, height, and shape. Here are a few areas of concern when buying an ergonomic chair.
Factors That Make A Chair Ergonomic
Weight capacity is a big one. Not everybody knows that an office chair has a weight capacity until its too late. Make sure you allow extra weight-bearing for the chair you buy. If you are 300lbs, consider buying a chair that is 350 lbs or

400 lbs rated

.
The width of the chair is just as important as the weight capacity. If you can fit comfortably in your chair, then it's hardly ergonomic. If width is your main concern, check out these extra wide office chairs here.
Seat height measurements are the next most important feature. This will depend solely on your height. If you are tall, then you will need an adjustable seat that can go high enough so that your legs aren't cramped. The opposite is the case if you are short.
The backrest is another consideration that depends on your height. Make sure the backrest is tall enough to reach your head or your shoulders.
Lumbar support. If you have back pain or you get back pain from being in an office chair too long, then lumbar support is essential. Good ergonomic office chairs will have adjustable lumbar support so that you can pinpoint where your back needs support.
Armrests are an optional comfort factor. Some people prefer no armrests. As a heavier person, it's advisable that if you do get armrests that they can open out sideways so that you can adjust exactly where you need them.
Most Ergonomic 300 Lbs Office Chair
If you are over 300 pounds in weight, skip on to the next chair as this 'Embody' by Herman Miller has a weight capacity of just 300 lbs. While only suitable to overweight people, the Embody is certainly one of the best ergonomic office chairs you can get your hands on.
But with this comes a hefty price tag, it's not for the faint-hearted. I don't normally offer high-end products like this as I know the value of a dollar. But when it comes to caring for your spine and body, there is no price point. So with that said, let's take a closer look at the Embody by Herman Miller.
What Makes The Embody So Ergonomic
The Embody is the result of over 30 specialists in the field including Physicians and Ph.D.'s in the fields of Bio-mechanics, physical therapy and of course ergonomics. What this means to me is a bunch of intelligent and experienced people designed this chair to simply be the best there is. Here's why:
Performs to your needs. This is the most unique seat I have seen on an office chair. What it does is contours to your body's movements. This results in the feeling of floating yet still supported. It relieves the pressure points that cause pain as this dynamic matrix of pixels distributes your body weight in the most even possible way.
A backrest that 'tunes' into you. By this I mean the backrest follows the natural curve of your spine. This supports the correct posture. But what's even better is the seat has flexible ribs that tune into your body shape. So in essence, the backrest tunes in to your body for maximum support.
Once tuned in to your body shape, the backrest automatically adjusts as you tilt, recline or simply move to offer unmatched support.
Narrow backrest. At first, I was unsure of why, but now I can see how this plays a very important role in being ergonomic. The design of the narrow backrest is to free up your shoulders and arms. This allows natural movement without being constricted by the chair.
The Dimensions
The Embody chair comes in a couple of sizes to cater to short through to tall people. All with a weight capacity of 300 pounds. For the regular size chair (on display here) the seat height can range from 16-20.5″ with an adjustable seat of 15-18″.
The adjustable armrests go up, down, inwards and outwards so that you can custom fit to your body shape. While they can be removed, Herman Miller does have an armless version available as well. As the seat is asymmetrical, it has the widest seat point of 21.25″ while the width of the overall chair is 29.5″.
While this chair is certainly not for everyone due to the 300 pound weight capacity, it is one that will stand tall for many years. A brand new Herman Miller chair comes with a 12-year warranty which speaks volumes for the high quality of this chair. When you want to look after your spine, I don't think there's any better than this chair. It's also available in an assortment of colors.
Herman Miller Embody Chair
Heavy Duty 300 to 500 Pound Office Chair
The number one selling ergonomic office chair by Steelcase comes in two sizes. 300 pounds Leap and the Leap Plus 500 Lbs capacity. The leap plus being reinforced with a platinum frame to give it the heavy duty 500 lbs rating.
What makes the Steelcase Leap office chair so ergonomic is that it mimics the shape of your back and adjusts to the movements of your spine. Quite incredible for an office chair to be able to do this.
But the ergonomics adjustments don't stop there. The seat is also adjustable. It can slide forward to reduce pressure and stress on the knees while providing back and leg support. Ideal for people with longer legs. This is achieved by lifting the paddle on the left side of the chair, as you lift the paddle simply slide the seat forward.
The front of the seat edge is flexible. It automatically flexes to adjust to your movements which relieves pressure on the back of the thighs. This is a unique feature and one that is very popular for heavy people as the legs can hold quite a lot of pressure.
The chair can also recline into 5 positions. This is important for ergonomics as it relieves pressure on the spine. So it is encouraged to recline every now and then while working away. But what's good about this reclining feature is that there is a tension knob. This allows you to increase or decrease the amount of force the chair has when reclining.
Does The Steelcase Leap Have Lumbar Support
This chair is amazing if you have lower back pain. While the chair is already curved to mimic your spine, it also has adjustable lumbar support. This can be slid up and down to position it perfectly for your body. But it doesn't stop there as there is a tension control knob for the lumbar region.
By turning the knob you can increase the firmness of the lumbar or decrease the intensity. This allows you to set the chair to exactly the right amount of pressure your back needs. One of the best features for anyone with a bad back.
The armrests that come with the Steelcase are also very adjustable. They can be raised by pressing a button on the side of the armrest. Then you can pivot the armrest forwards or backward, inwards or outwards to get it set up as ergonomic as possible.
The Ergonomic Computer Chair Solution For Heavy People
Having a chair that is this adjustable so that it can be ergonomic to your body is amazing. But being able to do this sort of custom ergonomics for a chair that is 300 or 500 pounds rated is just incredible.
As a heavy person, I need to have extra support for my back and I find the Steelcase Leap series is a wonderful office chair for doing such a thing. While it is a tad pricey, its an investment in the body that will be forever thankful. I haven't come across another 500 pound capacity office chair that offers this much custom support. Which is why the Steelcase Leap Plus is such a good choice for obese people.
Steelcase Leap Fabric Chair
Embody Vs Steelcase Leap Office Chairs
There you have two of the top of the line premium ergonomic chairs. But which is best suited to you. The Herman Miller Embody Vs Steelcase Leap office chairs?. To help make the buying decision a little easier, watch this in-depth video review comparison of the two high-end chairs as they go head to head. For more heavy duty office chairs, scroll down further.
Best Office Chairs For Heavy People To 400 Lbs
Coming down in price to a more affordable level is this Airgrid Space Seating office chair. While still maintaining a heavy duty 400 pound weight capacity, this affordable yet supportive office chair is the ergonomic solution for people that won't a breathable chair.
Mesh chairs have long been a favorite of mine as they allow air to flow between the backrest and your body. I for one don't like sweating, but it comes with being a heavy person. But having a mesh office chair means the sweat is greatly reduced during the warmer months. Which is why I like the Airgrid by Space Seating.
As this chair is on the more affordable end, it does sacrifice some ergonomic adjustable features, unfortunately. That's not to say it won't be the best ergonomic chair for you, but it just isn't as adjustable as the 2 chairs mentioned above.
The ergonomics in this chair stem from the breathable mesh backrest and a padded mesh seat. By providing a cooler workplace means you can concentrate more and be more productive. There is a lumbar support cushion that is adjustable. To adjust it you need to align it to where you want and screw it into position. A little bit of a hassle, but once you have found your sweet spot the job is done.
The Dimensions & Features
Tilt and tension adjustment features for relieving pressure on the spine.
Wide seat with a 22″ measurement between the arms and a 21″ depth.
Adjustable 2 way padded armrests
Pneumatic adjustable seat height from 19 to 22.75″.
Carpet casters – dual wheel.
AirGrid Space Seating 400 Lb With Arms
Ergonomic Tall Office Chair For Heavy Persons
A very popular ergonomic computer chair for big and tall people is the Boss B991 LeatherPlus. This chair is very well padded for heavy duty use up to 350 lbs capacity.
While the Boss doesn't boast super-advanced ergonomic features like the Steelcase and the Embody office chairs, it does make for a good ergonomic chair for big people due to its design and generous padding.
With this also comes an attractive price tag. How much exactly? Find out the precise price on amazon here.
The Boss B991 is an office chair designed for the big man, so everything is oversized. It's not just an office chair with high weight capacity, its actually a heavy-duty chair built with us in mind. Hooray!.
Get To Know The Oversized Boss Office Chair
Hefty weight capacity of 350 lbs.
Curved backrest to contour to the body's spine.
Its got a well-padded lumbar region to relieve pressure and stress on the mid to lower back.
Boasts an intent tilt and lock feature that allows you to lock the chair into any position you find comfortable.
Curved and well-padded armrests to relieve pressure points in your elbows and forearm while working.
Extra-large 27 inches 5-star base which provides the ability to support up to 350 lbs. Regular chairs only have 25-inch base.
3 inch double casters which are 1″ inch bigger than standard office chair casters.
27.5″ high backrest perfect for taller people.
24 inch wide seat with a depth of 18 inches.
An adjustable seat height of 19.5 to 22 inches tall.
Triple stitched to increase the longevity of the material.
Overall It's A Solid & Stable Office Chair
The Boss B991 has long been a favorite Big Mans office chair due to its amount of support and comfort. While it's not highly adjustable, it does the little things very well. Like offering lumbar support, curved back to relieve pressure on your spine and provide ample amounts of padding to cushion the heavier weights.
Because it's an affordable office chair for heavy people, the material used is cheaper imitation leather. You could never get a real leather office chair for this price. It's finished in caresoft plus bonded leather. But what really makes this chair so great is the confidence of knowing that your body weight will be supported and the chair won't break beneath you.
Boss Office Products B991-CP Heavy Duty Double Plush LeatherPlus Chair
Best Office Chairs For Big Guys
Seriously Large With 500 Lb Capacity

Office chairs really do need to be more than just comfortable in my opinion. They need to also be really durable and ergonomic to cater to the really big guy's needs. I believe BestMassage has achieved this with this excellent office chair. It's not only comfortable but also one of if not the largest office chairs you will probably come across.
The first thing that stands out with this chair just how wide this chair is. With a seat width of 27.3-inches and a depth of 24 inches, this is certainly the best office chair for big guys.
These huge dimensions give you more room to comfortably place your hips and backside in than your normal standard office chairs. This is just one of the many reasons that this chair is great for bigger individuals.
High Capacity For The Fat, Large, Plus Size, Whatever you want to go by!
I don't usually like the term fat, but this office chair is for fat people because it embraces our fat so that we finally get a true oversized office chair. It's a fat celebration and one that I truly appreciate.
The extra-wide seat is certainly the best feature on this chair, but it's followed closely by the 500-pound weight capacity. By having such a robust capacity, large people and heavy people can now sit safely while working behind the desk.
Lumbar Support For The Big And Tall
Most lumbar supports are usually designed with the average person in mind, which makes finding a new chair an issue when you weigh more than 220 pounds. BestMassage sets itself apart by designing this chair with adjustable lumbar support.
This allows this chair to support people who are not only heavy but for those who are also taller than your average individual. The seat can raise to 22 inches high, but what's great for big and tall people is that the lumbar can be raised higher also. This allows the big and tall people to position the support higher up their backs, where it's needed as a tall person.
Something that is a big issue for office chairs is how they can get fairly hot and not breathe well causing you to sweat and be hot. This seat has a partial meshed back and a breathable padded seat which helps combat this issue. This makes sitting in the chair for long periods a lot more comfortable since you're not as hot in it.
When you combine all that together then add in the impressive maximum weight capacity of 500lbs. You can see this chair was designed for people who are bigger than your average person.
So if you're a larger person who is looking for not only a strong but also a stylish chair that you'll be comfortable in, I find it terribly hard to go past this option. However, do note that with the extra-wide seat comes the issue of fitting it under your desk. So ensure the chair can actually fit before you go off and buy it.
BestMassage Big and Tall Office Chair 500lbs
Plus Size Office Chairs

Sometimes a simple and easy design will achieve a lot more than something that has heaps of features and in which half don't work. This office chair from Flash Furniture is very simple but has an excellent design for the plus size people. This executive office chair does everything an office chair needs to do without none of the unnecessary features.
500 Lbs Weight Capacity
The heavy-duty metal base is a big part of the reason this office chair has such a great weight capacity. The 500lbs weight capacity will allow a lot of plus size people to feel safe when they're sitting on this office chair.
But whats wins me over with this Flash Furniture chair is the contoured 22.5″ wide seat. Sure it's not as wide as the above chair, I don't think any chair is to be honest, but the way it's contoured is especially helpful for large people.
Ever since getting my latest office chair with a contoured seat, it's near on impossible to go back to a regular seat. The way the seat is curved and shaped does actually help with relieving pressure on your thighs and legs. When I see the contoured waterfall edge on the chair, I just can't wait to sit down. I'm not joking either, it really does have this effect.
Padded Arms With Adjustable Lumbar
A lot of office chairs just come with your standard plastic armrests which are uncomfortable for long periods of time. Flash Furniture made the smart choice and made sure the armrests of this office chair are padded so they're more comfortable for extended periods of time.
I don't know if it's just me, but I find that being a fat guy, my arms tend to hurt more on the harder plastic resin armrests. Even tho they have a small amount of squishiness to them, I find the actual foam-padded armrests work best for me. The downside to this is is of course that they will deteriorate quicker than a flexible resin.
Something that this chair does that is very simple but extremely useful is how its armrest can be folded up. I like office chairs where the arms can be folded up and out of the way. This makes it easier to exit the chair in tight office spaces.
One feature that an office chair does need and this chair is no exception to, is the ability to adjust the lumbar support. This will allow the chair to usable by more people since you can set it to how you like it. Even this chair and its simple design have made sure to include this ability which adds to its value.
So while the 22.5-inch width of the seat might come across as a little small for the really big people. You're able to raise the armrests to give you that little bit of extra room between the arms, which is a useful feature to have when you're plus size.
500 Lb Mesh Executive Swivel Office Chair
An Ergonomic Office Chair Starts With You
So there are a few of the best ergonomic office chairs for heavy people. Buying a chair today is not your last step to feeling more supported, comfortable and being more productive. While the chair plays a big role in office ergonomics, there are other areas you should concern yourself with.
First and foremost is the desk you will be using the chair with. Having ample space above your thighs while working is crucial. Having a clear workspace is also considered ergonomic. Optimal lighting and your document holders and office equipment need to be situated where it doesn't cause your body stress to reach. But now that you have bought a chair that is ergonomic to your body size, you can start to make the office space around your more ergonomic.
Office Chairs For Heavy People – What To Consider
Most standard office chairs have a weight capacity of between 200 lbs and 250 lbs. Which as a heavy person is nowhere near enough to support a larger frame.
So the most important factor to consider from the get-go is weight capacity. When searching for office chairs, it can be hard to establish a weight capacity. Some chairs simply don't state the capacity. This is when it is important to read through customer reviews and the questions and answers section.
If you still can't find a weight capacity for the chair and you don't feel confident in the chair, I would disregard that chair and move onto the next. It's simply not worth risking your body on an inferior office chair. Chances are the chair that would fall apart in a matter of months.
To help you find a high weight capacity office chair suitable to your weight, I have listed some resources below for the main weight capacities needed by an overweight or obese person.
Other Considerations
While weight capacity plays a major role in narrowing down your search to find a computer chair capable of holding heavier people, there are a few other aspects to consider.
If you are short, you will need to find an office chair with lower heights. Otherwise, a footstool/step may be needed to keep your feet from dangling. If you are tall, then you need a chair that can extend to heights over 20 inches.
The actual width of the seat and distance between the arms is important. Unless you buy an office chair without arms then the width of the seat is only important. With arms, you need to find out the measurement and make sure you can comfortably fit between the arms.
A heavy duty base and casters for the office chair are a must as well. If the chair goes cheap on these items, chances are you could be on the floor before you know it. So always look for a 5 star reinforced base with casters preferably 3inches wide. Casters can be swapped over for larger more durable and heavy duty versions if the chair you buy doesn't have the best.
Type Of Materials Used & Padding
The two main common office chair materials are mesh and leather, whether that be bonded leather or genuine. Both have their advantages and disadvantages. With mesh, you get a much more breathable chair that is cooler during the warmer months. But is not as well padded on the backrest.
With leather chairs, they tend to get hot and sticky. But they can offer extreme amounts of padding which results in a very comfortable experience for bigger people. But most chairs are bonded leather which from experience is not the best. It will deteriorate much quicker than genuine leather. So don't expect it to last forever unless you have some form of a protective cover over the seat.
How To Sit Ergonomically As A Big Guy
Making sure you sitting in the correct position when you're on your office chair at your work desk can make a world of difference in reducing some of the pain that comes with it. As a bigger person, this is even more important.
As we have larger bodies, there's going to be extra pressure and force placed on our lower back, feet, and neck. This is precisely why you should learn how to ergonomically sit to help in preventing the issues that come with sitting incorrectly.
Taking Breaks Is Essential
But before learning any of the proper positions and learning how to sit properly, there is something that you will need to remember first. This is to make sure you take some smaller breaks and walk around for a little bit at intervals to give your muscles a break.
One of the first things you need to do is make sure that your feet are flat on the ground. You will need to adjust the height of your chair so that your knees are either slightly lower or on level with your hips. One of the reasons heavier people need big and tall office chairs is so that you can position your feet flat on the ground with your knees at a 90° angle.
Move Those Hips
Now that you have your feet and knees all set up you will want to make sure try and get your hips as far to the back of the chair as possible. For the heavier persons, a wider seat is required so that you can fit your hips in between the arms comfortably.
If you find that sitting this far back is painful on your lower back, or if the chair is too low for you, you can use a big man's chair cushion here to help with some lower back support and height if you need it.
Getting the back of your chair in the right position is essential to make sure you're sitting in the right position. You will want to adjust the backrest of your chair to either 110° or 100° to get the optimal position for your back.
Something that is often overlooked when it comes to the correct ergonomic position is the position of your shoulders. You will want to make sure your shoulders are in a relaxed position and not pushing up to your neck and ears. You will also want to avoid having your shoulders being rounded forward as well.
Don't Sacrifice Your Health, Get A Big Man's Chair
I know first hand how difficult it can be finding the right office chair for a heavy person. While there are a few good options available, comparing between the lot can be just as hard as finding them in the first place.
But one thing you should never do is sacrifice your health for a chair that's not quite right for you. If the chair doesn't feel right, or give you the confidence after extensive research, chances are you it's your gut telling you something. Keep searching until you find the best chair suitable to your unique body.
With all the above information and reviews on the best office chairs for heavy people, you should be able to make an informed decision and buy the most ergonomic chair to suit your needs. Be sure to always measure your body around the waist and hips as well as your height when comparing measurements.