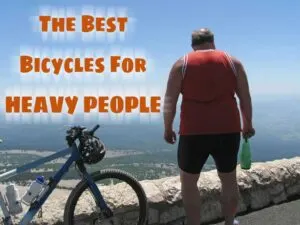 Finding the best bicycles for heavy people isn't as easy as picking the bike with the best features or widest rims. There's a bit more to it, which I hope to explain now so that you don't end up with a squashed lemon.
Everyone has the right to ride a bike whether you big, tall, short, etc. However, there are considerations that need to factor in as a big rider.
We all rode bicycles as kids, but as we got older cars became more practical. Along with being more practical, many of us put on a few too many unwanted pounds. Some of us don't care about being fat or overweight, but some of us miss the feeling of freedom a bike gave to us as youngsters.
But with a big belly and a tiring body, the thought of picking up a bicycle again for the first time in 20 years can be somewhat off-putting. Not too mention our old bikes would no longer support our body weight. This is why some of us have gone into the heavy duty e-Bikes as a way to ease ourselves back into cycling. But if a good ole traditional bike is what you need, read on.
Compare Heavy Duty Bicycles
| | Capacity | Features | Price |
| --- | --- | --- | --- |
| Zizes Bikes. A New Leaf 2.0 | 550 Lbs | Heavy Duty, Comes Partially Assembled, High End | Visit zizesbikes.com |
| | 350 Lbs | Suitable For Big & Tall, Oversized Seat, 4" Larger Frame, 1 or 3 Speed Options, 26" Rims | Check Price Amazon |
| | 300 Lbs | 19" Step Through Frame Cruiser, 26" Wheels with speed options between 1 speed and 21 speeds. | Check Price Amazon |
| | 300 Lbs | Women's Cruiser, Up To 21 Speeds, Oversized Seat, Selection Of Colors, Wide Handlebars | Check Price Amazon |
| | 330 Lbs | 26" Double Wall Rim Mountain Bike, 19" Frame, 21 Speed, Rider Height: 5'2" to 6'. Anti-slip Fatboy tires | Check Price Amazon |
| | 400Lbs *Not verified | 36 Spoke count per wheel, 26" Wheels with 4.25" fat tires, Front & rear disc brakes, Cruiser/mountain bike design | Check Price Amazon |
| | 440 Lbs | 26" Wheels with fat tires or 27.5" mountain bike tires, 21 speed with speed grip shifter. | Check Price Amazon |
| | 450 Lbs | 3 Wheel design Tricycles and electric Trikes for heavy people | View Trikes For Heavy People |
Buy A Bike Designed For Heavy People
The problem with buying just any bike is that the majority of bicycles are not designed for heavy people. Most bikes barely have a 220 pound or 240 pound weight capacity. My kids are getting to the ages now where they want to go bike riding as a family. Which I am very excited about. Not only does it get the kids away from the iPads, it also will help me and my partner lose some of those extra pounds.
But as quickly as I was excited I was just as quick to feel embarrassed and somewhat put off by the idea. Why?. Well for starters I'm well over the average bike weight capacity, so the bikes hiding away in storage are no longer applicable.
Our Top Choice!
But due to my own insecurities of being quite heavy and large, I feel somewhat intimidated and or embarrassed. Mind you this was before I did some actual research into bikes for heavy people.
But knowing now there are actual bikes built for heavier people, I'm more at ease with the idea of family bike trips. I can ignore those pesky onlookers who shake their heads in disgust as that's not uncommon these days anyways. Plus I'm actually doing something about increasing my health, so screw those guys anyways.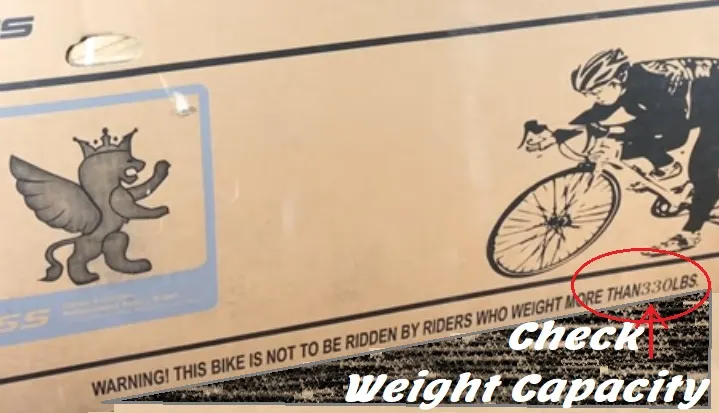 Check The Weight Capacity
The first thing I look for with any product that has to withstand the grunt of my weight, is weight capacity. This is especially important when it comes to buying a heavy-duty bicycle.
The fear of falling from a bike going at any speed is quite overwhelming as a larger guy. So ensuring the bike can actually handle my body weight is extremely important to me. I wouldn't even risk a bike that is rated to 220 pounds, no chance at all.
But the weight capacity is also important for more than just your safety. It's also put in place for the many warranty claims. If you're heavier than the bike's weight rating and the bike fails on you, the warranty can become void. Don't think that they won't try and use this against you, because they will.
Heavy Duty Bike Wheels & Tires
After looking at the weight capacity of the bike (Many bikes won't state this clearly either) the second most important function is the wheels on the bike. As a heavier rider, the most amount of pressure is being forced onto the wheels making them the weakest contact point for a heavy person.
But don't stress out if you find the near-perfect big man's bike only to discover the wheels are too weak. Because you can quite easily get a new set of rims from your local bike store. Just ensure they are a heavy-duty design preferably stainless steel.
Don't settle for the cheap and nasty options as breaking the rim of a bike while in motion can end up very badly for you and the bike.
Bigger Is Not Always Better
While we're on the subject of the wheel, bigger isn't necessarily better. The larger the diameter of the wheel, the greater chance it has of buckling due to the amount of flex it has.
Times like this are where smaller diameter wheels prove to actually be stronger. They have less flex and can be more forgiving under a heavier load.
So wheel size is not necessarily a determining factor if you find the perfect bike for you, but think the wheels are too small for your weight, think again. Larger diameter wheels like a 29″, play more of an important role for your height. The taller you are, the larger the diameter should be on your wheels
Tires And Spokes
When it comes to the tire, the bulkier and beefier the better. A good strong touring tire can work off a higher pressure compared to thinner tires. So they can resist the weight better and also deter punctures easier. Fat tires are a common choice by heavy riders.
Heavy people can break the spokes on the wheels. A bike with a low spoke count (24 or less spokes) may not be fit for someone that is 300 pounds. This is because they are not durable enough to handle the excess weight.
How Many Spokes Per Wheel for The Big Rider
The number of spokes on each wheel is a good indicator as to how much weight the bike can handle. Very low count spokes, like 16 spokes per wheel are designed for much lighter riders, the big man should certainly avoid bikes like this. A heavy rider should ideally be looking for wheels with 32 or more spokes per wheel.
If you end up buying a cheap bike thinking that you will change the wheels over to something with more spokes, it's probably not a cost-effective route to take.
For the amount it may cost to replace the wheels with a higher spoke count, you may end up paying double the amount for the bike. So it's probably a good idea to look for a bike with 32 or more spokes per wheel from the beginning.
While we're on the subject of cheap bikes, chances are the tires have a low PSI and as a heavy rider, you will need a tire with around 100 PSI to effectively carry you. A tire that has a maximum PSI of 50-70 will surely leave you grounded.
Bike Options For Heavy Riders
Before I reveal the best bicycles for heavy people, you need to first decide on what type of bike you want. Bikes come in all shapes and sizes, but some are better designed for bigger people.
For instance, a road bike is great for flat surfaces like bitumen and are very lightweight, they are not the best option for a heavy person. The frame is and rims are too thin and could buckle under the pressure. This will of course depend on how heavy you are exactly.
But what I'm leaning more towards are cruiser bikes or mountain bikes. These bikes are designed for more heavy-duty use, especially off-road mountain bikes. Whereas a cruiser bike is a much better option for us really overweight guys with prominent beer bellies.
The good thing about cruiser bikes is that you sit more straight up compared to hunched over like on a racing bike. When you have a large stomach, hunching over is not really an option, so the racer is out. But not only does a cruiser over greater stomach room, it's also better for people with bad backs. So it's a win-win for me.
While I'm going to try not to overthink it as riding a bicycle is meant to be more fun, compared to staying at a wall on an exercise bike, I will be showing heavy-duty bicycles below that do state their weight capacities so you can go from there.
Before you take a look at these heavy-duty bikes below, have you considered an electric bike for heavy people?. These are regular bikes with a foot pedal but also feature a battery-powered motor. Having the addition of the motor makes it easier for us bigger people to get up hills and go on long rides without tiring out too much.
Best Bike For 500 Lbs Person

When it comes to bike brands that specialize in high weight capacities, the one brand that comes to mind is Zize. 'A New Leaf 2.0' is the name of the bicycle by Zize and this bike has a whopping 550-pound weight capacity. There's not many other brands that come remotely close to this capacity.
These bikes are specifically made to handle heavy weights. But because of this luxury and the fact they clearly dominate this heavy-duty bicycle industry, the bikes are far from cheap.
In fact, they are simply too expensive for most riders. However, if you are close to 500 pounds and need the peace of mind a heavy duty bike as this offers, it is well worth the investment. But if you're closer to 400 pounds, perhaps have a look at the more affordable options below.
Best Cruiser Bicycle For Heavy People

As I briefly mentioned above, a cruiser bicycle is my preferred big mans bike. The style and design of the bike simply work for a big person. The fact you can sit up straight while cruising around not only gives you extra room in the front end, but it also helps with sore backs.
The best cruiser bike for a large person that I've come across is the Firmstrong Bruiser Man. This beast of a bike has a high weight capacity of 350 pounds, which is 110 to 130 pounds higher than your average bike.
So there is certainly the heavy duty rating to go with this bike. It's also a much more affordable option compared to the 550 lb capacity Zize bike. You can check price on amazon here.
What's also great about this bike for the larger rider is that the frame has been extended by 4 inches. What this means is the distance between the handlebars and the seat pole has an increased length of 4 inches. Which gives you extra room to move. Being a bigger person, it's easy to feel confined. But with the Bruiser Man bike, the extra cockpit room is a godsend.
Oversized Frame
Having an increased frame size also makes this bike quite good for big and tall riders. Longer legs now have the freedom to fully extend without your knees hitting the handlebars or your chin.
The other features that make the Firmstrong a good choice for heavy people include:
Oversized Seat – Extra-wide seat with 2 spring coil suspension for a soft ride on the backside.
26″ Rims – Large wheels for greater resistance to extra weight force. Aluminum rims.
Wide Tires – 2.125″ thick tires which are far better for heavy people as they take the grunt of the weight.
Height Adjustable – For the perfect cruising ride the handlebars and seat can both be height adjusted so you can sit vertically and comfortably ride.
Suitable for riders up to 6'4″ and a maximum of 350 pounds.
Versatile Bike For Larger Riders
So you can see its got a number of boxes ticked when it comes to handling the heavier rider, but what options do you get in terms of cycling speed. Many people like the cruiser style of bike for its simplicity due to the one-speed design.
But with the Firmstrong you get to choose how many speeds you want, along with the colors of the bike. So whether you want to have an easy simplistic style of riding you can go with the one-speed option.
But if you want more of a challenge, you can get up to 7 speeds. Just be sure to check the box that says '7-Speed'. Having the 7-speed bike will enable you to take on hills and go faster on longer rides. Overall I find the Firmstrong Bruiser Man to be the best cruiser bike for heavy riders. The heavy duty frame to the oversized wheels and seat make this a great choice.
---
Step-Thru Heavy Duty Cruiser Bicycle
Best Bike For Big & Tall People

If you're tall and weigh under 300 pounds, this Sixthreezero Step-Through cruiser bike is a good option. The 19-inch frame with the step-through feature of the bike is good for us larger folks that have difficulties raising their leg over the tall center bar.
While I would like the step-through bar to be slightly lower, it's very difficult to find a bike for heavy riders with this feature. The EVRY Journey bike by Sixthreezero has a decent weight capacity of 300 pounds.
While 300 pounds is not the highest on this list, it's still a good option for overweight people. Being a 36 spoke wheel bike also means the wheels can handle a bit more weight than your average bike.
The 26-inch wheels also and large frame make this a viable option for the taller riders too. With Sizthreezero specifying that this bike is suitable for riders between 5 foot and 6'4″ tall.
Various Speed Options
The EVRY Journey is available with various number of speeds. These speeds include 1 speed, 3 speed, 7 speed, and 21 speed. Depending on the type of riding you plan to do, will determine the number of speeds you select.
Just keep in mind that some people have found the speeds to be too similar, as they don't notice much difference when changing from 4th gear to 5th gear for example.
This may not be a problem for the casual rider on flat city streets, but for the keen cruiser that likes to tackle the hills, and roam around town, I would recommend going all-in with the 21-speed option.
The overall design of the bike has been implemented with the ergonomic aspects at the forefront. This is achieved by the seat forcing you into an upright position and with handlebars that sit at a height where your joints are comfortable and relaxed.
However, there is one issue with the handlebars I have come across. That is it can be difficult to squeeze on the brakes the way they brake lever is positioned. You have to twist your wrist in a way that can feel uncomfortable. However, this may vary from person to person. Unfortunately, the brakes are not disc brakes either, hand brakes for the front and rear wheels.
---
Cruiser Bikes For Plus Size Women

While we are on the cruiser bandwagon, it's time for the Women's option. Also by Firmstrong, the 'Urban Lady' cruiser bike is a great choice for plus size women. With a 300 pound weight capacity and the ease of use, plus size women can once again get back into riding.
Because it's also a Firmstrong bike, you get pretty similar features to that of the Men's bike. An oversized padded seat with spring suspension and beefy 2.125″ tires.
When you compare the tires of the Urban Lady bike to a standard racing bike, the width is more than double. Most road bike have a width of just under 1 inch and the Urban Lady is over 2 inches wide. So more area to counterbalance the weight impact.
Height Adjustable Handlebars
Like the Men's bike, this too has adjustable handlebars and seat height so you can sit up perfectly straight for an easier ride. Which is also why I like cruisers as my preferred bicycle for large people. Because our weight is more centered on these bikes, we're not applying too much downward pressure on the front of the bike. Which can cause the bike to flip with excessive weight.
The plus-size ladies bike 'Urban Lady' also comes with varying speed options. From one speed up to 7 speed. Another option you have is to add on a bell and matching fenders if you choose. But I think the hardest decision will be choosing a color.
There are many beautiful colors for women to choose from. But overall, I really like this bike for plus size ladies. It's the type of bicycle my Wife has and she just loves the simplicity and space to move.
---
Mountain Bikes For Heavy People
As a heavy person, a mountain bike is the next best choice behind a cruiser bicycle. Mountain bikes are designed for high impact use and therefore are more heavy-duty. But weight capacity still applies, especially if you don't want to void the warranty.
But many bikes don't state their weight capacities, which makes it harder for us big riders to ensure we are not going to void the warranty and or injure ourselves. However below you can find 2 mountain bikes for heavy people, both by Merax and both have a weight capacity of 330 pounds.
Merax Finess Mountain Bike

The Merax Finess is a 21-speed mountain bike on a 19-inch frame which is typically designed for people under 6 foot. It comes with larger double wall 26-inch rims but if you're anywhere near the 330-pound capacity, don't treat this like a jumping mountain bike.
Sure it can handle some off road duty, but the forks will likely not handle the excessive weight under the load of jumping. I feel Merax went a bit cheap on the forks so the front suspension is not the best. But you can always change this out for a more heavy duty fork at some point.
But if you simply want a mountain bike that can handle your heavy weight and can go off-road, the Finess is not a bad option. However, I would look into getting wider tires eventually, especially for loose and slick trails.
Overall the Merax Finess is not a bad bike at all. For the price, it could easily be compared to one double the price. Had they invested more in a stronger front suspension fork, this bike would make others twice the price look like rip-offs.
"Easiest Bike Going Uphill"
Best Fat Tire Bikes For Heavy Riders
Many overweight riders fall in love with fat tire bikes the moment they see them, but this is not necessarily to say they are the best bike for a heavy person. But they are still a very viable choice.
Generally speaking, the wider the tire, the softer the ride is for the heavy person. But it's worth noting that fat tire bikes are best suited to muddy, sandy and rocky trails. But they are not the best on hard flat surfaces.
The Mongoose Hitch is a fat tire bike that's a popular choice with heavy riders. With some 400 pound people finding the Hitch to be the ideal starter bike for a big guy. While there's no specified weight capacity, it's a bike that was made to endure trails anywhere, anytime.
The tires on the Mongoose hitch are very wide which not only give it a beefy appeal, but also a great stance. The 4.25″ nobby fat tires sit nicely on the 26″ wheels on the supersized high clearance beach frame.
Features Of The Hitch
7 Speed set-up twist shifters
Suits riders up to 6'2″
It has the features of a mountain bike, but with the addition of the fat tires soft, wet, and hard sand are no match for the Hitch.
Stopping in any condition is simple with the front and rear disc brakes. 160mm brake rotors.
As its a steel frame, its heavier than what you get from the newer more expensive fat-tire bikes.
Standard wheel release.
Drilled rims separate this and the Mongoose Dolomite, also another popular fat tire bike.
---
Offroad Bike For 400 Lbs Man
36 Spoke Per Wheel
If you weigh in the vicinity of 400 pounds, there's not a huge selection of bikes online with such a specified weight capacity. However, there is the Outroad mountain bike which can come with fat tires if you prefer them over mountain bike tires.
There's not much information online about the Outroad bike, but it's worth mentioning it here as it has a specified 440-pound weight capacity. Is this enough to encourage you to buy one? Maybe, maybe not. Until more information becomes available, it's hard to gauge the quality of this bike.
What Is Known About The Outroad Bike
There are two options a heavy person can choose from, one is the 4.5″ wide fat tires which are great for grass, snow and mud trails. The other is the 27.7″ diameter wheels with regular 1.7″ wide mountain bike tires. It's good that you can choose either of the wheel types and still benefit from the high weight rating.
The Outroad is fitted with a 21-speed alloy grip shifter for fast-changing through gears with an adjustable front 3 chain gears and fairly decent suspension. The bike features double-wall high profile rims with unique disc brakes.
However, it is a steel frame so it can be a tad bit heavy for some users. It's also not recommended for people taller than 6 foot, so big and tall people miss out on this bike. For the price, 36 spokes per wheel and the high weight capacity, the Outroad is a worthy consideration for the heavy person.
---
Additional Information For The Heavy Riders
Finding the perfect bike for a heavy person can be an overwhelming task, and more than likely you won't find the perfect bike. Especially with the introduction of e-bikes, Tricycles for heavy people, it's getting much harder to fine 'the one'.
What works for one bigger person may not work for you. We all have uniquely shaped bodies and have varying weights. So choosing just one bike is near impossible.
However, you can always modify a heavy-duty bike that already has robust features to ensure it can carry your body weight safely. Below you can find potential modifications or potential issues you may run into as a heavy rider.
Handlebars
Poor quality handlebars and stems can break under excessive pressure. A heavy person can have this effect due to the amount of downward pressure put onto them.
While you shouldn't be exerting that much pressure on the handlebars, it does happen in the event of racing. So look for a good heavy-duty aluminum piece that consists of more than 80% aluminum. Another option is to get yourself some European style stainless steel handlebars, this does, of course, make the bike slightly heavier.
Heavy-Duty Pedals
If you plan to buy a cheaper type of bike and do it up afterward, one upgrade you should certainly do is the pedals. Especially if you're the type of rider to stand up frequently to give you bike a good pumping on the pedals.
The cheap plastic pedals simply won't support this excessive pressure and weight of a heavy rider. Ideally, you want to invest in a good pair of heavy-duty steel pedals to guarantee you don't end up doing more harm than good to your bike and your body.
Brakes That Stop You
The heavier you are, the more your brakes have to work to stop the bike. As a big rider, you need brakes that can stop your weight relatively quickly in wet and dry conditions.
If you are modifying a bike, its highly recommended that you don't go cheap on the brakes, after all it's your life in your hands. With modern technology evolving, bike brakes are becoming more reliable and superior compared to many hears ago.
However, it's still a good idea to test out the brakes before you buy them to ensure you get the right feel from them and that they can handle your weight in motion.
Cycling Climbing Tips For Heavy Riders