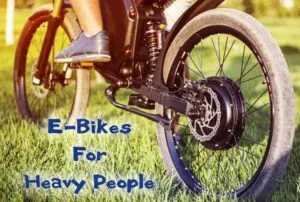 While the concept of electric motor driven bicycles have been around since the late 1800's, the new modern concept is a considerably fresh approach. Electric bikes for heavy people are an instrumental part to regaining fitness for the overweight person.
On this page you can find electric bikes with high weight capacities up to 400 pounds. Suitable for larger persons and people that are overweight.

As a youngster I was a bike fanatic, but over the years my waist line has grown out of proportion. As a result the bike became a permanent part of the 'too hard basket'. Not only is it difficult to ride long distances, but when you're twice the size of the average person, lifting your leg over the center bar is practically impossible.
Quick Compare Heavy Duty E-Bikes
| | Weight Capacity | Watts | Features | Price |
| --- | --- | --- | --- | --- |
| | 350 Lbs | 1250 Watt | 17.5Ah Samsung Battery Pack, 30mph Top Speed, 50-60 Miles, Up To 6'5" Tall Users | Check Price Amazon |
| | 550 Lbs (includes luggage. 330lb rear seat capacity) | 750 Watt (1000W peak) | >60 Miles Charge, 3 Hr charge time, 4" Fat Tires, Carry Basket, Seat Height 35"-41" | Check Price Amazon |
| | 325 Lbs | 500 Watt (915W Peak) | 19mph Top Speed, 55-65 Miles, Assist Mode Enabled, Suits Users 5'3" to 6'8", 180mm Double Disc Brake | Check Price Amazon |
| | 400 Lbs | 750 Watt | Up To 35 to 60 Mile/Charge, 28 MPH Top Speed, 7-Speed shifter, multi-functional LCD display, hydraulic disc brake system, RST alloy suspension | Check Price Amazon |
| | 260 Lbs | 500 Watt | 23mph Top Speed, Shimano 7 Gears, 4" Fat Tires, 19 Miles Per Charge (Electric Mode Only) | Check Price Amazon |
| | 330 Lbs | 750 Watt | V8 electric bike with maximum range of 28mile/37mile, 31 MPH Top Speed, 5 Hr Charge, 48V15AH | Check Price Amazon |
Introducing The Electric Bike For Obese People
When hope was all but gone to ever ride a bike again the introduction of the modern electric bike has come to save the day for many obese people wanting to improve their fitness. The advantages of using an electric bike over a regular bike for heavy people sure warrants the extra upfront expense.
E-bikes come in a variety of styles from mountain bikes to cruisers to tricycles. So depending on what style you go after, you can eliminate the high center bar that makes getting on the bike very difficult.
The main advantage is of course having the electronic motor to power you around town. But after all, you're not looking for a mobility scooter, so these electric motors are there as a back up to the foot power. On most e-bikes you can use both electronic power and pedal power at the same time.
So should you meet up with a daunting steep hill or you have zapped your last ounce of energy, the electronic motor comes in to save the day. As a larger man myself, I know how challenging any form of exercise is. So having a back up plan for instances like this make the electronic bikes the best for heavy people.
The Best E-Bikes For Heavy People
Below you can find 3 sub categories of electric bikes suitable for heavy people. As most stock standard bikes have a weight capacity of just 250 lbs, it can be quite annoying sorting through all the irrelevant bikes. But to make life easier for you, all the electric bikes below have higher weight capacities up to 400 pounds.
Heavy Duty Electric Tricycles
When you think of tricycles you probably think of the ones you used as a toddler. This is certainly not the case with theses tricycles below. They are heavy duty monsters built to handle heavy weights.
You may think that a tricycle sounds a little childish, but depending on how long you have been out of the bicycle game and how big you are, these may be just the best e-bike you could buy.
A tricycle offers you greater balance and support. What more could a big man ask for?. Having 3 wheels rather than 2 means your body weight is more evenly distributed which minimizes the risk of crashing and or injuring yourself.
A couple of the tricycles below have big chunky tires which are perfect for heavier people. Thinner racing tires simply wont handle excessive weight over 250 pounds. Which is why us bigger riders need to look for fat tires which can withstand higher pressure. These 4 electric bikes below have weight capacities greater than 250 lbs up to 400 lbs.
*Note: I would probably change the seats for an oversized bike seat for any stock standard bike for obvious reasons. Rarely will you find a bike with a larger seat for us with bigger backsides. Also abide by the weight capacities as its grounds to void the warranty should anything bad happen.
View All E-Trikes For Heavy People Here
Best Electric Cruiser Bike 550 Lbs Capacity

If 3 wheels are not your thing, electric cruiser bikes are the next best option for a overweight person if you ask me. With these types of bike you can sit up tall and hold onto the handlebars without hunching over.
Not only is this better for your back but also great for people with larger bellies (Guilty!). The belly while great for using as a table for drinks while sitting is more of a nuisance when it comes to riding a bike. But not with an electric cruiser bike like this one by Oraimo.
This is the Standard cruiser bike by Oraimo. This e-cruiser has a maximum weight capacity of 550 pounds and is a step through model. *Note, the 550 pound weight capacity includes any luggage you may carry onboard. The rear seat can hold 330 pounds in weight. There are additional upgrades you can purchase such as : Front basket, Rear Basket, Saddlebags etc.
In case you're unsure what a step through bike is, it just means there is no bar running horizontally from the handlebars to the seat stem. Instead it runs down lower on the shaft so you can easily put your foot over the other side of the bike. Especially important for a very larger person.
What powers the Oraimo adult e-bike?. 1000Wh/ Dual 48V 10.4Ah Li-ion Battery powered motor which put out 750 watts (100W Peak). While 750 watts is not a huge number, it's more than enough for average ride around town. But best of all it can hold up to 550 pounds of weight and is easy to mount and dismount.
---
325Lbs Capacity Electric Bike – Beach Cruiser

A slightly less powerful cruise electric bike is this 500 Watt 36V SOHOO e-bike.
Similar to the above Oraimo, the SOHOO is also a step thru beach cruiser e-bike, however with a lower weight capacity. This bike also features 7 speed Shimano gears that power the foot pedals. But it steps it up a gear when it comes to the electronic elements. Being a 48v you get more miles per recharge of the battery.
Depending how you use the battery and foot pedal ratio, you can expect to get about 50 to 65 miles from the recharge with pedal assist on. You can even take the battery out to recharge it separate from the bike should you please. One never knows when they may need to randomly recharge the batteries away from home, so this is a good feature to have.
The electronic components are also rear wheel which is good for a heavy person. Having the motor etc on the front can make it too front heavy.
But all in all it's quite a heavy duty electric bike. You get the feeling this bike was 100% designed to be made into a e-bike from the ground up. Not just a conversion kit added to an existing bike model. With the exception of the seat, it's quite a decent bike.
---
Best Electric Mountain Bikes For Heavy People

Mountain bikes are often regarded as the go to bike when it comes to heavy duty trail riding. Not only are they tough for all kinds of terrains, but they are also quite suitable for a heavier person.
There are a number of electric mountain bikes suitable for people around the 350 to 400 pound mark. The one I like the best is the 26″ HAOQI MTB e-bike. This is quite a sturdy bike with a cool frame that makes it a tad bit easier to get on and off the bike.
As you may know mountain bikes can be difficult to get off regardless of your size. But with the design of this frame you get a little extra leg room. The top bar comes down from the seat stem to form a off sided 'V' or tick shape.
The front fork is very strong as well which is essential for a big man on a mountain bike. It features premium double shock absorbers with shock post to bear the extra force. The total weight capacity on the HAOQI is 400 lbs.
In terms of speed the HAOQI can go to 28mph but with some extra foot power you can go faster. When it comes to steep hills, you're going to thank yourself after effortlessly gliding up and over hills. Without this type of e-power, it would have been time to turn around.
For those wanting more of a challenge, you can adjust the tension levels on the 7 speed Shimao bike to really get a good work out. But this is certainly not for me as I'd prefer to go at a steady rate and use the battery when needed.
Overall this 48v/20AH 750 watt electric mountain bike by HAOQI is quite a good buy. In terms of price it's far more affordable then what you may expect. Perhaps this is due to it being sold online, but nonetheless if you go down to a dealer I would expect to pay a lot more.
---
Bit More About Electric Powered Bikes
With electronic devices taking over the world, its good to see that the heavier person can also utilize this technology. From heavy duty electric scooters to these e-bikes, mobility for the average big Man has never been easier.
So weight capacity is certainly one aspect to consider when buying a e-bike. But what are some of the things to look out for?. Below you can find a few of the common mistakes people face after buying an ebike for the first time.
Don't 100% rely on the mileage or distance rate manufactures specify in their product descriptions. There's no way they can be 100% accurate as every location faces various inclines and terrains, user weight and of course how fast you go.
Don't buy a hub drive system if you anticipate taking on hilly conditions on a regular basis. Hub drive is fine for flats, but struggle on hills.
Mid drive systems are the all round go to design. They are optimal for flat and steep inclines as they operate on a gear design compared to a fixed speed design of the hub drive.
Top Speed: Don't buy a bike just because it has a higher top speed as an e-bike won't be able to maintain the top speed anyway, its better as a gauge on short burst top speeds.
You get what you pay for. Why is it that some ebikes are $500 while others are $3000?. Well simply put e-bikes have components which can be higher in quality. For example you can get a front suspension fork that costs $80 while at the other end you can pay $2000 for a high end model. Cheaper is not always better.