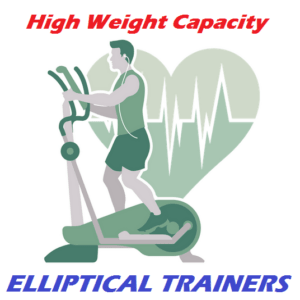 When trying to loose weight as a big Guy it's important to get the best advice possible, if not your own personal trainer. However I can totally understand preferring to go it alone as a big person for obvious reasons.
While spending a lot of money these days on exercise equipment may seem overwhelming at first. It's best to think of it like- investing this amount of money into a Elliptical Trainer which may greatly benefit health and fitness levels.
Which I believe is something you cant put a price tag on. When one chooses to go solo without a personal trainer, it frees up some spare change every week. This extra bit of money can be put forward into a higher end more professional piece of exercise equipment.
Quickly Compare The Heavy Duty Elliptical Machines
300 Lbs Weight Capacity Elliptical Trainer For The Home Gym
Schwinn 430 For The Budget Minded

For the Big Men & Gals needing a budget Elliptical, this 300 pound weight capacity machine may be a great option. Schwinn is the name behind this trainer, and a pretty big name in the industry.
What they have delivered with the 430 Model is a good all rounder Elliptical for people up to 300 Lbs. My opinion is that this Elliptical will suit the majority of people. Except for the really fussy nit pickers or people over 300 pounds. But for the general consumer, I think the Schwinn 430 is a good choic
Like I've stated this machine is a great choice for people needing a home Gym, if you're looking for a more commercial style professional Elliptical, keep on reading down the page. The price also reflects the fact it's not a professional piece of exercise equipment. However in saying this, I believe it to be a much better Elliptical trainer than those on the lower end price tag, some which you may see all too often.
Quick Pointers
The Schwinn is relatively quite to use, however maintenance should be performed to provide a longer quieter experience. Don't worry, it's as simple as spraying the tracks with some Permatex Lithium Grease every 2-3 weeks I recommend.
The LCD monitor can store 2 peoples data which can than be transferred to My Fitness Pal with relative ease. Comes with speakers MP3 port and USB connectivity for any music needs. But considering the price, don't expect to be blown away by the built in speakers.
Overall the Schwinn 430 Elliptical Trainer is my Best recommendation for up to 300 pound users who don't want to spend a fortune. It has everything I need in a standard home gym set up with some pretty cool features as well. The Elliptical itself is over 200 lbs, which to me represents a really good heavy duty elliptical machine.
Schwinn 430 Elliptical Trainer - 300 Lbs Capacity
Our Top Rated Elliptical Trainer For Cardio Workout
[review_bar id='1154′]
400 Lbs Weight Capacity: Sole Fitness E95
We have found Sole Fitness to have a remarkable reputation for high quality exercise equipment, including treadmills and elliptical trainers. The E95 is no exception and with a high weight capacity of 400 pounds, we have rated it as our number one pick for the Big Guy or Gal.
Many people fall for the 'bells and whistles' features when buying elliptical machines and seem to forget about how well the machine actually handles. The E95 wont blow your mind with fancy out of this world technologies. But we have found it to be a solid and functional cardio workout elliptical trainer. One we hope to see last for many years.
There were only a few really good contenders in our Big Mans Elliptical Machine Category. Some with built in Apps, software featuring Jillian Michaels from Biggest Loser and mind boggling LCD Displays. But what really makes the Sole Fitness E95 a highly sort after Elliptical Machine is it's smooth and noise free motion.
The 34 pound Flywheel is incredibly quite and operates amazingly due to the heavy duty rail which the 4 wheels glide seamlessly on, without any pedal sideways action. I like the fact the Flywheel is considerably heavy, after all this is the engine room of the Elliptical trainer and the weight of the Flywheel is reason alone to prove its high quality and heavy duty rating.
Exercise Features Of Sole E95
The overall workout the Sole E95 may offer I reckon is on Par with what we expect from going to the Gym. The quality and stable feel of this machine makes it an easy alternative to the local Heath Club's Elliptical machine, without the hefty price tag of course. The incline feature this power house machine can throw at you I found is amazing.
In fact I think you may even find it very challenging when you step it up a gear. Or two. But it also offers the easy incline for the less advanced and lazy Sunday workouts. The overall workout performance of the E95 is second to none and cannot be faulted if you ask us. The design has been really well thought thru and offers a supreme quite and smooth work out.
Assembling the Sole Fitness E95 has proven to be a tough one for many consumers. If you can, avoid trying to assemble this tank by yourself. I mean really avoid it, this thing weighs over 200 pounds and is solid as.
I'd go as far as saying PAY for the assembly by the guys who do this on a daily basis, if you have that option available. The 2-4 hours spent assembling could be better spent else where. Less stressful too.
What features does the Sole Fitness Elliptical Trainer E95 have?.
Well to be completely honest, features ain't this trainers biggest draw card as mentioned earlier. The chest strap heart monitor and heart monitoring programs work a treat. Combined with the actual fitness capabilities of the Elliptical Trainer, I still find the E95 to be a superb workout/weight loss piece of equipment.
However the bonus accessories really let the E95 down, which to me isn't a deal breaker. But still worth mentioning anyways. So this E95 comes with a cooling fan, Mp3 capabilities and built in speakers. Sounds great, but it isn't all that flash. Firstly I don't like where the inlet for a Mp3 player goes as it sits in front of the 9″ LCD monitor.
A longer cord and some handy work can get you around this problem. The fan and the built in speakers are both sub standard in my opinion. A wireless speaker box connected to your iPhone or Mp3 player will do the trick much better.
Putting the minor accessories aside, I still think the Sole Fitness E95 is the best rated Elliptical Trainer for plus sized people up to 400 lbs. The shear fact its comparable to Gym quality and made from high quality materials, is a big winner for me.
Nobody wants to be spending 1000's of dollars on exercise equipment every year when they don't have to right. Buy a good Elliptical Trainer the first time round and save on the headaches down the track, that's my thinking anyways.
SOLE Fitness E95 400 Lbs Elliptical Trainer
High Quality Mid Range 325 Lbs Elliptical
The NordicTrack Space saver SE9i is one of the newer releases for the year and so far is receiving some great praise. With it's 325 pound weight capacity and a stride length of 18 inches, the big and tall community are well catered too.
While 18″ is not a huge stride, it should be suitable for most users up to about about 5'8″. This will be uniquely based on your actually leg stride when you walk/run. So whip out some tape measure and measure from the back of your heel and then take a step. Where you land with the opposing foot, measure to the original back of heal location. This will determine your natural stride.
A Little About This Heavy Duty Elliptical Trainer
The first thing I love about this elliptical is the fact it's up to date with technology. Many machines still use LCD monitors. But the SE9i has a 7″ color touch screen. Which makes for using fitness apps like iFit that much special. This is because you get a visual display of programmed courses from all over the world in color. So while you are trying to keep fit in the Winter, you could be walking the beaches of Australia from your workout room.
While it does have the big touchscreen, it also has convenient buttons located on the console for quick and easy access to amp up the intensity. But whats even better is that NordicTrack have built in buttons on the end of the arms. So while you are swinging away, you can control your workout with your fingers without having to slow down or stop to use the console. I like this feature a lot on elliptical machines.
The NordicTrack also comes with your usual features like a built in fan, dual 2 inch speakers, AUX input, heart rate monitor and even the heart rate strap which is more often than not an extra.
Awesome Warranty
But what really makes this elliptical a worthy buy for the larger people like myself, is the lifetime warranty on the frame of the elliptical. While it has other various warranties, the frame is what matters most when you are heavier than normal people. So to see a lifetime warranty is like striking gold to me.
When you combine that with all the features and the features I haven't mentioned like the 30 program workouts, 24 resistance levels (quite a large amount of resistance), rear drive being a natural feeling stride which helps you keep balance (important for a big person) the NordicTrack certainly impresses.
To finish this heavy duty elliptical off, it folds away vertically to maximize space in your living room or gym. Plus it has wheels for easy transport from room to room or house to house. Overall, it's pretty good value for the price in my opinion.
NordicTrack SpaceSaver SE9i
What's The Best Elliptical Machines For Home Use
400 Lbs Capacity Captiva By Yowza Fitness Reviews

[review_bar id='1160′]
Yowza Fitness are a online only company specializing in discounted exercise equipment. By selling online only with no shop front they claim to be able to keep costs down. All their machines are designed in USA and the Elliptical's offer unique patented Cardio-Core features which we will discuss on this page.
Learn more about the company Yowza Fitness and the numerous awards they have achieved to be assured they make some really high quality Elliptical Trainers. It's always important to research any Brand/Company before spending thousands on an Elliptical Machine.
After much research and comparing the available Yowza models, we think the Captiva stood tall as the best Elliptical machine for home use for users up to 400 pounds. Especially for folks wanting to work the ab region. The patented Cardio-core feature is exceptionally good for the stomach area. While the overall trainer is great, I think one of the biggest draw cards to buy the Captiva Elliptical Machine is the Cardio-Core technology.
The Cardio-Core comprises of a unique full swing of the upper body by gripping onto the handle bars (3 different types of grips – Upper, lower and cross grip) and swaying from side to side with your arms. This motion is an intense workout for the abs.
Meanwhile you are also striding back and forward like you would on a traditional Elliptical trainer. A full body workout in one simple and easy to use machine. This unique trainer has the potential for overweight people to really shred the pounds fast, which is why I really do favor Elliptical Trainers and heavy duty rowing machines over other forms of exercise.
But anyways, its crazy to think this type of full body workout wasn't invented until recently. The best part of course is that you can buy one of these amazing weight crushing Ellipticals for around the same as a heavy duty treadmill, which is just awesome. I foresee a lot more homes across America being proud owners of the Captiva Elliptical Machine by Yowza Fitness.
Witness The Innovative Cardio-Core Technology First Hand
Watch this short video to fully understand the power this Elliptical can really produce with it's unique Cardio-Core features. Plus find out more of the specs in the video such as incline rates etc.
Some things worth knowing about the Captiva
While this page could go into much more detail simply due to the outstanding performance offered by the Captiva, we will have a quick look at some of the more important features.
Links below will guide to further reviews and product description if you want to further research this amazing home use Elliptical Trainer. Firstly the fact it's a rear drive machine rather than a front drive is a major benefit. This is because the front drive Ellipticals tend to heat up more, collect dust/dirt and can wear the belt out far quicker.
More importantly front drive Ellipticals may put large amount of pressure on the knees. Unlike this rear drive which puts the inertia behind you and forces you to lift up your knees rather than put intense pressure onto the knees. The Captiva offers smooth and large strides for the tall people and the motion actually feels really natural, which is nice.
The softness of each stride is a relief for people with bad knees, while mine aren't particularly bad yet, many people have commented about how much of a difference this Elliptical trainer makes compared to something like a Precor Elliptical that has a ramp style operation. The Captiva can also be set in reverse, but one should always take care with this approach.
All in all, we think the Captiva is up there for best bang for your buck Elliptical Trainer. I haven't spoken in great depth about the technical spec's, but you can easily find this out in the below links. The accessories/features and LCD monitor are also discussed along with more about the Cardio-Core motion. My final thoughts are that I think this machine can offer many benefits for the heavy person looking for a solid yet simple workout routine.
But as we are all different in each way, I encourage you to do further research and read more reviews for the Captiva Elliptical Trainer before buying just any ole machine. Still I give the Captive a massive thumbs up!.
The Captiva 400 Lbs Capacity Elliptical Trainer
How Much Should You Pay?
There are many Elliptical Trainers in the $500,$1000, 1500 to $2000 mark, but which ones are good for a large or overweight person?. This is what we are hoping to deliver today, with both budget and high end consumers catered for. At the end of the day if you're paying top price, you should expect to get a high quality machine. Especially when it comes to heavy duty elliptical machines with heavier weight limits.
Like most products with higher weight capacities, the support system has to be heavy duty and durable. As the elliptical trainers for obese people tend to cost a bit more than standard machines, I also expect extended life span and generally a more generous warranty. I usually expect this from anything that's cost me a fair bit of outlay really.
Heavy Duty Elliptical Trainers
The Elliptical Trainers Above are well suited for the heavy person. After sourcing through many brands, models, reviews, statements and hours of research we have delivered what we think are the best Elliptical Machines for heavy people who require higher weight capacities.
I have included 2 of our all time favorites which are more expensive, but differ greatly in features and quality. However, as we like to do for big and heavy people, we also like to find a suitable budget model, as we know all too well the costs of being overweight aren't only measured in Lbs..
Save
Save