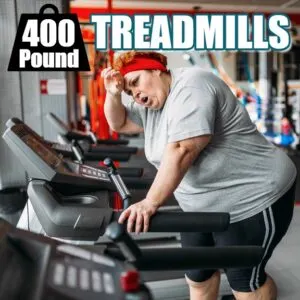 In this guide I will reveal the best treadmills with 400 lbs user capacity. As a big person buying a treadmill, one of the most important factors to consider is the machines weight limit.
Never under any circumstance should you compromise on the treadmills specified weight rating. I would even go as far as to say that you should leave a 5% to 10% buffer between your body weight and the user capacity listed on the product description page.
So if you weigh 360 lbs to 380 lbs, this would be the maximum body weight I would recommend for a 400 lb capacity treadmill. Treadmills can only hold a certain amount of weight so it's best to not overwork the motor and potentially void the warranty.
If you weigh 400 pounds or more, you would be best to look at the treadmills with 450 pound capacity.
Compare The Top 5 400 LB Capacity Treadmills
| | Features | Deck | Price |
| --- | --- | --- | --- |
| | 2 Manual incline positions, 4MPH top speed, Folding Design, 1.5HP - Budget Entry Model | 20"W x 40"L | Check Price Amazon |
| | Best Overall - 4CHP, 12MPH top speed, Cushion Flex deck for 40% less impact on joints, 10 Programs, Fans, Mp3 player, Tablet Holder, Bullet Proof Steel Frame | 22"W x 60"L | Check Price Amazon |
| | Best For Big & Tall - 4CHP 3900 RPM Motor, Ortho Flex Cushioned Deck, 10 Programs, Club Rated With Lifetime Motor Warranty | 22"W x 62"L | Check Price Amazon |
| | Powerful yet quite 4CHP motor, Up to 15° incline with top speed 12mph. Amazing features with customized programs. Foldable design that folds down at the touch of a button | 22"W x 60"L | Check Price Amazon |
| | Commercial grade 3.5CHP with incredible low speed torque for heavy walkers, 15 Levels Of Incline, 12mph top speed. | 22"W x 60"L | Check Price Amazon |
---
There's More To a Treadmill than Just The Weight Capacity
While staying within the 400 pound user rating is a great start when narrowing down your choices, you can't base your buying decision solely on the weight rating.
A treadmill may be able to safely support your body weight, but are the mechanics inside the machine capable of working tirelessly minute after minute and hour after hour with a 350 pound person onboard?
How do you determine whether a 400 pound rated treadmill actually has the power and enough resources to operate reliably under such a heavy strain?
Horsepower
When comparing the treadmills listed in this guide, pay particular attention to the Horsepower (HP) within the specifications. Specifically, look for treadmills that use continuous horsepower (CHP).
When you are pushing the treadmill to the limit whether it be by heavier loads or faster speeds on a steep incline, the CHP measurement will reflect just how much power the motor will churn through at a minimum throughout the workout.
So to put this in respective, the heavier you are, the higher CHP treadmill you should consider. The lower the CHP rating is, the more the motor will struggle with a 400 pound person onboard.
As a basic point of entry, look for a treadmill with at least 1.5CHP, but the higher the better if you weigh 350 lbs or more.
Peak Treadmill Duty
If the listing doesn't specify whether the treadmill uses continuous horsepower, look for terms like peak duty and treadmill duty. These are terms manufacturers use to describe the differences in the treadmills horsepower.
Peak Duty is basically the maximum output of horsepower achievable by the motor. This is typically reached when the treadmill is pushed to the limits on a steep incline at top speeds. Not the best gauge for working out if it is suitable for a heavy person as it is unlikely a 350 pound person can tackle such steep inclines at top speed.
Treadmill Duty represents the average horsepower for an average size user at a average speed. So with a heavy person, the Treadmill Duty number would in effect be lower. So don't be fooled into thinking that because it has a higher Treadmill Duty number, it will perform better as a large user. This is why looking for treadmills that have CHP is a better option.
Be Mindful Of Bloated HP Ratings
Now that you know the higher the HP number is the more power you have at your feet. However, don't be fooled by manufacturing trickery when it comes to over compensating the the number of horsepower the treadmill has.
How do you figure this out? Well, it's not easy as many product descriptions don't list the rotations per minute (RPMs) in their specifications.
With RPMs, it's not a case of higher means better either. Some manufacturers will list their treadmills as a higher HP as a result of the motor having higher RPMs. So the rotations per minute have increased in volume and therefor giving the impression of greater horsepower.
How Is This Bad For The Obese User?
However, where this can trip a heavy person up is with the torque aspect of the treadmill. With a lower number of rotations per minute (3k-4krpms), the treadmill is able to generate greater power to turn (torque) over compared to a treadmill with a higher number of RPMs (7k-8krpms) which will spin at a faster rate making the motor work harder.
With more power (Torque) at a lower number of rotations, the treadmills motor can operate efficiently. But once manufacturers start doubling the RPMs to about 7000-8000rpms to increase the treadmills horsepower, the torque (power) is drastically reduced.
So a treadmill listed as 4HP with 8000RPMs is going to have motors that are cycling much faster and working overtime to keep up with the load. This is bad for the heavy user as it will drastically impact the longevity of the motor, eventually causing it to burn out.
The Ideal Treadmill Specifications
So with that all said, you naturally want a treadmill that has a motor that is going to last you a long time. So you need to look for one with a genuine continuous horsepower rating of 3Hp or higher that has not been directly increased as a result of higher RPMs.
For a heavy user above 350 pounds, you are looking to find a treadmill with about 4000RPMs, anything much higher will be influencing the HP rating and causing the motor to work far too hard and burn out sooner.
Affordable 400 Pound Capacity Treadmill Option
Finding the cheapest 400 lb treadmill is not an easy task. As most treadmills that can hold this level of weight are classified as commercial grade. so the price is usually significantly higher.
However, when you're putting a treadmill under heavier load stress, buying the cheapest is not always the best idea. Especially if you want it to last a long time.
Exerpeutic TF1000 400lbs Treadmill

The absolute bare minimum HorsePower (HP) I would recommend for someone over 350 pounds as stated earlier is 1.5HP and that is exactly what the Exerpeutic TF1000 offers. Being a low range horsepower motor does come with its challenges, but at the same time is the cheapest 400 lb treadmill on this list.
So you must weigh up the pros (cheaper option) versus the cons (lack of power). This lack in power is enhanced by a heavier person using making the motor need to effectively load on just about every step you take.
Which is not only noisy, but evidently clear that it may not have enough power to really be suitable for someone that is classified as obese.
4MPH Top Speed
To be honest with you, 4mph is not a great top speed. However, for a relatively out of shape heavy person, anything faster than this is a pretty steep challenge. So in the beginning the TF1000 may be a good choice, but as you become fitter you may find yourself seeking for a more challenging speed.
Lacks Diversity
Most of us overweight people will tend to use a treadmill for walking only, which is perfect for the TF1000. However, when the time comes to take on the next level in your weight loss or fitness journey, unfortunately the TF1000 leaves you high and dry.
What I found to be particularly unusual for a treadmill of this calibre is that it does not feature a push button electric incline feature. Instead, the deck can be manually raised to 2 height levels. For me, this is an instant turn off as I like to work the back of my legs harder on the incline and I do not want to get off the treadmill mid workout to raise the incline.
So basically a automatic incline workout is simply not possible with the TF1000. But if a flat slow walk is all you are after, this treadmill offers just that. The treadmill does offer the ability to see your workout data, but it does not offer you any pre-programmed programs.
This also can be a game changer for some people. However, I usually beat to my own drum and create my own programs as I go, so this is not a huge deal for me.
Overall, It's OK For The Price
Buying a 400 pound capacity treadmill is no easy task, the options are just simply limited. So sometimes you got to take what you can get, and I feel this is the case for many people.
Unless you are willing to pay 4 to 10 times the price of this model, there really is not much else out there with a 400 pound rating. Without going commercial grade, the Exerpeutic TF1000 may be the only option.
So you may be willing to take the bad with the good (price) and that is completely fine, especially if you prefer walking over running on a treadmill. As this deck offers no cushioning on the deck, which makes running on it a nightmare.
To be honest, the deck is not really designed for running on at all. It is simply too short. While the 20-inch width is nice, the 40-inch deck length is certainly not suitable for big and tall people, perhaps it's even too short for walking on also if you are over 6′.
Key Specs
4MPH Top Speed
1.5HP
Deck Area: 20″W x 40″L
LCD screen can display your pulse via hand grips, calories burned, speed and the time you have taken to walk the distance.
Exerpeutic TF1000 400lbs Treadmill
---
The Best Treadmill With 400 LB User Capacity

In stark contrast to the above TF1000 is the Sole Fitness F85. This treadmill has long been one of the best treadmills for heavy people. Not just because it has a 400 pound user limit, but because of the shear quality and performance of the machine.
Just a word of caution as you proceed, all the treadmills listed from here on are high-end commercial grade models. So while they can handle and exceed the expectations of a heavy person, they also come with a hefty price tag.
High Performance 4 CHP Motor
If you read earlier up the page about how important horsepower is when it comes to buying a treadmill, you will soon see why with this Sole F85.
This machine is capable of powering above and beyond the 1.5Hp of the Exerpeutic TF1000. With the Sole F85, you get a powerful 4CHP. That is a continuous flow of 4 horsepower. Now when you compare that to the 1.5HP of the TF1000, which one makes more sense to buy for the bigger person?.
High Torque Combined With A Heavy-Duty Chassis
A unique aspect of the Sole F85 is the fact they have added a flywheel to treadmills chassis. But it's not just that they added a flywheel, it's that its a commercial grade heavier flywheel.
Why is this important to the heavier person? simply put, the heaviness of the flywheel gives you the gym quality fluid motion on each step you take.
The flywheel itself reduces the amp draw for greater torque and keeping the motor cooler while in operation. Ultimately resulting in a motor that has a far extended lifespan compared to a treadmill without a commercial grade flywheel.
Heavy-Duty Construction
While a big powerful motor is one thing, another thing that makes the Sole F85 stand out is the 'bullet-proof' frame. Yes, I kid you not. The frame is described by Sole fitness as bullet-proof. This kind of reassures the heavy person of its structural integrity.
As a result of the heavy-duty steel construction that utilizes welding over bolts for greater strength, the treadmill comes with a warranty that is simply too hard to pass up on. The steel frame has been finished in the toughest type of paint, epoxy. So it won't dent or scratch with ease either.
The Specs You Need To Know
Based on the performance of the motor and the high-quality build of the Sole F85, it's easy to see why it is a leader in the field. The 400 pound capacity is very much believable in a heavy-duty commercial grade treadmill like this.
While being super tough, the Sole F85 also offers you much more in terms of workouts and entertainment while on the treadmill. Here's a quick overview of what's on offer.
2-Ply belts that have been double woven with 4 layers. Double layered rubber with PVC and a nylon backing. This combination of layers increases the durability of the belt while reducing the mount of stretch and offers a static free performance as it moves over the rollers on the treadmill.
Static Reducing Rollers. The larger commercial size rollers are uniquely constructed with copper ground wires that have been encased in a sealed bearing. This helps to reduce the annoying static and zapping you get on some of the cheaper treadmills while also increasing the lifespan of not only the rollers, but the belt also.
22″ Wide x 60″ Long deck is oversized in comparison to many others. This gives the bigger user more area to walk or run if you so desire.
Top Speed 12 MPH. Minimum speed 0.5mph for very slow walking.
Cushioned deck to reduce the amount of stress and impact on the joints by 40%. Ideal for bigger people whether you are walking or running.
Programs including custom programs, heart rate monitors, Bluetooth, the F85 now also includes a tablet holder and much more.
Sole Fitness F85 Folding Treadmill
---
Close Runner Up – 3G Cardio Elite Runner

The above Sole F85 is a very popular treadmill for heavy people and as a result of its popularity, demand can be quite high. Finding available stock can sometimes be a mission in itself.
Fortunately, we have the 3G Cardio Elite Runner as a very suitable 400 pound capacity runner up to the Sole F85. But don't think that because this treadmill is voted as the runner up, its a bad choice.
It's quite arguably the best alongside the Sole in my opinion. So don't be discouraged at all.
This Machine Is A Beast!
Some people say that the heavier the item weighs, the more robust and heavy-duty the product is, and I have to agree with them when it comes to treadmills.
With the 3G Cardio Elite Runner weighing an impressive 386 lbs, you can feel safe standing on such a durable and tough treadmill as a heavy person.
As heavy as the treadmill is, you need to be prepared for some assistance when moving the thing. Unfortunately, the 3G Cardio Elite is not a folding treadmill.
So you need to take into consideration the weight and the size of the treadmill when buying. The floor space this beast requires is quite space hungry. The treadmill itself measures 84-inches long with a width of 35.5-inches.
Making it a monster size treadmill, so please be sure you have the floor space to set this tank up before buying.
Oversized Running Deck
Part of the reason the 3G Cardio Elite is so huge is that the deck itself is oversized. Just like the above Sole F85, the 3G Cardio Elite has a deck with a width of 22-inches.
This extra width is ideal for bigger users. The last thing you want is to have a narrow deck space trying to walk or run in a straight line. The extra width gives you back a bit of freedom when using it for walking or running.
Great Choice For Big & Tall Users
Complimenting the extra width is an extra long running deck. The deck on this treadmill is 62 inches long. That is an extra 22-inches of deck space in comparison to the Exerpeutic TF1000.
This extra length is 100% required if you are tall and or if you plan on jogging or running on the treadmill. This size deck is an absolute requirement for someone that is over 6′.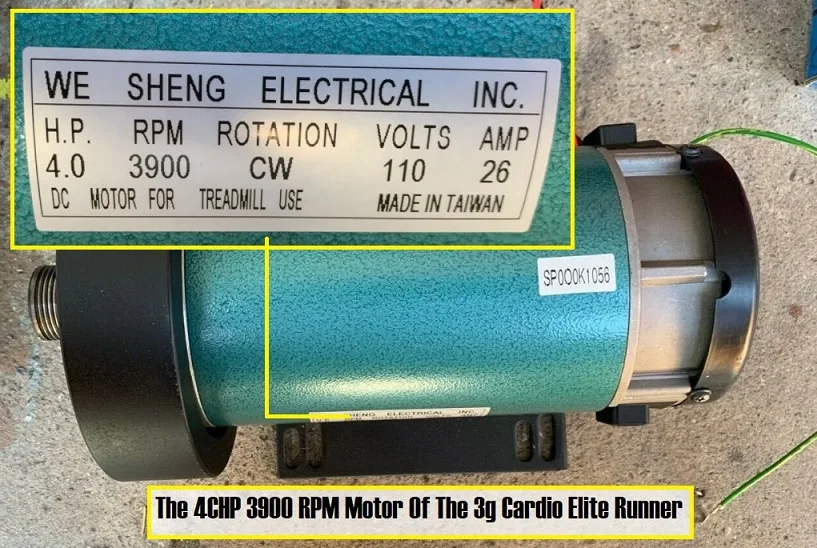 The Right Amount Of Power & Torque To Handle Heavy People
If you read the section on horsepower, torque and RPMs in the introduction to this guide, pay particular attention to the following specifications as the 3G Cardio Elite ticks all the boxes:
4 CHP – Continuous horsepower so the motor can perform without burning out under heavier stress.
3900 RPMs – The sweet spot for balancing power with rotations, and torque to turn over without putting too much strain on the 4CHP motor. The perfect mix for a heavy-duty treadmill.
Orthopedic treadmill belt – The Ortho Flex Shock Suspension System in combination with the thicker orthopedic belt makes the cushioning on this treadmill a dream to use.
There's So Much More To This Treadmill
The 3G Cardio Elite is certainly one of the best high-end treadmills on the market and the best part is that it costs about half that of a true commercial treadmill used in 24/7 gyms.
The features and display panel on the machine are just incredible. With one-touch 15% incline, you can really get the work out you need to get serious results.
While the features are a nice bonus, it's the treadmills 400 pound capacity combined with a true 4CHP 3900 rpm motor that makes it such a good treadmill for heavy people.
If you are serious about finding a suitable treadmill when you weigh 350 pounds or more, the 3G Cardio Elite is without a doubt one of the best options available.
3G Cardio Elite Runner Treadmill
---
Folding Treadmill 400 LBS Weight Capacity Honourable Mention
The BowFlex BXT216

The BowFlex BXT216 treadmill is yet another commercial quality option with a 400 pound weight capacity. It is right up there with the 3G Cardio Elite and Sole F85 in terms of power and specifications.
It utilizes a strong yet quite 4CHP motor which can comfortably power the treadmill to incline up to 15% at a top speed of 12mph.
What's equally impressive is the 3-ply belt and the extra large rollers.
3-Ply Belt
The BowFlex features probably one of the thickest belts you can find for a treadmill in this price range.
The 3-ply takes it one level deeper than the Sole F85 (2-ply) to provide even greater cushioning under the feet. This additional layer to the belt will also help to increase the lifespan of the belt.
Large Rollers
The rollers are not typically something you think about when choosing which treadmill is right for you. However, in my opinion, having oversized rollers like that of the BowFlex is an incredible advantage to the heavy person.
Most rollers are between 2″-2.5″, with the BowFlex they are 2.75″. This larger size helps propel the belt with minimal effort which ultimately reduces pressure on the motor and wear and tear on the belt. They also help to make the belt rolling action seamless and smoother.
400 LB Folding Treadmill
As with any high-end treadmill, the features included are fantastic. But I'm more impressed with the one touch folding mechanism.
Bringing a treadmill down from a folded position can at times seem intimidating. But with the BowFlex, you simply press the big red button located on the right side of the backend of the deck and it automatically folds down into a working position.
Customized Programs And Much More
Another feature that I think is just brilliant is the BowFlex JRNY app which delivers customized workouts to the treadmill. These workouts are specifically designed for you based on your previous experience on the treadmill.
The app has a whole bunch of other features and another one I particularly like is the encouragement feature. It's not easy working out as a heavy person and it is much easier to lose motivation.
The treadmill can actually talk to you to encourage you to keep going and not give up. This is an important feature and one I find valuable as a big man myself. I know all to well how easy it is to just 'not go on for long today'.
But with this feature you can be helped to push yourself that little bit further. Ultimately, it benefits you and your health for the better.
While features are all well and good, it's the 4CHP motor and thickened belt with oversized rollers that make this treadmill a very good candidate for the heavy user. These are the features that will benefit the big person far more than having a built-in mp3 player for example.
Bowflex BXT216 Treadmill 400LB
---
Treadmills With 400 Lbs User Capacity Conclusion
When it comes to buying a high weight capacity like these treadmills it can be a costly experience. So it's important to really understand the components of each treadmill and why they are best suited to you and your needs.
It can be very tempting to sacrifice weight capacity for the price of a treadmill. But this is something I strongly urge you against. Doing so may void any warranty and could also cause injury, so it's just not worth it.
Buying a 400 pound treadmill is not cheap and it is just something us bigger people have to accept. Like most products that are suitable for heavier people, the price is often oversized.
But this is not necessarily a bad thing provided there is evidence to suggest additional reinforcements and measures taken to provide you with a safe and sturdy product that deserves the 400lb rating.