I hope you love the products I've recommended below, just a heads up that as an Amazon associate, I earn from qualifying purchases. This means I may earn commissions on products bought via links on this page.

It's not easy relaxing in a comfortable chair as a large person, especially if it reclines. This is why heavy duty, oversized Zero Gravity chairs for large people are the best there is.
When reclined in a heavy-duty zero gravity chair, the frame and support bars pretty much absorb the body's weight to create a feeling of weightlessness.
Now, as you may know, us overweight people need a higher weight capacity in just about everything we sit, stand or lay on.
A high weight limit is especially important when it comes to heavy-duty zero gravity chairs. Being reclined in such a position is putting a lot of faith in a couple of chair legs don't you think?. If it topples over…. There is no winner!.
So a larger body will not only put extra strain on the foundation of the chair and possibly cause it to break beneath. But being a lot heavier than the normal (But what's normal?) person, laying on your back from a sitting position can be more difficult to achieve.
Not to mention pulling yourself up out of the chair. This greater force of essentially landing on the back of the seat can cause unwanted tension for a 'standard zero gravity chair causing it to break.
Compare Zero Gravity Chairs Up To 500 Lbs
Heavy Duty Zero Gravity Chair Must-Haves
High Weight Capacity – Bigger the better as it generally resembles the quality and strength of the foundation. The chair must be heavy duty or you're going to end up on the floor.
The chair must be adjustable so that a 90/90 degree angle can be achieved. This is the position experts believe to be neutral for the spine in order to feel weightless. The knees should ideally be raised just above the level of your heart so that a large angle can be formed between the pelvis and the back. This opens you up for increased oxygen flow and increased circulation.
Padding is a must in my opinion. While not all zero gravity chairs are massage chairs, the outdoor chairs need to be padded. The edges of the material can tend to dig into the body and cause discomfort. Padding for obvious reasons also improves the comfort level for which one may be seeking an oversized zero gravity chair.
The size matters. Make sure to take note of the chair. Is it oversized and can it fit not only your width but your height as well. No point having a zero gravity chair if the legs are all bunched up or hanging freely off the end and causing discomfort.
Best Zero Gravity Chair 500 Lbs Capacity
It's asking a lot for a zero gravity chair to hold 500 lbs, but where there's a will, there's a way. XLzero have come to the party and provided a 500-pound capacity zero gravity chair. For a chair that reclines back into this position, and safely holds 500lbs is mind-blowing.
What's impressive is that it's not just an oversized zero gravity chair where the manufacturer just sticks a few 500 lb rated stickers on it and calls it a day. XLzero has intentionally made this chair just for the large men and women of America.
The chair has been reinforced in the steelwork right through to the suspension. It doesn't take long to spot a fake big man's chair and fortunately, this XLzero passes the test. The moment you see it, you can tell that it's built to heavy-duty standards.
Unlike other chairs that look flimsy from the get-go. The moment you sit in a chair, you can tell whether its capable of handling your weight or not. This Guide Gear has finally given the obese people a chance to experience the feeling of floating that a zero gravity chair offers.
The Oversized Dimensions
What's also rather impressive with this zero gravity chair is that it is designed so the big and tall people can comfortably recline. The full recline length on this chair is 75″, which is just 5″ short of being the length of a queen size mattress.
For the larger folks, the seat has been widened so that the distance between the arms is 24 inches. This is quite a large difference between the standard seat size of 20 inches. So the big and tall can comfortably sit in between the arms without the arms digging into your ribs.
The seat height at the maximum is also quite tall, coming in at 22 inches. This height makes it much easier for big and tall people to not only sit on it safely, but exit the chair also.
Seat Size: Oversized seat 24″ Wide. Total chair width: 28″
Height: 47.5″
Seat Height: 22″
Fully Reclined: 75″
Chair Depth 37.5″
Weighs 20.5 pounds so it won't blow away on your deck during a windy day.
Available in 4 Colors: Beige, Red, Blue and grey.
XLzero 500 LB Zero Gravity Chair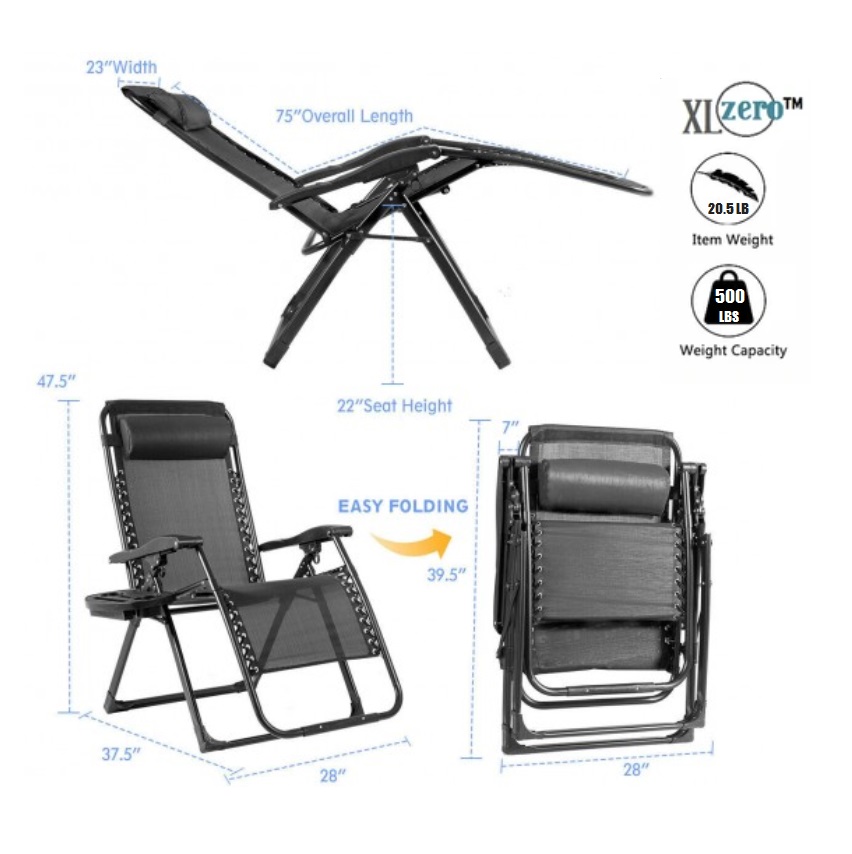 Best Big And Tall Zero Gravity Chair

Many of us bigger people are also tall. Which can make finding a zero gravity chair for the big and tall quite difficult. While being in the zero gravity position is pure relaxation, when your feet are hanging over the edge it can be a little off-putting.
So to solve this problem, a brand known as Ezcheer has come up with a longer, wider and more heavy duty zero gravity chair just for the big and tall people.
Being able to support 420 pounds, this chair will suit many heavier people and as it's an incredible 31 inches wide, even the wider body folks can finally relax in peace. This is about 6 inches extra backside space compared to regular chairs, which is quite the deal.
In terms of its length, it has 75 inches of laying space. This alone translates to 6'5″. With a body positioned in the zero gravity position, this is quite a long chair. so don't underestimate this big and tall chair as it is monstrous. Allow adequate relaxing space on your deck and then just close the eyes.
Ezcheer Zero Gravity Chair Oversized
400 Lbs Capacity Zero Gravity Chair
Recline Length: 75″
This is a new edition for 2020 by EzCheer which has been improved and modified on their previous model. It is good to see when a company listens to its customers and alters the product to as they see fit.
What EzCheer has done with this chair is reinforced and changed the foundation so that it can hold 400 pounds. This has been achieved by modifying the base where it comes in contact with the ground.
This chair has a square design rather than a curved circular design that most other zero gravity chairs use. This benefits us larger people as there is more steel in direct contact with the ground to provide a stronger and more durable foundation.
Unique Mesh Padded Material
One of the features I quite like about this EzCheer is that the material used on the chair is both padded for comfort and mesh for better airflow to your body.
The seat section is padded for the obvious comfort reasons and the top half of the chair is a mesh material. I quite like this because your back can get hot and sweaty with your whole body in contact with padding. So while you get the comfort of padding on your lower back, you get the benefit of the mesh to help keep you cooler as you relax.
Finishing the chair is a two bungee cord entwined to give a superior finish. Having 2 bungee cords as the suspension as a big person is a must. Single cord chairs simply won't be able to handle the heavy duty use required to hold 400 pounds.
EZCHEER 400 Lbs Oversized Chair
300 Lbs Zero Gravity Chairs For Overweight People

This XL version of the Faulkner recliner is not only wider but has a higher weight capacity than the standard model. Designed for the big Man wanting to totally relax outdoors on the porch or take for a classy camping trip.
I found this zero gravity chair to be one of the best padded outdoors chairs for the money. Many zero gravity chairs are super expensive, but the Faulkner is affordable and very heavy duty. Which is perfect for any outdoor occasion.
The frame is surprisingly strong for the price, which is a must considering the 300 pound weight capacity.
Durable Robust Padding
This is a padded chair which is about one inch thick. Which is not huge, but better than having no padding unlike many other chairs. Normally I prefer meshed chairs, but in instances where you lay back I feel padding is a must.
The lock feature is controlled by a lever, but there doesn't seem to be a lock for once you fold the chair up for transport. This is not a critical thing for me, but for someone who is on the go all the time and needs a portable chair, you may find the lack of lock when folded annoying. However, a separate carry/storage bag is available which makes this chair much more portable.
It's the small details with the Faulkner that make is a great Zero Gravity Chair. The way the arms are contoured rather than straight add an extra touch of comfort. The pillow can be slide into position under the neck for extra support and even taken completely off the chair. The customization combined with the padding is why I recommend this chair.
Faulkner Malibu Padded Zero Gravity Chair
The Good
300 Pound Weight Capacity
1 Inch Thick Padding
Heavy Duty Frame
Lightweight & Portable
Contoured Arms
Suitanle For Indoor Living Also
The Bad
Carry Bag Must Be Purchased Separately
Could do with more padding
The 350 Lbs Capacity Heavy Duty Zero Gravity Chair

If comfort is a requirement for your outdoors relaxation period, then I don't think there are many more comfortable zero gravity chairs on the market for this price. The padding on this chair is just right for reaching that zero gravity position.
The 350 pound weight capacity rings true when you see the size of the actual chair. As it's called the 'XL' you would be right to assume it's intended for the Big Man or Gal. The width of the seat is a nice 22 inches wide so plenty of room for the oversized person to relax in comfort.
The padded pillow that's included can also be adjusted or even taken off. But what I particularly like is sliding the pillow down and using it as lumbar support for an even more comfortable seat. The side table is also a nice extra touch, if only it had a canopy and a carry case. But all in all, I find the XL zero gravity chair a good fit for most plus sized people.
350 Lbs XL Zero Gravity Chair
Zero Gravity Chair For Obese People
450 Pound Weight Capacity Zero Gravity Chair

Finding any sort of chair for an obese person is ridiculously hard. Especially with chairs that recline backward because of the tipping over hazard and the high weight rating needed to support an obese person.
There's not much in the way of 400 lbs capacity outdoors zero gravity chairs on the market. So the way around this is to consider the double-wide 2 person zero gravity chair.
This chair is huge, and I mean huge making it one of the best heavy duty zero gravity chairs. It has an impressive 450-pound weight capacity, which is incredible for a portable reclining chair like this.
While this chair is intended for 2 normal size adults, I still believe it would be a squeeze to get 2 slightly larger folks into this chair. This is why this is the perfect zero gravity chair for obese people in my opinion. It's the better option for a single large person.
What I also like about this double chair is how light it is. The thing only weighs 34 pounds, which makes it super easy to move around or use as a heavy duty camping chair.
While the entire chair is not padded, we have to compromise a little with this 450 lbs capacity chair. The headrest is padded like most zero gravity chairs, but for an all-round comfortable chair you may need extra padding.
What I suggest to folks is to grab an old chaise padded cushion or what's even better is to use a Geri-Chair Comfort Cushion. This cushion is 75 inches long and has straps to tie down, its the perfect solution to adding a new element of comfort. It may not look all the flash, but boy is it comfy.
Double Size 450 Lbs Rated Zero Gravity Chair
Padded Indoors Zero Gravity Chairs For Heavy People
320 Pound Capacity Massage Chair

If you want to take the zero gravity comfort to the next level, then a zero gravity massage chair is a great choice. But again, it needs to be heavy duty to withstand heavier people.
While obviously a massage chair is going to cost more than an outdoors zero gravity chair, I see that as a positive thing.
This is because, you are not only get a awesome massage, but a chair with a 320-pound weight capacity that is built super strong and durable. As a big man, that's just what I like to know. Note: Seller states weight capacity in Questions & Answers.
The fear of a larger-sized person and massage chairs could typically put down to 2 things: weight capacity and width of chair. The Revive massage zero gravity chair by Bhealth delivers the peace of mind we may be seeking.
We have already mentioned that this chair has a high weight capacity, but it also has a XL size seating area. The actual width of the seat is 21 inches and 19 inches from front to the back of the seat.
Massage Is A Treat For The Big Man
Like some of the other massage chairs for overweight people, this chair has many airbags including the arm and calves zones. In fact, there are 12 airbags for the arms and 8 for the calf region. While the Revive may not have all the latest technology inbuilt, it does offer a lot of bang for the buck.
The Revive offers plenty of features that I love and it is just amazing in the zero gravity position. The rolling L track back rollers complete the package for me as they get right down into the lower back/buttocks region rather well.
The Revive chair does have 5 popular massage types which include Rolling, kneading, tapping etc. But what I find amazing about his chair is the fact it comes with some very good automatic massages setting pre built into it. Which is just fantastic for those days when you just need to get into a chair immediately and 'revive'.
But having the manual option should not be disregarded either (Even tho it's hard to pass on the Auto programmed massage #4. The manual option allows you to manually choose which massage you want and which part of the body needs the attention.
For example, when I climb up my heavy duty step ladders the back of my legs really burns the next day. If I didn't want a full body massage, I could just focus on that one region. A brilliant choice for anyone not wanting to remortgage the home just to buy a chair.
320 Lbs Zero Gravity Massage Chair
The Good
21 Inch Wide Seat
320 Lbs Weight Capacity
Auto & Manual Massage Targeting
Multiple Massage Styles Available
Easy To Use Display
Built In Heat
Various Colors Available
Easy To Put Together
The Bad
Can Be Too Expensive For Some Folks
Take Zero Gravity To The Bed
When all else fails and none of the zero gravity chairs are suitable, body support for the bed may be a viable option. The best thing about this particular made in the USA 'System' is that it also comes in the extra-wide variety.
So it's great for us bigger people. I often find myself laying in bed to try to get comfortable as the chair just simply doesn't cut it. While my Big Mans Mattress is pretty comfortable most of the time, finding the right resting position can be difficult at times.
This is why I like the 3 piece zero gravity back/body support for the bed. They are lightweight and easy to store. So it's just a matter of putting them in the 30-degree decline position and I instantly have an amazing place to lay down and rest.
Place one of those awesome inventions on top of a innerspring mattress and sleeping becomes such a treat.
Large 3 Piece Body Support System Made In USA
How Much Weight Can Zero Gravity Chairs Hold?
Understanding how much weight zero gravity chairs can hold before buying one will save you a lot of potential headaches. Not all zero gravity chairs are heavy duty like the ones listed above. These chairs are the exception.
Most zero gravity chairs will be able to hold someone that weighs between 200 pounds and 250 pounds. If there is no weight capacity stated, its best to assume the chair is of standard size and not suitable for the big and tall people.
Reclining into the zero gravity position can be dangerous for a heavy person if the chair is not built to handle the excess weight. These chairs that are designed to be heavy duty have extra reinforcements added to them to give them the strength and durability to handle the extra weight. Never risk it on a chair that hasn't been labeled as heavy-duty.
The Concept Of Zero Gravity Chairs
Not exactly sure what the benefits of a Zero Gravity Chair are?. Watch this short video to learn more. Now as a big person, the features of a heavy duty zero gravity chair can prove highly beneficial.
So if you're on the fence about buying on, or are concerned about tipping the chair, don't be. Provided you stick within the manufacturer's weight capacity guidelines, you too can benefit from a chair like this.