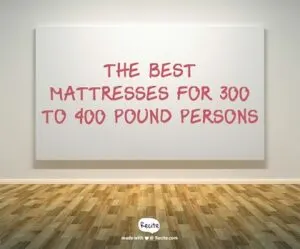 When it comes to choosing the best mattresses for 400-pound person, or even a 300-pound person, it can be quite difficult. However, with comparisons and tried and tested mattresses from big Guys & Gals (Even overweight couples) throughout America, we have been able to drill down to just 4 mattresses we believe are the most appropriate to support up to 400 pound people.
Buying a high weight capacity mattress should not be a rushed decision by any means. But if your current mattress is causing you discomfort and even pain, then it may be time to upgrade.
A big person can easily squash an inferior mattress in a matter of months or even worse provide no support what so ever that you bottom out. This is not a good situation, especially considering that getting a good night's sleep is detrimental to my health.
Compare 400 Pound Mattress Options
| | Support | Features | Price |
| --- | --- | --- | --- |
| | | 6" x 952 Individually wrapped coils, 2" High density base foam, 2" Flex foam with 1" Gel Memory foam for cooling. | Check Price Amazon |
| | | 6" x 1000+ Individually wrapped coils, | Check Price Amazon |
| | | 4 Layer construction including 3 inches of gel memory foam for ultimate heat redistribution and contouring affects | Check Price Amazon |
| | | Specifically made for bariatric needs, rated for people up 400 pounds, High resilient base with 5" of durable latex | Check Price Amazon |
Generally, I go for advanced memory foam mattresses with an overall thickness of at least 9 inches or a hybrid innerspring mattress as they provide optimal support for the heavier person. Depending on your weight and size the thickness will increase. The thicker the better because of its offering more layers of support and density. It's also essential that your current bed can adequately handle not only you and your partner's combined weights but also the weight of the mattress too.
The better mattresses which are specifically designed for heavy weight people tend to weigh a fair bit more than your traditional mattress. So you will need to ensure the bed frame that is supporting your new mattress is capable of heavy weights. A Heavy Duty King Size Bed Frame should handle these high weights.
Do Mattresses Have A Weight Capacity?
Below you can find the 2 of our recommended mattresses for people that weigh between 300 lbs and 400 lbs. It's important to know that most mattresses don't actually come with a weight rating, this is because the foundation (your bed frame) is what takes the grunt of the weight.
When you are prepared to buy a heavy-duty mattress online, you are not going to be able to test out the mattress like you would in-store. However, you sometimes have the bonus of cheaper prices and actual consumer reviews on the mattress. Which in my opinion is far more valuable.
Not all salesmen will be able to tell you how well a mattress can handle 400 pound couples for example. So keep this in mind and remember when it comes to where you spend 1/3 of your life, don't settle for something inadequate just because its cheap. If the below mattresses don't quite suit your taste, we have also a section on mattresses for heavy people in general.
Best Mattress For 400 Pound Person
Well, its taken time, but finally a mattress brand has come to the big person party. The Titan by Brooklyn Bedding, yes made in the USA, is a mattress designed for the plus-size community. How exactly does a mattress like this cater to a 400-pound persons needs?
It's whats on the inside that counts. The Titan is a hybrid innerspring gel memory foam mattress in which the brand says was designed for the heavier people. Well, so they should be considering the obese population in the USA only keeps on getting higher.
It's All About The Support
Support from the manufacturer is all well and good, but if the mattress provides minimal support for the 400-pound man, then chances are the mattress is not going to be a good fit. When you weigh 400 pounds or more, the more important feature of a mattress to consider is the amount of support it offers.
As the Titan is an innerspring mattress at heart, the quality and amount of coils are what provide the optimal support. The average number of coils a queen mattress has is said to be 725.
With the queen size Titan, you get a staggering 952 individually wrapped coils known as TitanCalibre Coils. Now, don't just shrug this number off because it's highly relevant. The more coils the mattress has, the more supportive the bed is.
The more coils the mattress has, the more foundation the 400lb person has to work with. So if you're tired of sleeping on a mattress where you feel like you're laying on a sheet over concrete, listen up.
Individually Wrapped Coils
Not only does the Titan have a lot more coils than your average queen mattress, but they're also individually wrapped. This means they are not a group of coils wrapped together, each coil is individually wrapped. This is important for the big person for a couple of reasons.
First of all, the fact the coils are individual, rather than a group, means the whole bed won't move around when you roll over or get up out of bed. These coils create minimal movement in the mattress under pressure. So you won't annoy your partner during the night every time you need to roll over.
Another benefit is the individual support they offer. The coils interact with your movements and body shape. So in a way, its a customized mattress support dedicated to your unique size and weight.
11-Inch Thickness
The titan comes in a variety of sizes including California king. However, the mattress thickness stays the same. The total thickness of the mattress is 11-inches, but like many hybrid innerspring mattresses which I feel are the best for a big person, the total thickness is not always a deciding factor.
More importantly, is the level of support the mattress offers. With the Titan you get 6 inches of coils as mentioned above, but you also get 2 inches of high density foam to prevent sagging along with a further 2 inches of special 'Titanflex foam'.
The result is a firm yet supportive mattress. However, some level of comfort is needed to prevent hip sores and back pain, so the Titan has an inch thick top layer of gel-quilted memory foam. This provides just the right amount of softness, without it being too plush for the plus size person.
The gel in the memory foam is there to help distribute body heat away from you. So if you are a warm sleeper, you need this gel material, it makes a difference in overall body heat while you're sleeping.
It's Designed For Heavy People
At the end of the day, the Titan has been designed for heavy people. Whether you're a 300-pound man or a 400-pound person looking for the best mattress, the Titan is certainly one to consider.
For a brand to go out on a limb and specifically produce a mattress for the plus-size community is just pure brilliance. I applaud them for doing so and while the price is a little steep, it's certainly much cheaper than those fancy brands that don't offer the support and dense mattress a 400-pound person requires.
Brooklyn Bedding Titan 11-Inch TitanFlex Hybrid Mattres
Premium 400 Lbs Mattress
If you're a 400 pound person with a few bucks to spend on a high-quality mattress that gets delivered to your door, the Leesa Hybrid mattress is a great choice. It's very similar in design to the above Titan, but in my opinion, it offers greater edge support for the heavier people.
Much like the Titan, this Leesa mattress is comprised of individually wrapped coils. However, this mattress takes it one step further and has over 1000 coils. As a result of the increased spring coils you get amazing edge support.
As a larger person, edge support is almost a requirement. So many times do you go to sit on the edge of a bed and almost fall down onto the floor. With the increased amount of edge support comes an increased amount of confidence in sitting on your bed.
Contours To The Shape Of Your Body
Much like the above Titan, this Leesa has a body contouring surface. But with the greater number of springs, you get a much more supportive feel compared to your average 700 coil mattress. Having this amount of contouring ability allows the bigger person to sleep comfortably with their spine aligned in the correct manner.
Softening the blow of a dense mattress is done via the two laters of foam. On this mattress, the memory foam is in the middle between the top layer of foam. The memory foam plays a vital part in relieving those pressure spots and allowing the mattress to contour to your body better.
Luxurious Avena Foam Top Layer
While the top layer of Aveena foam is designed to keep you cool while you sleep. The Avena foam is basically a latex alternative and as far as I'm aware, Leesa is the only mattress to utilize it.
What makes it so special is that it provides a springer surface compared to memory foam and is also designed to allow air to circulate better on the top layer of foam. Avena foam is also hypo-allergenic and lasts longer than latex as its more durable.
It's these features that make the Leesa a very good mattress choice for someone that is about 400 pounds in weight. The high amount of individually packed coils topped with memory foam for contouring and finished in a springy yet durable top layer Avena foam.
While the Leesa is a bit firmer than you may be expecting as a result of the structural makeup, it's just what you need when you're overweight, especially if you suffer from back pain.
Leesa Luxury Hybrid 11" Mattress
Cool Breeze 12″ Gel Memory Foam Dynasty Mattress
The Cool Breeze 12″ Gel Memory Foam Mattress by Dynasty Mattress has always been a favorite among my somewhat oversized family. The Cool Breeze was a recommendation from a friend of the family, and since that day I first discovered it, it has been put to good use.
One of this bed's coolest features is how amazing it is at creating airflow. Don't think like a fan or air-con, but more like cool particles flowing inside the mattress which are meant to bring down the overall temperature. For me this is extraordinary. I cannot tolerate heat and sweat while trying to get to sleep. The Cool Breeze mattress has been a wonderful addition over the hotter months.
The Big Man Needs Comfort
As for comfort, what can you expect from this mattress?. When I read the many reviews at amazon I came to one conclusion. This mattress is portrayed as pure comfort like nothing else we may have experienced.
The one thing I hate most about being overweight is how hard it is to pull yourself up from things. This includes the bed. When a mattress is too soft you sink in, and as a large person this just creates an awful situation. I kind of look like an insect (A fat one) on its back trying to fly for the first time.
Fortunately, the Cool Breeze 12″ gel memory foam mattress is nothing like being an insect trapped on your back. The mattress has the perfect blend of softness and firmness to cater to bigger bodies. More firm than soft is an easy observation.
The softness comes in from the memory foam which is about 3″ thick and is the top layer. Beneath the memory foam level is the airflow channels that create the cooler mattress. Anyways the memory foam is the soft layer that molds to your body and creates just an amazing experience.
As its only 3 inches thick you shouldn't sink to the bottom and struggle to get back up. The memory foam is basically the comfort factor to me which sits on the 4 inches of airflow material Beneath the airflow material is the foundation which is designed to take our heavier weights. So being a 12-inch thick mattress, that means the base level is 5″ thick and does a great job of holding everything together. Bending and warping out of shape, I don't think so! I love this rock-solid mattress.
Another awesome feature of this mattress is its pillows. Yup, you read right. To sweeten the deal, Dynasty Mattress which by the way are rather popular mattress manufacturers (this I did not know) might even throw in 2 gel memory foam pillows at no cost, but you may have to search around to find this offer.
Something I was not expecting considering that some memory foam pillows can retail for quite a few bucks. Hopefully, if you are going to buy the Cool Breeze mattress, you can manage to find somewhere where the pillows are included. The pillows are not too bad either.
Do note: Now I may be wrong, but I believe this particular mattress is available to buy online, to keep costs down and offer high quality at the same time I imagine. The Dynasty Mattress Cool Breeze 12″ King Size Mattress HIGHLY Recommended.
Cool Breeze 12
What To Expect When You Buy The Dynasty Mattress 12″ Gel Memory Foam Mattress Review
Watch this in-depth video review of the Cool Breeze memory foam mattress to get a better feel of whether the mattress is right for you or not. I think you will benefit greatly from watching it before you buy it.
The Comfort Max 400 Mattress Review
Unique Mattress Designed For Heavy Weight People
The Comfort Max 400 mattress is a fairly new innovative mattress designed specifically for large and obese people. Each mattress is basically made to order. Just like a Subway sandwich.
While they have the formula or foundation in place, they can modify the mattress to suit your weight, size and whatever your requirements are. This is groundbreaking for the Big Man & Women of America.
The mattress composes of Talalay Latex Foam (Talalay being the actual process used to make the Latex) which is a slightly softer and a plusher material than that of the Dunlop Latex. However, the foundation on the Comfort Max 400 is what supports the latex material. The edges of the mattress have been reinforced so it shouldn't bend down and get out of shape when trying to pull yourself out of bed.
The comfort Max mattress is ideally suited to people who are either 300 pounds or 400 pounds of weight. This is not necessarily a mattress for the 'normal' sized folks, but by all means, check it out to see what you think. The mattress is 10 inches thick composing of a top layer and base layer. Both being 5″ thick. The top layer being Talalay Latex.
As this is a fairly new mattress and is specifically marketed at the big and heavy people, we will keep a close eye on it. As this mattress is handcrafted if you will, I can see the reasons for the rise in popularity. The quality and framework are definitely there but how well does the Comfort Max 400 perform and how comfortable is it?. You can check out the reviews and buy the Comfort Max 400 Mattress below.
Comfort Max 400 Mattress
Want More Heavy Duty Mattress Options?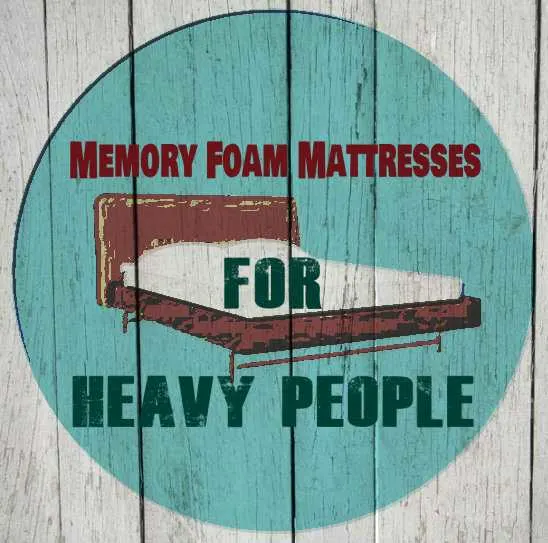 Memory Foam Mattresses For Heavy People
Memory foam has advanced in recent years and it is mind boggling how amazing they are for heavy people. Cooper and gel infused, air cooling systems and internal coil support bars. Just some of what's available. Find out WHY they are ideal for heavy people below.
Important Features To Consider
Buying a mattress when you're 400 pounds or more can be daunting. Even when you go in-store to test out a bunch of mattresses you can be left wondering which one to choose.
Testing in-store is a great way to get a first impression of the mattress, but more often than not you don't get the true feel of the mattress. As many of the mattresses have been worn in by 1000's of people before you, it's hard to gauge the true level of support and comfort.
On the other end of the scope, trying out a mattress in-store may give you a false level of comfort if the mattress is brand new. Mattresses take time and use to wear in. A new mattress won't feel as good as a mattress that has been worn in a little. So buying in-store is not always the best practice.
Should You Buy A Mattress Online?
Buying online also has its risks, especially when it comes to mattresses. As we sleep on a mattress for about a third of our life, you really want to make sure it's a mattress that uniquely supports your body shape and size.
The advantage of buying a mattress online is that you can get first-hand feedback on it. Whereas, in-store, you're putting your faith in the salesman. Which as we all know, is only concerned with sealing the deal. With online reviews, you can get more honest and truthful feedback from people who have actually slept on the mattress for a period of time.
The other advantage to buying a mattress online is that you can research until your heart's content. When you go to a mattress store and the salesman starts telling you about the features, you feel as tho they are talking in another language. Whereas online, you can research all about the meaning of density, latex, memory foam, coil makeup, etc.
Mattress Density For The Big Man
People often confuse density with the thickness of the mattress. The thickness of a mattress has nothing to do with how dense it is. Density is a measurement that people use to gauge how firm the mattress is. You can have a mattress that is 12 inches thick, yet has a very low-density rating. This would feel like sleeping on a box full of bubbles.
A 6-inch high-density mattress would be far more supportive for the 400-pound people compared to a 12-inch low-density mattress. I can't imagine sleeping on a mattress that consists of just bubbles, can you?. So ensuring the mattress has a high level of density will go a long way in providing you with a firmer and more supportive night's sleep.
Hybrid Mattress – Yay Or Nay?
I personally feel that hybrid innerspring and memory foam mattresses are the way to go when you weigh more than the average person. It's the ideal mix of support for the extra body weight without compromising on the level of comfort on your body as you doze off.
While you can get hybrid foam mattresses with gel-infused memory foam to keep you cooler as you sleep, I feel they are too soft and you sink to the bottom too easy. I can only imagine just how comfortable they would be for someone that isn't 400 pounds, but for those of us who are heavier, its a recipe for disaster in my opinion.
Save