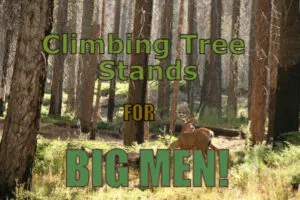 What are some good Heavy Duty climbing tree stands for big Men this Hunting Season?. Before Deer season commences, be sure you're armed with your own heavy-duty tree stand.
That is unless you're prepared to set up ground blinds and hunting chairs this year. With falling from trees being a common cause of injury in the hunting industry, a sense of nervousness for any overweight person to put their life in the hands of just any old tree stand is completely understandable.
As manufacturers are making more high weight capacity climbing tree stands easily accessible online, there are other factors to consider besides weight capacity. These factors will vary from hunter to hunter depending on personal requirements, but should always be considered.
Compare Tree Stands By Weight Capacity
Portable Options
Portability of a tree stand may be important to many hunters but not necessary for some. So the issues of quick set up features will come into play, along with the tree stands weight. The more weight to carry around, the less portable the tree stand becomes.
Plus as a heavy person, the extra weight can become tiresome. So less product weight is ideal for the portable factor. But on the other hand, the more weight the bigger the tree stand typically is. Or is made from more heavy-duty materials with a stronger framework to hold heavier limits.
All of the oversized tree stands will have varying features to choose from. Many will have different platform/seat sizes and this is especially important for the big Man. It's never good when you're trying to be dead quiet and as you turn around your jackets rubbing up against the safety rail making all sorts of noises. So choose a platform based on your actual dimensions, if your a wide Guy, then don't force yourself to squeeze into a seating, even if you're under the weight capacity rating.
Other factors to consider are: whether the climbing tree stand is tree facing only, this can be very annoying when wearing a harness, How small is it for transport/does it flat-pack easily, is it a noisy pack in/pack out, and comfort level which is extremely important in my opinion. To help you buy a strong, stable and durable tree stand build for the bigger Man, we have sourced out a few rated with heavyweight capacities.
My Best Rated 350 Pound Capacity Climbing Tree Stand

It's A Summit, Need I say More? With a 350-pound weight capacity, The Summit 180 Max climbing tree stand is well suited for the Big Man. While considerably larger than your standard tree stand, the overall weight of the product is only 23 lbs.
Which is a tad heavier than what you may be used to. But and this is a BIG but. It's a hell of a lot safer I reckon and more heavy-duty than what some are offering.
In saying this, its still very easy and quick to climb down and change trees in mere minutes. Pending on level of experience and fitness levels naturally.
The 180 Max tree stand has the same large platform area as the Summit Titan, yet it is a few pounds lighter. The larger platform is a necessity for any big hunters. Having that extra moving space can mean the difference between getting your target or scaring it away. The overall size of the platform is 21″ by 38″, but for the actual space you can take advantage of is 21″ by 28.75″.
The 180 differs from the Titan in that it can face towards the tree and away from the tree. The ability to rotate 180 degrees is a very handy feature. With a possible tree size of 8 to 20 inches, the teeth on this stand bite in very firmly providing a very stable platform to go about your business.
Very Comfortable For The Bigger Person
I found comfort to be second to none on this oversized tree stand. Aches and stiffening of the joints is one sure way to ruin a successful hunting trip. But with comfortable working space, you can be at it for hours on end. Even when wearing the included safety harness (Unless you have your own preferred) you should still feel more comfortable than previous less comfortable stands. Not to mention safe.
There are not too many bad things to mention about the Max 180. However some improvements could never hurt. Such as how the straps on the backpack loosen slightly if you have a heavy load and perhaps a bracket of sorts to attach the tree stand bow holder.
Oh and I wish the Summit Footrest Kit came included as well, but maybe I'm pushing my luck there. Other than that, everything about the Summit Max 180 just screams high quality for me, heavy-duty awesomeness.
Summit Max 180 - My Personal Recommendation
The Lone Wolf Sit And Climb Combo 2 – Great Tree Stand For Overweight People

Another 350-pound capacity climbing tree stand built for the larger hunters. The Lone Wolf is one of the lightest heavy-duty tree stands I know weighing in at just 20 Lbs. Which is very nice for hunters swapping and changing locations a fair bit. It also flattens down to such a thin size (4 inches), I don't think you can find a better packed tree stand right now.
To complement the lightweight feature and portability of this tree stand is how amazingly quiet it is. Due to the material of the straps, it's silent going in and out of the tree stand and also when climbing. Which is great for the hunter on the go.
I do like the Extra Wide platform, especially since I'm of the plus size variety. It measures in at 30″ x 19.5. However, I do think the seat could have been somewhat larger and more comfortable.
The comfort level for long sessions would probably irritate a few of the more pedantic hunters. I give it a 6.5 out of 10 for comfort on long days. Although the seat can also be replaced with your own design suited to your comfort level.
In conclusion, I consider the Lone Wolf a great tree stand for us bigger Guys, but in particular for those who want a fast and lightweight get up. The cam lock system connects to the tree in a very fast fashion that many mobile hunters will love about the Lone Wolf Sit And Climb.
But if you're the type of hunter who prefers to drive closer to the hunting site and camp for several hours at a time I would suggest you go with something like the Summit 180 Max SD.
Reason why?. Because the Lone Wolf Sit & Climb tree stand is fantastic at portability, speed, not bulky and is very quiet. Which is suited to the hunter who's more active and doesn't intend to be in the same location for hours on end. So the comfort level would probably bother you and the Summit 180 Max SD has got you covered for a potentially good comfortable hunting session.
Lone Wolf Tree Stand For Mobile Hunters
The Original Big Man's Climbing Tree Stand
Summit Goliath SD

The original and possibly still one of the best Big Mans climbing tree stand. The Goliath has stood the test of time and has gained a great reputation among the plus size hunters.
The Goliath has a mix of positives from both the Max 180 SD and the Lone Wolf tree stands. The Goliath SD is remarkable for its capabilities yet still weighing just 21 pounds in weight.
Where it differs from the Lone Wolf is in the comfort level and the Goliath has a slightly shorter platform, but is wider than the Lone Wolf (20″ x 28.75″). If the Goliath had an extra 2-3 inches for foot room (Large Feet Here) it would be superior in almost every way.
Like the Lone Wolf tree stand, the Goliath SD is also highly recommended for its stealth and mobile abilities, but where I think it shines is with its amazing comfort. The padded armrests and wide seat raise the bar for hunters planning a long day in the trees.
Do note that the armrests don't go all the way up the bar anymore. So if you rest your gun in that position it's advisable to tape some foam in that location to reduce clinking noises. Top it off with a 4/5 channel footrest and comfort level is unbeatable. Channels are the number of bars under the seat and as the Goliath has 5 channels this footrest is the one you want.
Is the Summit Goliath SD a safe tree stand?
If this is going to be your first climbing tree stand then you are heading in the right direction. The Goliath is a solid rock!. It shouldn't sway, wobble or slide an inch within reason. It appears extremely safe and sturdy to me, just as if you were sitting in your big Man camping chair on ground level.
Plus it's super easy to assemble and get going. Just follow the manual and wear the harness, even tho at times you may feel as if it's too safe to wear a harness. But ALWAYS safety first, so always wear protective equipment when at heights.
In conclusion, as a big Guy needing help with which tree stand to buy, any of the above 3 climbing tree stands are what I believe to be more than adequate for hunters up to 350 Lbs. Each heavy-duty tree stand has been used by some really heavy guys and has lived up to their weight capacities over the years.
While some have advantages over the others, each one is unique in their own way. Depending on your requirements from a climber stand, I'm confident in saying that these 3 tree stands are going to rock your world. Happy Hunting.
Summit Goliath - The Original
See First Hand How Quite And Lightweight The Summit Goliath Really Is
This 10-minute video demonstrates from set up to climbing the tree and spotting a Doe. Not bad in under 10 minutes. The Goliath is that quite it doesn't scare the animal off. Please note this guy hasn't used a safety harness and this is not endorsed. Everyone should always wear a harness when climbing.
Climbing Tree Stand 350 LB Capacity

There is a lot to like about this tree stand from Xtreme Outdoor Products who have kept the design fairly simple yet still a lightweight stand with a lot of strength. These are two of the best factors of this tree stand in my opinion as they can often be too bulky and heavy.
Being a bigger guy does require your gear to have a certain level of strength as they need to support more. With this tree stand having an impressive 350lbs weight capacity you can feel comfortable and safe up in the trees. This does give you peace of mind when you're in the tree that it can hold your weight.
One thing that makes tree stands difficult to use is that they can be heavy which can make getting them set up a big of a pain. I'm impressed that Xtreme Outdoor Products have managed to keep the weight down to an impressive 18lbs (21lbs for the Ambush XL) making it very easy to carry in my opinion.
Tough Band
The band system on this tree stand is reinforced by steel which gives it a lot more stability and durability. They went with a big tooth traction system which does grip the tree extremely well in my opinion.
Blends Really Well
The color of this tree stand does blend really well into the trees which will help with your trip. Not being so easily seen is something that is always important so it was a great design choice by Xtreme Outdoor Products.
XOP Ambush Climbing Tree Stand
Ladder Tree Stand For Big Guys
500 LB Capacity

If you're in the market for a tree stand that's a little bit more heavy-duty then Big Game has got you covered with this excellent tree stand. Want to feel safe and secure when you're up a tree? Then the Guardian XLT is a great option for your next trip into the woods.
Just because you're out in the woods up a tree doesn't mean you shouldn't have any comfort in my opinion. This includes a padded rail so you can rest your arms and keep them steady while also keeping you comfortable which is a really nice touch from Big Game.
Tough As Nails
When you first look at this tree stand you might think it doesn't look very strong and I couldn't blame you for thinking that even tho you'd wrong. The toughness of this tree stand is right up there with the best on the market thanks to the durable frame.
It's a surprisingly heavy tree stand weighing in at 53lbs but it makes a lot of sense considering how tough and what it can support is. It has an extremely impressive 500lbs for the larger hunters out there who need that extra support and room to support themselves and their gear.
Certified
Full-body harnesses are an important tool for those who are going to be at a decent height and Big Game understands this. So Big Game made the smart choice of including two TMA-Certified full-body harnesses to help protect you from an unfortunate accident that could happen to any experienced woodsman.
BIG GAME LS4860 18' Guardian XLT Two-Person Ladderstand
300 Lbs Climbing Tree Stand For Big Guys

When you want something that is more top of the line then you go to someone like Ol'Man and this excellent Multivision tree stand that is designed to be tough and portable. It made quite the impression on a first glance and it only got better with time in my opinion.
Normally when something claims to be a three in one product I always get nervous thinking that some part of it isn't going to be very good. That's not the case here as 3 different configurations you can put this tree stand in all work really well with none of them being poor.
Something that is an absolute must, in my opinion, is your gear needs to be extremely quiet so it doesn't disturb anything. Ol'Man has done an excellent job with this tree stand and the noise it creates, keeping the noise to a minimum.
Portability Is King
One of the things that makes this tree stand really stand out is how easy it is to fold down and set up which makes it great for when you need to move around a lot. This is something that Ol'Man set as a design goal and it really does show and who wants to spend 30 minutes setting up their tree stand!
To make the portability even better this tree stand only weighs around 29lbs which makes it easy to carry on your back. This is really useful when you need to carry multiple things to where you have your camp set up.
OL'MAN Multivision Treestand, for Gun & Bowhunters
Save