I hope you love the products I've recommended below, just a heads up that as an Amazon associate, I earn from qualifying purchases. This means I may earn commissions on products bought via links on this page.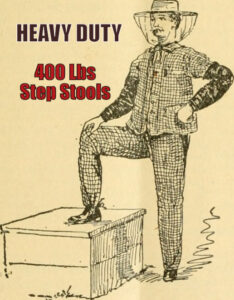 As an overweight person, doing some of the common practices such as changing a light bulb can become a mission and a half. With these heavy duty step stools up to 400 lbs weight capacity doing such tasks is not only easier but a heck of a lot safer.
Ive often gone to step up on a kitchen chair or crate then had second thoughts… Will it hold my high weight or will I crash to the ground in one epic fail. Being the conservative person I am, I saved my extra large body the torture and embarrassment.
So I grabbed myself a stepping platform built to handle heavy people. Which I will soon discuss along with a few other step stool options for the plus sized person.
While steeping stools are moderately priced, if you can get your hands (feet) on a heavy duty rated one, its well worth the extra few bucks. Once you have one in your house/garage you may be amazed by how frequently you will find yourself using it. Obviously changing light bulbs is a big one for many people, but other various activities that require that extra foot in height greatly appreciate the safety and support of a stepping stool.
Other activities you will need a step stool for include: reaching objects from roof racks, cleaning tops of kitchen cupboards, overhead hangers in caravans, outdoors door step, top shelf cupboards, cleaning windows, cleaning ceiling fans, bath stool, the opportunities are simply endless. Which is why I grabbed more then one, perfect to store in appropriate rooms for even easier access.
1000 Lbs Capacity Step Stool
Safety Step Stool For Obese People

Made in the USA and tested in an actual lab to handle a massive 1000 pounds, the Safety Step is one of the best step stools for overweight people in our opinion. Being a heavier then 'normal' person myself, I must have products with a "Heavy Duty" rating. The safety step stool proves to be one tough and durable stool. It looks heavy duty and can take a huge amount of weight.
With it's heavy duty appearance and design, this stepping stool may not match every need. When it comes to decor for example. While it does come in some pretty cool colors, it still looks like a stepping platform one would normally find in the garage. Which is fine if you aren't planning to keep it stored in one location (by the bath for example).
But asides from visual appeal, this stool is built like a tank and I reckon it could handle some serious heavy duty use. I love the fact it has the non slip stripes on the standing surface. Which is especially useful when working outdoors in wet/snow conditions. Safety when elevating a big Man is always a per-requisite for me. The four individual welded strong legs are topped off with anti tip plastic caps.
440 LB Weight Limit Folding Stepping Stool
With a similar design to the above safety stool, this HD stepping stool on Atomicbuys gives you the option to fold down the legs. By being able to fold the legs inwards, you can make the overall size quite compact.
When it's a compact unit like this, it makes it ideal for RV camping and other outdoor activates where storage space in the vehicle is limited. When folded down, its only 2.8-inches thick, so it can easily slide in under the drivers seat for example.
Reinforced Framework
What makes this one of the best stepping stools for a heavy person is the reinforced frame. On the underside of the stool is additional bracing that connects the legs together. This is how it achieves its 440 pound weight capacity.
The fact it's made form aluminum also reassures you of its strength and durability. Also, its much lighter and easy to carry as a result.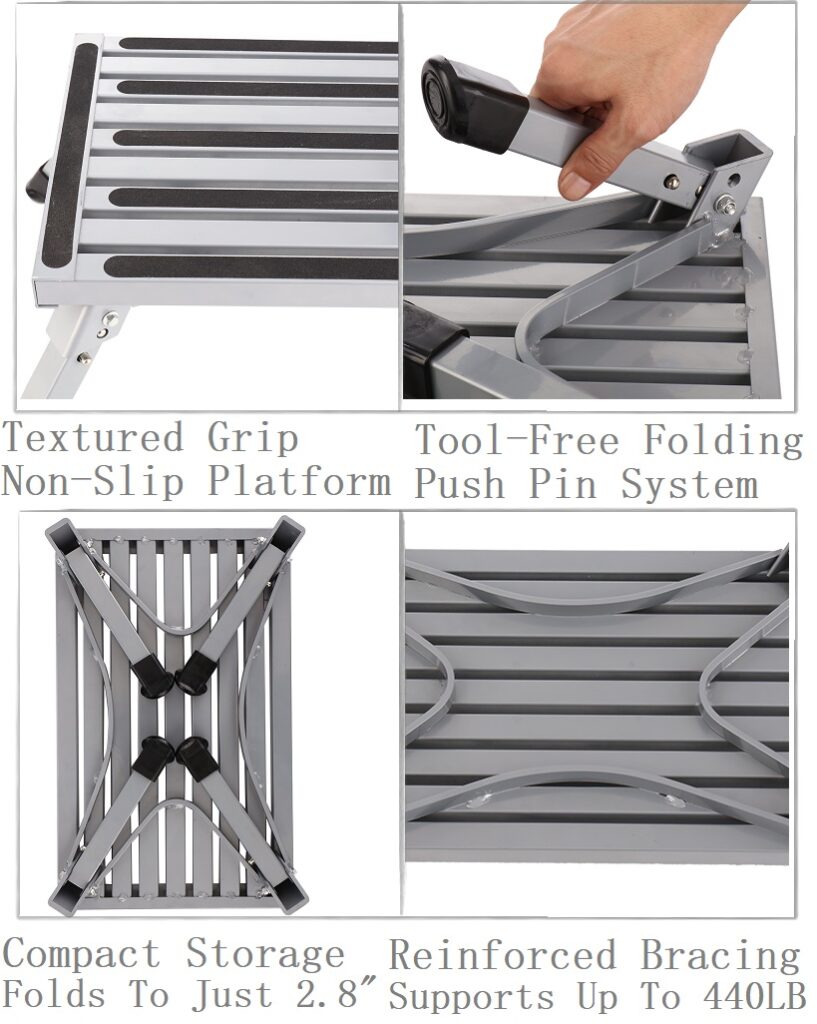 Non-slip Grip Gripping Surface
when using a stepping stool, it's important to consider the platforms level of grip. If there is no grip at all, chances are you could easily slip and fall off the stool under the slightest bit of moisture.
With this HD stool, you get a real sand paper grit like platform. This is the best type of grip for times that you need to stand on a stool with wet or muddy shoes on. Hence why I think it's a great RV step assist or camping stool.
Overall, this type of stool is my favorite. I love that it can be folded down compactly without sacrificing any of the heavy-duty capacity. While great for RV road trips, I find it to be great for around the home also.
Think of all those times you have needed an extra 9-inches of height in wet or damp conditions. Whether it be used as a bathroom step stool or outdoors changing a lightbulb, having this extra grip is worth its weight in gold.
---
400 Pound Weight Capacity Folding Step Stool
Kikkerland Tall Rhino

The Kikkerland Rhino is a neat little folding step stool a great choice for people up to 400 Lbs. It's much taller than that of the Safety Stool, actually it's double the height at 16 inches. However height is a factor to consider as a large person because the higher the step the harder it is to safely step up. For extra height step stools you could consider heavy duty step ladders as an alternative.
The Rhino is a well constructed stool which can very easily be folded down for storage or transport. Be sure to check that all sides are locked together before using the stool or it could end badly for you. This is not hard to do, but just a warning. The four legs also have non slip pads about the size of a dime designed to give the user a more comfortable and safer experience.
This Kikkerland stool is more then just your ordinary stepping device. With its extra height it becomes a universal stool and seat in one. Many people big and tall have bought the Rhino for reasons other than to use as a height device.
A popular choice for us bigger people is using the Rhino as a bath seat and with its visual appeal and high weight capacity its easy to see why. Surprisingly comfortable as well. Other places this stool would come in handy is as an outdoor gardening seat, painters best friend while painting down low, stocking the kitchen cupboards, and many more.
Extra Large Stepping Stool For Big People
Camco's 400 Lb Weight Rated Step

Made from UV stabilized resin, one would suspect a plastic step to not be able to handle such heavy weights right?. Wrong.. This heavy duty plastic stepping stool is a favorite among many outdoors bigger folks. While it may come off as a little flimsy when you step on it, it won't buckle beneath you. It's designed this way to be able to support the higher weight capacities. It can hold up to 400 pounds according to manufacturer.
This stool is about 9.5 inches from the ground level, so should really be only used to stand on. While it has a textured top as the non slip surface, I would recommend not using it in wet weather. If you must use it in wet conditions, go out and buy some cheap non slip tape and glue it to the top. This will help tremendously with wet conditions.
This Camco step is a popular choice for campers and outdoors people alike for its ability to firmly place in one spot as a temporary step. Each leg has holes in them to allow for stakes to be hammered through them for increased stability. Frequently used as a step up for caravans and larger cars while camping.
Should You Buy Plastic Or Steel As A Big Person?
I have listed a couple steel and a couple heavy-duty plastic step stools, now which one is best for a 400 pound person? To be honest with you, I would stick with the more robust steel options.
Putting my excessive body weight onto a thin plastic foundation like that does frighten me. I have broken many plastic step stools in my lifetime and its always a nerve racking experience.
I know that the bulkier steel step stools may not suit everyone's living arrangements, but if you can, try to stick with steel. This is why I specifically listed a folding steel option so that you can still store it away without taking up too much space.
What Is A step Stools Weight Capacity?
Does a step stool even have a weight capacity? This is something anyone that is not over 200 pounds would never think to ask. However, if you're 220 pounds or more, its a very wise question.
But what's even wiser is researching to find out what each step stool's weight limit is. Never should you attempt to stand on a stepping stool if you are unaware of the weight rating, it could be dangerous.
Never should you buy a step stool that is below your actual body weight either, its just asking for trouble. Lastly, you need to also take into consideration the weight of anything you may be lifting or moving on top of the stool .It all adds to the total weight bearing limit.
Save