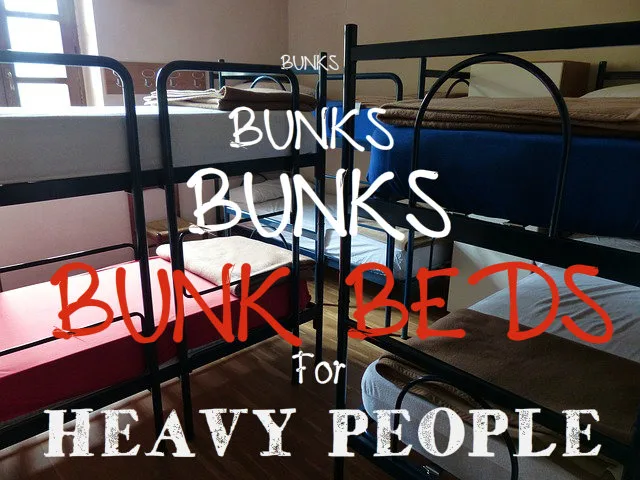 Are there heavy duty bunk beds for heavy people that can safely support high weight capacities? For a bunk bed to hold 300 pounds or even a 400 pound person, they need to be quite sturdy bunk beds for adults.
The same applies to heavy duty loft beds, to feel safe as a heavy person, the bed has to have some major reinforcements for me to climb up that high, weighing as much as I do.
Sleeping in a bunk bed has always been a daunting experience for me since I can remember. Now that I'm older and much bigger in size, the fear has only but increased.
Even sleeping on the bottom level was nerve-racking. Just the thought of the top-level collapsing on me was terrifying (Yes my partner has taken the honors of sleeping on the upper bed when needed) .
I got thinking that that there must be other heavy adults or even overweight teenagers in this oversized population who are put in a similar position. So after some solid research and trying out bunk beds first hand I've come to one conclusion. If you're a big person, avoid bunk beds if possible.
Maybe it's my personal fears haunting me, but the majority of bunk beds available simply wouldn't handle my large body night in night out. Just climbing on top for a few minutes is enough to hear and even see stress being put on the foundations of the bed.
Not only that, but the sheer difficulty of pulling yourself up the ladder is a really tough task. On the other hand, it's kind of a workout and one which over time would increase the upper body strength.
Compare Heavy Duty Bunk Beds
Heavy Duty Metal Bunk Bed For Big And Tall People

This bunk bed by Coaster Fine Furniture is one of the more stylish and modern bunk beds I've ever seen. Regardless of your size, I think this bunk bed could match most home decors.
It looks just fabulous. Looks aside, it's one mammoth of a bunk. As for floor space, it takes up the same area as a queen bed would and the top bunk is the same size also.
This bunk bed is one of those products I think will last for quite some time. From first sight, I noticed this heavy duty bunk bed is made from the high-quality materials. Imagine a tank, and now imagine a bunk made from a tank.
That's how I vision this bed was designed, very impressed by the strength and the quality of the build. It seems squeak-free too. Unlike many other heavy-duty metal bunk beds, this bed appears as tho it's quiet as a mouse.
800 Pound Capacity
As for weight capacity, the user manual states it to hold 400 lbs on the top bunk which is quite sufficient in my opinion. I couldn't imagine too many 400 pound people would want to voluntarily sleep on the top of a bunk. However, if you are 200-350 pounds in weight, this 400 lb capacity gives you some leverage.
For mattress thickness it's important you don't have higher than recommended mattress otherwise you will be reducing the guardrail's ability to stop you from potentially rolling out of bed. For the top-level, I wouldn't go any thicker than an 8-inch mattress.
As for the lower level, I think this depends on the amount of room you need between the two beds. As the thicker you opt-in for the less room you will have when you sit up in bed and potentially bang your head. 12 inches maximum I would say. The actual gap between the top and bottom bed frames is 37.5 inches.
Overall I believe this Bunk Bed is one of the better options as sturdy bunk beds for big and tall people. The design is amazing and I love having the ladders built into the 2 long sides of the bed. They add an element of style and also convenience.
The only drawback is that the ladders are positioned in the center of the bed which can become a hassle to try and get in and out of bed from the top level.
Heavy Duty Metal Bunk Bed
Heavy Duty Bunk Bed For Adults Full/Full

Continuing on with the full over full bunks beds because I feel that the full size is best for an oversized person. While twin beds are great for larger teenagers, I like the extra width a full bed offers.
At 54″ wide, the top or bottom bunk bed is sufficient for a larger person. However, the length comes in at 75 inches, which may be a little short if you are big and tall. Tall people generally need a queen minimum but preferably a California King to cater to the long legs.
Weight Capacity
This full bunk bed is quite a heavy-duty one, with the top being able to handle up to 300 pounds, while the bottom bed can have up to 450 pounds. Having a bunk bed with this level of weight capacity does give you better sleeping options as a larger sized family.
Because the bunk bed is quite robust and heavy-duty, assembly is a little challenging. This is because the parts are quite thick and heavy. But in saying that, it's exactly what you want from a heavy-duty bunk bed. A stable, durable and reliable surface you feel safe sleeping on.
Easy Access For The Heavy Person
One of the things that stood out for me was the fact there are two ladders. But not just that there are two, where they are positioned. Some bunk beds position the ladder in the center of the bed, which is quite difficult to get out of when you are cramped for space on the top level, not too mention harder to access as a larger person as well.
This bunk bed by DHP has the ladders positioned perfectly at either end. So regardless of how you set the bunks up, you can slide down to the end of the bed and exit the ladder feet first, rather than trying to do a 3 point turn up the top.
As the bed is 72 inches tall, you don't get much space to sit up on the top bed, unless you have tall ceilings. So having the two end ladders does assist in this department. If you are planning to sleep on the bottom bunk, the clearance from the floor to the base of the upper level is 56.5 inches.
Well Secured Bed
Lastly, I like the fact that the bed uses metal poles as slats to support the mattress and the persons sleeping on the mattress. But better yet, these metal slats are secured together by a unique center stabilizer.
Overall, I quite like the DHP full bunk bed as a choice for heavier teenagers and adults. Provided you're not too tall and don't weigh more than 400 or so pounds. The easy access ladders and the guard rails ensure the larger person can sleep confidently.
DHP Full Over Full Metal Bunk Bed
Sturdy Bunk Beds For Adults

When it comes to sturdy bunk beds for adults, Acme has a couple of good options including Queen Over Queen on amazon here, for the times when you need to cater to 4 adults n the one room.
They also have this Twin XL over Queen bunk bed, which again is suitable for 3 adults and potentially 4 if the two people up the top are small enough. While I have read that someone has had over 400 pounds on this top bunk, it's not something I would rush into.
This is because I wouldn't trust 400 pounds or more on the top bunk when the support poles at the front are curved the way they are. Sure this is a visual design feature that also incorporates the ladder into the structure, but I would feel safer knowing that the poles were vertical for greater strength.
However, this is only for the twin XL/queen version, with the Queen/Queen you get a far superior supportive design. But not everybody needs queen over queen for adults, so having the twin XL is also a good touch.
Sturdy Robust Steel Reinforcements
The weight capacity on the lower queen bunk would be relatively high. This is due to the steel construction including steel slats. But what gives this bunk bed the heavy-duty edge are the support beams and extra support rails on the queen frame.
Having this mush steel support beneath you ensures the frame is built to a heavy-duty standard. Without such support reinforcements, the frame could easily buckle under heavy loads. It's these reinforced steel rods that make this one of the best sturdy bunk beds for adults.
ACME Caius Gunmetal Twin XL over Queen
More Bunk Beds With High Weight Capacity?
Heavy Duty Twin Over Twin Bunk Bed – 800 Pounds Capacity

This whopping 800 lbs capacity bunk bed is proudly made in the USA by Max And Lily. Each bed has a weight capacity of 400 lbs, so there's no fighting over the top or bottom here.
This particular bunk bed comes in a natural timber look or painted. Me personally, I would opt to paint the entire bed with a hard-wearing nonflaking paint. This is because, if the natural/stained timber gets chipped or damaged, it's a nightmare to try and fix. Whereas you can just fill and touch up paint easily.
Being a twin size bed measuring in at 45 inches wide, it may not be suitable for the very wide people. Again, bunk beds aren't really appropriate for the really heavy people anyways in my opinion, unless you plan on sleeping on the lower bed. In this case, it's fine. Plus you may not hit your head when you sit upon the lower bed either as it's got quite a big gap between the two beds.
Probably the best aspect of this bunk is its high 14-inch rail guards. Nothing worse than rolling out of a bunk bed. The ladder itself is not reversible and has handy steps. Down the bottom are smaller spaced steps for younger people.
Overall, I really like this 100% real wood bunk bed. Because of how sturdy this bunk is, I would easily recommend it to most families of plus sizes. Having the 1000 pound rating can give many the confidence of climbing into bed with the kids to tuck them in and say goodnight.
800 Lb Capacity Bunk Bed By Max & Lily
Strong Bunk Beds For Adults
Metal Twin Over Twin

If you need temporary accommodation for guests but lack the room in your guest room, a strong bunk bed for adults like this twin over twin is a good option.
It's a very durable and robust bed with each bunk capable of holding up to 400 pounds each. Having a high weight capacity like this ensures that your adult guests are safe are secure.
While it's not as big as the full over full or queen bunks, being the size it makes it easier to cater to guests or adults in the house, where normally you could only sleep one person.
The dimensions of the bed are as follows: 78.7 inches in length and 45.5 inches wide. So not quite as wide as a full bunk bed, but has enough length to sleep a large adult.
The overall height is 65 inches which is a little low for the tall people, but as long as they watch their head while slipping into the lower bunk, they should be fine. The gap between the top and bottom bed is 38.8 inches, but this doesn't take into consideration the bottom bunk's mattress height. So an 8-inch mattress would give you a clearance of 30 inches.
If the time comes and you no longer need a bunk, you can split this bunk into two separate twin beds. Which is a handy feature to have. While this bunk is not suitable for everyone as its only a twin size, it certainly has its purpose, especially when you take into consideration the 400-pound weight rating for each bed.
Metal Twin Bunk Bed 800 Lbs
Space Saving Bunk Bed For Overweight People
Stylish Bunk By Dorel Home Products

I absolutely love the idea of this heavy-duty twin bunk bed. If I was a single man in a small room, I would be getting this bunk bed in a heartbeat. Why?.
Because it's such an awesome space saver. The bottom half of the bed acts as a bed and also a couch. So after a night in front of the TV or a session on the PlayStation, either sleep on the Futon or climb up to the top and leave the couch ready for the next days sitting.
While this oversized bunk bed is considerably difficult to put together from scratch, it's well worth it. I would allow a couple hours to put it together and preferably get another pair of helping hands to make the awkward parts not so difficult.
Once set up of the bunk is in place, you can notice how sturdy and strong this bunk bed is just by its appearance. The quality materials yet sleek design combine for one heck of a space saving sleeping arrangement.
While I do suggest a minimum of a 6.5 inch memory foam mattress for total comfort on the lower bunk, it's not completely necessary on the top level. The top level of the bunk bed has a decent weight capacity of 225 pounds which is suitable for some overweight Adults.
The lower bunk is where you have even more weight capacity freedom. A very generous 400 pound capacity is plenty for many us plus size people who need a space-saving bunk with the added bonus of a cozy couch.
I would easily recommend this heavy duty metal bunk bed to my slightly larger friends and family members in a heart beat. It's such a great space-saving idea for small apartments and bedrooms with a really nice clean and modern appeal to it. It's worth noting that the bed size is a twin mattress, so if you require a larger sized bunk I would go with the full size metal bunk instead.
Dorel Home Products Bunk Bed
Top level 300 Pound Capacity Full Metal Bunk Bed
Powell Full Over Full Heavy Duty Metal Bunks
Another great alternative full over full metal bunk bed is by Powell. It's top-level bunk is rated to hold 300 lbs. This particular bed is also available as a twin over twin. I like the design but not as much as the Coaster Bunk Bed.
Also, the ladder comes out on an angle on this bed. Which can be a tripping hazard but also beneficial to us bigger people. As straight up and down bed ladders can be difficult to climb with extra weight to carry around.
Powell Heavy Duty Metal Full Bunk Bed
Heavy Duty Loft Beds With High Weight Capacities

It doesn't matter if you're a 300-pound person or a 400-pound person, because this queen size heavy duty loft bed has a huge weight capacity of 2000 Pounds!
What's better yet, is that this loft bed is a queen size, perfect for adults of any size. There's also a king-size version of this bed as well. But the fact that this loft bed is so big and can handle 2000 pounds of weight is incredible.
Now one thing to keep in mind is that you need to count for the weight of your mattress. But in saying that most innerspring mattresses, which are ideal for heavy people, weigh about 150 pounds. Which still leaves you plenty of capacity in this loft bed.
The bed comes with one side rail which is quite tall, so it provides a decent amount of protection in the event you roll towards the edge. The ladder can be positioned at the end of the bed for easy access. But better yet, easier to slide down the bed and exit with your feet first.
Overall, it's hard to beat this heavy-duty loft bed, it simply has to be the best loft bed for adults on the market. Especially if its for two people as it offers the greatest amount of sleeping space with the highest weight capacity out there.
Queen Size Adult Loft Bed
Loft Beds For Heavy Adults
While the above heavy duty loft bed is pretty impressive, it may be overkill for some people. Not everybody wants a queen size loft bed.
The next best option is to look into full-size lofts with higher weight capacities to hold full-size adults. These loft beds can hold 300 lbs and are made by DHP. With the exception of the Avalon which can hold 400 lbs Other than these options, I haven't been able to find any better solutions.
Build Your Own Heavy Duty Loft Bed
Bunk Beds As A Temporary Solution?
If you're asking me about large people and bunk beds as a temporary sleeping solution, I will say this. Have you considered taking or using folding beds designed for heavy people as your temporary option?.
Some of them are rather comfortable and much safer in my opinion. However, not all is lost if you're 100% positive you need a heavy duty bunk bed. A few bunks were actually classified as heavy duty and did show really good potential as permanent bunk beds for us larger guys and gals. The bunk beds I found to be suitable for heavier people are listed below. Do also note the width of the bed as well. As you know, us bigger people are considerably wider than the normal folks.
Bunk & Loft Beds For Big People Feedback
Have you experienced any of these bunk beds before?. Are you a big Man or Woman and had a bad experience sleeping in bunk beds before?.
We would love to hear your horror stories and even the funny experiences you have endured when challenging the bunk as a larger-sized person. I know I have had a few over the years and would love to believe I am not alone. Feel free to share your thoughts in the comments below.