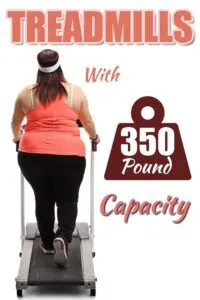 Treadmills with 350 LB capacity are more common than some of the higher weight range options. However, this does not mean that they are all built equally.
When you're a heavy person you are putting more stress on the treadmills frame, motor, deck, cushioning and much more. So it is imperative that you don't just buy the first 350 pound rated treadmill you see.
The best options will typically be more expensive, but this does not mean you can't find a decent model for your money.
To be able to weigh up the cost versus quality vs the ability to support your body weight, I have included a short guide to choosing a treadmill when you weigh close to 350 pounds. So please read this guide so that you can make a better informed buying decision and avoid buying a lemon.
If you weigh more than 350 pounds, I highly recommend you check out the 400 LB range and the 450 pound capacity options.
| | | Deck | Price |
| --- | --- | --- | --- |
| | Heavy-Duty Folding Frame With Lifetime Warranty, 3 CHP Motor, Orthopedic Belt, 2" Rollers, 8 Programs With 2 Custom Programs, Top Speed 12MPH | 20.5"W x 58"L | Check Price Amazon |
| | Lifetime Warranty On Folding Frame, 375 LB capacity, 2.75" rollers, 3.5 CHP motor, 0-15° Incline, built in programs with cooling fans | 22"W x 60"L | Check Price Amazon |
| | Basic Walking Treadmill For walkers Only, Folding Design, 1.5HP, High Torque Motor, Long Handrails For Maintaining Balance | 16"W x 36"L | Check Price Amazon |
| | Top Rated 3.5CHP AC Motor, 26 Programs, 2.75" rollers With 3-Ply Belt, Folding, 0-15% incline. | 20"W x 60"L | Check Price Amazon |
| | 3.25HP, 12% Incline, 30 Programs, Handlebar Controls, Lifetime Frame Warranty, Folding With Aluminum side Step | 20"W x 60"L | Check Price Amazon |
| | 3HP DC Motor, 12mph Top Speed, 12 programs, Life-Fitness Popular Gym & Club Treadmill | 22"W x 60"L | Check Price Amazon |
| | High-End Club Quality Treadmill For Home, 2-15% Incline, 12mph top Speed, Includes Chest Strap for Heart Rate Monitoring | 22"W x 56"L | Check Price Amazon |
---
Key Considerations When Choosing a Treadmill With 350 LB Capacity
Most treadmills have a weight capacity specified in their description/specifications, but is the weight capacity alone enough to give the heavier person the confidence to buy?
Not exactly. While there are a number of heavy-duty treadmills with varying weight limits, it is not recommended to buy one simply based on this specification alone. At the same time, I highly recommend you don't buy a treadmill with a weight limit lower than your body weight.
When it comes to choosing a treadmill, the first thing I do is make a list of suitable options available in my weight zone. This helps to eliminate the options that are simply not capable of handling someone that weighs 350 pounds.
The list of treadmills below all have a weight capacity of 350 pounds, but to make your buying decision even easier I have a short guide on how to differentiate the various models so you know which one is best for your needs.
Heavy-Duty Frame
The first thing you need to consider is the quality of the frame. Without a high grade steel frame, you really are running the risk of a poorly made treadmill.
Many high-end treadmills will offer a lifetime warranty on their frames because they know they will stand the test of time. If the treadmill you are looking at does not offer a decent frame warranty, this may be a good sign that the frame is poorly made from cheap materials.
Folding Vs Fixed Frame
As you start to get into the more heavy-duty rated frames, you will notice fewer options are available as a folding design. This is simply because the folding design compromises some of the frames structural integrity.
While folding treadmills certainly have their benefits, for someone that weighs over 300 pounds, the negatives may outweigh the positives. If I had to choose between a folding treadmill with 5 years frame warranty compared to a fixed frame treadmill with lifetime warranty, I will go with the fixed frame option ever time.
Is The Motor Capable Of Handling A Heavy Person
Far too often people overlook the importance of the treadmills motor. Without a heavy-duty motor, the treadmill will work overtime and struggle to perform under a heavy load.
A treadmill with a higher horsepower (HP) motor will have greater power to perform the daily tasks required from a treadmill.
Unfortunately the more horsepower the motor has, the more expensive the treadmill usually is. At the very minimum you want a motor with 1.5 continuous horsepower (CHP), but ideally you want something more powerful like a 3HP to 4HP motor when you weigh around 350 pounds.
AC vs DC
AC vs DC motors may be something to consider also at this weight range. Most models in this weight range will be DC motors, which basically means they are designed for home use. However, if you come across a 350 pound treadmill with a AC motor, this means it is more of a commercial line intended for heavy duty use. A more powerful motor basically.
Torque Is Often Overlooked
However, you need to also ensure the motor has powerful torque, the ability to provide sufficient power without burning out the motor.
To figure out the torque you need to find out the motor's RPMs. The higher the RPM the lower the torque. Ideally you want a motor that has between 3000-4000 RPMS, anything higher and the motor will be spinning too fast causing the motor to work overtime and eventually burn out.
Nobody wants to buy a treadmill for it to break down after 6 months due to motor malfunction. The harder you make the motor work the quicker the motor will burn out, which is why torque is so important. To be able to provide high power motor turning without excessive RPMs.
Other Factors To Consider
Size of rollers – The larger the rollers are, the easier it is for the belt to glide over. Typically speaking the larger the rollers, the longer the belts longevity. Most rollers are about 2″, so anything larger is a good size.
Belt Quality – Often you will see companies say their belt is 2-ply or 3-ply etc. The higher the ply number, the more layers to the belt which often means longer lifespan. However, the quality of materials used in the belt construction is also important. Such as Phenolic belts, which are far superior to generic Teflon belts which tend to wear at much faster.
Deck Size – The width and length of the treadmills deck is very important. As we have larger bodies, we need more space to work with, so the larger the dimensions, the more comfortable you will feel.
Deck Cushioning – I will never buy a treadmill without deck cushioning, but as always, it costs more for the proper cushioning under the feet. If you feel pain or discomfort in your joints when walking around the home, I suggest you also look for a treadmill with deck cushioning.
Weight Capacity – Finally, never risk it on a treadmill rated below your body weight. Make a list of suitable options in your weight range and use the above information to make an informed decision. To make you life even easier, I have listed some of the best 350 lb treadmills below. Simply go through the list and find one within your budget and compare the HP, rollers, deck size, cushioning, etc.
---
Best 350 LB User Capacity Treadmill

I wanted to list this 3G Cardio Pro Runner treadmill first simply because I find it to be one of the best 350 pound capacity treadmills in terms of quality and value for money.
3G Cardio also have a 400 lb capacity model which is much more expensive. However, you get many of those features on this 350 LB version, without the extra price. so in my opinion, its great value for your money.
Good fit For a Big User
Heading straight into the engine room you find the 3 continuous horsepower motor (3CHP), which is right where you want to be when you weigh over 300 pounds. The motor is so powerful it can operate at 3HP continuously, which means it won't struggle, lag and fall off under heavier loads like a 1HP motor would.
While the rollers on the 3G Cardio are not huge at 2″ in diameter, I feel the commercial grade quality belt makes up for this.
The belt used on this model is the exact same belt used on this more expensive commercial grade treadmill. This belt is a 2-ply orthopedic belt which means it is stronger, thicker and features a surface texture designed for maximum foot grip.
While the belt is only 2-ply, the fact it is made form such high-grade commercial quality materials make it equal if not better than an average quality 4-ply belt.
Heavy-Duty Folding Treadmill
As I mentioned earlier, you don't typically find good quality folding treadmills with a 350 pound capacity, this is simply because the frames integrity is compromised.
However, 3G Cardio have done a fantastic job at reinforcing the frame to be able to still handle heavier users, while also being able to be folded up into a compact unit. Which is why they back up their frame with a lifetime warranty.
The treadmill deck is also a nice size measuring 20.5″ wide by 58″ in length. while there are longer models available, 58″ length running deck is suitable for most peoples height.
Built Like A Tank
Overall I'm very impressed with the 3G Cardio Pro Runner. It is constructed like a tank, yet has the ability to be folded away to conserve floor space. This is a unique opportunity for the heavier user to get the best of both worlds.
The powerful 3CHP is as heavy-duty as you can get in this price range and with its top speed of 12mph, it matches many of the 4HP treadmills available. Highly recommended.
3G Cardio Pro Runner Treadmill
---
Best Treadmill For Someone That Weighs 350 Pounds

A very close runner up to the above 3G Cardio is the F80 by Sole Fitness. Sole have long been one of my favorite fitness brands as they produce some of the highest quality home exercise equipment.
But when it came down to it, the 3G Cardio Pro Runner just nudged out the F80 by Sole, but not by much.
The Sole F80 is another folding treadmill but with a 375 pound weight limit it is the ideal treadmill for someone that weighs 350 LB. Remember, you want to buy a model that has a capacity higher than your body weight, so if you weigh 350 LB, the F80 is a good starting block.
3.5 CHP DC Motor
The F80 features a slightly more powerful motor (3.5CHP) than the 3G Cardio Pro Runner (3CHP), making it better suited to someone that weighs close to or above 350 pounds. Being a DC motor means it is intended for personal use which comes with the benefit of it running a lot quieter than a commercial model.
The Cushion Flex deck is also a little bigger, making it a good solution for the big and tall people. A couple inches wider and longer than standard gives the bigger folks more room to walk or run comfortably. Deck size: 22″W x 60″L.
The roller is also larger at 2.75″ in diameter. At this size, the roller will assist in the longevity of the belt but also reduce the amount of stress being put on the motor. As a heaver user, this is something you want and should not sacrifice too much on.
Gentle On The Joints
In terms of cushioning, Sole has some of the best in town. The Cushion Flex deck not only provides a quiet walking surface, but is also designed to reduce the amount of impact on your joints.
As a bigger person, this is of extreme importance, because it the workout is hurting the joints, chances are the workout will be put in the 'too hard basket'. The last thing you want it to be put-off the treadmill because it hurts your knees and ankles. So this Cushion Flex cushioning is well worth the investment.
Overall I find the F80 treadmill to be one of the best heavy-duty treadmills in general. The fact it folds up and provides you with ample deck cushioning is a huge bonus for heavier users. The higher 375 LB capacity makes it the ideal choice for someone that weighs around 350 lbs.
375 LB Sole Fitness F80 Folding Treadmill
---
Affordable 350 Pound Weight Capacity Treadmill

If you weigh under 350 pounds and need a treadmill for basic walking and don't want to spend a fortune, the TF900 by Exerpeutic may be your ideal solution.
Known as the Walk To Fit, the TF900 features a low power, high torque 1.5HP motor designed for walking speeds only. The key feature to consider here is the high torque, giving you the ability to walk smoothly up to 4mph thanks to the 1.5HP motor.
Because this treadmill is only for walking on, it has a smaller deck size of 16″ wide by 36″ in length. This is not a huge surface, so be sure that your foot stride is not too long for the 36″ deck.
Compact But Heavy Duty
I don't think you will find a more compact heavy duty treadmill on the market, especially with a higher 350 pound user capacity. The frame is also folding so you can save even more floor space when not using the treadmill.
However, the treadmill only weighs 110 lbs so it is easy to move out of sight. the downside to the lightweight is that it may not be as sturdy as one of the more expensive models listed.
For example, the Sole F80 is almost 3 times heavier than this treadmill. But you must take into consideration the smaller deck on this unit when comparing the weight of each model.
At the end of the day, the Exerpeutic TF900 is not going to win any awards for best performance or advanced technical features. But what it does offer is a compact folding solution for the heavier person that only wants to slowly walk their way back into shape.
Exerpeutic TF900 Walking 350LB Treadmill
---
Top Rated Treadmill With 350 LB Weight Limit

Since the Nautilus T618 exploded on the scene back in 2016 it has become a hugely popular treadmill. What makes this model such a hit is the amount of value you get for the mid range price point.
When it first became available, the T618 was one of the top line treadmills in the Performance Series, making it the ideal treadmill for just about anyone.
However, when it comes to heavy people, the Nautilus T618 is suited perfectly. With its oversized running deck with advanced cushioning in combination with the high 350 lb weight capacity, its easy to see why this model has become a household favorite.
The top speed of 12mph is made possible by the powerful 3.5CHP AC motor so you can maintain high performance even while pushing the treadmill to its limits.
With rollers 2.75″ in diameter and a 3-ply commercial grade belt, there's no wonder the warranty on this treadmill is one of the best in the industry. However, I am a bit puzzled by the 15 year frame warranty as most treadmills of this high quality offer a lifetime warranty.
Feature Highlight – Best Cushioning for Heavier People
Heavier users will benefit the most from the Rebound Deck Cushioning. This advanced level of cushioning provides the soft and gentle landing under each step minimizing a significant amount of stress on the knees and ankles.
What's unique about the Rebound Cushioning is the advanced technology used to develop a firmer pushing surface as you prepare your foot for elevation, while providing a softer cushioning in the landing zone as your foot prepares to plant back on the deck.
This type of cushioning is more advanced than most cheap and mid range treadmills on the market. When the surface is too soft to get the proper traction to push your foot off for elevation it can make using the treadmill as a heavier person all that much more difficult.
However, Nautilus appears to have nailed it with their advanced Rebound Deck Cushioning. The thing about the T618 is that it does offer so much bang for your buck that it is very hard to say no to.
Which is why it is such a top rated treadmill and for the heavier person to also benefit from these features is just amazing.
Complimenting the advanced cushioning is the 3-ply belt (2.55mm thick) and for a treadmill in this price range is just fantastic. When you compare this to your typical home use treadmill with 1-ply belt, you can really see the extra steps Nautilus has gone to provide you with one of the best treadmills for home use.
Nautilus T618 Treadmill
The 350 LB Quiet Achiever

All to often we get caught up in the hype of big name brands that the little guys never get a word in. Well, now it's time for the Xterra Fitness treadmill to say a few words figuratively speaking.
This is probably one of the most underrated 350 pound capacity treadmill. Perhaps its the brand name, but either way, this is one beast of a treadmill for the bigger user.
There are two models of Xterra treadmills suitable for the heavier person and they both have a 350 pound weight limit. They are the Xterra 3500 and the 4500 models.
While the 3500 is a great alternative, I want to shave the 4500 model with you. Basically because it doesn't cost much more, but you get much more for your dollar.
Xterra 4500 Treadmill Review
With a solid steel welded frame, the Xterra 4500 is a beast of a treadmill. Powered by a solid 3.25 HP motor capable of handling speeds up to 12mph with a 0-12% incline. The large 20″W x 60″L deck provides sufficient room for the larger person to feel comfortable while walking or running.
What impresses me about the 4500 over the 3500 model are two things. 1. The aluminum side steps – When you are at the point of collapsing and need to exit the treadmill safely, these sturdy side steps are the quick exit every big person needs.
2. Handlebar mounted controls – Hitting those buttons on the centre console while all hot, sweaty and exhausted can be a workout in itself. With the 4500 model, there are additional controls built into the handgrips of the treadmill.
So you can quickly and easily adjust the settings on the treadmill without having to lose focus and balance trying to hit those buttons on the centre console.
Overall Opinion
While I do say that the Xterra is one of the most underrated treadmills, it is not without its faults either. The main focus of this list is for strong, robust well built treadmills designed to hold people up to 350 pounds.
The Xterra 3500 and 4500 do this and they do it so well the manufacturer offers a lifetime warranty on their frames. So you can rest assured that the build of the treadmill is very solid and reliable, which in my opinion is the most important feature to consider behind the power of the motor.
Where the Xterra models lack somewhat is in their programming. The console is a bit like comparing a Gameboy to a relatively new gaming console. The fan on these treadmills is also quite weak, so I would consider turning the air-con on or using an external fan to keep yourself cool while working out.
However, the programming and bells and whistles of a treadmill are less important to me than the ability to be a safe and reliable treadmill for someone weighing up to 350 lbs. If a solid and reliable treadmill is what you're after, why not give the Xterra 4500 a go?
XTERRA Fitness TRX4500 Treadmill
---
Recap Of The Best 350 LB Weight Limit Treadmills
| | | Deck | Price |
| --- | --- | --- | --- |
| | Heavy-Duty Folding Frame With Lifetime Warranty, 3 CHP Motor, Orthopedic Belt, 2" Rollers, 8 Programs With 2 Custom Programs, Top Speed 12MPH | 20.5"W x 58"L | Check Price Amazon |
| | Lifetime Warranty On Folding Frame, 375 LB capacity, 2.75" rollers, 3.5 CHP motor, 0-15° Incline, built in programs with cooling fans | 22"W x 60"L | Check Price Amazon |
| | Basic Walking Treadmill For walkers Only, Folding Design, 1.5HP, High Torque Motor, Long Handrails For Maintaining Balance | 16"W x 36"L | Check Price Amazon |
| | Top Rated 3.5CHP AC Motor, 26 Programs, 2.75" rollers With 3-Ply Belt, Folding, 0-15% incline. | 20"W x 60"L | Check Price Amazon |
| | 3.25HP, 12% Incline, 30 Programs, Handlebar Controls, Lifetime Frame Warranty, Folding With Aluminum side Step | 20"W x 60"L | Check Price Amazon |
| | 3HP DC Motor, 12mph Top Speed, 12 programs, Life-Fitness Popular Gym & Club Treadmill | 22"W x 60"L | Check Price Amazon |
| | High-End Club Quality Treadmill For Home, 2-15% Incline, 12mph top Speed, Includes Chest Strap for Heart Rate Monitoring | 22"W x 56"L | Check Price Amazon |
Conclusion
Making a big investment on a product like a treadmill is never an easy decision. When you're as heavy as 350 pounds in weight, the decision is even harder.
While it is temping to just buy the in-fashion brand or model with all the bells and whistles, all of that is irrelevant if the frame and motor of the treadmill are not up to the task.
Use the guide above to help you make the best decision for your needs and do some basic research you will discover the gems from the duds in no time.
One last tip is to consider the treadmills weight also. For example, if a treadmill is rated to hold 350 pounds, but weighs less than 100 lbs itself, yet has a top speed of 5 mph and a 4HP motor, chances are the manufacturer is blowing smoke up your …