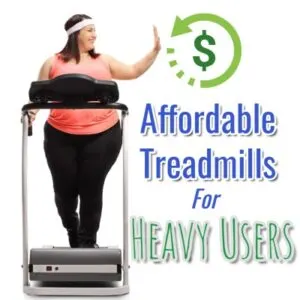 Being a larger guy all my life, I know all to well the 'extra costs' involved with being overweight. Trying to find affordable treadmills for heavy people feels like trying to find a diet that requires no exercise, and actually works.
Point being, the treadmills with the higher price tags are awesome for supporting the plus size to obese people, but they come in at prices many of us simply can't afford.
However, this is not always the case. After doing some thorough research and using my existing knowledge of heavy-duty treadmills, I have narrowed down the suitable treadmills with affordability being the main priority.
Our #1 Recommendation
How Expensive is It Really?
But what makes a treadmill affordable? For some people it could be $500, while for others, they could consider $1000 to be cheap for a treadmill. These are margins that will simply have to be figured out by you, the buyer.
Only pay what you can afford. But at the same time, a cheap treadmill may be just that, cheap! Us heavier people often break stuff that is poorly made, so below this list of budget friendly treadmills you can find my guide to choosing a treadmill when you're on a tight budget.
Compare Treadmills By Affordability Vs Weight Capacity
| | Relevant Specs | Capacity | Price |
| --- | --- | --- | --- |
| | Walking Only - 20"W x 40"L Deck, 1.5HP, 2 Manual Inclines, Robust Sturdy Frame. Extended Handrails. | 400 LB | Check Price Amazon |
| Dr Gymlee | 17"W x 47"L Deck, 2.25CHP Motor, 9% Manual Incline, Top Speed 8mph | 300 LB | Check Price Amazon |
| Exerpeutic TF900 | Walking Only (16"W x 36"L Deck), 1.5HP Motor, Top Speed 4mph, Extra long handrails ideal for people with poor balance/ability to move. | 350 LB | Check Price Amazon |
| LifeSpan TR001 | 20"W x 56"L Deck, 8 Suspension Cushions, 2.5CHP Motor, 15 Incline Levels | 300 LB | Check Price Amazon |
| Pro Gear Ultimate | Walking Only - 20"W x 40"L Deck, 1.5HP 'Quiet Drive' Motor, 2 Manual Inclines, Robust Sturdy Frame. Extended Handrails. | 400 Lb | Check Price Amazon |
---
See More Treadmills By Weight Capacity
---
---
---
---
---
Low-Cost 400 LB Walking Treadmill

The TF1000 by Exerpeutic is basically an oversized version of the above model. With the larger walking space comes a higher 400 pound capacity.
The walking deck measures 20 inches wide and 40 inches in length. Which correlates with the higher capacity. As someone that weighs close to 400-pounds will need a wider area to comfortably fit and feel safe.
The deck is slightly longer also, allowing the larger users to walk at the back of the track while still holding onto the extra-long handrails. Had the deck been any shorter, a wide person would not feel comfortable trying to squeeze in between the handrails.
Fortunately the deck is long enough so that you can still take advantage of the handrails from the back of the deck. Just be aware that you will be further away from the quick-stop button and speed increment buttons built into the handrail.
In terms of performance, not much is different from the 350Lb TF900 model, 1.5HP with a top speed of 4mph.
A Sturdy Option For A 400 Pound Person
However the frame on this model does seem more robust and I would feel much more comfortable using this treadmill to walk to fitness over the lessor 350 Lb option.
If you are someone that weighs 400 pounds, using a walking treadmill like this is a great way to get the ball rolling. It doesn't have much in terms of technology and only has 2 manual incline levels.
But for the price of this, you can work your weigh down from 400 pounds to mid 300 lbs and you open up a few more options in terms of treadmills suitable for that weight capacity.
Best Affordable Treadmill For Overweight Person
300 Lbs Weight Capacity

When you want the best quality for your buck, there's no need to look past the LifeSpan TR001. However, the only drawback is that its weight limit is just 300 pounds. Which is still 50 to 80 pounds higher than standard treadmills.
LifeSpan treadmills are one of the biggest names in the industry, especially in the gyms and clubs across America.
However, this is not a commercial grade option you would find at a gym, but the quality and brand reputation alone makes it a viable option for heavier people wanting a decent treadmill at an affordable price.
Best Bang For Your Buck
For the price you pay for this LifeSpan treadmill, it's rather impressive the amount of power and features that are on offer.
To start with, the motor utilizes 2.5 continuous horsepower. When you're looking at cheap heavy duty treadmills, you won't find too many, if any, with a more powerful motor. Plus the fact it is continuous is a positive sign for heavier people wanting to test the motors full capacity.
Offers The Right Amount Of Suspension For The Big Person
Many cheap treadmills are not suitable for heavy people simply because they lack the suspension needed to cushion the impact on each step you take. If a treadmill in this price range does manage to have suspension, it's usually just 4 to 6 suspension cushions.
With the LifeSpan you can take full advantage of the 8 suspension coils. The additional 2 cushions help to absorb the extra impact a heavy person places on the deck on each landing. The cushions are conveniently placed to cushion the blow in the 'hot zone', where your feet land with the most force.
All In All, It's The Best Affordable Treadmill For Big Users
If you can afford the extra few bucks for the LifeSpan, I feel you won't be disappointed. With a quality brand like LifeSpan, you can rest assured knowing you're not buying just some cheap knockoff.
While it does lack some of the basic features you may expect like built-in speakers, it really shines in other areas. Such as the heavy duty frame that can fold up for storage and the speed and incline buttons located on the handrail for easy access.
Overall, I would certainly opt for the LifeSpan model over any other model on this list. Provided you weigh less than 300 pounds, the 20-inch wide deck with 56-inches in length will be suitable for many heavy people.
LifeSpan TR1200i Folding Treadmill
---
Inexpensive Cheap Treadmill 300LB Capacity

A cheaper option than the above LifeSpan is the Dr GYMlee M7 Plus. This model also has a 300-pound weight limit and a decent 2.25CHP motor.
However, there are some notable difference that will make you question whether it is worth spending a bit more to invest in a higher quality model like the LieSpan.
While I am impressed with the 2.25CHp motor which runs relatively quiet for a treadmill, just 50dB, the fact the deck is smaller and the incline is manual versus electric makes it a bit of a turn off for me personally.
Smaller Deck Could Pose Issues
But in saying that, some folks don't want to use a treadmill to mimic walking up hills, so the lack of election incline feature may not be a bad thing. But the deck is smaller, making it difficult to jog on and if you're tall, the 47″ length will simply not do.
The deck is also not as wide as the above LifeSpan, coming in at 17 inches of walking space. Depending on how big you are, the 17-inches may be too narrow. It's too narrow for me personally, but at the same time this is a cheaper model, so you need to sacrifice features/design somewhere to get the lower price.
Overall, It's Not Bad
If the LifeSpan is simply to out of reach for you, the Dr GYMlee M7 Plus could be a worthy substitute. Considering the price, the 300 LB capacity and some pretty nice features, it's not a bad treadmill at all.
Dr GYMlee M7 Plus 300 LB Treadmill
---
Budget Heavy Persons Treadmill 350 LB

This budget treadmill by Exerpeutic is ideal for heavy people that are wanting to walk only. While it has a higher weight capacity, the treadmill doesn't have the capability to allow users to jog or run.
Treadmill For Walking Only
This is evident from the short 36-inch deck and the lower 1.5HP motor which can only put out a top speed of 4mph. This is certainly not a bad thing if that is all you need. Just be aware that once your level of fitness improves, you could be in a hurry to find a treadmill suitable for jogging and running if that is your end goal.
However, for folks that have limited ability to walk and jogging is simply out of the question, this 350 lb capacity treadmill is a very viable option.
The addition of extended handrails is ideal for heavier walkers and people recovering from an injury or surgery. The additional handrail length gives you more freedom to walk as you're not always focused on staying up close to the front as possible to be near the handrails in case you slip.
I also like that Exerpeutic have included operational buttons on the handrail. This makes adjusting your workout all that much easier. Especially if movement is limited or difficult.
Am I Convinced?
The treadmill as a whole is pretty decent for someone up to 350 pounds looking for an affordable walking alternative. However, I am a bit dubious on the lower than normal frame warranty. This model has just one year frame warranty and to be honest, this does scare me a little.
I have heard of other brand treadmill frames cracking under pressure when the user is much less than the capacity, which is why I am a firm believer in finding a lifetime warranty or at least 5 year frame warranty.
That is not to say that this will happen to this Exerpeutic model, but it is certainly something to keep in mind. If you weight between 300 and 350-pounds, I would be tempted to skip this model and consider the 400 pound rated Exerpeutic model listed below.
Exerpeutic TF900 Walking 350LB Treadmill
---
Affordable Treadmill For Obese People

When comparing affordable treadmills for heavier persons it can be difficult finding models that are actually in stock. This last treadmill is by ProGear and it features a 400 pound weight capacity.
the reason this model is listed is that is basically the same as the above Exerpeutic TF1000 in terms of performance, features and deck. So should the above option be out of stock, give the ProGear a chance.
It's another walking only treadmill with a top speed of 4mph, suitable for casual walking and power walking. At 400 pounds, chances are that running is not really a possibility right now, so it makes sense to start off with a walking treadmill like this ProGear.
The main differences that I have established are the design of the console and the amount of noise this model makes. truth be told, this ProGear treadmill is so quite, you will barely notice it. Having conversations with people next to you as you walk your way to fitness is easily achievable because the motor and belt is so quiet.
Overall, its level pegging between the ProGear and Exerpeutic so what it really comes down to is which one is in stock and which one is the cheapest.
ProGear HCXL 4000 Ultimate Treadmill
---
Guide To Buying A Budget Treadmill For The Big People
So as you can see above, there are a few budget friendly treadmills for heavy people to choose from. However, in my opinion, one should never buy a piece of exercise equipment based on price alone, especially if you weigh more than 250 pounds.
This is because, most treadmills are designed to handle people from 220 lbs to 250lbs. When you weigh more than this, structural reinforcements need to be factored into the construction of the treadmills frame, suspension, motor, belt, rollers, and much more.
If a treadmill claims to hold 350 pounds, yet lacks the obvious specifications proving that it is indeed heavy-duty rated, you may be paying for a poorly made cheap standard treadmill with a 350 LB label slapped on the box.
When Quality Matters More than Cheapness
Often, the price of the treadmill will reflect just how strong and durable it is. Many of the technical features don't necessarily count for too much in terms of adding excessive expenses to the model.
The bulk of the expenses required to construct a treadmill lay in the frame, motor and belt. Get these three right as a big user, and you're laughing.
Sacrifice quality for price, and chance are you will be back down to the fitness store to claim a refund or buy a new treadmill in 6 months. Both options are not enticing, which is why sometimes it pays to pay.
A Decent Frame Will Go A Long Way
Like most exercise equipment for heavy people, the frame is the foundation to success. Ideally you want to invest heavily into a solid strong one-piece steel frame. This will be the bulk of your purchase, but can prove to be the best money you ever spent.
A fixed frame is highly recommended for people over 400 pounds as the fixed frames are stronger and more durable than the folding treadmills.
If you're going to invest more into a stronger frame, be sure to check that the treadmill has a lifetime warranty on the frame. Most quality brands offer this and its a true statement to their durability for the heavier person.
Cost-Effective Treadmill Motors
This is where a lot of heavier users become unstuck. They buy this great treadmill for under $500 to get it home, assemble it and than discover the treadmill doesn't have the power to handle a 400 pound person.
The power of the motor is very relevant to a heavier person and unless you have prior knowledge in this area, trying to understand all the specifications, numbers and digits can prove challenging.
Don't Compromise – 1.5HP Minimum
As a guide, I highly recommend you opt for a treadmill with more than 1.5HP. Even at 1,5Hp, the motor is going to have to work harder to transport a heavier person on a regular basis. Eventually causing the motor to wear out sooner than you ever anticipated.
Unfortunately, the power of the motor holds a large percentage of the treadmills expense. So affordability and a powerful motor are not that common. When you buy an affordable treadmill, chances are you are buying a treadmill with a low power motor. At the very minimum, look for an option with 1.5HP, preferably CHP (continuous Horsepower)
Do You Really Need All The Bells & Whistles?
Manufacturers/companies do a great job at selling you on a treadmill with their fancy words and pretty designs. But you need to as yourself, do all these extra features really matter?
Sure it's great to have a world map on your console watching yourself walk through the amazon jungle trek, but is it really necessary? When affordability is your top priority, I'd wager the answer is no.
So, unless you have the money to spend, don't pay too much attention to the extra bells and whistles that a treadmill may have.
Instead focus the majority of your research on the things that actually matter. Things such as:
Weight Capacity – Never go below your actual body weight.
Deck Size – Is the deck wide enough to cater to a larger person with broad shoulders and wider hips? Perhaps you're taller than 6-feet, is the deck long enough to handle your long strides. Ideally the deck should be at least 20-inches wide with a length of 40″ for walkers and 58″ for runners and big and tall people.
Manual Incline vs Auto Incline Vs No Incline – A treadmill with no incline may be suitable to some obese people, but personally I prefer to have automated incline. This does add a significant expense to the treadmill, but if you're serious about getting fitter, the incline feature is a must. As bare minimum, I suggest manual incline.
Smaller factors to consider – The number of layers the belt has. 2-ply as bare minimal, the more layers the thicker and more durable the belt will be. Large rollers, ideally 2″ diameter as the larger rollers cause less stress on the motor extending the longevity of the motor. The amount of suspension the deck has is vital to heavier people. Some cheap treadmill won't have any suspension and it will not favour the bottom of your feet or joints.
Can You Really Buy an Affordable Treadmill For Heavy People?
When you go through the above guide, it can seem like it is near impossible to buy an affordable treadmill for a heavy person. It is a sad reality that us larger folks do need to pay more for comfort and in terms of using a treadmill, I don't think that cheaper is better.
If you're looking to buy the best affordable treadmill, I highly recommend investing some time and research into more heavy-duty models as a heavier user. Not only will the treadmill last longer, but you will also feel more comfortable and safer doing so.