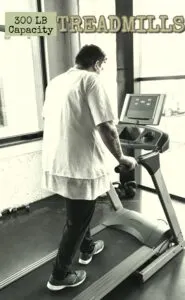 Our detailed guide to the top 5 treadmills with 300 LBS weight capacity is designed to give you the edge when deciding which treadmill is best for you. As we are all unique in body shape and size, choosing one treadmill as 'the best' simply may not suit all plus size people.
However, as most treadmills have a lower user weight limit (200-220 LBS), much of the market is not suitable for people that weigh 300 pounds.
Which is quite ironic when you think about it. A treadmill is a highly effective way to get fit and lose weight, yet many of the models on the market don't have a high enough weight capacity for big people to safely use.
Choosing The Best Treadmill For Your Size
The first step to choosing the best treadmill for you is to ensure the treadmills weight capacity is much higher than your own body weight. Not only can you void the warranty if you weigh more than the machines capacity, but you also open yourself up for potential injury.
So its not worth risking it. Always buy a treadmill with a higher capacity than your own weight. Fortunately, there are a handful of higher capacity machines with reinforced decks and heavy duty motors suitable for the heavier person.
So how do you know which model is suitable for you? For the folks that want a quick fix, simply use the comparison table below to compare the 300 lb capacity treadmills.
Following these models is a quick and useful guide to choosing a treadmill as a bigger person. As we all know by now, not every treadmill is created equal, even if they all have a weight rating of 300 pounds.
There are certain key features you must consider for the best performance. The main focus of this guide is for people wanting a sturdy and reliable treadmill that is capable of performing under heavier weights.
What I'm Not Going To Tell You
The amount of bells and whistles the model has is irrelevant to me, as I believe the foundation of the treadmill is far more important as I value my safety over how many programs the monitor has built into it.
So don't be alarmed when I don't mention much about these shiny features, while they are present on many of the models listed, it's just not that important to me during my initial research stage.
A treadmill built to handle a 300 pound person for many many years is far more important to me than whether it has a 14″ tilt and swivel screen. While these features are nice, they are aa secondary though in my buying process.
Compare Treadmills With 300 Pound Weight Capacity
---
Best Treadmill For 300 LB Person
First and foremost, if you weigh 300 pounds, the treadmills listed below won't be suitable for you. this is because they have a maximum weight limit of 300 lbs. As always, I don't recommend you buy a treadmill if the weight limit is at your actual weight or within 5% to 10% of your weight.
So ideally, people that weigh 300 lbs should consider alternative models with 330 lbs or more. Below you can find quick links to more powerful and robust treadmills suitable for a 300 pound person.
Best Folding Treadmill 300 Lb Capacity

When it comes to the best folding treadmill with 300 lbs capacity, it's no surprise that LifeSpan is one of the most popular choices. This brand is heavily associated with gyms and clubs right across America.
So you know the brand is reliable, provides premium quality commercial grade options, but is this at home treadmill any good?.
Let's Have A Look At The Facts
For a home use treadmill to be highly rated (In my professional opinion), the specs need to really shine above the rest of the crowd. While this is the more affordable line from LifeSpan, they sure didn't short change the customer in terms of performance.
With a powerful 2.5CHP motor, you can expect this treadmill to keep up with you no matter how hard you work it. With the 300 pound weight capacity, I find the 2.5CHP is a great entry point. Unless you are a long distance runner or professional athlete, 2.5CHP is sufficient.
The motor delivers enough power for someone that weighs up to 300 pounds to travel at a maximum speed of 11mph, which in my opinion is just enough for the average overweight person.
But what I feel separates the LifeSpan from other fold up models is the shear quality of the motor. Without a high quality motor, it doesn't matter how good the other features are. You need a motor built to handle heavier loads while having the legs to go on and on for a long time.
Handles The Heavier Folks Like A Beast
Complimenting the motors high quality is the all-steel frame and cushioned deck. Both of these qualities are something that any heavy person should never overlook. The LifeSpan TR1200i comprises both these features in a way that is sure to satisfy the needs of most users.
The frame is all steel, giving it that heavy-duty look and feel. The joints are welded rather than bolted to give the frame even more structural integrity and durability.
Cushioned For Maximum Performance
The deck on the TR1200i features 8 well positioned compression shock absorbing pillows. Typically you expect 6 cushions, but LifeSpan being the quality provider they are added an additional 2 for greater comfort on each step. This level of cushioning goes a long way for us heavier people that experience sore joints, especially in the knees.
Tying it all together is the 2-ply belt. For many treadmills in this category they try to sell you on a single ply belt, which is basically a thin one layer piece of material. Now how quickly do you think a big and heavy person would tear through one of these belts?
The TR1200i features a 2-ply belt designed to be thicker and more robust. While certainly not 3 or 4 ply quality of the commercial line of treadmills, for a home use belt, its right up there.
Features Useful For The Heavier User
On the subject of belts, it's recommended you use 100% silicon to lubricate the belt every 3 months. I would also go one step further and lubricate the belt upon assembly to ensure that the existing lubrication hasn't dried out during the manufacturing stage.
There's a pretty cool feature built into the console that will alarm you every 100 hours of use to remind you to lubricate the belt, not something you expect on a home treadmill in this price range.
Another useful feature for the bigger user is the Intelli-Guard feature. What this feature does is automatically stops the treadmill when it detects that you have stopped walking.
I find this feature relevant because as a bigger user, my fitness level is not ideal yet sometimes I push myself further than I should. Sometimes I lose the control over my legs and can find myself falling. Having this automatic belt stop feature could prevent some nasty falls had the belt kept operating after a fall.
My Final Thoughts
All in all, I rate the LifeSpan TR1200i right up there with the best of the best in terms of heavy-duty home use treadmills. It's a quality build with a powerful continuous DC motor while also incorporating some big man applicable features that make it one of the best out there.
LifeSpan TR1200i Folding Treadmill
---
Heavy-Duty 300 LB Treadmill Commercial Grade
NordicTrack 1750

Not everyone that weighs close to 300 pounds is after treadmill purely for the ability to handle heavier loads. Many people want a commercial grade treadmill with the performance capabilities to take their workouts up a notch.
This is where the NordicTrack 1750 comes in. This model (2019. Read on for the latest 2022/2023 model) is the entry level in terms of commercial grade in the NordicTrack line. However, I find that the price tag for an entry level commercial treadmill like this is well worth it if you want more performance from your treadmill.
Best For Up To 300 Pound runners
Add an oversized deck with a more powerful commercial grade motor, and you have got the perfect runners surface. That is exactly what the 1750 offers.
A powerful DurX Commercial Plus 3.5CHP motor gives runners the boost they need to reach a maximum speed of 12mph while inclining the deck from 0-15%. The deck can also decline from 0-3% which is very rare in a home use treadmill.
The deck itself is oversized for the big and tall users. Any larger person will appreciate a wider surface as it gives you more space to walk freely without feeling like you have to walk the straight line on a more narrow deck.
The taller users get to take full advantage of the 60 inch long deck. This gives you additional stride space for the people with longer legs. While it is not the longest treadmill deck on the market, the combination of the 22″W x 60″L makes it a suitable choice for most heavier people.
Oversized Rollers
Another key feature often overlooked when considering a treadmill is the size of the rollers. Many home use only treadmills offer smaller 2″ rollers. The problem with smaller rollers is that it can make the motor work harder leading to a shorter lifespan, while also deteriorating the belt quicker.
The rollers on the NordicTrack 1750 are a full 0.5-inch bigger in diameter. Full blown commercial treadmills have rollers around the 3″ mark, so a home use light commercial treadmill like this with a 2.5″ diameter rollers is a pretty decent upgrade.
High-Quality At Entry Level Price
If I had to sum up the NordicTrack in one sentence it would be, high-quality at an entry level commercial grad price. A 300 pound person doesn't really need a full on commercial treadmill, so a nice compromise is this 1750 model.
It offers the heavy duty aspects of a commercial model without charging you through the roof. Sure it may cost more than other home use models you have researched, but I would place my bets on this 1750 model being far superior in terms of quality and performance.
NordicTrack 1750 Commercial 300LB
The Latest NordicTrack 1750 2022 Model
As with any technology, older generations tend to encounter bugs and issues. To compare the most recent NordicTrack 1750 Commercial treadmill simply check out the description on Amazon and be sure to watch the 2023 review below by the Treadmill Review Guru.
Key Differences Between NordicTrack 1750 2021 Vs 2022 Model
New Design: Featuring a larger display console with the top screen now resembling a TV-like experience. The speed and incline buttons have also been slightly adjusted lower for easier access.
14″ screen vs a 10″ screen of the 2021 model.
This new larger screen can also swivel and tils allowing you to customize the viewing angle to your liking.
Lower deck height allowing you to step on without raising your feet so high. Also making it more suitable for people with lower height ceilings
Dual 2.4 & 5 GHz Wi-Fi connections ideal for people using the live classes feature and world trail mode. Super handy for live calls from your online trainer when they demand a slower/faster pace, the treadmill reacts in live time.
Automated Active Pulse Tech. This feature allows the machine to automatically control your heart rate via automatically adjusting the speed and incline to suit.
---
Most Affordable 300 LB Rated Treadmill
If you have never bought a treadmill before, it can be quite a daunting experience looking at all the various models priced at $1000, $2000 etc. If the aim of the game is to simply get on, walk/run and lose some weight, you may not need to spend exorbitant amounts of money right off the bat.
For your first treadmill, you may not necessarily need or want to invest in a high-end option like the LifeSpan or NordicTrack. While they are in reality the best options available in the 300 pound rating, for many people they are financially out of reach, especially in todays inflationary environment.
Affordably Cautious
So to give you a more affordable option, I have included the OMA 7200EB treadmill. While still maintaining a 300 pound weight limit and a respectfully powerful 2.5HP motor, the treadmill doesn't sacrifice too much for performance for price.
However, the motor is less powerful than the more expensive models on the market and as a result, I wouldn't recommend enduring long workouts on this machine. I would cap the workout at between 45 and 60 minutes to be on the safe side, you don't want to risk burning out the motor.
Where Functionality Is Compromised For Price
A large percentage of the costs involved with constructing a treadmill will be based around the incline functionality of a treadmill. If the incline is motorized, the cost is higher.
To keep the costs lower on this OMA machine, they have decided to make this treadmill a manual incline. This gives you 3 positions to adjust the running path too.
While manual inclines are annoying, I don't think it is such a bad idea for someone that is not in the best shape, as running on a fixed incline for the whole workout is not a bad route to take. Especially if budget is one of your main concerns.
Decent Cushioning But On a Small Belt
While I can deal with using manual incline, what I find the most obstructing about this OMA is the smaller deck. The walking/running area is just 16.5″ wide and 45.3 inches in length.
In terms of length, it is acceptable for anyone under 6-foot, but the width is too narrow if you are a wider person like myself. When you lose 3.5″ in width on the belt, the chances of falling off the treadmill are greatly increased.
However, to turn a negative into a positive, the narrow belt will help you perfect your stride direction. But in all honesty, if you can afford a treadmill with a wider belt, I would recommend it.
You Get What You Pay For
We have all heard the saying, "you get what you pay for", and in the case of the OMA it is certainly true for us larger users. Don't get me wrong, its not a bad treadmill for the money if you're an average size person. But for us lofty lads, the tiny belt may be deal breaker, especially if you have a a naturally wider stance.
While the OMA is certainly not suitable for all plus size users, others may find this treadmill to be great value. Just take into consideration the deck size and measure it up against your natural walking style.
Be realistic, will you be squishing your legs together in order to fit between the 16.5″ width? For some, this may be the perfect size, but as I have broad shoulders, I would struggle on this deck. Bare in mind that the motor is slightly less powerful, so running on this deck may only but disappoint you with this OMA.
OMA Folding Treadmill 300 LBS
---
Best Mid-Range Treadmills That Support 300 Lbs

The XTERRA Fitness Tr300 folding treadmill also operates with a 2.25HP motor, however it is typically more expensive than the OMA. But in my opinion, is better suited to the plus size person.
The running deck is wider and longer. At 20″ wide and 55″ long, a person that weighs close to 300 pounds will find it more comfortable to walk on in comparison to the narrow 16.5″ OMA model.
The top speed of this model is lower at 10mph, however the motor does have the electronic incline feature. So you don't need to get off the treadmill and manually raise the incline of the running deck.
These two features along make it a more viable option, however you need to weigh up the costs versus ease of use. If you have the extra money laying around, a wider deck with 0-10% incline is a better way to go.
One thing I do like about XTERRA treadmills is their cushioning system. It is really light on the foot so it doesn't vibrate and send shock waves through your joints. This cushioning is known as the XTRASOFT deck cushioning technology and I am quiet the fan.
Not The biggest Rollers
One area I feel the XTERRA lets us heavier folks down is with their rollers. They are undersized at 1.8″ in diameter. Normally I would not suggest going with rollers this small as it can force the motor to work harder while wearing out the belt sooner.
However, the 2-ply belt used on this treadmill is rather heavy-duty featuring a DuraWeave texture for maximum adhesion. So in essence, the thicker more durable belt should operate quite nicely over the 1.8″ rollers.
As mentioned at the beginning of this guide, I'm not one for all the bells and whistles during my initial research stage. But one feature that really peaks my interest is the handlebar controls.
These controls are located on the right arm of the treadmill making it super convenient to control the speed and incline of the treadmill. It is much easier to use this control than to try and mess with a LCD screen when your hands are all sweaty.
Overall I think the XTERRA treadmill is one of the more underrated models on the current market. If offers a lifetime warranty on the frame which speaks volumes to the level of quality. Plus it has an array of useful features like the easy folding Lift Assist and handlebar controls.
XTERRA Fitness TR300 Folding Treadmill
---
300 LB Home Use Treadmill

The final 300 LB weight capacity treadmill is a second model by NordicTrack because they are such a popular choice for home owners. This is the T series T6.5 S treadmill and it is one of the best selling models in the NordicTrack line.
This is a result of it being an affordable option for the average homeowner along with providing unmatched quality and features designed to help the user lose weight and get fit. Something that is often missing from budget friendly treadmills.
High Performance For Entry Level Home Model
In terms of performance, the T6.5 S is right up there in terms of power delivered for the cost of the unit. It utilizes a 2.6CHP (Continuous horsepower motor), which is above standard for entry level home use machines. Its powerful enough for the heavy person to comfortably walk and job.
As the machine has a top speed of 10mph and and incline up to 10%, full sprints may be pushing the motor too far.
Flex Select Cushioning
One of the nicest features of the T6.5 S is the Flex Select Cushioned deck. The deck features 6 suspension cushions spread out evenly with the hot spot (where your feet land) positioned perfectly to take the grunt of your weight.
The belt which is commercial grade measures 20″ wide by 55″ in length. While not the widest deck, the 20-inches in width is suitable for a person weighing up to 300 pounds. The 55″ length may be tad short for tall people, but I find the 6 suspension cushions to be the right amount for this size deck.
A Surprising Negative
Something that shocked me was learning that in order to turn on the treadmill, you have to first register your free 1 month subscription to iFit. I've used iFit in the past and was not a huge fan and the fact NordicTrack is trying to force customers to enter their personal details before being able to use the treadmill is rather disturbing to be honest.
After some research I discovered that you can get around this so you don't need to need to enter your credit card details on a free trial. To do this you just need to press and hold the iFit badge on the console for about 30 seconds, this will by-pass the function and allow you to use the treadmill without registering.
This was not mentioned in the manual and states you won't be charged in their FAQ, however this is something that has bugged me for quite some time. With this negative aside, the T6.5 S is not a bad treadmill and should not be judged to harshly for using iFit.
NordicTrack T6.5 S 300 LB Treadmill
---
Buying A Treadmill For A Heavy Person
Buying a treadmill when you're overweight is not as straightforward as you may expect. there a numerous factors that come into play the heavier you are.
Fortunately a 300 pound person has more options to choose from compared to someone that needs a 450 Lb treadmill. This is because a person weighing this much will typically require a commercial model.
A commercial treadmill is often a lot more expensive but, for good reason. However, a person that weighs 300 pounds will not need as much structural reinforcement, deck cushioning and such a powerful motor.
Below you can use this checklist to ensure the model you are looking at ticks all the boxes.
Oversized Deck
Most treadmills will have decks that are between 18 inches and 20 inches wide. For a plus size person, this is not really enough width as you can feel cramped when walking. So anything greater than 20-inches wide is ideal.
There is nothing worse than always stepping on the side rail because the deck is too narrow. Not only does this ruin your momentum, but it can also damage the belt causing you to have to replace it sooner than anticipated.
Longer Platform
Along with a wider deck, you should consider the length of the deck in comparison to your height. Big and tall people will be looking for a treadmill with a deck that measures no less than 60 inches, especially if you plan to include running into your routine.
Short and heavy people can get away with a shorter platform, however I wouldn't go too short as it can make you feel restricted in your leg strides. No less than 40 inches if you are only using the treadmill for walking.
If you want a treadmill to run on, consider a longer deck even if you are short.
Get To Know The Motors Capabilities
Regardless of your weight, you should always research the motor of the treadmill further. However, it is more important for heavier people because we put extra strain on the motor compared to someone that weighs 250 pounds.
Understanding all the numbers and specifications spat out by the manufacturer or salesperson can be overwhelming if you have no clue what they are on about.
Don't be afraid to ask the salesman what each specification means and how it directly relates to you. For example, you may not require a 5HP motor if you only intend to do casual walks on the treadmill.
A Brief Rundown
Horsepower – The higher the number represented by (HP) typically means the motor is more powerful. Continuous Horsepower (CHP) is the number you should look for as it tells you the amount of power the motor puts out under continuous strain. A motor rated 3CHP will perform twice as good as a motor rated 1.5CHP. For the heavier person, you really need a motor that can consistently produce maximum power under strenuous loads and workouts.
Understanding CHP – This term is used for comparing the power of the treadmills motor. Typically a treadmill will be tested using a dynamometer that measures the mechanical power of the motor. It is not tested under the strain of a person actually using the treadmill from home. This way the CHP is measured equally across the board, regardless of brand.
RPMs – Rarely do specifications include the number of RPMs the motor produces. I highly recommend contacting the manufacturer to find out the motors RPM capability as this number directly relates to the torque of the motor. More torque, the easier the motor can work for heavier people. I have found the sweet spot to be around 4000 RPMs, anything higher and the motor will be spinning too fast working overtime to provide enough torque, resulting in motor burnout sooner.
AC vs DC motor – For the most part, 300 LB capacity treadmills will operate with a DC motor. A DC motor is the common home use treadmill standard, whereas AC motors are used in the commercial environment. Unless you plan to workout like a monster, a DC motor is fine for a 300 pound person. DC motors are quieter to run also, the only drawback is that they are less powerful compared to their DC counterparts.
Cushioning For The Joints
It comes as no surprise that many of us heavy and obese people are afraid of walking and or running due to excessive pressure on our joints. The problem with this is that without adding some form of exercise to your routine, the situation may never improve.
What I found fascinating is this study performed that concluded that the heavy people exert the same amount of strain on their joints as an average weight person walking at a moderate pace.
But What About My Knees?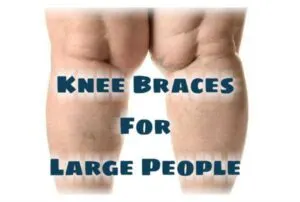 I hear you, walking when you're obese is like carrying an elephant on your back at all times and it really takes it toll on your knees.
When you have issues with your knees, it's imperative you use plus size knee braces while working out. But not just this, you should consider a treadmill with premium deck cushioning.
Don't and I repeat, don't skimp out on the treadmills cushioning. Actually, first you need to make sure the treadmill actually features cushioning, even if you're only planning to walk and not run on the treadmill.
Not All Treadmills Have Deck Cushioning
You may be surprised to learn that some treadmills don't have any form of cushioning, and unless you enjoy walking on a hard flat surface everyday, these models are not for you.
Look for a treadmill that features a minimum of 6 cushioning pillows evenly spread across the deck. These pillows help absorb the impact of a 300 person pounding the walking deck to reduce the impact on the knees and joints by up to 40% in some cases.
Each brand will have their own unique form of cushioning and some are certainly better than others. If you can, try out various models in store so you can determine if there's enough cushioning to absorb the impact of your body.
Heavy-Duty Frame
Fixed treadmill frames (non-folding) are typically the best in terms of strength and durability. However, as someone that weighs less than 300 pounds, a folding treadmill is still a viable option.
To determine the quality of the frame, you can simply compare the actual weight of each treadmill. A heavy-duty model will often weigh significantly more as the frame is made from 100% steel. Avoid light weight options made form plastic as a heavy person.
Does Size Matter?
You may have noticed by now that I specify deck size a fair bit. This is because it is just as important as weight capacity. Not all 300 pound people are overweight or obese, however chances are you are rather tall and stocky coming in at this weight.
So a compact treadmill is not going to be your friend. Always check the actual belt dimensions, not just the overall size of the treadmill before buying. While having a compact treadmill is great for storage and a great space saver, it may also render the machine unusable if the deck is too narrow or short for your specific body size.
The Bottom Line
Thankfully over the years the number of treadmills with 300 lbs weight capacity have grown significantly. Back when I first started looking at heavy-duty treadmills, the options were quite thin and as a result, the prices were out of this planet.
These days we have more options to choose from and the prices have finally become more affordable. As tempting as it may be to buy a cheaper treadmill with a lower weight capacity, I strongly urge against it.