I hope you love the products I've recommended below, just a heads up that as an Amazon associate, I earn from qualifying purchases. This means I may earn commissions on products bought via links on this page at no extra cost to you.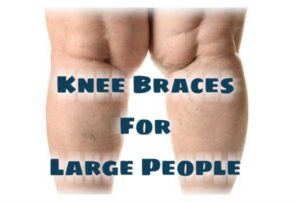 Whats funny is that heavier people are more prone to knee injuries and knee conditions such as arthritis and ACL. But the lack of knee braces for large people is quite astounding. On my most recent visit to the pharmacy drug store I was shocked that they didn't have any extra large knee braces.
While it's not really funny, more disappointing if you are in dire need for a knee brace, sometimes buying things like a a knee brace online is the only option.
As many are aware, the knees can take as much as 4-5 x the body weigh in force. So as a larger plus size person, this can be quite extravagant. For any heavy person trying to lead a proactive fitness lifestyle, knee pain can be a deal breaker.
Which is why a knee brace is so important. While a knee brace can be also used to improve existing conditions, many of us bigger people use them as our joints simply hurt too much on impact on a day to day basis. When you're trying to work out on an oversized treadmill and your knees just can't take it anymore, the thought of giving up becomes real.
But this doesn't have to be the case. A knee brace can certainly help large people reduce the amount of pressure and strain forced on their knees. So before you give into knee pain, consider taking a look at the below knee braces for people with large knees.
*Skip Size Guide: My #1 Knee Brace Recommendation On Amazon
What Size Knee Brace Do You Need
As some knee braces can go up to size 6XL, its very important you buy the best fitting knee brace for your knees. So figuring out what size you actually need is very important. Determining a true plus size knee brace from an undersized XXL knee brace will greatly impact the results.
The high quality knee braces will have size measurements on them. So all that's left for you to do is measure your knees and pick a size appropriate knee brace.
To measure what size you need is quite simple. All you need is a soft tape measure and measure two points.
6 inches above the knee cap, measure the circumference around your thigh and take not of this number.

6 inches below your knee cap and measure the circumference around your leg.
These two numbers will determine whether you need a XX, 2XL, 4XL or a 6Xl knee brace etc. Then check on the products description and match up your measurements with the corresponding size of the knee brace.
Best Obesity Knee Pain Brace
When you're obese, the knees can take a pounding. Larger thighs and legs mean a standard knee brace simply wont be big enough. From my experience I've found the BraceAbility Obesity Knee Brace to be a good fit.
This brace is designed for low impact and limited physical activity. Which is great for really large knees that aren't expecting to go rock climbing or running a marathon. But better suited for day to day activities like walking and exercising.
Why This Knee Brace Is Good For Obese People
BraceAbility have catered to the needs of the obese people by making brace sizes up to 6XL. While they are not the only player in the market to do this, I find the small details are what seperate them from the rest. Here's a few things I find appealing about the BraceAbility Obesity knee pain brace.
Tall height for more grip on your leg. This brace has a 13″ height from top to bottom. Which can be 4 or more inches extra gripping material compared to other brands.

The openings on the front and back of knee are larger allowing air to circulate better keeping you cooler and reducing the amount of sweat build up in the knees. Less sweat = less movement of brace.

Less chance of material getting crunched up behind the knees, due to larger openings, making it more comfortable to wear.

Heavy duty straps that are medical grade meaning they are multiple times stronger than your typical brace found at the drug store.

The brace straps close off at the front making it easier for a larger person to put on and take off without having to try bend around behind their leg.
Overall I find BraceAbility to be the leaders in the field. The quality and heavy duty straps make this knee brace a certain leader for obese and plus size people. Do note that BraceAbility have recently updated their sizing chart to make it more accurate so you can make a reliable buying decision. So be careful when reading older reviews where sizes were too small or too big as this may not be relevant to the new sizing chart.
BraceAbility Obesity Knee Pain Brace 6XL
Best Knee Braces For Extra Large Legs
While the above knee brace for obese people is better suited for day to day activities, I find this next knee brace a better choice for the more physically active people with extra large legs.
This is because of the amazing support system built into the brace specifically designed to support the knees through more intense activities. But best of all, being a bigger person, its great to see such a high quality product designed with us in mind.
Available from sizes extra large to 6XL, people with large legs can find the size that's perfect for them. This Nvorliy knee brace comes with a size guide so be sure to use the above method to check what size you need. Also, if a tighter wrap around your knee is what you desire, don't be tempted to buy a size up. It's recommended to buy the smaller size if you're on the higher end of the measurements size.
So if you're got measurements of 27″ and 30″ you would be between 4XL and 5Xl. So it's best to go with the 4Xl. However if you go with he 5XL and you find it a little big you can always wear it over your sweatpants. Sometimes it makes sense to buy 1 of each size to get the perfect fit. If one is too big, save it for occasions when you wear long pants.
The Nvorliy Knee Brace Is For Large People
Now that we've discovered that the Nivorliy is a good choice for larger people, what makes it worthy of your money?. Well lets have a quick look at what this knee brace offers.
Superior support which is offered via the 6 steel support springs. These springs run down either side of your knee cap to provide a spring like support system whenever you walk, run, climb, jump etc.

Neoprene material repels sweat and is quite breathable just like how neoprene car seat covers wick moisture.

Adjustable straps to cater to larger legs for maximum grip and protection against slipping.

4 strips of non slip material implanted on the inside of the brace to prevent the brace from slipping down the leg.

Shock proof pad positioned at the front of the knee to help reduce strain on the joints.
Great Brace Choice For Active Large People
Overall its very hard to fault the Nivorliy knee brace. It's certainly one of the best options on the market for active people, including people that play sports, hike, run, climb etc. The suspension springs make the world of difference and the neoprene material is just a delight to wear.
In comparison to the above BraceAbility knee brace for obese people, in my opinion this Nivorliy is considerably better. However, keep in mind the BraceAbility is designed for less active people compared to the Nivorliy. Either way both knee braces come in sizes up to 6XL and suitable for larger people with chubby or fat knees as I like to call mine.
Nvorliy Plus Size Knee Brace
Knee Braces For Obese, Large & Plus Size People
While the above 2 knee braces are my top picks, this doesn't necessarily mean they are the best choice for you. However, what we do have in common is larger thighs, chubby knees and legs. So if the above 2 don't suit your needs, check out 4 further recommendations for extra large sized knee braces available on amazon.
Why Larger People Need Knee Braces
The significance of a knee brace is to be worn by people who are in need of stability and to simply protect the knee. Knee braces are worn especially by the elderly and especially people who are overweight. Obesity is known to cause chronic knee pain and is therefor a serious condition one should not take lightly.
Medical professions have found knee braces to be effective when it comes to preventing injury and it securing a wounded or broken knee that is healing for surgery or an injury. The primary purpose of a knee brace is to support the knee and when you're a larger person, the knee has to feel up to 5 x the body weights pressure. So it's also important to consider the types of knee braces based on a person's condition as well as their weight.
How a Knee Brace Works
Truth be told I was in the dark for many years and I never really understood how a knee brace worked until I experienced it first hand. Or should I say first knee. Do not be afraid to ask a medical doctor how it works for it is important to understand how it's advantageous and beneficial in the long run, especially if it is directed by your physician.
Wearing a knee brace will depend on what condition it's treating and the purpose of activity. Some people wear a knee brace from morning to evening while some only wear it during physical activity such as exercising or for sports. Many large people wear a knee brace on a daily basis to help with simple day to day activities around the home.
Knee Braces Can Be Worn For Multiple Reasons
People use a knee brace such as functional braces to support a knee that has been injured or hurt in the past. An example of this would be the athletes who have had an injury that has been healed or an elderly who needs to stabilize the knee and to control the motion of the knee in order to prevent possible injuries.
One of the advantages to using knee brace is that it allows the knee to have a limited or controlled movement while it is in the process of healing. Knee braces are built to help relieve pain for the elderly who are experiencing arthritis in the knees and are designed to control the pain and the swelling.
Obese People Need To Wear Knee Braces
In addition to this, carrying too much body weight has consequences in which damaging the knees is one of the key consequences. People who tend to be overweight experience more pain because of the cartilage that the knees are covered with.
I learned that the cartilage helps the knees glide smoothly as it moves with the joint while walking, however, this is the opposite for those who are overweight. People who are overweight are exerting more force on the cartilage which causes knee pain. Additional body fat also leads to the development of osteoarthritis which is a common knee problem.
Advantages To Using Knee Braces As A Large Person
Knee braces are proven to effectively support the ligaments of the knee, helps control movements by protecting it from doing excessive movements particularly on injured knees. It comes in different sizes and shapes and those who are overweight must have buy a size appropriate brace as most don't cater to larger legs.
Knee braces are less invasive and less expensive than performing surgery. It is definitely worth consulting your medical profession if you are overweight and are experiencing knee pain on a regular basis. A knee brace might be just the thing you need to get the spring back in your step.