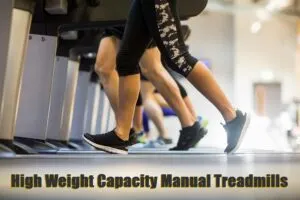 Choosing to buy manual treadmills for heavy people over their motorized counterparts come with economical and portability benefits that make them the ideal choice. In this article, you can find manual treadmills with 300 LB capacity up to 400 LB capacity.
While choosing a regular treadmill for a heavier user requires more in-depth research, buying a manual treadmill is considerably more straightforward. There is no need to understand continuous horsepower, rotations, torque, etc.
Compare Manual Treadmills For Big And Tall People
| | Features | Capacity | Price |
| --- | --- | --- | --- |
| | Fixed or 3 Incline Adjustable Models, 16 Resistance Levels, Tablet Holder, Digital Display With Built-in Heart Rate Monitor, 17.5"W x 47.5"L Deck. | 300 LB | Check Price Amazon |
| | 3 Incline Adjustable (8° to 12°), 6 Resistance Levels, Extra Long Handrails, 16"W x 45"L deck, Foldable and Transportable Wheels. | 325 LB | Check Price Amazon |
| | Friction Free Running, Commercial Grade, Bluetooth enabled, high contrast LCD Console | 350 LB | Check Price Amazon |
| | Curve Design with tough grip belt, 17.16"W x 61"L running surface, Easy to move transportation wheels, Corrosion resistant steel frame | 400 LB | Check Price Amazon |
---
What To Look For In A Manual Treadmill For Bigger Users
Weight Capacity – Load Bearing Limit
Just about every product us heavier people use on a day to day basis needs to be heavy duty, a manual treadmill is no exception. While there is no motor to consider, the strength and durability of the treadmills frame is our number one priority.
The bulk cost associated with a treadmill comes down to the quality of the motor. However, just because a manual treadmill has no motor, does not mean you should just buy the cheapest option available.
It's imperative you buy a treadmill with a frame designed to handle your body weight. Whether you are 300 pounds, or 400 pounds, it's extremely important you buy a treadmill suitable to your individual body weight.
A cheap and flimsy 250 lb capacity option is not ideally suited for someone that weighs 350 pounds, especially when you consider that you may be voiding the warranty by weighing over the treadmills weight rating.
Deck Measurements
As per buying a regular treadmill, the manual varieties must have a suitable size walking/running deck suitable to your body size. If you are big and tall, consider opting for a deck with a longer deck, otherwise your strides can be too long for the deck and you will feel cramped.
Wider people will need a wider deck to allow the feet to feel in a natural position when walking. Unfortunately there isn't a large selection of manual treadmills for the big and tall people, so this can be rather tricky to work around.
Handrails
One of the biggest drawbacks to using a manual treadmill is that you must hold onto the handrails/side-rails. Otherwise you simply start to fall backwards off the treadmill.
So when choosing a manual treadmill, be sure to factor in the width between the arms and the height of the handrails. If you are a wide person, perhaps look for a model with shorter handrails like that on the Sunny Health & Fitness treadmill. This model offers the greatest width between the handrails as they are curved downwards, not restricting wider bodies.
The height of the handrails also needs to match your height. If they are too low, or too high, you will find the workout all that much harder.
300 LB Weight Capacity Manual Treadmill
Sunny Health & Fitness SFT7878 Magnetic

One of the best manual treadmills on the market for a person weighing up to 300 pounds is the Sunny Health & Fitness SFT7878. With the sturdy and strong metal frame has been designed to hold up to 300 pounds for challenging and long lasting workouts.
For a manual treadmill, the SFT7878 utilizes some key features perfect for the overweight user. With a multitude of hand grips, users of various heights and sizes can find a position suitable for them.
Available in either fixed incline or adjustable incline the SFT7878 provides a solution for the casual user to the serious user wanting unlimited workout potential.
With the 3 adjustable incline levels and 16 levels of resistance, you can achieve a full workout without ever needing to rely on power. Not to mention, having to service or replace the motor like you would with a motorized treadmill.
Extra Wide Running Deck
The SFT7878 has the widest of the running decks mentioned on this page. Measuring 17.5″ wide with a deck length of 47.5″. This provides you with a greater surface area to assist in making working out all that much easier. The shock absorption tread deck allows you to run or walk without creating excessive force on the ankles and knees.
Other Features Include:
3 Manual incline levels/fixed height option
Digital display monitor so you can track your speed, distance, calories burned, workout duration and pulse.
Built-in pulse sensors for measuring your heart rate while working out
Easy to reach resistance knob so you can custom tune your work out (up to 16 levels of resistance)
Portable Soft Drop Design – The attached wheels make transporting and storing the 28″L x 26.5″W x 55.5″H treadmill a piece of cake. When it's time to use again, the hydraulic soft drop system slowly lowers the running deck ever so gently.
Heavy Duty Dual Flywheels
Overall I consider the Sunny Health & Fitness SFT7878 one of the best value manual treadmills for your money. The only downside is that the weight capacity is not suitable for all heavy people. However, if you weigh up to 300 pounds, I don't think there's a better option in this price range.
Sunny Health & Fitness 300 LB Capacity
Exerpeutic 100XL 325LB Capacity Manual Treadmill

The Exerpeutic 100XL is a good choice for novice users that weigh up to 325 pounds. Featuring magnetic tension to allow safe and reliable walking action. What makes the 100XL suitable for novice walkers is the extended handrails.
At 18-inches in length, the handrails are about double the size of regular handrails commonly found on manual treadmills. So if you struggle with balance, the longer handrails are there to give you the stability you require.
Manual Incline From 8° to 12°
The 100XL utilizes a decent range of incline options so you can really get those leg muscles pumping. The standard 8° incline is perfect for the casual walk while the 12° incline allows you to up the challenge and test those calf muscles.
Changing between incline levels is super easy using the adjuster located at the base of the deck. The swivel and lock mechanism makes changing incline a breeze, even during a workout.
Other Notable Features
Similar to the Sunny Health & Fitness, this Exerpeutic manual treadmill offers levels of resistance so you can maximize your workout. However, with the 100XL, you are limited to just 6 levels of resistance. So if you are looking for a more challenging workout, the Sunny Health & Fitness model listed above may be a clear winner.
I do like the large display that comes with the Exerpeutic 100Xl, its large numbers make reading the display much easier midway through a workout. The LCD display tracks the usual suspects such as heart rate, calories burned, distance walked, and total time working out.
While the 100XL does not feature a table holder, it does have a compartment to place your smartphone or television remote, this makes it much easier to change the channel halfway through a workout.
Overall, the Exerpeutic is a budget buy for the novice walker. It's not the most intense workout from a manual treadmill, but it does cater very well to beginners. The main advantage this model has over others is the extra-long handrails, just keep in mind these handrails could be restrictive if you are a wider person.
Exerpeutic 100XL High Capacity Magnetic Resistance Manual Treadmill
Commercial Manual Treadmill 350 LB Capacity

The Assault Runner treadmill gives the standard manual treadmill a much needed facelift and redefines the way we work out from home. Using no electricity at all, no only is the Assuat Runner better for the environment, it is also said to burn up to 30% more calories that a motorized treadmill due to its unique running on air motion.
The Assault Runner was designed to cater to walkers and runner of all types, up to a maximum of 350 pounds in body weight. Whether you are a beginner or a serious runner, this machine can cater to you.
With no maximum speed, you can push the limits on this treadmill and burn through calories like its nobodies business. On the other hand, if you're less inclined to be running a sprint anytime soon, the Assault Runner can conform to your desired speed at the drop of a hat.
What I really like about this treadmill is the design and the attention to detail. The natural curve of the running deck makes running and walking feel more natural with less strain on the joints.
The grip on the belt itself is rather unique and gives you more confidence to hit the deck at faster speeds. The belts has been constructed for commercial purposes, meaning it will stay true for up to 150,000 miles which is a lot of calories burned!
Assault Runner 350 LB Capacity Manual Treadmill
Heavy Duty Manual Treadmill 400 LB Weight Limit

Similar to the above Assault Runner, this IN10CT Health runner utilizes the curved approach to provide a more natural and smoother workout. It allows you to run at your own pace to give you the most custom workout possible.
Thanks to its compact and tidy design, you can easily transport and store the treadmill using the commercial grade wheels underneath the treadmill. Making it ideal for using in the gym, office, media room, practically anywhere.
The curve degree from the lowest point to the highest point is 5-inch difference. Not too steep yet not too shallow either. A nice natural curve to complement the longer running deck.
Measuring 61-inches long, the belt is suitable for big and tall users. The total running surface is 17.16″ wide by 61 inches in length, making it the second widest treadmill on this list.
Overall the IN10CT is a robust and bulletproof like treadmill. The heavy duty rating of the treadmill makes it one of the best performers for heavy people. The best thing about any of these treadmills is that you can use them whenever there is a power outage.
IN10CT Health Runner 400 LB Rated
Are Curved Treadmills The Best Choice?
Learn why many people believe curved manual treadmills are the best choice currently on the market, even better than motorized treadmills that can cost 5 times more.