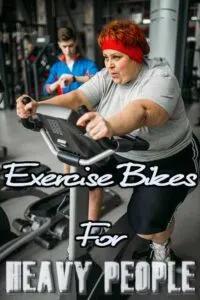 Whether you're over 300 lb, 350lb or 400 lb, buying a heavy-duty exercise bike as a heavy person can seem intimidating.
I've grown up with exercise bikes around me all my life and as a bigger person, they hold a certain degree of fear to them. This is because of a balance, weight and height issue that can be somewhat off-putting. Which can lead to immobility and lack of enthusiasm to exercise.
However, with the best exercise bike suited to one's body size and weight capacity, the intimidation resides to allow for confidence and the will to take action.
A good upright bike can be worth its weight in gold if it suits your body and has the elements needed for an overweight person. I also find that becoming confident on an exercise bike makes the transition to a heavy-duty bicycle much easier. The freedom a bicycle offers is well worth the effort involved to get back on the bike.
Some of the important elements I look for when buying an exercise bike for a heavy person are:
What To Look For
The ability to withstand high weight capacities is the most important element to consider. This can be a reflection of the quality of the frame of the bike. A heavy-duty exercise bike frame is a great foundation for holding heavy weights.
Seat Comfort. Let's face it, exercising is not as comfortable as a big person. Then all hope is lost. If a tiny seat is wedged up there and feels like sitting on a fence pole. Then finding a consistent exercise routine is considerably harder.
Height of inner console and seat can make or break the bike. As an overweight person myself, I know just how hard it is to get those legs to do what you want. Good luck getting the backside over the seat if the inner console is raised. This is, of course, dependent on how big one's body is. So a bike with a lower centerpiece and seat is ideal.
Type of exercise bike: Upright, Recumbent or Spin. Uprights are the most popular type while Recumbent bikes are great for bigger people as they allow you to sit comfortably. Spin bikes are the type for people wanting to simulate real road bike cycling.
Compare Heavy Duty Exercise Bikes
Exercise Bike 400 Lbs Capacity

High weight capacity exercise bikes are rare to find once you get around the 400 pound capacity mark. Well in an affordable price range that is. Exerpeutic has come to the rescue with this 400-pound capacity exercise bike that is not only affordable but quite a nice piece of equipment.
The Exerpeutic Gold 575 XLS is the heavy-duty version of their other upright magnetic bike. This one is made with 20% more steel to give it the strength to hold up to 400lbs.
What I like about this bike is that it has a large seat. Too many times do companies put a scrawny seat on. There is nothing worse than sitting on a tiny uncomfortable seat. It's hard enough to get motivated to exercise without additional discomfort.
Suitable For The Big & Tall
With the high weight capacity comes the ability to cater to the taller people as well. Folks up to about 6'5″ tall will find the height adjustments suitable on this Exerpeutic.
The Specs You Need To Know
Magnetic exercise bike with 16 tensions
21 preset programs
Heart Pulse Sensors
Bluetooth connectivity allows you to connect to the free app to track your data
LCD screen with backlight which counts your calories, speed, pulse, timer and more.
Folds down to half its size and has wheels for easy transportation.
Decent size pedals for us bigger folks with larger feet.
Exerpeutic Gold 575 XLS Bluetooth Smart Technology Folding Upright Exercise Bike
Spin Exercise Bike 350 Lb Capacity

L Now have spent a lot of time getting everything right when they designed this 350 lb capacity spin exercise bike. There is a lot to like about this bike from its high-quality components to the amazing level of comfort that makes this bike worth your time considering.
This exercise bike has gone with the friction style of resistance that will give you an intense workout. Combine this with the 44lbs flywheel this bike really simulates the workout you get from riding a normal bike. This is one of the best ways of riding a bike without having the problem you would face riding outside on a bike.
The heavy-duty nature of this exercise bike would make you think it's very large and take up a lot of room. It does take up a bit but nor as much as you'd think with it measuring 46″ long by 21″ wide, and 52″ high.
Features To Look Out For
The large 3.4″ LCD screen allows you to easily read your stats that this exercise bike is able to track.
Being able to change the resistance on an exercise bike is important so it needs to be simple to do. The resistant knob on this bike is a simple turning system to adjust it.
One of the biggest issues when working out on an exercise bike is the amount of heat that gets trapped in the saddle. Thankfully L Now made the clever decision of making the saddle breathable keeping it cooler.
Having the ability to adjust the handlebars and seat make a massive difference when you're trying to get into a comfortable position.
L NOW Indoor Cycling Bike 350 Lb
Exercise Bike For Obese Person

When it comes to high-quality exercise equipment that doesn't break the bank it's hard to go past Sunny Health & Fitness who in my opinion, make some of the best all-round exercise bikes for obese people. They continue this trend with this excellent bike that has a 330lb weight limit.
One thing that I really about this bike from Sunny Health & Fitness is they went with magnetic resistance. This requires far less maintenance compared to other types of bikes which give you more time to do more enjoyable things. It also makes it quiet when you're using it so you're able to watch a movie while working out.
Heavy-Duty Frame
The frame of an exercise bike is more important then just the weight capacity it's capable of. The frame needs to be solid to keep it stable so you don't have to worry about it falling over when you're using it or a kid pulls on it. I like how they went with a steel frame for this bike that makes it durable and hard to tip over.
Safety needs to be a bigger concern when you're working out and is often ignored. It has an emergency brake for when you need to stop the wheel right away. This is a small thing that you may never use, but not having it would be a greater issue in my opinion.
Excellent Features
Magnetic resistance for a consistent workout.
Get into the right position with a 4-way adjustable chair that will get you into your best position.
The 4 wat adjustable handlebars allow you to custom fit the bike to meet your exact height and size.
Suits people with a longer inseam up to a maximum of 37″ with a minimum of 28″.
Very smooth and quiet to workout on.
Sunny Health & Fitness Evolution Pro 330Lb
Upright Exercise Bikes Up To 300 Lbs Weight Capacity
Sole Fitness B94 – Time tested and bang for the buck
Without having a physical store location to test out the B94, its always going to be a buying decision based on reviews. Fortunately, Sole Fitness has a rather good name in the exercise equipment world. In fact, I recommend the Elliptical Trainer by Sole as a great alternative to exercise bikes. This eliminates the discomfort a bike seat often comes with.
For me, the Sole B94 hits the sweet spot between value for money and functionality that we so crave for an exercise bike. This model does come with a gel-cushioned seat, however, the resistance this seat can handle I believe may not suit all big Guys and Gals.
While finding a superior comfort seat is a bit of a mission, if you have your own bike seat. Then you can easily swap over seats if this seat doesn't cut it for comfort level.
Tip: Reverse the adjustable seat support so it sits back further than normal. This will help to give a little more belly space between the body and bike.
The weight capacity for the Sole B94 is an entry-level 300 LBs. Which is fine for people who are up to 275 lbs, but any more and I think you may be pushing it.
More About The B94
There are 20 resistant levels which can be turned on with just a single touch on the computer screen. I find this amount of tension level perfectly suited to us larger people. In all honesty, I don't think I could see my self doing more than a 60-minute workout ever. So this bike is a good fit for the normal user.
For the price of this exercise bike, I was rather surprised by the high-end monitor. I like the fact it can have 2 programmable users stored in the system as this can motivate the partner to get involved as well.
Overall I believe the Sole Fitness B94 upright exercise bike to be the best for a heavy person looking for a bike up to 300 pounds. The nice balance between price and features (Without even mentioning them all!) is the icing on the cake. I recommend this bike for the overweight person looking to get into shape. For a serious bike rider, you may not find the resistance levels enough to satisfy.
SOLE Fitness B94 Exercise Bike
Affordable 325 Pound Rated Exercise Bike
The Exerpeutic 500 XLS Upright For Budget Minded Folks


Exerpeutic produce a good line of affordable exercise equipment including the ever-popular Exerpeutic treadmill. In this case, they have provided a sturdy 325 lbs weight capacity exercise bike. To me, the price seems a little to low when compared to other bikes. However, the features and design do reflect this.
There's not a great deal to this bike, it's more or less what you would have expected from a bike back in the day. Not too many bells and whistles, just a solid exercise bike built to handle heavy-duty weights.
Which is fine if that is what you are after. Me personally I need the latest whiz-bang monitors and apps, as I think they help to keep me motivated.
Extra Large Seat
What I do like is the extra-large padded bike seat. It measures about 14″ by 9″ with a 7″ width on the edges. So it's well suited for larger users. However, where the seat shines, the height adjustments aren't great for shorter people. The bare minimum height I would recommend this bike to is 5'2″. The Exerpeutic is better suited for folks up to 6'5″.
Where the Exerpeutic 500 XLS will gain popularity is from its portability/fold-up option. As it folds down to half the size and even has caster wheels, storage for this bike is an ideal fit for tight areas. A great option for apartments and units. The magnetic tension has 8 different levels, which are suited to the common user. Not designed for professional use. This is where the price tag is reflective of its features.
In conclusion, if you don't want to break the bank and want a reliable upright exercise bike I believe you may love the Exerpeutic. Designed to do what it does without too many distractions. Note: I do love the heart rate sensor which monitors your heartbeat from the handlebars.


Do note that this bike has a weight capacity of 325 pounds, some places online label it as 400 lbs.
325 Lbs Exerpeutic Exercise Bike
Popular 300 Lbs Weight Capacity Uprights

The Schwinn 130 upright exercise bike is a great value bike for users up to 300 pounds. It has some cool features which one may expect to be found on a much more expensive bike. These include:
3 Speed fan and USB connectivity with Mp3 speakers are actually good. Many times these little bonuses are second rate. But not on this Schwinn
LCD display which can have 2 users. It comes with 22 programs or you can make your own. The computer allows you to monitor stats for 13 different trackings at once.
20 levels of resistance.
Assembly is easy, allow 1 hour and you should be fine
The seat is questionable tho. Different strokes for different folks.
The pedals have been a concern for a few people. However, Schwinn was quick to replace them with wider pedals. Good customer service.
Schwinn 130 Upright 300 Pound Weight Rating
Nautilus U616 Review – 300 Pound Weight Capacity

The Nautilus exercise bike is a mid-range workout machine that has more features than the entry-level bikes. The fancy design combined with a solid build makes the Nautilus a great choice for the person wanting extra bells and whistles. Some of the features include:
4 user programming. This would suit a family wanting to lose weight together. Each person has their own profile to track separate data.
High Res Blue backlit LCD monitor. Slightly larger than the common screens found on cheaper models. Customization attributes and comes with 29 pre-programmed courses.
25 levels of resistance
Wheels for easy transport
Features a quick start button which is handy when you just want to get into it without messing around with the programs
Little features that make this bike a good buy: 3 speed fan, Bluetooth connectivity, fairly good built-in speakers and a shelf for which you can put a tablet on to watch movies, read emails, listen to music while working out.
Nautilus 300 Lbs Exercise Bike
Best Spin Bikes For Heavy People

Slightly different to an upright bike are the spin bikes. These exercise bikes are basically designed to resemble a real road bike. But with the advantages of being able to ride day/night, sun or rain due to being indoor cycles.
Bigger people have a tendency to avoid spin bicycles as they are of the impression that they can be a grueling workout and they wouldn't have the stamina to keep up. This is not always the case.
Working out on a spin bike as a heavy person doesn't have to be as daunting as you may think. You control the intensity and difficulty of the bike, so it's no different to using a regular bike.
But with that said, not too many people over 300 pounds use spin bikes. This is probably why most models have a weight capacity of about 250 – 270 pounds.
Whether or not a spin bike is right for you will come down to personal preference and the ability to lean forward like you would on a regular road bike. Sometimes us bigger men find it difficult to lean forward due to our larger bellies.
But if you can get past this, using a spin bike is one of the best ways to lose weight as it burns calories at a high rate. But the side effects of this are of course the sore legs and sometimes sore backside. Sure you may not be able to walk after the first few attempts, but the pain is worth the gain.
Spin Bicycle Options For The Overweight People
If you have already been searching for high weight capacity spin bikes, you may have noticed that many fall under 300 pounds as the maximum user rating. This can be a little disheartening for a heavier person.
But after searching through many spin bike options, I have managed to find a number of suitable 350 lbs capacity spin bikes as well as 330 lbs spin bikes. However, any higher than this and it seems they don't exist.
If you do weigh more than 350 pounds, you may need to consider the above 400pound capacity upright exercise bike. For people under 350 pounds, you can check out the below spin bikes.
Compare Heavy Duty Spin Bikes
350 Pound Weight Capacity Recumbent Exercise Bike
The ProForm 440 ES Raises The Bar

The proForm 440 recumbent exercise bike has all the elements needed for a good heavy duty bike. 350 lbs weight capacity, no center console and a low riding seat.
The qualities and amount of features are above standard for a bike of relevant price status. All this is great, but how well does it go?.
While more of a recumbent design, this exercise bike is still a good choice for bigger folks needing a good workout. The oversized seat slides back and forwards to give the user a custom fit. However, the seat doesn't recline and I would suggest you look elsewhere if you are over 6'4″.
Incredible Seat
But where the seat gains credibility with me is with the lumbar support. I find this a great inclusion. Especially for the heavy person, as getting a sore back is all to easy. So the more support the better if you ask me.
The bike comes with 25 different resistance levels, so more challenging than the above Sole. Which gives the user more freedom to explore greater levels if so desired.
For an at-home exercise bike, the ProForm 440 makes a strong case against commercial quality equipment. Unless you're willing to pay double if not triple. Then I don't know if you could find a better 350 lbs capacity exercise bike. With plenty of apps included among other features, ProForm did something right here. Especially by adding lumbar support.
350 Pound Capacity By ProForm
Losing Weight On An Exercise Bike
Types Of Exercise Bikes – Advantages & Disadvantages
There are several types of exercise bikes that all have their advantages and disadvantages that can make certain bikes better for certain people. Learning what the differences are can help you with your next purchase by informing you if one type of bike will suit your needs.
Recumbent Bikes Pros And Cons
Recumbent bikes are great machines that are really good for those who have a lot of joint issues since it's a lot easier on them. This alone is such a great advantage since having joint pain can make it near impossible to work out so a recumbent bike can help with giving your life back.
One thing that is a big advantage of a recumbent bike is that they're one of the more comfortable exercise machines out there. Thanks to the low center of gravity and the reclined sitting position make them really comfortable. There is a downside to this comfort is that it can make it hard to work out since you're so comfortable.
Upright Bikes Pros And Cons
In my opinion, upright bikes are excellent for those who are looking for more than just a lower body work out. They have the ability to work out your abs as well with some models having handlebars to increase your overall work out. They also offer multiple levels of resistance to help those who are just starting out.
The biggest downside of an upright bike is that your body will be in uncomfortable positions. This can lead to some pain in areas that you're not working out which can be an issue for those who are already suffering from joint and muscle pain.
Spin Bike Pros And Cons
One of the best advantages of a spin bike is that the flywheel emulates the feel of riding a real bike really well. This provides a workout that is the closest to riding an actual bike which gives you a great lower body workout. Since you can stand while pedaling on this bike can help to get a more intense workout.
Something that can be an issue with spin bikes is that they aren't very good for senior people or those who have joint pain since they give you an intense workout. They do also lack some features like having pre-programmed workouts.
Exercise Bike Resistance Levels Explained
If you've ever looked into getting an exercise bike of any description you will always see people talking about the resistant levels with no real answer on what they are. This makes it difficult to know what exactly they are talking about and doesn't inform you well enough to make an appropriate decision.
With that in mind, there are three different types of resistant levels with them all being different. The three types of resistance you will find are direct contact, magnetic, and fan/air types of resistance.
Fan/Air Resistance Is The Original
When they first came up with a resistance bike for exercising the first type that was fan style exercise bike. The design is very simple which does make very effective and a good reason why they still make air resistant bikes.
They have a basic design of the pedals being connected to a fan that also has a pulley system. So when you peddle it moves the fan which is what gives you resistance and the faster you go the more intense the workout you will get.
Direct Contact Resistance
The direct contact style of resistance is a really simple design that allows you to change the resistance you will get. The resistance comes from the brakes being attached to the flywheel with the more contact the brakes has the more intense the workout you will get.
Since you can adjust how much contact is made give these types of bikes a lot more versatility. This makes them good for beginners who need to start slow and work there way up to a more difficult workout.
Magnetic Is The Future
Magnetic resistance is one of the most difficult ones to explain exactly how they work. It doesn't have any contact or friction like the other styles of resistant bikes. This is because it gets its resistance from electromagnetic induction which is the production of electromotive force that runs across an electrical conductor.
This does make the workouts you get with magnetic resistance more consistent so you get a better overall work out. It's interesting to note this type of machine is they're really quiet compared to others which are great for those who work out and watch shows or movies.