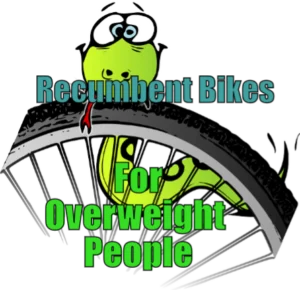 Recumbent bikes for overweight people are an excellent alternative to the traditional methods of 'normal' sized people.
When it comes to losing weight as a big person, the traditional methods don't always work or they are just too darn hard to physically complete. Which is why we can to start with exercises that are less stressful on our backs, knees, and ankles.
But are recumbent exercise bikes the best workout for heavy to obese people?. Yes and no. While recumbent exercise bikes are more enjoyable and can be less painful on our bodies, (in particular the joints and lower back) the majority of the workout is focused on the lower body.
Of course, you can implement changes to your routine for a full-body workout such as holding light weights in your hands while riding and even imitating crunch style sit-ups.
Compare Heavy-Duty Recumbent Exercise Bikes
Are Recumbents The Best For Burning Calories?
As for burning calories and weight loss, the recumbent bike does contribute a good amount. But in comparison to a Heavy Weight Capacity Treadmill, the recumbent bike falls short in quantity versus time. So you can burn fat faster as a large person quicker on a treadmill when compared to the recumbent bike. But the treadmill can be more stressful on the impacting areas of the body if you're a plus-size person.
As we are all different and have various exercise restrictions there is no one is better than the other scenario here. Both the treadmill and the recumbent exercise bike have their place in the heavier person's exercise routine.
But for today we are going to be digging deeper and finding what we think are the best rated recumbent bikes for overweight people. Which include high weight capacities to meet our required weight needs.
*Do note: These are recumbents so if you're looking for regular exercise bikes, visit my guide on exercise bikes up to 400 Lbs capacity.
Recumbent Bikes For Heavy People
DiamondBack 510SR

If you're just outside the weight capacity of a standard recumbent exercise bike (200-250 lbs) and in need of a 300-pound weight limit bike with all the bells and whistles. A true workhorse in the industry that will handle just about anything you throw at it?.
Then I think you may appreciate the Diamondback 510SR, and your body may as well. However, it is a little pricey, but totally worth every penny in my eyes. Especially when you're an oversized guy wanting a pretty comfortable way to lose some weight by exercising.
First and foremost, as most readers of Big & Heavy are aware, I simply cannot get enough of the mesh materials. Whether it's on an office chair, dining chair, and even this particular recumbent exercise bike. Mesh backings/seats allow for airflow to our bodies and when exercising its a godsend. Plus the built-in fan on this bike is very desirable, not to mention quite. Moving on…
The actual seat is very generous and should cater to many bigger back-sided people and it just looks super comfortable. Yes, the seat does adjust and I'd say it could suit people between 5 foot and 6'6″ from my experiences.
Overall, if you have a few hundred bucks to spend on a high-quality exercise bike, then the Diamondback is a good bike to consider. Diamondback are makers of multiple road/tour bikes and has the technology to bring this high standard into its recumbent bikes.
It's an exercise bike that kind of feels like riding a real bike, it's that smooth and blissful I find. Combine this ease of use and comfort with the features like: user-friendly LCD monitor/programs, cooling factors (mesh backing, built-in fan), and a 300-pound weight capacity rating, you're left with one good recumbent bike.
300 Lb Capacity Recumbent Bike
350 Lbs Capacity Dual Recumbent Exercise Bike
Good Choice Bike For Overweight People – ProForm Hybrid Trainer

Proform gets our Editor's Choice Award for the best value for money when looking to buy a heavy-duty recumbent bike.
For a decent price, you get a high weight capacity exercise bike, (350 pounds) but this hybrid exercise machine by Proform also doubles as an Elliptical workout. But how does this 2 in 1 exercise bike hold up for heavy people. Let's find out.
Firstly what we love about the Proform Hybrid Trainer is how gentle the workouts are. Low impact exercising which is ideal for us bigger guys and gals.
Plus with the Elliptical workout, you are also getting an upper workout at the same time, unlike conventional recumbent bikes. Now before we go any further, you must understand that this bike is for home use, it's not a Gym quality machine, which is fine considering it's not priced over the top in our opinion.
However, don't go into this expecting a Gym quality 24 hr a day exercise bike because you will probably be disappointed. Although, it's very adequate for the common home usage by a 350-pound person. If you're after a 350-pound capacity commercial quality recumbent exercise bike visit the Sole Fitness LCR Bike.
When you read the assembly instructions for this Hybrid bike, it clearly states to use an adequate amount of grease on the required parts. Otherwise, the bike will eventually make a squeaking noise and you may think the bike is broken.
But it may not be, you must be generous with the grease and periodically re-grease the required parts. Like anything valuable, maintaining good maintenance should extend the life. As for assembly, I highly recommend you have 2 people go at this. Life will be much easier with an extra pair of hands.
As for comfort, the recumbent seat is rather enjoyable to use and very smooth. Switching over to Elliptical is a breeze as well, just like adjusting the pedals to suit your height.
What Height Does It Suit
The only negative I could say about the elliptical is the strides aren't long enough for tall people however, if you're shorter than me, you will find the stride length probably perfect. A great piece of heavy-duty exercise equipment at a reasonable price.
If you do happen to be taller, there is the Hybrid Pro which has a 17-inch stride rather than a 15-inch stride of this regular version. The Hybrid Pro is on amazon but it does cost more as a result of the upgraded features.
350 Lb Capacity 2 In 1 Recumbent Bike
Best Recumbent Exercise Bike For Big & Tall
350 Lbs Weight Capacity 6'4″ Max Height
When a recumbent bike has won numerous awards it's definitely worth your time to look into it, especially as a big and tall person because this recumbent ticks all the boxes. This bike by 3G Cardio is an impressive piece of exercise equipment that really stands out from the pack.
A big advantage of recumbent bikes is that multiple people of different heights are able to use them. This works really well if the difference in height between the people using it is fairly dramatic. Being able to handle that person who is 6'4″ then someone who is 5′"3 is a very useful ability of this bike.
With a 350-pound weight capacity, this recumbent exercise bike allows the big and tall people to comfortably use this machine without feeling cramped for space. As tall people can often weigh more due to their height, having a huge weight capacity is not always necessary. The 350 lb capacity of this 3G bike allows the bigger tall people to feel safe on this bike.
A Magnetic Resistance Recumbent
The magnetic resistance on a recumbent bike can make a lot of difference and offering different levels will allow a bike to help multiple people. This bike has a total of 16 resistance levels making it great for beginners and people who do have experience using these machines.
While you can't fold this machine down it still doesn't take up a lot of room which makes it good for those who lack space. It only measures at 49-inches long and 27-inches wide. This is surprisingly small for such a heavy-duty machine which is not something you would expect.
Breathable Mesh Backrest
One of the best features of this bike is how they designed the back seat. It's been designed with being not only adjustable but also extremely comfortable. This is thanks to the Meshflex backing on it that allows it to breathe which can help with keeping you cool during your workout.
By getting the small things right when you design something is more important then you would think. The handles on this bike have buttons that allow you to change the program you're doing easily without having to stop. This is a small thing but 3G shows they care about their product when they get the small things right.
3G Cardio Elite RB Recumbent Bike
Recumbent Bike For Heavy Person Over 300 Lb
380 Lbs Weight Limit
Being on a budget and wanting to get a good piece of exercise equipment can be difficult. Exercise equipment can be a costly endeavor, finding a happy medium where price and quality are suitable can often be difficult to find and as a result, can often stop people from being able to workout.
This is where this excellent bike from Vanswe comes into the picture as it's a great machine that won't completely break your wallet.
There is a lot to like about this bike from it's 380lbs capacity to its 16-levels of resistance. It offers a lot of the top of the line features but at a fraction of the price. Having a high weight capacity like this makes this recumbent exercise bike the ideal choice for someone that weighs 300 lb or more.
Keeping Motivated Is Easy With This Bike
If you're looking to take your workouts to the next level then this bike is a great option. This is thanks to the free fitness app you can download and connect via Bluetooth to track your progress. By tracking your progress you can keep motivated and help you take your workouts more seriously.
Even if you don't want to take it that far and keep track of your overall progress. This bike still offers the ability to follow on the usual stats such as distance, calories, and heart rate. So you will know if you're pushing yourself too hard and need to take it back a little bit.
Wide Padded Seat
You're never going to find a bike seat that is 100% comfortable like you would if you were sitting on a couch. The seat on this bike is the closest you will get to have a completely comfortable seat as a heavy person. This is thanks to the excellent amount of padding it has that is very soft to sit on.
While the seat is rather wide, you do need to keep in mind the bars where you put your hands down by the seat. The distance between these bars is 24.8″, so you need to ensure that you can fit between this gap before buying. The seat is a glider which can accommodate users up to about 6'1″. So not the ideal choice for big and tall people.
Vanswe improved the comfort of this recumbent bike even further by putting the same type of padding in the backrest. This makes the back really comfortable to sit against but it does come with a slight issue. The backrest isn't very breathable so it gets fairly hot when you work out on this bike. A small issue but far from a dealbreaker as you are substituting sweat for padded comfort.
Vanswe Recumbent Exercise Bike 380 Lb Capacity
400 Pound Weight Rating Recumbent Bike
Fitnex R70 Commercial Grade

When you get into the 400 lb weight capacity range, you may find it hard to buy a recumbent bike for home use. This weight range seems like it is mainly for commercial use.
Hence why they are usually more expensive. In saying this, if you can afford a more expensive piece of equipment, normally it's of higher quality.
The Fitnex R70 states it has a 400-pound user weight limit. When it comes to heavy-duty usage, its best to have the reassurance of a clearly stated weight capacity. As you might expect, the Fitnex R70 comes with all the bells and whistles such as:
16 different friction ranges to cater to most people's fitness levels.
Simple to use LCD monitor which tracks various tasks such as calories burned, speed, total distance, etc.
Comfortable extra-large seat with adjustable foot pedals.
Built-in fitness programs: 8 to choose from including weight loss and heart rate monitor.
The Fitnex recumbent bike appears well built and has a sense of quality and functionality. A high weight capacity makes this bike ideal for big people wanting to get their work out on.
Commercial Grade 400 Lb Capacity
Recumbent Exercise Bike 400 Lb Capacity
Budget Buy Option
Sometimes simple is best, and this is something that Exerpeutic has mastered in my opinion. When you first look at this recumbent bike you might dismiss it because it does look so simple and even a little weak. That's not the case as it has an impressive 400lbs weight capacity giving you peace of mind when using it.
Thanks to the LCD screen you're able to track a number of things to help with keeping you motivated. By being able to see just how many calories you've burned or the distance you've gone can help you want to keep improving yourself.
Only one thing on this bike requires power and that's the LCD screen which just needs batteries. So you're able to use this machine anytime since it doesn't require an outlet.
Space Saving
There is no secret that recumbent bikes are large and take up a lot of space which does stop people from choosing them. This bike has one of my favorite features is that it folds to half its size. When you fold it up it's very easy to move which makes it great for those who lack space and don't mind moving the bike when they need it.
Offering A Variety Of Workouts
Exerpeutic made a very clever design choice with its 8 level magnetic tension system. You're able to control this system so you can mix your workouts up and do something that is easier or give yourself a more intense workout. This makes this bike excellent for people who are just starting out and want a machine that they can use for a long time.
To improve upon this they gave it an impressive dual transmission flywheel that allows you to get in a more intense workout to help you burn those calories faster. What it does is it increases the resistance of the workout giving you that better workout while still keeping it low impact.
Exerpeutic Gold 525XLR 400 Lb Capacity
Recumbent Exercise Bike 500 Lb Capacity

When it comes to recumbent bikes for heavy people it's very difficult to go past this impressive model from HCI Fitness. It has one of the best weight capacities on the market making it a great choice for heavy people who want that extra bit of security when they use the machine.
When it comes to working out you need to mix it up a bit to help with motivation so you're not just doing the same all the time.
With this machine having an impressive selection of 18 exercise programs makes this very easy to do. So you can a more varied exercise plan to keep your motivation high.
Recumbent Exercise Bike 450 Lb Person Recommended
Recumbent exercise bikes with 500 lb capacity are not easy to find. Fortunately, HCI Fitness has made this commercial-grade recumbent with a 500 lb capacity available to the public.
As a 450 lb capacity recumbent exercise bike seems to be even harder to find, people weighing 450 pounds should give this bike a go. If you were after a 450 lb capacity recumbent, ideally you shouldn't weigh more than 400 pounds anyway. So this option by HCI Fitness will be the next best option as you don't want to buy a recumbent that has a capacity lower than your body weight.
Exercise Made Easy
Comfort is more important than you might think when it comes to working out. Which is why they went with a much larger seat then your standard machines for this bike. This added comfort makes it easier to work out for longer periods of time.
Assembling a recumbent bike can be a little overwhelming for some people which can put them off doing it. With this machine, it's not an issue as it's fairly easy to do and the instructions are clear and easy to follow. So you don't need an engineering degree to put it together!
Full Of Features
One thing that I really like about what HCI has done with this bike is the walkthrough design. Even with recumbent bikes being easy to get on, HCI has made it even easier with this excellent design. This feature is extremely useful for people who do lack that mobility and could use the help.
This machine suits a wide range of people with different heights thanks to the number of adjustable options it has. You're able to adjust the arms, seat, and back to get you into a more comfortable position that will not just suit your height, but also your weight.
Do Note: Amazon has both 350 lb and 500 lb capacity on the description. Rest assured that this recumbent exercise bike has a capacity of 500 lb as per the manufacturer's website.
500 Lb HCI Fitness PhysioStep RXT-1000
Recommended By HCI Fitness
The PhysioStep MDX recumbent elliptical
As recommended by HCI Fitness, the PhysioStep MDX recumbent elliptical. Do your due diligence and research the product. Below you can find a short video testimonial.
PhysioStep MDX Recumbent Elliptical
And here's the motivational weight loss video
This short video by HCI Fitness has a motivational testimonial by a current overweight user. See the results and check the YouTube comments to see if Stephen has updated his weight loss to date. Save
Benefits Of A Recumbent Exercise Bike As A Heavy Person
Recumbent bikes offer a lot of advantages that make them one of the best ways to exercise with this being especially true for heavy people. Heavy people often struggle with finding the right exercise equipment and the best way to exercise, which makes it hard for them to improve their situation which is why recumbent bikes are so important.
Being a heavy person mobility can be an issue that makes it difficult to use certain types of equipment. Recumbent bikes offer a good solution to this with the seat being lower which makes it easier to get on and off. A side benefit of this is that it helps with motivation since it's easy to get on and off.
Comfort For Those With Back Pain
There is no secret that big people suffer from back issues which can prevent them from working out. Another advantage of a recumbent bike is that they offer back support which will help with your back pain and allow you to actually work out.
Being in the recumbent position is comfortable which makes working out a lot easier. Since it's so comfortable to work out with, it helps with keeping your motivation up so you keep it up and get to that goal you've been striving to reach.
Designed For Heavy People
It's hard to find equipment that will handle the heavier weight of some people which makes exercising difficult. Recumbent bikes are often designed with this mind with there incredible weight capacities. Most of the time they have a minimum of 300lbs and some can even go up to an impressive 500lbs.
Excellent For Your Joints
Joint pain is a big issue for a lot of big people out there which can make it difficult to exercise. This is an advantage of a recumbent bike as the exercise it offers is low impact so it won't cause the joint pain something like jogging on the hard ground outside. This alone is one of the best advantages for heavy people who want to improve their situation.
Since you're not in an upright position it releases the stress that is placed on several important areas such as knees, hips, and ankles. You might not realize how important this is if you haven't worked out before. It can ease the pain you will face when working out which means you can work out for longer and harder which will help in achieving your goals.
Muscles The Recumbent Exercise Targets
Knowing what muscles are being worked out is an important step in not only improving your exercise but your overall health. This is why recumbent bikes are so useful for your workouts as they work out a good number of muscles in your lower body.
Working out the lower body is a tough job so a recumbent bike is an excellent way of doing this since it really gives your quadriceps, shin muscles, calf muscles and hamstrings a great good work out. Most of these muscles get a work out from the peddling motion you will be doing on the bike.
Something that might surprise people is how well one of these types of bikes will work out your glutes. You might be surprised by this considering that you're sitting on them but they get a good workout not only that but it works them out more than an upright bike.
While it might not be the strongest workout for the abdominal work out, you will still get one with a recumbent bike. Considering just how important this muscle is for helping with protecting your spine it's a nice advantage that a recumbent bike will work it out as well.
Save
Save
Save