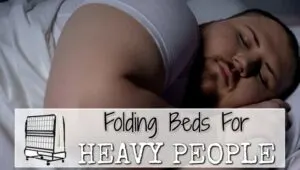 To save you countless hours of searching online for large folding beds for heavy people, we thought it would be a fantastic idea to put them all on one page so you can pick and choose your favorite heavy duty folding bed.
I know all to well how hard it is to find appropriate size related products as a larger person myself, so having them listed on a page like this will hopefully help you quickly find what you need.
Sometimes you simply don't even know where to start looking to buy a 250 lbs+ folding bed. So you turn to the internet just to go from review to review until you finally find a folding bed you like. But that excitement quickly becomes disappointment. 'Not suitable for people over 250 pounds'. Irritating to say the least.
Fortunately such high weight capacity folding beds for big people do exist. It's just a matter of digging deeper to find folding beds over 500 lbs.. But this can take hours upon hours of researching and who has that sort of spare time these days.
Well we do, and just recently we were looking to buy a folding bed for our extra large Brother in law whom was coming to visit us for the holidays. So to save all of you hours of your time, we have done the hard work for you. By narrowing down the potential list of 100+ folding guest beds to just a handful of suitable plus size folding beds.
Compare Heavy Duty Folding Beds
---
Best Folding Bed On Wheels for Heavy Adult
While not your traditional folding bed, as it is on caster wheels, the Porta-Bed™ is my number one recommendation for heavier guests.
With a very high weight capacity of 640 LBS and a wider (38″) sleeping surface, it ticks all the boxes in regards to meeting the bigger persons needs.
Robust Heavy Duty Frame
What makes the Porta-Bed™ stand out from the crowd, besides the 640 pound weight limit, is the quality and design of the steel frame. With reinforcements and additional crossbars, the frame is built to stand the test of time.
Unlike many other folding beds on wheels, the Porta-Bed™ takes full advantage of using a solid steel platform. With the inclusion of steel cross bars and additional support legs, the amount of strength and stability from the bed as a whole is drastically increased when you compare it to the likes of a fabric or canvas platform.
Wider Sleeping Area
The Porta-Bed™ is a true size Twin folding bed, meaning you get a full 38-inches of width. Along with the regular 75″ in length, making it one of the bigger folding beds for large adults.
Many other folding beds are around 30-inches wide, which as any big person knows, is too restricting. while a narrow folding bed does mean it takes up less space, it also means there's simply not enough width to the mattress for the heavy person.
Folds Down In Just 3 Steps
When it comes to folding the Porta-Bed™ away for storage, it really couldn't be any easier. It's just a matter of lifting one end at a time and folding it in towards the center. Once both ends are folded up, you then use the buckle to lock the bed into the folded position.
Because the Porta-Bed™ is a rollaway bed, it features 4 caster wheels. So you can easily move the bed in and out for storage when needed.
Each of the wheels also has a built-in lock. This allows you to lock the bed into position when its being used. The wheel locks stop the bed from sliding over hard floors while you're asleep.
Overall, It's Leading The Way
When it comes to folding beds for heavy people, the Porta-Bed™ rollaway bed is leading the charge. The strength of the frame in combination with the wide 4-inch thick dual layer memory foam mattress make it a hard beat. With a 640 pound weight rating, most heavy people should feel safe and secure sleeping on this temporary bed.
Porta-Bed™ 640 LB Rated Rollaway Bed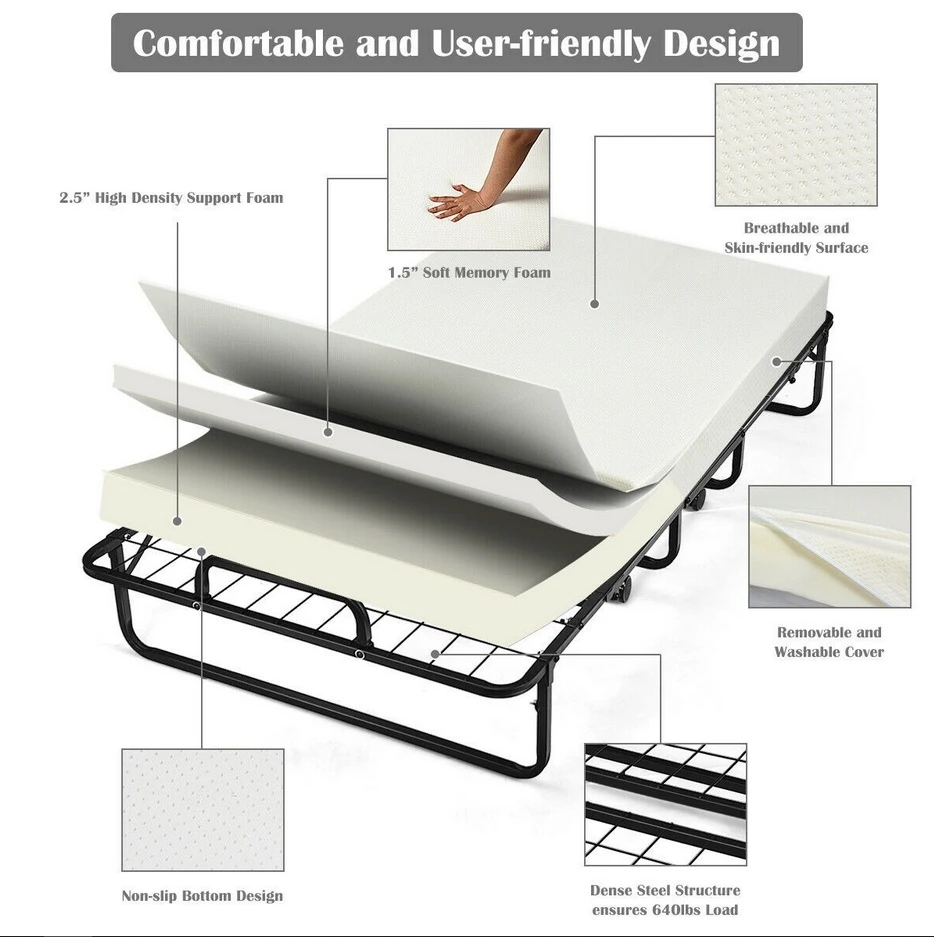 ---
Heavy Duty 500 Lbs Capacity Folding Bed

This heavy duty folding bed is one of the smartest designed folded beds I've ever seen. Most folding beds will just sit in a cupboard for months at a time and take up space.
But not this unique folding bed because when folded, it turns into a very handy and spacious ottoman. Which makes it more useful then a lot of the other folding beds in my opinion.
Thanks to it's impressive steel framework, this folding bed is very durable and has a good maximum weight capacity. It has a incredible maximum weight capacity of 500 lbs.
So it can hold a good amount of weight for some of us heavier folks who need that extra support and reassurance that the spare bed can handle our weight.
Being a bed you want it to be comfortable for when you sleep. This really does come down to personal preference for what type of mattress you like. The 3 inch foam mattress is fairly firm so it can be stiff for some people, but I know some people like that.
I also think, most of us larger people prefer the more supportive mattresses than the soft ones where you sink into and feel the base of the bed. A lot of people like to get some extra bedding foam to make it softer or mattress topper if needed. But the real winner here, is the 500 pound capacity, so the mattress is not really on trial.
Ideal Portable Folding Bed
You may look at this bed and get concerned when you see it's made up of 3 individual cushions. Most people will see this and think it means the pillows will move in your sleep. This isn't the case thanks to the smart choice of using Velcro to keep them in place.
Setting it up is fairly easy as well thankfully which will help ease some peoples minds. It's only a few steps to get it set up and doesn't take very long which is a nice plus in my eyes. There's nothing worse when you forget to set up a bed for someone and you have to do it late at night!
Depending on your situation this can make a good travel bed, since it does fold up and down easily. Tho it can be a little on the heavy side weighing about 56 lbs which might be to much for some people.
TATAGO Premium Ottoman Folding Bed
350 Pound Weight Rating

If you've ever had to deal with a folding bed, you'll know how annoying it can be to put them away after use. This is often to them being heavy and hard to move. This folding bed by Lucid makes this a lot easier by giving it wheels so it's easy to wheel and store away. This gives it an advantage over a lot of other folding beds.
I was a little worried when I saw it was spring supported, thinking there's no way it would support heavier weights. Thankfully Lucid have used a high quality spring set up and gives it a decent amount of weight capacity. It has a maximum weight capacity of 350 lbs.
There was a very clever decision made when designing this fold bed. The mattress of a folding bed is one of the most important things. Which is why this has a 4 inch mattress that's got 3 inches of support foam. Then a 1 inch layer of memory foam which is a nice comfortable touch.
One thing that I like about this folding bed is it gives you some options. What I mean by this is that you can get this bed in 3 different sizes which are cot, twin, and XL twin. So if one is to small for you then one of others will hopefully be big enough. Sadly the larger beds don't increase the weight capacity tho.
Wheels can be a big positive or a disadvantage if you go with a cheaper option. In this case they went with a better type of wheel so they roll smoothly. Then they made the solid choice of making sure you can lock the wheels which is something I really like.
Apart from the initial set up this folding bed is easy to put up and down. It's just the first time you have to assemble it that makes it difficult. This definitely doesn't take away from this superb folding bed by Lucid!
LUCID Rollaway Folding Guest Bed
Folding Beds For Plus Size People Up To 300 Lbs
The Simmons bed is the a good value 300 lbs capacity folding bed. It boasts a minimal 7 inch fold away size, which is nice and compact. This includes the 3 inch memory foam mattress when folded up as well.
The memory foam mattress itself is nice and firm, without being too hard. It contours to the shape of your body and should be sufficient alone without an additional mattress topper. However it you are edging in on 300 pounds, I would suggest the purchase a decent mattress topper for potential longevity of the folding bed.
The super comfortable mattress is finished with a quilt stretch knit cover which can also be removed for washing purposes.
Features an anti collapse mechanism: Bolts in corner of frame to assist in preventing unwanted collapsing during the night.
31 inch wide mattress
Mattress has reduced slip and slide during the night
Simple to pack away – Tuck the mattress behind the legs and folds away to a compact 7 inches wide. No screw removal needed which I love.
Easy to fit into car boots at just 38″ x 30.5″
Lightweight for easy transport 15-20 lbs
Simmons 300 Lbs Capacity Folding Bed
300 Lbs Capacity Jay-Be Folding Bed

This folding bed has a wooden headboard that makes this bed do something that others can't. This is when it's folded up it has a wooden top which some people use for a rolling table. I find this very clever and a good way to use something that is otherwise quite useless in that form. An impressive design choice.
Being comfortable and having a good weight capacity don't always go hand in hand. Thankfully that's the not the case here with this bed having a recommended weight limit of 300 lbs. While this isn't the strongest on the market it still provides a good amount of durability.
It's the mattress on this folding bed that is really impressive, with it being one of the more comfortable mattresses I've come across on a standard folding bed. Some people have mentioned that they find it a little narrow for them even tho it's 30 inches wide. This is something to consider if you think it'll be to narrow for you.
I'm very happy that this folding bed has wheels since it's a very heavy bed. It does weigh a fairly heavy 75 lbs, so this could be a problem for some people. Tho the wheels do make it easier to move around so the weight isn't an issue in that example.
High Quality Standard
One thing that impresses me with this folding bed is the high safety standards it's held to. With it being made in Great Britain it's held to some high standards which it exceeds, as well as the USA standards. So safety is a high priority for them which is something I really like.
When you do fold it to be used as a table it has a decent height, with it being roughly 36 inches high. I really like having this type of thing in a folding bed, especially if you only use them very sparsely.
Jay-Be Hospitality Folding Bed with Deep Spring Mattress
Folding Bed For Overweight Guests Up To 300 Lbs
Sleep Master Elite Rollaway
Comfy Memory Foam Mattress 31 inches wide, 75 inches in length – No springs or annoying frame to poke your body while trying to rest
Sits a generous 18 inches from ground level – Which helps us overweight people get in and out of bed a lot easier
Easy to store away in the included storage case
Trampoline like support system beneath mattress which provides another level of comfort
Sleep Master Folding Bed With Storage Bag
Big & Tall Folding Bed 375 Lbs Capacity

This is one heavy duty all steel folding bed built for high weight limits. With a 375 pound capacity and one tough support frame, this folding bed is an option for big and tall people.
This bed goes the extra mile for providing a sturdy and reliable foundation. With not just 1 support bar in the middle like you commonly see on other folding beds, the XK-3 has double support legs in the middle. Which sure as heck makes me feel safe sleeping on this tank of a bed.
Made by Blantex who are famous for making sturdy military and relief cots. This alone is enough to sell me on the amount of experience and reliability behind this folding bed. The wide mattress measure in at almost 30 inches and 72 inches in length, which also happens to be flame retardant according to the specs.
The mattress is supported by a 44 support rings with a steel coil suspension which is a great sign of a really durable folding bed that will hopefully go the distance for you.
Considering the heavy duty build behind this guest bed, it's rather comfortable. Even for the bigger Man. However as it's rated to over 350 pounds, I do suggest adding an extra layer of comfort. Either a mattress topper or another memory foam mattress. The bed folds away pretty easy and slides under most normal height beds.
My only negative to this bed is that you must be careful getting into it. Make sure all the outer legs are kicked out as they should be, or you could end up collapsing during the night. But a quick check over before jumping in, and you will be right. Excellent value for such a heavy weight capacity folding chair.
Blantex Heavy Duty Folding Bed 375 Lbs
iBed-In-a-Box Hideaway Guest Bed Folding Cot Reviews
Only A Little On The Plus Size Of Life? 275 Lbs Capacity

If you're in the tricky weight range where standard guest beds are a little troublesome yet you don't feel the need to buy a massive oversized folding bed, the the iBed in a box could be an option for you.
Capable of holding up to 275 pounds, this iBed is a quick and easy folding bed great for any slightly overweight person.
It's so compact, only 5.5 inches and easy to to fold down for portability and storage. Minimal issues fitting this bed into most boots or under the bed.
Setting up is a breeze and requires no assembly ever!. To set up this iBed it's just a matter of flicking the top latch up and locking the safety leg locks on each end. Fold out and slide the 2 inch mattress on top. Then your guests or yourself are set up for a good nights sleep.
While the iBed is a considerably lightweight bed (15-20lbs) don't be fooled into thinking this is not a heavy duty folding bed. One thing that really annoys me is when well made products comprised of steel are let down by inferior plastic levers, locks, switches or any moving part. This makes the heavy duty rating null and void in my opinion.
Fortunately the iBed shouldn't disappoint here. With all the important parts being made from solid steel. That's the reassurance I need as a big Man, especially when it comes to sleeping.
The base is made from a tough nylon mesh material held together by a steel bar and sturdy springs. It looks of high quality and one that will potentially last for a very long time. The spring support system also adds to the overall comfort level on this folding bed. Even though it does tend to creak every now and then (nothing some spray cant fix), I still find this iBed to be a awesome option.
iBed Folding Bed - 275 Lbs Rating
Is Jay-Be The Future Of Folding Beds?
Highly popular in the
UK (amazon.co.uk),
the Jay Be folding beds are now in America. After watching this short video, I know I sure do want to test one of these Jay-Be folding beds. They look amazingly comfortable and wide!
Now available to buy in the U.S
!
See link below for more details.
[bannerbox id=10]
Not For Obese People
We have tried to include only the important details that us big people care about, in particular: High Weight Capacity!. Which reminds me, there's something that's not listed on this page but may make a great alternative for you is a 600 pound monster of a camping cot, I'm still convinced it's the best guest bed imaginable (Plus I can use it to go camping and on fishing trips, when permitted of course).
This cot is suitable for obese people where some of the folding beds mentioned below may be too narrow and not strong enough to hold 400 pounds or more.
Save
Save