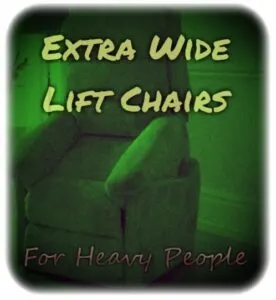 There's no denying that the lift function in a reclining chair has been one of the greatest inventions for the disabled and elderly. But for us people with larger backsides, squeezing into a standard lift chair can be pretty much impossible. Good news is, there are extra wide lift chairs available for the bigger people like myself. Only problem is, finding the room in the lounge room to cater for a wider chair. Hah, who am I kidding. I will make room!.
The freedom a lift chair provides is priceless for a heavier person. Having the ability to not only get out of the chair with ease, but also slip into one without pulling a muscle is certainly the best thing I could have ever asked for. My last recliner sagged in the backside and was extremely difficult to pull my oversized body out of. In fact it was so hard I avoided the recliner at times. Especially when I was experiencing lower back pain. Which is a often.
So enough was enough. The time had come. It was time for me to find a extra wide lift chair that not only catered to my larger rear end, but also had the internal structure to hold up to 500 pounds. So after many weeks of research, I found out quite a few things about the lift chair that previously I wouldn't have known. I would have just bought blindly so to speak. So you can now benefit from my research and a few of the tips I picked up along the way. There's more to buying a lift chair than just how wide it is.
*Skip Features To Look For And Jump Straight To Our #1 Wide Lift Chair
Important Aspects To Consider When Buying A Lift Chair For Heavy People
Width is the most obvious aspect. But don't just look at the overall width of the chair. Many products can be misleading and state the chair is so and so wide, but the actual measurements between the arms are half that. So while the lift chair may be wide, it may still only fit a 'normal' sized person. For me, the width between the arms has to be 22″ or greater.
Weight capacity is another important detail to pay attention too. Remember, these chairs are powered by electricity. So don't try and push heavier weights on what the manufacturer recommends. No need to burn out the motor. Or fall flat on your back after the internal support system fails.
Backup battery service. Not all recliners will come with this. So if you can find a lift chair that has an emergency battery powered feature, buy it!. It you are lazying back (as I know you will be in these chairs) and you loose power to the house, good luck trying to roll out of these chairs. This is why the backup battery operation is so important. It will override the lack of mains power and control the lift chair so you can safely exit the chair.
Comfort is a must!. As a larger Man, I know how comfortable extra layers of padding can be. But I also know how difficult it is to try and leverage yourself out of the chair, bed, sofa etc. So more often than not, I will choose a medium plush chair. But that all changes with a lift chair. The mechanics do all the hard lifting for me. So this is the one time I want as much padding as possible. Now this is how you relax in pure comfort.
Most Comfortable Lift Chair 300 Lbs Capacity
The Catnapper series have long been a favorite recliner chair for me. But normally I tend to avoid leather and faux leather as this model is. This is because of the extra body heat this kind of material brings. I hate sweating and leather normally does this to me.
But the 'Ultimate' range (found on amazon) has a feature called 'Gel infused'. Which is inside the padding. If you think of memory foam, you think of 'hot' immediately. But gel infused memory foam is much cooler as the gel absorbs the body heat and keeps you cools down the foam.
The gel infusion also adds a memory foam feel to the chair, making it super comfortable to lay in. So, if you are trying to avoid fabric and don't want to spend top dollar on genuine leather, I would recommend this Catnapper over others for this Gel infused feature.
The overall width of this lift chair is 37 inches while the seat itself is 23 inches wide. So it's larger than your standard lift chair. The arms aren't as bulky and padded as some other models. This is what gives it the smaller overall width while maintaining an extra large seat.
Comes With Back Up Battery Supply
The 'Ultimate' model also ticks the box of 'having a back up power source'. It utilizes a battery back up system in case of power outages. The motor itself is a dual motor. Meaning you can independently control both the foot rest and the back of the chair.
So you can customize exactly how you want to sit or lay in this lift chair. Not all recliners have this function as many just recline in one motion. Not giving you the freedom of adjusting the back or ottoman independently.
This lift chair can recline back to an almost flat position. While it's not 100% flat, it's close enough and most people will actually prefer this position for sleeping. Which is not bad for a 400 pound capacity recliner. Many heavy duty recliners in this high weight capacity won't recline this far back due to inferior support systems.
But overall, I found the Catnapper 'Ultimate' to be a relatively good lift chair for obese people and the overweight persons. With a good amount of space between the arms for larger folks. Not the widest, that is yet to come. But the gel infused foam padding is what sets this recliner apart from the rest.
Catnapper 'Ultimate Ramsey' 300 Lbs Gel Infused 23
27″ Lift Chair With 500 Lbs Capacity
Mega Motion are one of the more popular plus size recliners on the market. But where they had been lacking was in width of the seat. But this is certainly not the case with the 'Superior' model by Mega Motion.
What's even more impressive is that it's a lift chair with an extra wide between the arms measurement of 27 inches. Making it one of the widest lift chairs I have come across.
Complementing the wide seat is a high weight capacity if 500 pounds. Which is quite impressive for a lift recliner of this size. The only thing that this chair lacks in is custom recline control like the above Catnapper.
But in saying that, this chair has a higher weight capacity and this would come down to not over doing the reinforced internal structure. However, it still has three positions you can easily recline to with the push of a button. Closed, semi recline and full recline.
Which for most people is just the right amount of recline. One thing I did notice about the reclining motion is that it was relatively easy going. It didn't jolt or pull to fast when going from lift to recline.
The Superior by Mega Motion also comes with the emergency battery backup power which requires 2 x 9v batteries. Again, a feature I insist on these days. So it's got everything going for it that a heavy person needs (width, weight capacity and back up power), how does it fair in the comfort department.
Being very well made and structurally sound, the one thing that I did find inadequate was the lumbar support. If you have lower or mid back problems, I would suggest throwing a pillow in behind for extra support. The arms could do with a little more padding, but overall it's rather comfortable. Just add a pillow to make it perfect!.
Mega Motion 'Superior' 500 Lbs Lift Chair
Very Well Padded 25″ Wide Seat Fabric Lift Chair
Catnapper is back again with one of my personal favorite fabric lift chairs. This monster 'Omni' series by Catnapper has some of the best and most well padded cushions I have ever sat on.
If the feeling of floating on a cloud is how you want to feel as you recline into position, then the Omni lift chair is certainly going to entertain you.
Made in the USA, this 450 pound capacity lift chair has an impressive 25 inches between the arms. This is quite hefty for a lift chair of this size. The actual overall width is about 45 inches. So as you can imagine, this is a beast of a recliner. Which is what us bigger people need after all.
If you're worried about it fitting through doorways, fear not. It comes delivered in two pieces so you can easily slide through standard door frames.
Easy To assemble
Assembly is fairly straight forward, but I would recommend an extra pair of hands to lift the top onto the bottom. No point buying a super comfortable lift chair if you do your back out when assembling the thing.
Also worth noting, as it is an electric lift chair, connecting the wires up will require you to get on your hands and knees. So perhaps a Son, friend relative that is smaller can do this simple task for you. If you have no problem getting on all fours, then go for it.
The Omni does come with a backup battery operation for times of power outages. Which is extremely important on lift chairs. Because the backup is run on 2 x 9 volt batteries, don't expect it to lift you out of the chair as quickly as when the mains is connected. Battery powered products are always less effective than using the main power. But hopefully, you shall never be in the situation of being fully reclined and you loose power.
Speaking of reclined, the Omni has 3 positions like the above Mega Motion Superior lift chair. Which is fine, but the only thing that bothers me is the foot rest. It could have been a couple inches bigger for us taller folks.
But either way, I still find it comfortable as my heel ache badly after resting on anything. Even something as well padded as the Omni. But overall, it's a very solid 9/10 score for me. The comfort combines with high weight capacity makes this one a stand out.
*P.S Go with the Chianti Red color, it's divine. But, if reds not your thing, choose from the other three colors.
Omni Power By Catnapper
The Budget Extra Wide Lift Chair Option
Normally I wouldn't suggest or recommend a budget recliner chair, especially for an electronic lift chair. For obvious reasons, but I know not everyone can afford 4 figures for a chair.
So when considering a budget model, I came across this Mecor power lift chair. When I first saw it in store, it was advertised at close to $2000, which immediately rang alarm bells. Fortunately I did some research and found it on amazon much cheaper.
A Little About The Mecor Power Lift Chair
So the seat has a width of 13.5″, which is larger than most. The weight capacity is 325 pounds, which is a little low. But I figured it may be a viable solution for someone else. The chair is claimed to be real leather, but for this price I can assure you it is not. It's bonded PU leather which is a cheaper alternative to real leather.
The problem with bonded leather is that it is hit and miss. I've had many items that are made form bonded leather and I would say half of them have deteriorated much faster than genuine leather ever would. But, this is a budget model, so PU leather is to be expected.
The chair has an infinite recline function which means it is not a set 3 position chair like the above 2. Which is a nice touch. But the footrest reclines with the back rest unfortunately. not a deal breaker, but I would like the freedom of ultimate control like on the more expensive Jensen Catnapper above.
The mechanics of the chair seem OK, not the best as the frame is made from timber and not reinforced steel. Hence the lower 325 lbs weight capacity. I have heard some stories of the springs coming undone underneath, so I am mindful of that.
Another issue I have heard from previous consumers is the chair getting stuck in the lift position. I found that using the controller with a hand on the backrest to give it a little force will encourage the lift to get unstuck. Not everyone has stated this, but I guess it's luck of the draw. Either way a little pushing on the back rest isn't too hard.
One thing I do love about the Mecor power lift is the side and front pockets. I wish all recliners had pockets. It would make finding the remote for the TV so much easier. However, I would prefer them maybe a inch higher up the seat.
Mecor Power Lift Recliner With Cup Holders
What Is The Best Lift Chair?
Now this is for me personally, you may have different opinions. For me, the Mecor is out. As much as I do love a bargain, I've been fooled by bonded leather one too many times. Also when it comes to dealing with heavy weights, electronics and a support system, being too cheap is a sign of inferior craftsmanship. Which leaves me with the other 3 options:
Catnapper Ultimate
Mega Motion Superior
Catnapper Omni
All three are premium quality lift chairs with extra wide seats. They all have back up power sources. They all have 300 pound+ weight capacity. For me it comes down to material of the chair and control over the recline position. For you it may be which is the widest, which is the Mega Motion Power Lift.
I'm torn because I don't generally like leather, but the gel infused foam is very appealing on the Jensen. While the extra padded fabric of the Omni is seriously what dreams are made from. However, the Omni has only 3 set recline positions and no additional motor to control the footrest.
So therefor I have to go with the Catnapper Ultimate model. This lift chair offers complete control over how you recline and you can set the position to cater to your environment. This to me is more important than the fabric material. Which is harder to clean too I guess. While the armrests could have more plush to them, the actual padding on the back rest, seat and footrest is more than sufficient. So with my analysis, I think the Catnapper Jensen power lift chair is the best.
What do you think? Do you have a preference?. Feel free to share your opinion below in the comments section.