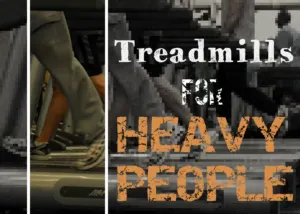 As a big person myself, a heavy duty treadmill is a much safer option for me compared to sweating it out with the others (super fit people) at the gym. So when I decided to go online looking to buy a treadmill, I wasn't even aware of such High Weight Capacity Treadmills For Heavy People (300 lbs to 400 lbs and even 500 lbs).
Compare Treadmills For Heavy People 2020
---
Additional Treadmills By Weight Capacity
Avoid Treadmill Damage
When I go to the Gym and jump on a treadmill, most of the time I don't even think about possibly damaging the treadmill or even myself in the process. Which kind of puts me off going to the gym, to be honest.
However, these treadmills at the Gyms are high-end tanks I assume that cost well and above what the average person can likely afford. The high price reflects the number of consistent work loads and various weight limits they endure on a day to day basis 24 hours a day.
So what's overweight or obese people meant to do?. What if they want to buy such a heavy-duty treadmill but cant afford to sell the home just to get one?.
Avoid The Expensive Health Clubs, Work Out At Home
Fortunately for you guys and myself. I have come across what I believe to be the best treadmills for big people, for home use only. So hopefully we don't have to have a panic attack when we see the prices, nor will you have to settle for an inferior treadmill with an under size weight limit that could not only end up wasting your money. But also potentially harm your body.
Each heavy duty treadmill has been hand-picked to suit heavy weight capacities. Followed by a brief review, where to find such a treadmill and seek further reviews.
It's critical you read more than one review before deciding to buy any treadmill. Especially one designed for a heavier person. As we are bigger than the normal person, which means we have bigger needs such as a wider treadmill mat, stronger heavy-duty frame and of course a treadmill with higher weight limits. So more information one can gather, the better.
Treadmills With 300 Lbs Weight Capacity
Lifespan T 12001 Folding treadmill Review
Our recommended number 1 rated 300-pound capacity treadmill is the Lifespan TR 1200i. It's been on the market a few years now, which is a good amount of time to test the durability of such a hefty investment. It has stood the test of time in my eyes, we believe it's a reputable, durable and a very popular treadmill.
Now that you have seen the specifications for the TR 1200i, you can easily understand why I think this is the best treadmill for quality versus cost. The pure amount of performance one may get from this treadmill makes it hard to believe that this treadmill still sells for a moderate price years later.
Overall I honestly believe the Lifespan TR 1200i will be a good match for a large % of plus size to overweight people up to 300 lbs. Considering it's wide running mat (20″x56″), very high-quality features (including how easy and quick it folds away), ultra quite running motor and its proven ability to still impress us.
The only thing worth noting if you consider buying this treadmill is that it does not include a USB. Without having the USB the machine won't know your height and weight. But this is only a minor issue as you can pick up a compatible USB for just a few bucks these days. This is easily our number one recommendation for people up to 300 pounds.
Lifespan TR 2000i 300 Lbs Capacity
Sole Has Got You Covered – F65/F80 Reviews
2020 Update: If your a heavy person looking for a treadmill in the 350 – 375 lb weight capacity range there are 2 options to consider. Both by Sole Fitness Equipment. The F65 Vs the F80 Treadmills.
As with most SOLE treadmills, they are supported by excellent heavy-duty chassis and treadmill motors. The major differences are the F65 is rated to hold 350 pounds, while the F80 is rated to hold a bit more with a 375-pound capacity. The F80 also has a wider running surface by 2 inches (22:x60″).
Basically the F65 is like the younger sibling of the F80, but only by like a year. The differences are small but relevant to your weight restrictions and the amount of horsepower behind the treadmill. Both I find are high-quality treadmills for big Men and Women needing a simple to use, but effective treadmill.
The control monitors have everything you may need, including a heart rate monitor. It's very easy to configure and use which I like, while not being too overwhelming and sluggish. The features and amazing unique folding technique is outstanding.
I cannot do enough justice for the features in this small review, so you can compare and see specs for the F65 and the F80 by SOLE.
Sole Fitness - #1 Recommended Treadmills
Treadmills 400 Lbs Weight Capacity
Budget 400 Pound Treadmill
The first treadmill with a high weight capacity of 400 lbs is the Exerpeutic TF 1000 Walk To Fitness Electric Treadmill
. This treadmill is perfect for the budget-minded. Coming in at a very reasonable price (Check Price On Amazon), you must ask yourself will this treadmill be worth it?.
While the low price is very tempting if your pushing 400 pounds you must remember wear and tear on the treadmill. The heavyweight treadmills usually require heavy-duty framework and materials to compensate for the extra weight loads.
Which as you probably know, the stuff for us big people are usually 15-30% more expensive (from my experience) so it's easy to think this price maybe too cheap.
While it doe's get plenty of reviews, both good and bad, can it withstand a 400 lb person using it daily and still last for years to come?. Let us find out!.
400 Pound Treadmill Review
While this treadmill is considered low end/entry-level, it does have the necessary functions and ease of use us big guys need. ==> Check Out The Specs Page On Amazon.
The first good sign is that it does have a wide running surface and the grab rails are longer, in fact more than double the standard length of 9 inches. Which I find very handy when you're on the plus size of life. The space directly in front of the LCD monitor is very spacious, so you won't feel constricted as you can in slimmer models.
Probably what makes this treadmill for a 400 pound person or obese people ideal, is the fact it only goes up to 4 mph. Which is all I consider when I aimed to begin losing the weight as a big person. I don't know about you, but going straight into a solid jog or run is just out of the question until many of pounds have been shed and fitness levels increased. Walking is hard enough at times and a brisk walk is what I consider extreme exercise (For now).
So as an extra-large person, you must learn to walk before you can run right. The same theory goes with treadmills. Which is why I think the Exerpeutic TF1000 treadmill is a great choice for people up to 400 lbs whom are just starting out, or simply looking for a really quite and good heavy duty treadmill for walking.
Plus with the decent price tag, it's hard to say no to this treadmill, even if you only use it for 12-24 months. Once you have lost some weight and gained fitness (seen proof the treadmills working for you), that's when it's a good idea to upgrade to a lifetime commitment to a more expensive model.
Exerpeutic 400 Lb Folding Treadmill
Treadmill For A 350 Lb Person – Mid Range
The Exerpeutic 2000 Review
When I go for a walk on the treadmill the hardest part for me is losing focus. In other words, I just get bored and disinterested. Which I why I LOVE the Exerpeutic 2000.
It gives me a reason to get back up on the treadmill. Why?. Because of the work station desk that comes with this treadmill, which by the way has a high weight limit of 400 lbs. Because it has a 400 lb capacity, it's one of the best treadmills for 350 lbs person.
See, I'm an office worker who sits all day in my office chair which doesn't help with the lack of exercise. But when I work from home I can easily jump on the treadmill and power up the laptop. Sometimes I forget I'm even on the treadmill, which is just great for my exercise.
So the Exerpeutic 2000 is one heavy-duty treadmill built with a reinforced strong frame. Which is how it's able to hold large weight capacities. The walking belt is also extra wide like the Exerpeutic TF1000, which measure in at 20″x40″.
Again this treadmill is ideal for walking, I don't recommend it to be used as a running treadmill. The mat isn't long enough for big long strides in my opinion. Hence why it's a good choice for oversized people needing a treadmill with a desk.
Whisper Quiet Operation
Plus it's very very quiet to use, so depending on where you work, your Boss may even allow you to use it at work. However, if you're a relatively short person, this desk treadmill may not suit you, as the desk height in not adjustable, unfortunately.
This treadmill doesn't have all the bells and whistles, but keep in mind this is a mid-ranged priced treadmill with a work desk big enough for laptop, keyboard, cup holders, etc. So it's a very good price for what it is if you ask me.
The onboard computer console is rather simple to use and can track how far you have walked, calories burned, speed and heart rate. The only addition I would like to see to the console is a step counter. But in saying this you can get a good priced Fitbit Zip to make up for this function. For the actual cost of the Exerpeutic 1000 treadmill, heavy duty rating and enticing work desk station I think this is a great buy treadmill for us overweight people.
400 Lb Treadmill With Desk Exerpeutic 2000
400 Lbs Weight Limit Running Treadmill
SOLE F85 – The Complete Big Mans Treadmill
The Sole F85 treadmill is my all-time favorite machine for us big guys who want the ability to run as well as walk. I find this treadmill to be a great addition for someone who has started out on a walking treadmill and has built up the fitness to take on running.
It's recommended to handle 400 pound users, so it's still a great treadmill for the obese people as well as the overweight. However, like I previously mentioned, for a beginner in the 350-400 lbs range I would suggest starting out slow on a walking treadmill to build up fitness.
This treadmill has the widest running mat that I could compare in this category. Measuring in at 22 inches wide and is a pretty soft landing which is rather important for our extra-large bodies. The features and specs for the F85 are enough to keep me entertained and interested.
However, it doesn't have all the bells and whistles, which I find tend to overwhelm people at first and may even lead to distraction. Plus it's still a moderately priced treadmill compared to the one you may find at your local GYM and does just about the same job from my experience.
Best Of The Best?
The F85 was the best quality home treadmill we could find in this price category. But in my opinion, it should be recognized as a club level standard treadmill. It's a high-quality machine that has just the right amount of features and training programs to keep me working out. Without having to spend a fortune either.
Something else I should mention is the hydraulics system. I think it's up there with some big names in this industry, if not the best from my point of view.
I found it easily yet smoothly raises and lowers the running platform so it can be packed away into storage. So less fear of children or pets getting squished beneath a falling treadmill. Plus its weight capacity rating of 400 pounds makes this the perfect treadmill for the heavy person.
*Do note that if you get this treadmill shipped to your house to have an extra person around to help you assemble it. As it is quite big and heavy to drag by yourself. Especially across the carpet.
Sole F85 400 Lbs Treadmill
Best Treadmill For Big And Tall People Over 400 Lbs
Once you hit the 400 pound weight rating, it's not easy to find treadmills for heavy people. Fortunately SOLE has a light commercial treadmill available for the public which has a 425 pound weight capacity.
This treadmill is certainly one you would expect to see at your local gym. It's big, its sturdy and most of all it doesn't cost as much as you may think. While it's expensive, it's not half as bad as I anticipated (Get Current Price On Amazon Here). Plus to get a treadmill with a wight capacity over 400 lbs is rare, therefor more expensive regardless of what we think.
Why The SOLE TT8 Treadmill Is Good For The Big And Tall People

When it comes to bells and whistles, the Sole TT8 has the lot. But that's not what is most important here. It's the pure size, heavy duty build and amazing quality that makes this treadmill a serious contender as the best treadmill for heavier folks in 2020.
Starting with the running belt, it's perfect for the big and tall people. Many treadmills only offer a 40 inch walking or running surface. The TT8 is a big 60 inches long beast (Like a few others on this list).
This is especially important for the taller people as their strides are much greater than a shorter person. Which means you will need a longer track to counter your longer walking strides. The running deck is also wider at 22 inches. The extra 2 or so inches means the bigger people have more room to play with. Thanks SOLE!.
Tough Motor For Big Users
The motor is the unseen workhorse behind the scenes which sadly gets overlooked too often. This treadmill by Sole has a 3.5 CHP with ultra high torque. The continuous horsepower is what drives this thing and makes it possible for the heavier people to use.
That 'C' for continuous is more important than you may think. What this basically means is that this motor will last longer. What it's telling you is that the Sole TT8 operates at 3.5 horsepower minimum for all levels of difficulty. It's not the maximum, but a gauge to let you know that this thing runs incredibly well, even on the advanced levels.
When you compare this to another treadmill that has a peak HP of 5, for example, you don't know what the treadmill operates at when it's not pushed to the limit. With the Sole TT8, you know its an incredible 3.5HP minimum regardless of the speed and incline difficulty. This prolongs the life of the motor and saves you time and frustration in the long run.
Certainly One Of The Best Treadmills In 2020
I have barely scrapped the surface with the Sole TT8 light commercial treadmill, yet you can see just how this treadmill was designed for heavy duty use. The 425 lbs weight capacity combined with the continuous horsepower motor with ultra high torque means you're getting a high quality machine.
There's so much more to this treadmill that I could go on for days. But I won't I'll save you the boredom. But now you know that there is a heavy duty treadmill for people over 400 pounds ready and waiting to go, the next step is up to you. I highly recommend checking this one out.
SOLE Light Commercial TT8 Treadmill 425Lbs
Treadmills With 500 Lb Capacity

Treadmills with 500 lbs weight capacity are few and far between. They are usually the very high-end commercial treadmills you can find down at the Health Club.
However, some are available to buy to the public. But be warned prices can get a bit crazy to say the least. Star Trac is a common name in the field for these super heavyweight capacity treadmills. These treadmills are phenomenal and have a boatload of features and attributes that make them the ultra-premium treadmills they are.
Best Treadmill For 500 Pounds
Most home treadmill users may not need or want to buy these 500-pound weight capacity treadmills in my opinion, most likely because of the rich price tag. It's a fair ask for many people to simply afford one.
While they do boast extra abilities such as 15 mph walking speeds (Which is far higher than needed for a big person I say) I find most people will simply have to settle for a much cheaper 400 lb treadmill. Or perhaps consider a re-manufactured club Life Fitness 95Ti Treadmill which has a 450 lb weight capacity limit and is usually cheaper.
Bariatric Treadmills
They say if you're 100 pounds over your recommended weight or have a BMI score of 40 you're a candidate for bariatric surgery. Which of course is better known as weight loss surgery.
A bariatric treadmill will need to support your weight, which is usually around the 300 pound region but also offer good recovery features.
According to UscfHealth, after bariatric surgery, you should walk at least 3 times a day the second day after surgery. It's not easy going for a walk at the best of times being obese, but after surgery even more so. While you're not meant to lift anything heavy either, using a bariatric treadmill as a means to recover and get fit is the ideal solution.
Best Treadmill For Large People
Bariatric Needs

The EXERPEUTIC TF2000 is one of the best treadmills for large people with bariatric needs. While it only has a 300 pound weight capacity, it is one of the best bariatric treadmills. Most other treadmills I found were either weak and fragile or had a very low weight capacity.

If the 300 pound weight capacity is too low for you, I would recommend the above 400 lb capacity Exerpeutic as it has extended arm rails which makes it easier to hold onto.
Bariatric Features
Whether you are a large person or someone recovering from weight loss surgery, getting back on the horse so to speak is not as easy as it once was. One of the hardest things to do on a treadmill is to keep your balance and pace up.
I don't know how many times I have almost fallen over or lost balance, but this Exerpeutic treadmill solves this problem. As it's designed for recovering patients, the aim of the game is to keep them on their feet.
To achieve this Exerpeutic has full-length handrails that are padded with foam. The curved ends of the handrails are also padded which helps when getting on and off the treadmill. The handrails can also be adjusted to give you a wider working area or if you have broader shoulders and need a wider grip.

Joint Impact Cushioning
There's no doubt you won't be in a hurry to run on any treadmill. But did you know that walking causes more damage to a treadmill than running?. This is due to the slower heavier footprints compared to the faster style of tapping you do when running.
So the platform needs to be able to cushion the blow for your constant walking, while also strong enough to handle heavier weights. This Exerpeutic has 10 cushions used as shock-absorbing pads. The extra cushioning not only saves the motor from burning out but also your joints. Walking all the time can do damage to your joints, so as much cushioning as possible is recommended. since you will be walking as part of the recovery, the 10 shock-absorbing cushions are a must.
It's Hard To Beat
The Exerpeutic treadmill is an all-round good 1.5HP high torque treadmill, especially for recovering from surgery. While the weight capacity could be higher in my opinion, its the other features that make this a stand out.
From the perfect length walking deck (50″) to the built-in heart rate monitor, recovering is made that much easier. The only concern would be for tall people. If you're much taller than 6 foot, you will need a treadmill for taller people as you find the deck is too short and you won't be able to get in your natural stride. For the price of this treadmill and what you get, its a really good option to consider.
EXERPEUTIC TF2000 Recovery Treadmill
Extra Wide Treadmill 400 Pound Capacity

This treadmill by ProGear is an excellent piece of exercise equipment that has a lot of features and keeps the safety high. In my opinion, these are the most important factors when it comes to treadmills as you want to be safe when you're using them.
For us heavy people, the weight capacity is important and having a decent capacity is essential. While this may not have the highest capacity, the 400lbs capacity is still better than a lot of other treadmills on the market which makes it very useful for the heavy people out there.
Safety Enhanced Features
It's the small things that this treadmill does that makes it really stand out for me. The handles are longer than your standard treadmill handles, with them being 18 inches.
This works really well with the heart pulse sensor on the extended handles since it's easier to check your heart rate while staying safe. Longer handles also make the big person's life much easier when you start to run out of steam and energy.
Extra Wide Belt
The width of the belt on a treadmill is important for heavy people as you need it to be a little wider. This is why I like this treadmill with its 20-inch wide belt that allows a good amount of room for heavier people. It annoys the life out of me when I hit the side of the walking belt and it makes that irritating noise of shoe on rubber. So the extra-wide belt is much appreciated.
A treadmill needs to have the ability to tell you things like how many calories you've burned, and distance walked. These are essential in my opinion as they will keep you safer and help prevent you from overworking yourself. This is easy to read with the LCD display on the front of the machine.
All in all, ProGear has produced quite a nice yet heavy duty treadmill for people 400 pounds or less. It's only got a top speed of 4 mph and utilizes a 1.5hp motor, but I find this is perfect for the really heavy guys wanting to ease their way into exercise. Anything much more powerful may be a waste of money unless you plan to do some serious running in the near future.
ProGear HCXL 4000 Ultimate Treadmill
Best Treadmill For Heavy Runners

There is a lot to like about this impressive treadmill from XTERRA Fitness that will make it difficult for you to look past. The first thing you notice when you see this machine is just how stylish it looks which isn't something that you expect to say about a treadmill.
Not to worry tho, this treadmill is more than just looks as it's one of the best treadmills for heavy runners that need a robust and heavy-duty machine.
Heavy Duty Treadmill -350 Lbs Weight Limit
The durable steel frame is impressive with a good amount of weight capacity. It has an impressive 350lbs capacity that will be useful for some of the heavier people out there and give them peace of mind to run confidently on this treadmill.
For some people, they find it very hard to be motivated when working out which can be due to a number of reasons. It's easier to stay motivated if you can change your work out to be a little different so you're not doing the same thing all the time.
This XTERRA Fitness treadmill has 30 pre-set programs that will help mix it up and keep you more motivated. But more importantly, it gives the heavy runners the option of varying workouts. Running at the same speed on the same incline does get boring after a while, so having the treadmill decide the program for you just makes life a little simpler.
Powerful 3.25HP Motor
Being able to keep track of your progress is another great way to stay motivated so seeing what you've achieved helps stay committed. You're able to do this with the help of the Bluetooth feature that connects to your phones XTERRA fitness app so you keep tracking your progress and keep motivated.
A feature that is extremely useful in getting a better work out is having an incline when using the treadmill. This treadmill has an incline range from 0-15% so you're able to get a better workout then you could without it.
The top speed of the heavy-duty 3.25 HP motor is 12mph, which is more than sufficient for most heavy runners. Overall, I find this treadmill to be considerably robust and strong. It caters to heavy runners with its powerful motor while offering extra width in its 20″ x 60″ running belt.
XTERRA Fitness TRX4500 Treadmill
Quick Recap – Treadmills For The Heavy Person
A Treadmills Weight Capacity – Can You Trust It?
The first thing to consider when buying a treadmill for a heavy person is the weight capacity. That goes without saying. But how accurate are these numbers and are they safe to use if you weigh more than the specified capacity?.
Not all exercise equipment states their weight capacity, have you ever thought that to be strange. I have and after a little investigating it has come to my attention that it is not the law to state such specifications.
What does this mean for the big person wanting to workout?. Well basically use at your own risk. This is why you should attempt to find a treadmill with a weight capacity lower than your body weight.
Don't risk buying a lower capacity treadmill with the train of thought that you will one day lose 50 pounds. It's like when you haven't thrown out the pants that are 5 times too small in case you one day get back down to size.
A Heavy Duty Treadmill Specifications
While it is hard to find a heavy duty treadmill without any given weight rating, it is possible. The thing with weight ratings is that they are produced from the manufacturer. They either make it up or have them privately tested.
How they are tested is anyone's guess. One could simply place a 500 pound person on a treadmill for one hour and call it 500lbs verified. But what happens in 6 months of this person using the treadmill daily?.
So while weight capacity is very important as it gives us a rough estimate of the treadmills capability, it's not something you can trust 100% in my opinion.
But Don't Void The Warranty
It's a catch 22, isn't it. On one hand, you want a high weight capacity treadmill, but can you actually trust the number given out by the manufacturer. While on the other hand if you buy a treadmill with a capacity below your actual body weight, could you be voiding the warranty?.
This would be a case by case situation as I have seen products in the past which have stated that the warranty is void if you're above the specified weight capacity. Does this relate to treadmills?. Again this comes down to reading the full terms of the warranty.
Heavy People Need Higher HorsePower Treadmills
So with this confusion over weight capacities, I have done up a brief guide on a treadmills weight rating and the things to consider.
One of the major things to consider when buying a treadmill if you're overweight is the power of the motor. The motor is unseen yet a pivotal part of the performance of the treadmill.
As you can see in the treadmill comparison chart above I have included the number of horsepower for each treadmill. This will also help you gauge which machine is right for you.
If basing your buying decision on the number of horsepower, make sure it's a continuous horsepower (CHP) model. This represents the lowest amount of power when the treadmill is at any stage of the workout. Not the maximum horsepower as this is an irrelevant number as it's only for short bursts.
In simple terms, the lower the horsepower, the less power the motor has. A low HP treadmill can work fine for the average size user, but us heavier people put more strain on the motor. Which can cause it to burn out quicker. Which again, if you're over the specified weight capacity may be grounds to void the warranty.
Number Of RPM's Matters
The other factor to consider is the treadmills RPM's. The correlation between the HP and RPM's is torque. Torque is extremely important for obtaining a powerful and long term treadmill. The lower the RPM's the treadmill has the higher the Torque.
The torque is what causes the motor to turn easier which has less wear and tear on the motor in the long run. So a higher RPM treadmill will cause the motor to work harder due to less torque and grind down the motor quicker. Look for a treadmill with a maximum of 5000 RPM. Lower the better.
Buying The Best Treadmill For Heavy People
While it may seem a little overwhelming, it's not as bad as you may think. I have listed some suitable treadmills above designed for heavier people and given you a few specs to look for when making the ultimate decision.
Find a treadmill within your weight range and then ensure there's a good warranty to accompany the treadmill. Go for the extended warranty to ensure you have a treadmill for years to come.
In terms of specs, a higher CHP combined with RPM's under 5000 preferably. The treadmills weight capacity should give you some buying confidence, but try to pay attention to the performance of the motor as well. It's far more important than whether or not the treadmill has a tablet holder or not.
Basic Treadmill Maintenance You Need To Perform
Something that people often overlook when it comes to treadmills is the amount of maintenance that you should do on them to keep them up and running. Especially as a heavier person as the extra body weight does apply greater pressure on the belt and drive system of the treadmill.
There are simple things that you should do every day that are commonsense such as wiping the treadmill down after you have finished using it.
However, these are things most of us forget, so consider this your reminder before buying a heavy-duty treadmill. Before using the machine, it's a good practice to turn these basic treadmill maintenance tips into a habit before every use.
Going over the machine and checking each part is essential to keep your machine running in tip-top shape. Making sure to check the belt and looking for signs of wear and tear while making sure the belt is centered. While the belt doesn't need to be perfect, it does need to be free from rubbing up against the sides.
Now that you've made sure the belt is good it's a good time to check the engine and clean around it. Make sure you have the treadmill turned off and unplugged from the wall before doing this. Then you will want to remove the cover and vacuum around the engine to get loose dirt from it. You should do this more often if you have animals as they drop more hair.
Lubricate The Treadmill Belt Regularly
lubricating the running belt treadmill this will be either really easy or difficult, depending on what type of treadmill you buy/own . Some treadmills you can just lift the belt and spray the lubricant underneath. The more difficult ones will require you to loosen the belt before you can lubricate them.
When To Change The Treadmill Belt
The belt on a treadmill is crucial to the performance and the last thing you want is for it to break when you're in the middle of using it. So it's important to learn when to change the belt and learn what the warning signs are. As with most things regarding maintenance, you should unplug the treadmill to avoid injury.
You will want to loosen the belt a little bit so you can get your hand under the belt. This is so you can feel the belt and try and tell how much wear and tear it has. You will want to check for cuts, fraying, and the most important thing if there is a lot of smoothness which is a sign it needs to be replaced.
The last thing you should check for is the seam on the belt and if there is any discoloration on the belt. If the seam is fraying or coming apart then you will need to replace the belt as soon as possible. Discoloration of the belt can mean the belt has had excessive wear and should be checked for smoothness underneath and see if it needs to be replaced.
Are Treadmills Suitable For Overweight People
After getting this far, its quite obvious that treadmills have been designed for overweight people, simply due to the shear amount of options catering to heavy people.But is the humble treadmill a good piece f equipment when you're overweight, or is there a better option?
There is a good reason why treadmills are one of the most popular pieces of exercise equipment for losing weight. They have a great amount of versatility which often makes them better than going for a jog/walk outside. They offer the ability to change your workout to your capability, so you can work out as hard, or easy as you're capable.
This makes treadmills an excellent choice for heavy people who may not live in an area where they can just go outside for a walk. You might live in a very hilly area that is difficult for you and your current capabilities. With a treadmill, you're able to keep it flat or add a slight incline if you want to push yourself a little bit harder.
Easier On The Big Persons Joints
One of the most difficult things for heavy people when it comes to walking is the amount of impact it puts on your joints. A treadmill has less impact compared to a regular walk in the outside world, so it does make it easier. It doesn't remove the impact altogether and you will still get some impact obviously, it's just reduced on a treadmill compared to walking on a sidewalk for example.
The last thing you will need to check is the weight capacity of the treadmill and if it will be suitable for you to use. If the capacity is within your range then you're good to go, if not then you will need to find a heavy duty treadmill listed above.
The Heavy Person Gets Their Privacy
As a big person myself, going to the gym has always been intimidating. As a result of this, I have simply never been to one as a regular member. As much as we like to believe the world and people that live here are nice and easy-going, many of them are not.
Many folks are just cruel and take pleasure in insulting a fat person. While you should never let this stop you from achieving your goals, it does still play on the back of my mind. Which is why I love the privacy a treadmill for the home offers.
Any one of these heavy-duty treadmills for heavy people will do just that, give you a safe and fat-shaming free environment to workout and make a change in your life. The next hardest part is of course, commitment to regular treadmill use. But this is a story for another time.