Camping chairs for heavy people must be heavy-duty, there are no two ways around it. When your a big man like myself, the risk of injuring yourself and or breaking the chair from inferior structural support is simply not worth it.
Weight capacity plays a big role in a heavy-duty camping chair, but there's more to investigate when it comes to the bigger person. Such as the width of the seat, in particular between the arms, the height of the seat, and the reinforcement qualities of the frame.
These are just some of the features I have looked into when compiling this list of high weight capacity camping chairs.
The Best Heavy Duty Camping Chairs
*For lower weight capacity chairs, check out the range of 300-350LB capacity camp chairs here.
Camp Chairs For Heavy People
Heavy Duty 800 Lbs Folding Camping Chair
Alps Mountaineering Available In USA & UK

What a rock steady durable and ultra-sturdy camping chair specially designed for the really heavy Men. Or what's even better, is that if your not in the obese category, this chair has the potential of having your partner sit on your lap with less fear of breaking the darn chair.
I'm super impressed with this chair and I think it really lives up to its 800-pound heavy-duty weight capacity rating.
60-inch waist?. Shouldn't be a problem in this 24″ x 21″ seat, which is nicely padded mind you. One other factor you should also consider when you want to buy a big man's camping chair is the ease of entry and exit.
As a big man, I know how hard it can be to get up from low positions. This is not the case with this 800-pound chair. Simply rest your elbows on the armrests and gently pop yourself out.
Why I Rate It Highly
For the most part, this King Kong Alps Mountaineering chair is the best rated in my opinion. It's XL with a massive weight capacity. It's affordable and extremely comfortable for me. You could have any random person sit in it, and I reckon there would be smiles all round.
The only downside I can think of with this King Kong chair is that it could be a little heavy to lug around. Especially if the upper body strength isn't at its peak. I'm only stating this because if you're looking for a hiking chair, then you might find it too heavy to carry for long distances.
However, it's perfect for camping, fishing, sports events, the beach, etc. Just don't plan long journeys with this chair. Otherwise, It's definitely a great chair.
Best Heavy Duty Camping Chair
660 lbs Weight Capacity

This camping chair by JQJQ may not look like the fanciest camp chair on the market, but being rated heavy duty has nothing to do with being fancy either. I find this chair is an impressive piece of camping equipment that has been designed with heavy-duty as their main focus.
The high weight capacity of 660 lb and excellent durability make this camping chair essential in making your next camping trip safer as a big person.
The seat is quite wide as just over 22-inches, but not quite as wide as the above King Kong chair which is 24″. However, 22 inches wide is certainly big enough for most heavy people.
Hefty Construction, Yet Lightweight
With the frame being made out of steel you'd expect this camping chair to be on the heavier side. But it's made out of lightweight steel that keeps the weight down to around 11lbs which makes it easy to lift and move around. This is excellent for camping as you don't want something that's heavy to carry around.
Folding the chair is really simple and easy to do and unlike a lot of other camping chairs, plus it's easy to get back into its carry bag for once. Carrying it is really easy since it has a very handy carry strap that you can hang over your shoulder so you can still carry other things.
Something that I really like and possibly my favorite feature of this camping chair is the ice bag it has. This allows you to store a drink or two in the armrest so you never have to go far to get your next drink. This helps increase with increasing your time to relax to make your overall trip more enjoyable.
Combine the lightweight steel frame with the really durable 6000D Oxford fabric makes this camping chair strong. This can give you peace of mind for when you or one of your larger friends sit on it since it does have that large 660lbs weight capacity.
Heavy Duty Camping Chairs 500 Pounds Rating
The 500 Lbs Folding Camp Chairs

My best recommendation for heavy-duty camping chairs with 500 pounds rating has to be the Quik Chair by Quik Shade. (No it's not a spelling mistake) The big weight capacity is backed by a large 35-inch seat.
Although some consumer reviews state ripping of the stitching, I believe it comes down to how well you maintain your chair. Try and keep them out of the weather when not needed and you may just extend the lifespan of any chair.
Basic Features But Very Sturdy
It has the standard cup holders on each arm which is a nice touch. Many times chairs come with just one cup holder which can be very annoying, especially if you have young kids stealing your drink holder space.
No bells and whistles with this chair. It's for the budget-minded consumers looking for a durable camping chair for heavy people. The sturdy 4-way thick steel legs are a reason this chair can hold up to 500 lbs, while the strong polyester fabric is what assists in sitting on the seat capable for bigger people.
It comes with a tidy carry bag which is good for portability, but after a while I tend to lose my carry bags anyway. I recommend this camp chair as a quick replacement, but I personally find the King Kong camping chair to be of much better value for overall performance.
Oversized Camping Chairs
When size is of the essence, it doesn't get much bigger than the XXXXL camp chair by Easy Go Products. This thing is huge measuring a whopping 66 inches wide with a depth of 31 inches.
While huge in size, it does only support up to 340 pounds. But in terms of size, it can't be beaten. However, if you're after camping chairs with higher weight capacities, check out some of the options below. Also, check out the huge 60-inch chair just for fun. It's massive!.
Extra Large Heavy Duty Folding Chair
Best For Big And Tall People

If you're sick of only coming across camping chairs that you'd describe as for kids only then this camping chair by EasyGoProducts is something you should look into. This camping chair was designed to be for the big and tall people out there who can never find camping chairs to suit their height.
The measurements of this chair are extremely impressive and one of the largest on the market. The overall height of this camping chair is 66-inches with a seat depth of 31-inches and a width of 60-inches.
With just the measurements alone you can get an understanding of just how big this chair is and how it was designed for wider and taller people.
Since it's such a large camping chair it does take up a fair bit of room even when folded down, but not as much as you might think. When compact it measures 51-inches by 9-inches by 9-inches which is impressive in my opinion since it can still fit in your average car.
Fit For Two, Or One Big Person
With it being so large you're able to fit multiple people on it which can come in handy if someone forgets a chair. It actually works really well for two people as it has drink holders on both armrests with it having a total of 6. Because it can hold a couple of people and has plenty of drink holders, this chair is a favorite for tailgating.
Or it can give enough backside space for a large person weighing up to 340 pounds. But I think you get the picture, this camp chair is huge. Don't underestimate the size of this beast, because it may just swallow you up.
The overall weight on this camping chair can be a little on the heavy side since it's so large and has a durable steel frame. So this can be a downside if you're looking to keep the weight down on your next camping trip.
600 Lb Capacity Folding Chair

Timber Ridge is known for making high-quality camping equipment and this camping chair continues this impressive trend. It offers some nice quality of life improvements that will make it hard to ever go back to a normal camping chair.
The thing that really stands out with this camping chair and is one of my favorite features is the included tray that attaches to the side of the chair. Being a director's chair, this side table comes in handy a lot while camping, whether it's for eating lunch or for putting your phone and keys on as you play a game of cards, the side table is a welcomed bonus.
Heavy Duty Directors Chair For Camping
The steel frame of the chair gives it an incredible weight capacity of 600 lbs, quite the indestructible camping chair for bigger people. This does come with the usual issue of the chair weighing more than your standard chair coming in at 20.3lbs in total. However, as this chair folds down and comes with a carry handle, you don't notice the extra weight as much.
Extra Wide Seat
The seat is very wide as well, coming in at 28 inches. This is one oversized director's chair certainly designed to be used by bigger people. However, the seat height is 18 inches high, which may not be high enough for tall people.
Sturdiness can be an issue for camping chairs which is a reasonable worry. The frame of this chair and its feet are really sturdy which when combined with the tough 600D polyester fabric will give you peace of mind for when you sit on it.
Folding a camping chair is a simple task and it doesn't get much easier than this chair in my opinion. All you have to do is put your hands on the side of the seat and lift it up. It has a convenient handle on the side so you can carry it like a briefcase.
Big And Tall Camp Chair 600 Lb Capacity

When you first look at this camping chair you wouldn't think it would be considered heavy-duty since on first impression it looks like just another camping chair.
Coleman who is one of the market leaders in the camping industry has reinforced this baby to the maximum with their dura tough steel frame to give an impressive 600-pound weight capacity.
Besides being constructed with strong steel supports, the design of the frame is what gives it the heavy-duty rating. Each side of the chair has been giving a cross-bearing. This is double the amount compared to many of the lesser capacity chairs.
Sturdy & Supportive
Being constructed like this really does give it the strength and durability to hold a big and tall person comfortably. While the sturdy design is there, the width of the chair also suits bigger people, being 24 inches wide.
For the big and tall people, the 19-inch seat height gives you that little bit extra reach. This will suit most big and tall campers, but the really tall people may find 19-inches a little too short still.
With such a strong steel frame I was expecting this camping chair to continue the trend of weighing a lot. That's not the case with this chair managing to keep the overall weight to just 10lbs which is half of some of the other chairs on this list. This makes moving it really easy to do no matter who you are.
No Bar Digging Away At The Back Of Your Knees
One thing a lot of companies do is put a bar at the front of a camping chair which usually goes right behind the knees and can be uncomfortable. Coleman knows this and has decided against going with that simple design which makes this camping chair really comfortable to sit in for long times.
Getting the small things right on a camping chair makes a big difference in my opinion. The simple pocket that's water-resistant is excellent for when you get those expected splashes of water in your direction. So you can keep your phone safe when you're near water which is a nice plus.
If you've ever accidentally left your camping chair outside overnight and it rained you know it can be a pain to get the water off the chair. This camping chair has a really useful plug that you can undo to let the water drain through so you don't get water all over yourself.
Overall, Coleman has produced quite a good big and tall camping chair with 600 lbs weight capacity. I quite like Coleman camping gear as I find it to be decent quality and from memory, not one of their products has failed on me in the past.
Camping Chairs With 400 Lbs Capacity
XXL Kijaro Dual Lock Folding Chair

I love this chair, not just because it is rated as a 400-pound capacity chair but also because it has a very professional and funky type of appeal to it. Its unique features of locking into positions are exactly that.
Unique!. It locks into position for portability and locks into position for stability when in the 'open' position.
The large seat measure in at 25.5 x 28 inches, so very suitable for the overweight and plus size campers out there. The back rest is slightly reclined compared to normal camp chairs available, which I don't mind at all. The cross-hatching support bars are where this chair gets it's tough 400 lbs heavy duty rating.
In the middle of the back, you will notice a mesh material. This is fantastic for those hot summer days when you build up uncontrollable sweat. The mesh backing allows air flow to your back which cools you down and reduces sweat. An excellent feature in my opinion and one I'd love to see implemented in more camping chairs.
Again, I love this 400 Lbs weight capacity folding camp chair. It has lots of bells and whistles including "Sag Free Seat" which you have to experience first hand to believe. It's lightweight and very strong I believe. A great buy and comes highly recommended by the Big & Heavy Team.
*I must point out this chair comes in a variety of cool colors, but I prefer the orange or blue.
Extra Wide 500 Pound Camping Chairs
Guide Gear Camo Mossy Oak Version
Besides the impressive 500 Lbs rating, this heavy-duty folding chair by Guide Gear has a nice oversized seat that's suitable for heavy and obese people.
It measures in at 19″ by 23″. So if your backside is fairly large, this is my recommended folding camping chair for you. It's big man features are also backed by a very comfortable seat. Which is made from a padded polyester material with a central support system to prevent ripping under heavy weight capacities.
Sits at 20 inches from ground level. So not too low for getting in and out of which is a relief.
Need To Store Things Safely?
I'm a sucker for camping chairs with the ability to store a 6 pack of cans in too. Which this Guide Gear camp chair does offer. Saves me getting up and down all the time when I'm fishing or just sitting back taking in the scenery. Besides cans, you can treat it as an ordinary storage pocket if you like.
Can it hold 500 lbs?. Well, I'm not quite that heavy but I do find it very sturdy underneath my body. The oversized design gives me confidence that it would live up to its weight capacity. The tube bars are crisscrossed on every side compared to just 2 sides like on the 'standard' camping chairs.
Best Camp Chair For Big Guys
Oversized 500 Lb Moon Chair

A moon chair is not the first chair people typically think of taking camping, but I find them to be quite the treat. I like the design of them as they allow you to position yourself in multiple ways to get comfortable, which as a big person can be challenging.
Moon camping chairs are made to be comfortable and this model by Alpha Camp combines that comfort with durability making it one of the best 500 lb capacity camping chairs for big guys. So if you want a new comfortable heavy-duty camping chair then this might just be the model for you.
Stong Robust Frame
What makes this so durable is the thicker and stronger steel frame it has compared to a lot of others on the market. Sadly this does add a little bit to the weight making it weigh 13.9lbs but this is far from a dealbreaker in my opinion since I prefer durability over how heavy it is. It's not like I am taking this chair backpacking after all.
The extra bit of padding this camping chair makes sitting in it really comfortable since it's not just fabric between you and the frame. By adding this little bit of padding has easily increased the comfort of this moon camping chair compared to your standard chairs.
You might think because this camping chair has thinner armrests that you might not get a cup holder with it. That's not the case since they made the clever design choice of having a side pocket to put your drink. This makes the armrest more comfortable for when you don't have a drink since there is no hole in it.
When folded up this chair doesn't take up a lot of room with it measuring 38.19-inches long. So if space is an issue on your camping trips then this chair is a good option since it doesn't take up to much space.
Oversized Rocking Camp Chair For Outdoors
600 Lb Weight Limit

If you're looking for a tough camping chair that has rocking capabilities then this camp chair from Guide Gear is a great option. Bringing this along on your next camping trip, or family picnic at the park will easily increase your comfort and make everyone with you, jealous of your level of comfort.
Tougher, For The Big People
This chair makes simple and it doesn't look like it's very tough but you would be mistaken with thinking this. Thanks to its steel frame and 600D fabric, this rocking camping chair has an impressive weight capacity of 600lbs. Making it one of the toughest you can find on the market in my opinion.
So not only is this chair tough enough to handle the bigger people who need it, but it also offers a good amount of room on the seat so you don't feel trapped. The seat measures 25″ wide and 21″ deep which is one of the larger chairs out there which is something I really like.
The Perfect Amount Of Rocking For A Campfire
So we know this chair has some impressive strength and size for the bigger people out there, but it's the excellent amount of rocking it has that really takes it to another level. It doesn't over rock so you feel safe and it rocks enough that makes relaxing easy to do, making it perfect for sitting by a fire.
One Thing To Consider
While this chair does make an excellent camping chair or an outdoor chair it's fairly large, bulky, and heavy(weighs 17.5lbs) taking up a lot of room either folded down or up. This is more of an issue for those who're trying to keep space and weight down when they go camping so it's not a dealbreaker, but it's something worth mentioning in my opinion.
Heavy Duty Zero Gravity Chairs For Camping

If you're looking for a more premium line of camp chairs, the zero gravity range is hands down the best way to completely escape life and immerse yourself in the outdoors. Both my partner and I prefer the zero gravity chairs when camping.
I have previously done a buyers guide on zero gravity chairs for big people here if you want the full selection.
What Are Zero Gravity Camping Chairs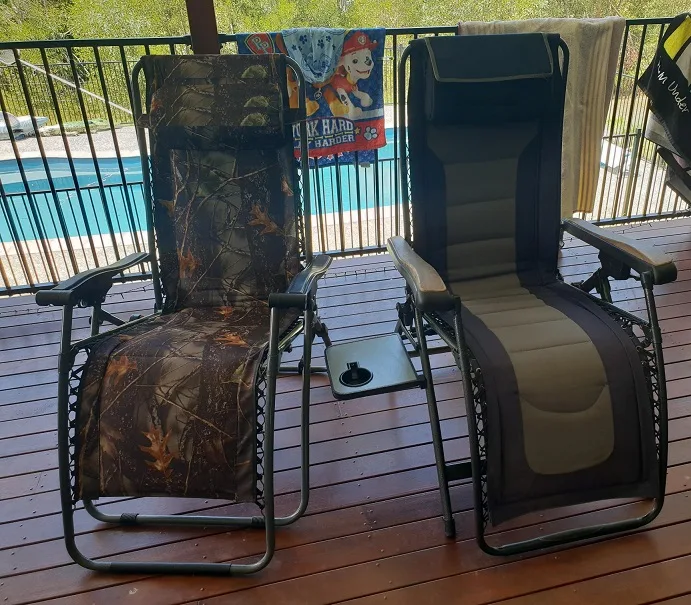 Zero gravity chairs are more of a glamor camp chair. They recline and raise the feet to position your body in the zero gravity position. This position is meant to resemble the position astronauts use when preparing to shoot off into space.
This position reduces pressure on your body and allows blood to circulate. It's the most relaxing position I have ever been in. So when you combine this with nature and fresh air, the stress of day to day life can quickly dissipate.
Negatives To Camping With A Chair Like This
While the zero gravity camping chairs offer some great benefits like unmatched comfort, they also come with 2 considerably big negatives.
Bulky: While they do fold down, they are considerably more bulky than a regular camp chair. This is a huge concern for people with limit space in their cars. But if space isn't much of a concern to you, hurry up and buy one now.
Weight: A regular camp chair weighs around 9lbs whereas a zero gravity chair can weigh over 20lbs. Which is considerably higher and can make it a burden to carry around.
Overall There's Many Heavy Duty Camp Chairs Available
Just on this list alone, you can see that there is no shortage of heavy duty camping chairs available. However, it's important to buy one that suits your needs.
For example, not all chairs have side tables or cup holders. I could go camping these days without my zero gravity chair with side tables as they come in handy every day.
But for some people, these extras won't be needed and a wider seat is more practical. So it's important you decipher through the chairs until you find the one that meets your strict needs.
What To Look For When Buying A Oversized Camp Chair
View Our Top 5 Extra Large Camping Chairs For Big Guys
With a 800-pound weight capacity, extra-strong reinforced support and a decent price tag, it's my #1 recommendation for Summer 2020 and into 2021.