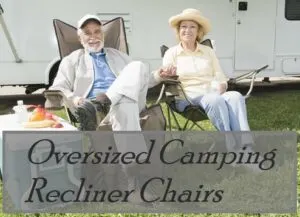 Even as a big man I love to go outdoors and see the world. But the problem with camping is you need somewhere to sit and normal camping chairs are not capable of handling such a large person. While there are camping chairs for heavy people, what I want to find are oversized reclining camping chairs for larger folks like myself.
A traditional camp chair is all good, but being able to put your feet up and read a book while taking in some vitamin D is where it's at. But because chairs that recline typically don't have a high weight capacity they can be hard to find to suit a plus size person. Understandably tho as the extra weight that is forced on the chair as it reclines can be too much for the frame to handle. It's similar to finding a reclining rocker for example. The weight limit for these chairs is hard to find over 300 pounds.
However, there are a few good oversize camping chairs that can recline and allow us to lay back and relax either by the lake, beach or campsite. Depending on your size and how heavy you are, some of the following camp chairs may be just what you are looking for. To start with, take a look at this extra wide camping chair that can recline and has a weight capacity of 450 pounds.
Best Extra Wide Beach Chair That Reclines
450 Lbs Weight Capacity
This is meant to be a 2 person extra wide camping chair, but for the obese person it's perfect for one. It has a 450 lb weight capacity and is very big. It has a huge seat that measures in at 50 inches wide and has a 35″ depth. What is almost as important as the width is how high the seat sits off the ground. At about 14 inches it's one of the highest sitting beach and camp chairs I have seen. Being that little bit extra in height allows the larger person to get in and out of the chair easier. When they are low to the ground like most beach chairs at just 6″, it can be extremely difficult if not impossible to pull yourself up from the deck.
So its clear that this double wide camp chair is certainly big enough for a larger person. But there's still a few minor details that make this chair a good match for us. One is the way the seat is held together. It uses a double layer elastic cord which weaves in and out of clips attached to the chair. Not only does this make the chair stronger via the double stitching, but it also allows the UV resistant material to stretch to your body shape. So instead of sitting on a hard plastic or canvas chair, this reclining chair creates extra comfort.
A fear many of us heavier people have when putting faith in a reclining chair like this is whether the extra body weight is enough to tip the chair over. Fortunately, this chair has a locking mechanism which stops the chair from sliding too far back to topple. It's called a zero gravity chair which if you don't know is the ideal position to lay in. Not completely flat with your knees raised. So tipping this chair over while reclined would certainly be a mission.
The last notable features are the strong frame and how it is angled enough to support the larger person. However, I would prefer it to have maybe another cross bar between the legs for even more support. Finishing the chair off is a removable padded headrest and a side table which are both divine. The little side table is a nice touch in comparison to typical camping chair cup holders. I love how the molded cup holder has space for a mug with a handle. Brilliant idea.
450 Lbs Oversized Zero Gravity Lounge Chair
Best Reclining Camp Chair For Heavy People
300 Lbs Capacity
If you weigh under 300 pounds and love to recline with your feet up, this chair by Camp Solutions is the ticket. First f all its worth noting that the foot rest is not removable. It's easy enough to put a foot on either side of the seat to sit down, lay back and kick the feet up. But if a removable footrest is required, then this is not the chair for you.
This is not a zero gravity recliner as it is more flat with your back and head raised. Which is still very comfortable. The padded head rest works really nicely when laying down on this chair.
The thing I love most about this chair is the mesh material. It is very well stitched into the main part of the chair so no need to worry about it splitting apart. In fact the whole chair is very well made, quite a premium product if you ask me. But, becasue the backs, seat and foot rest is made out of breathable mesh, its very cool to sit in. Unlike canvas material that isn't as well insulated, the mesh allows air to flow to your body better. Reducing in heat reduction but most of all, sweat build up. Which for a bigger person is quite important. The mesh is reinforced with crossing material for extra strength too.
When it reclines back, it can hold up to 300 pounds. This is down to the high quality steel tubing and design. Unlike traditional camp chairs, this one has been reinforced with extra cross beams. Normally you get the cross beams on the side of the chair, but this Camp Solutions reclining chair is oversized so has extra beams on the front, back and even up the back rest of the chair. Feeling supported in this chair is not a problem .
Camp Solutions 300 Lbs Reclining Camping Chair
Extra Wide Reclining Camping Chair
This 330 pound weight capacity chair by Caravan Sports is a classic big mans chair. It has the extra high weight rating, is wider than most and is made from high quality materials built to survive outdoor conditions. While it's not as reinforced as the other chairs, its the quality of the steel tubing that holds this chair together.
This camping chair has an extra wide width measuring in at 45 inches. Which is quite large considering normal camp chairs can be only 35 inches wide.
Similar to the double zero gravity chair mentioned above, this one by Caravan Sports has a double elastic bungee cord set up. So the seating textaline fabric contours to the shape of your body. Making it quite a comfortable chair. Combined with the zero gravity position, many folks use this chair when they have back problems or are recovering from back surgery.
To recline this camp chair it's quite simple. But you got to be able to shift your body weight slightly so that you can release the lock. The trigger for the lock is conveniently placed under the arm rest which I found to be a nice touch. But again, you just need to shift your body a tad to 'unlock' the mechanism. Other than this little inconvenience and having no drink holder, the Sports Caravan is a pretty decent big mans reclining camp chair. Comes in a great selection of colors to choose from too.
Caravan Sports 330 Lb Zero Gravity Camp Chair
Reclining Outdoors Lounger For Overweight People
265 Pound Capacity
The last chair that can be used as a camping or beach recliner is by King Camp. With a 264 lbs weight capacity, this is suitable for overweight people looking for a quality product that won't break after a few uses. The extra wide chair measures in at 27.6 x 65″ long when reclined with a total height of 44.1″. While bigger than traditional camp chairs, not the widest camping chair on this list.
Whats different about this chair is the fabric used on the seating areas. It is made with Oxford cloth that has been double clipped. So it's durable yet soft to touch and comfortable to lay in. The bungee cord system adds extra comfort like the above Caravan Sports chair. When you sit in it the cords stretch to adjust to your body.
The King Camp chair has a wider but more shallow pillow. Which I must say is better than the more raised pillows. As it contours to the natural spine alignment better. So your head isn't poking too far forward.
Being a cotton cloth material, I was suspect to being an outdoors chair. But to my surprise, it is a water resistant material. With the maintenance of waterproof spray every couple of years I can see the King Camp being a long lasting and comfortable camping lounge chair.
King Camp 265 Lbs Outdoors Lounger