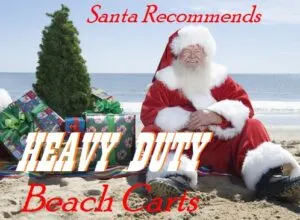 Being a big person I know how difficult it can be walking on soft sand without carrying a load. But carrying beach gear is almost impossible without some for of assistance. This is why a beach cart or trolley is an important part of the big mans beach gear. But not just any old carry cart, it has to be one of the best heavy duty beach carts for going on soft sand.
Models with small wheels and a lack of storage space are just a waste of my time. As walking in soft sand is especially difficult, imagine trying to tow or push an inferior beach cart full of your coolers, towels, umbrellas etc. It's certainly impossible in some situations.
To be part of the best heavy duty beach cart club, the product needs to first meet my criteria. What I look for when I want to buy a new beach cart that is able to handle soft sand are as follows.
Big wheels are a given. Smaller wheels can get buried in the sand too easy and sand in the bearings is never a good thing.
Tall handles are especially important if you are a larger person as well. Bending over and dragging 100 pounds across soft sand is no easy task. So when possible, keep an eye out for the length of handle the cart comes with.
Overall cart size and capacity. There's a few kinds of carts you can buy and they all have different measurements and weight capacities. Some are more like fridge trolleys where you can strap a large cooler, while others have a tub.
Tub wall height is important if you are carrying a lot of gear, especially smaller items.
Quality of framework. This is where the heavy duty part comes in. The joints and visible welding needs to be high quality and uses only tough materials to handle more of a beating than say a garden cart would handle.

Heavy Duty Beach Cart Reviews
Starting with a more affordable model, this Beachcomber MacWagon by Mac Sports is a great little heavy duty beach cart. It has a pretty hefty weight capacity of 150 pounds. So storing a few heavy items should not put a dint in this cart. Towing the kids may even be a possibility!.
What I like about this cart is that it is collapsible and not made from hard materials. So therefor its a bit lighter and easier to push or pull behind you. While the frame is a hard steel design, the walls are made from a tough 600 denier fabric. Which is basically a reference to how strong the polyester fabric is. The lower the number the weaker the fibers. 600 is a decent thickness when it comes to materials used in this instance.
The MacWagon has an extendable telescopic handle which I love. Besides the quality and durability of the handle, it's also a good height when extended. It comes out a couple feet which is just right for pushing or pulling this thing behind. Next to the handle attached to the front of the beach wagon are two mesh pockets for storing drinks. Brilliant idea as walking and pushing a cart like this while holding a drink is not easy. So the added drink holders are great.
While the wheels on the MacWagon aren't the pricey pneumatic tires they are still quite heavy duty. There's 4 wheels in total, 2 at the front and 2 at the back. The front wheels are closer together for optimal steering. But what makes these wheels more heavy duty than other standard carts is there size and design.
The are rather thick wheels measuring in at just over 4 inches wide while having a height of 10 inches. So they are not toy wheels by any stretch of the imagination. But what really sold me on this model was the little slots in each wheel. While they are there for traction, they are not extremely deep like other wheels.
This means less sand gets stuck in the wheels which creates a lighter and easily load to push. Another small but relevant feature is that the axle that connects the tires is connected to the handle. So when you are pulling the cart, you are keeping it from being buried under soft sand.
*Folds Down Into Handy Carry Case As Seen Below
Mac Sports Heavy Duty Collapsible All Terrain Beach Cart
Massive 300 Lbs Capacity Beach Wagon

When you looking for a heavy duty beach cart, it's hard to go pass this Beau Jardin folding push wagon. It's an impressive beast with measurements of 39.5 inches long, by 22 inches wide, and 25.98 inches high. Which is a good size cart to carry your beach gear.
The actual measurement of the canvas container is of decent size if you need to carry a good amount of gear. With it being 31 inches long, 17.7 inches wide, and 10.8 inches high. There won't be too of your day to day beach goodies that won't fit in this beach cart.
The canvas fabric is a 600D polyester which is really durable, and fairly tear resistant. Just like a heavy duty canvas tent material, built to last and last and last. I'm glad they made the clever decision that can you remove the canvas. Which means it's easy to wash, and will save you time in the long run.
Heavy Loads Are No Problem
But to me there is no point in looking big and durable, if it's unable to carry enough to earn that title. Which is why this cart made the list with it's 300lbs weight capacity. Tho it can be a little difficult in the sand with this level of weight, but that's true of any cart in the sand.
It's the wheels on this cart that really impress me. They're heavy duty thick rubber wheels, that handle the sand quite easily. But they're large enough to be able to go over a rocky surface as well. Which just adds that little bit of choice, and value which I like.
When you're just arriving at the beach, there's nothing worse then taking ages to set up. Which is why this wagon is really good. it takes no time at all to set it up, with some people getting it to under a minute.
Having the ability to fold it down is a must for this kind of cart. It needs to be able to fold down and fit in your car. Which this wagon does really well. Which makes it great for when you need to store it at home. It can fit in a cupboard easily.
Overall this is a high quality wagon, that excels at what it's designed to do! It's hard to pass up on this stylish cart.
Beau Jardin 300 Lbs Beach Wagon
Best Beach Cart For Soft Sand – 220 Lbs Capacity
Getting from the parking lot over the soft sand to reach your beach destination can be a nightmare with inadequate wheels. Fortunately this Wheeleez beach cart exists to save the day. It has huge 'patented' balloon wheels that treat sand like grass on dirt. While this is one of the more expensive carts available, the heavy duty wheels make the investment a wise one.
Especially if you are a regular beach goer. The balloon wheels have an incredible 16.5″ diameter and are almost double the width of the MacWagon measuring 7.9 inches wide. So as you can imagine, this heavy duty beach cart was built for going over soft sand. What's also relevant to being a beach cart is that the frame is made from marine grade aluminum and has stainless steel nuts and bolts. So being on salt water won't faze this monster.
The depth inside the tub is 12.5 inches deep. Which is enough for average day trips to the beach. But if you were to carry enough gear that it goes up near the handle, then I'd recommend tying them down with some cheap bungee cords. This will allow you to fully take advantage of the 220 pound weight capacity. Excellent for when you are carrying multiple coolers and beach toys down in one trip.
[review_bar id='2081′]
Best Folding Beach Trolley For Pulling Over Soft Sand
While we are praising the above beach cart by Wheeleez, why not take a look at an alternative beach trolley for soft sand beach encounters. Also made by Wheeleez, this folding beach cart acts more like a fridge trolley than a cart. That is it has no tub and can be easily pulled up or taken down stairs with a heavy load on board.
Many other trolley style beach carts have a netting or casement around the outside of the trolley. Not this model tho. Which I quite like. Because there is no restricting sides, I can stack all sorts of gear on this thing and not worry about it fitting inside the actual basket area. While the cart is 14 inches wide, you can still stack a 20 inch wide camping cooler on it if you like. Or 5 oversized beach chairs if need be. That's the freedom of having no sides that this Wheeleez offers.
The wheels on this model are pretty much the same as the above wagon beach cart except slightly smaller. They are about 12″ x 7 inch wide. Still big pneumatic soft rubber tires that glide over sand like its no ones business.
The last two features that are appealing about this beach cart are the extendable handle and the fold away design. The biggest drawback to the tub style Wheeleez was that it was difficult to fit in the trunk along with other beach gear. This trolley version is the opposite. It fits just about anywhere due to its folding design. The bottom flap folds up into the frame so that it is a thin easy to manage item. The bottom lifting flap has a 45 inch depth to it. So it can carry some pretty bulky items as well. I like how the platform has a curved end to it. This makes it sit level with the wheels. The platform is raised slightly so that rocks, or items don't get in the way when it is in the vertical position.
Lastly the telescopic handle just completes the package. It's high quality and very durable. It extents out quite a bit so you don't have to bend over to pull this thing. The padded handle was also a nice addition that I wasn't expecting. Overall, the best heavy duty beach trolley and platform cart in my opinion.
Folding Beach Cart by Wheeleez
Not Quite Convinced The Wheeleez Tires Are That Good On Sand?
It's easy to say something works well on sand, but without seeing it first hand it can be unbelievable. I've seen 70 years old pulling a Wheeelez carts across soft sand with and without loads on board. But anyways, watch this short video that shows you the difference these balloon wheels make when trying to lug luggage around on sand at the beach.
Heavy Duty Beach Wagon 8 Inch Wheels

When you need a beach cart for lighter duties but still want heavy duty wheels to get you over tougher terrains, the TimberRidge is a good option. The wheels are not pneumatic soft rubber like the above model. They are a harder plastic that measure at 8 inches in diameter and just under 4 inches wide. So while not the most heavy duty beach cart in the world, certainly a tough cart nonetheless.
This beach wagon has a 150 pound weight capacity on hard land, but on soft sand at the beach it is lowered to 110 lbs. Which is still a decent load. The tires have groves in them, but I don't feel they are deep enough to get too much traction. While it may be fine over wetter sand, the really dry soft sand it may struggle with a full load. But getting to and from the car for parks, camping, lakes, picnics etc. This make a great reliable wagon.
Inside the tub, the bottom is mesh. So not ideal for sharp objects. But ideal for lightweight beach gear. As its mesh, the sand can easily be wiped off the gear rather than staying inside the tub. While the bottom area is not a hard material, the frame certainly is. This is quite a sturdy little beach wagon. The wide gap between the wheels make pulling it through the sand a bit easier. Carts that have all 4 wheels narrower seem to struggle on any sand.
My biggest grip with the TimberRidge beach cart is that the handle may be a little too short. Especially for taller people. As reaching down to pull 100 pounds may get tiresome on the back really fast. Other than having a lower weight capacity and a shorter handle, I found the TimberRidge to be a heavy duty and sturdy little beach wagon.
TimberRidge Beach Wagon
Classic Vertical Beach Cart

Don't let looks fool you, this Tommy Bahama vertical beach cart can carry a lot more the you think. You can even carry a surfboard with this cart, but it will require a strap to hold it in place. But that's not something a lot of carts can do!
This is a great cart for the beach, as you can pull it over sand pretty easily. That's not to say there won't be times you'll struggle on it. But that's all carts. The cushion handle does add a nice layer of comfort when operating this vertical cart while dragging it through the soft sand.
Tommy Bahama made the clever decision to include two things with this cart. Which is the included small cooler bag, and the very useful umbrella holder. Having the umbrella holder on the side, leaves more room in the actually wagon itself.
The actual size of this cart when it's open is surprisingly roomy. With it being 27 inches wide, 40 inches long, and 31 inches deep. One thing it will struggle to carry is if you have a bigger cooler. Since it's vertical you'd have to put it in that way, which isn't recommended.
This doesn't take away from the cart in my opinion. You can carry several beach chairs on the front of it. By hanging them on the front protruding handle. Which then leaves you with the basket itself, the rest of your gear.
While at first it may not look like it's very durable. Which isn't the case, since it has a powdered coated steel frame. Which makes it a lot tougher then it looks. So you definitely shouldn't let looks fool you with this incredible vertical cart.
One word of warning is the wheels can be an issue for some people. While a lot of people haven't had an issue with them. Enough have for me to bring it up, and mention it.
They're made of a durable plastic, that some people have had come off several times. This could be from poor assembly, since so many people haven't had this issue. Assembly does only take about 15 minutes, and is rather simply.
Tommy Bahama All Terrain Beach Cart
200 Lb Capacity Berkley Fishing Wagon

If you fish, then you know the brand Berkley and the quality that name comes with. Which is what this Berkley fishing wagon is, a quality cart. Just from a glance you can see how well made, and how durable it is.
What makes this fishing cart stand out from a lot of the others on the market is that it has a fabric liner for the wagon. Unlike others that are just the frame which means with this wagon you can store small loose things in it without fear of losing them. This makes a difference when you have a lot of smaller gear to carry.
I quite like the heavy duty wheels that are included with this fishing cart. It can handle the sand on the beach extremely well while being able to tackle sloped and uneven terrains often associated with bank fishing. The rims they used could be of a higher quality, and about the only thing that brings this wagon down.
It doesn't have the biggest have the biggest capacity on the market. But it still has an impressive 200lbs capacity. Which is plenty for a lot people, and only the most heavy users will need more in my opinion.
Folds Down To A Compact Size
Space is a big issue for a lot of people, so this being able to be collapsed is a big plus. With people who own smaller cars really benefiting the most. So if you do own a smaller car, then this is a good option to optimize space.
Like all good fishing wagons this cart comes with fishing rod holders. It has a total of 6 rod holders. In my opinion I think 6 is plenty, since very rarely do you have 6 rods going. Even with a larger family.
The thing that I really recommend, is the foldaway cutting board. It has another clever design with this board, which is it has knife holders. It also has a bait cup, making this the ultimate companion to the most keen fisherman.
If you like this wagon but want something that is a little bigger. It does have a jumbo option, but it is a bit more expensive. But definitely worth looking into, if you want that bit of room.
Berkley Fishing Cart - Regular Or Jumbo Size
Heavy Duty Beach Fishing Carts
Beach Runner Deluxe Fishing Cart
This is one for the keen beach fishing enthusiasts in the crowd. I find the Sea Striker beach runner fishing cart is incredible for the fisherman who just loves to throw a line in from the soft white sand. With one word of warning beforehand, just to clear up confusion, the cooler in the picture is not included, which has caused some confusion for some people.
Now that's out of the way, what makes this a great wagon for beach fishing. In my opinion and a lot of others, is the multiple rod holders it comes with. It has 7 rod holders in total, which most people won't use by themselves. But it's useful for when you have multiple people fishing.
It can hold up to a 54 quart cooler, which is plenty enough room for a few refreshments. If you want to take a bigger cooler, you can you will have to put it on top sideways. This actually works really well, since then you can put a smaller bait cooler underneath.
Unlike most carts, the Sea Striker includes pneumatic wheels with a plastic rim. If you're unsure what a pneumatic wheel is, its a wheel filled with air. The plastic might make some worry, but it makes sense in this case. The plastic is better suited for the beach environment. No rust issues from salt water with plastic.
The powder coated steel frame is a nice touch. Which again gives it that bit of protection, from the beach weather. It's these small details that really make this a great beach cart.
Even tho I keep saying beach fishing cart, it's tremendous for other things as well. It's a great cart for those just looking to move around a 54 quart cooler. A number of people take it with them to golf, and carry it behind there golf cart.
Assembly can make or break a cart in my opinion. Thankfully this cart is easy to assemble, and comes with the tools need. Which is something that more companies should do.
If there is one downside to this cart. It's the fact that you can't easily fold it down without taking it apart. So it does make it difficult to fit in a standard car for this reason. But for pick up trucks and larger 4wds, no problems. Some people have suggested changing the nut on the handle, to a wing nut. This would allow you to take it off, more easily when needed.
Beach Runner Deluxe Fishing Cart