I hope you love the products I've recommended below, just a heads up that as an Amazon associate, I earn from qualifying purchases. This means I may earn commissions on products bought via links on this page.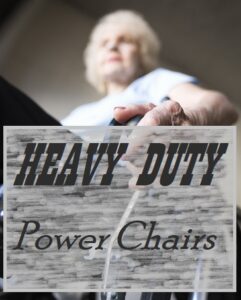 Heavy duty power chairs allow heavy people the freedom to move in and around the home with less hassle. But not all electric power chairs are built to handle overweight and obese people. This is why it's important to seek out the best heavy duty chair you can that can withstand your total weight. Power chairs are known to ave the odd issues, so it's important for warranty purposes you don't buy a power chair that's weight capacity is lower than your body weight.
As technology evolves, these power chairs are becoming as popular as the  heavy duty mobility scooters. Scooters typically have the edge in terms of outdoors use. But some power chairs are great at tackling the outside world (Within reason). These would be the heavy duty models which are listed below.
But what makes the power scooters safer for the heavier people is the fact they are more stable under heavier loads. But this typically means a very heavy item to carry around with you. Which can be quite a difficult task if not impossible as an obese person. Unless you have a second body to help, transporting a power chair can be quite difficult to do on your on.
So in order to combat this we have sort out what we think are considered heavy duty power chairs and where possible, combing a lighter total weight (including battery) and while having a higher weight capacity to cater to heavy people. While having a higher weight capacity than 300 lbs is important, so is the ability to turn sharp corners, speed limits and how wide the seat is. These are all factors in which have come into play. The price point is relatively even across the board, some higher than others which is to be expected. But nothing too outrageous considering how heavy duty these power chairs are. So lets begin by looking at the power chair with the highest weight capacity and work our way down.
Most Heavy Duty Power Chair 450 Lbs Capacity
The Cadillac of power chairs is the 'WildCat' by Active Care. It's biggest, strongest, widest and toughest power chair I could find. It boasts an impressive 450 pound weight capacity and has a huge padded seat. The seat is an incredible 24 inches wide and 20 inches deep. So larger folks will find this chair a delight to sit in.
Getting in and out of the chair is made easier by the 20″ gap from floor to seat. Anything lower and it's a struggle for bigger people to get up and down from. Once in the chair, the arms are adjustable to cater to shorter and taller people and the foot rests can be moved out of the way if needed.
The chair can double as a manual wheel chair as well if need be. The handles on the back make it perfect for someone to push from behind. Many of power chairs it's simply a horizontal bar. But with the 'WildCat', you get 2 handles. Nice touch.
For the size of this chair its quite surprising this can be folded down to a compact 13 inch wide chair and then packed into a cars boot (Depending on car boot size obviously). But lifting it into the boot may be troublesome as it is not the lightest power chair on the market. Weighing in at 173 pounds including the battery. The battery alone weighs 73 pounds, so take it out for a lighter load. While it is a heavy chair, it makes up for it by being super heavy duty with a large seat and 450 pounds weight capacity.
Driving the power chair is smooth and turns the corner perfectly. The turning radius is 41° and has a top speed of 4 mph. So taking a unexpected corner is not as difficult with this chair. Runs and turns very smoothly.
WildCat 450 Lbs Power Chair By Active Care
The Good
Oversized Power Chair (450 Lbs Capacity) 24" Wide Seat
Well Padded For Comfort
Battery Charger Included
Folds Down To Fit In Car Boot
More Portable Than Others (If Lift Not Available)
High Quality Steel Frame For Heavy Duty Use
Heavy Duty Tires That Are Non Marking
The Bad
Rear Wheel Drive May Be Difficult For Some Folks Use To Other Power Chairs
Heavy To Lift Alone
400 Lbs Powered Wheelchair For Heavy People

This is a great solid and heavy duty electric power chair by Drive Medical. This company makes a lot of heavy duty equipment that is suitable for the big and tall community. So it's good to know that they specialize in the area before making a purchase with them.
This particular Drive Medical Cirrus chair comes in 3 sizes:
18″ 300 Lbs with total width of 26″.
20″ 300 pound rating
22″ 400 Lbs Weight Capacity with a total width of 29.5″.
If you are uncertain as to what size model you need from above, a good rule of thumb is to measure your hips while sitting down. Add another inch to that for clothing and wiggle room to come up with the ideal seat size you need.
The chair itself has quite a few features that make it one of the best power chairs on the market. The caster anti tippers are a welcome relief for any larger or disabled person. The arms are adjustable and even removable which is sometime required due to a persons size. Big heavy duty 13″ rear tires and 8 inch front tires for turning corners with precision. Because the tires are quite robust, you can use this power chair outside with minimal fear. But I wouldn't go venturing off into soft sand for example.
Like the WildCat power chair mentioned above, this Drive Medical chair is also rear wheel drive. So it can be a little jerky when taking sharp corners and getting started. So I suggest lowering the speed on tricky situations until you get a grasp of the rear wheel drive.
Being a little heavy is also this chairs negative. But to sacrifice weight with heavy duty, it's worth it. Overall its quite a tough and powerful power chair with a high weight capacity of 400 lbs (22″ model) that handles quite well considering it's size.
Drive Medical Cirrus Plus Power Wheelchair
Lightweight Yet Powerful Electric Mobility Chairs
This power chair by Wheelchair88 is one of the lightest yet heavy duty going around. Boasting a nice 330 pounds weight capacity and weighing just 57 pounds, this chair is ideal for the traveling user. Because it is so light, one person can fold this chair down and pack it into the car boot very quickly. In under a minute if you are efficient.
When it comes to the build, it's very heavy duty. It looks very sturdy and feels very strong. A safe and reliable mobility device for overweight people. The electronics look sleek and are very simple to use. No degree needed to operate this chair. What I do like is that you get to choose which side arm you want the control joystick. This is great as many left handed people often miss out. After you buy this chair, the provider will email you to get the specifications you need.
For a chair that is considerably light, it packs some serious punch. It has a top speed of 5 mph and can tackle some tougher terrains like thick grass and pebbles. This comes down to the powerful motor and the impressive 10 inch heavy duty tires.
The battery charges fairly quickly and lasts for a good amount of time. It's not uncommon to get 8 to 9 miles off the charge in this chair. But whats better is that this chair can handle three batteries at a time. Which means you can get about 25 to 27 miles per session in this chair. Very impressive.
The only downside to this chair is the seat size. It's a little smaller than the above two chairs measuring in at 18 inches which leaves you with a 19 inch gap between the arms. So while it has a 330 lbs weight capacity, if you are an extra wide person it may be a little tight. But overall, I think this was a relevant recommendation from my orthopedic surgeon.
WheelChair88 Foldawheel PW-1000X
Travel Heavy Duty Power Chair 330 Lbs Capacity
I find the EZ Lite Cruiser Deluxe Dx12 to be a good all rounder. It's a solid and strong unit. But it's biggest positive is that it is ever reliable. It's a low maintenance model that just seems to keep on keeping on. Very similar features to the above WheelChair88 model. That is it's very lightweight weighing just 58 lbs and 64 lbs with the battery.
The top speed is 5 mph and it is very easy to fold down. It literally takes seconds to get this chair ready for transport. The wheels are also quite heavy duty. The rear wheels are 2 inches bigger at 12 inches in diameter. In regards to door frame minimum width, I wouldn't recommend trying to fit this chair into a door frame that is less than 28 inches wide.
This model can take 2 batteries at a time which can offer up to 10 miles per charge on each battery. The joystick can also be put on either arm which is a big positive. The seat is sufficiently padded and the back rest reclines to 5 positions. Do note that the back rest is a manual action recliner. Not a power recliner like some models. However I find the lever for the recliner to be easy enough to use if you have decent arm movements.
The only drawback which doesn't take it away from being a superb travel power chair is that it doesn't have a solid pan eat. Which means it is the not the best for control at first. It takes some practice to get use to it. But nonetheless, it's a very good looking and reliable heavy duty power chair.
EZ Lite Cruiser Heavy Duty (HD) Deluxe DX12
More Heavy Duty Rated Power Chairs On Amazon
Below you can find four more chairs with a minimum weight capacity of 300 pounds that carry the heavy duty badge.
Will Medicare Subsidize these Power Chairs?
Depending on your level of insurance and whether or not you are entitled to the medicare levy many folks can get up to 80% of the upfront cost paid for. But this will vary from person to person. Mobility scooter are more difficult to get medicare coverage as they are typically an outdoors mobility device which is often deemed unnecessary.
But as power chairs are predominantly used for indoor purposes, there's a higher chance of getting assisted help. But there's also a good chance that Medicare will find that you don't 'medically' need a power wheelchair. In order to be eligible, you need Medicare cover B. Plus have documentation from your Doctor after a face to face consultation. Chances are that if you do qualify, the chairs listed above will need to be source from an approved medicare supplier. For more information, visit Medicare.