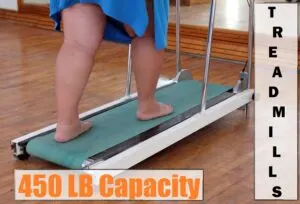 The following list of treadmills with 450 lbs capacity are ideally suited to someone that weighs 400 pounds or more. Treadmills that have this high weight capacity are generally considered commercial grade.
Regular club and gym goers will recognize the Spirit Fitness and Life Fitness brands (LA Fitness, Planet Fitness, Anytime fitness) as they are among the most common commercial treadmills.
However, this does not mean you can't buy them for home use, as they are also available to the public. The biggest problem is trying to find them to buy.
During this guide I will try to list places where you can buy these 450 pound weight limit treadmills, both online and offline. But as they are quite rare models for the common household, finding availability can be a battle.
But in saying that, after reading this list you will have a better understanding of what treadmills actually have a 450 lb weight capacity and where to buy them once they become in stock, should they be out of stock at the time of your search.
Also don't forget that you may also be able to buy these models in a physical store, but there's also a chance they are only available in one store that may happen to be on the other side of the USA from where you are located.
Compare 450-Pound Capacity Treadmills
| | Features | Deck | Price |
| --- | --- | --- | --- |
| | 425 LB Rating, Industrial AC motor 4HP, >15° incline, 15mph top speed, Lifetime frame warranty, Hand pulse heart rate with Bluetooth for chest straps. | 22"W x 60"L | Check Price Amazon |
| | Industrial AC motor 5HP, >15° incline, 12mph top speed, Lifetime frame warranty, Hand pulse heart rate with Bluetooth for chest straps. 10+ programs | 22"W x 62" | Check Price Amazon |
| | 400 LB Commercial Grade Treadmill. 4 HP, Large Flex Shock Suspension Deck, 12 MPH top speed. | 22"W x 62"L | Check Price Amazon |
| HCI-Fitness-PhysioMill-Rehabilitation-Treadmill | 4HP DC motor, 12mph top speed, 15-deree incline with reverse mode for downhill walking, full length handrails, 500 LB capacity | 20"W x 63" | Check Price Amazon |
---
Best Treadmill For Someone That Weighs 450 Pounds
If your body weight is remotely close to 450-pounds, you should be looking at the next level up, which is 500 pounds. Finding treadmills in this category is even harder.
Someone that weighs 450 pounds might be tempted to risk it a 450lb rated model, but instead, just bite the bullet and go for higher rated option if you manage to find one available.
But what is confusing about these commercial grade treadmills is that anyone that goes to the gym or club can jump on, regardless of their weight.
For example, the Life Fitness 9fTi on amazon is one of the more common treadmills found across American clubs. Trying to find an accurate weight capacity for this model seems impossible. I've read that it is anywhere between 400 lb and 525 lb capacity. So it is certainly made more difficult if you weight more than 450 pounds.
425 LB Weight Capacity Treadmills By Sprit Fitness
Commercial Grade XT685 Review

The best 425 pound capacity treadmills are by the brand name Spirit, which are developed by Dyaco. This company is also famous for producing the much more popular SOLE treadmills.
Unfortunately SOLE don't seem to have 450 lb rated models available, so the next best in line is the Spirit range. As they have been developed by the same producers of the SOLE treadmills, I am fairly confident in their quality and build.
About The Spirit XT685
The Ct850 is just one of the 425 pound user capacity treadmills in the Spirit line. What I really like about this particular model is the high quality build. The XT685 is one of those products that was built to last without focusing solely on the latest shiny gadgets.
While it does feature some innovative technology, its the solid build and heavy-duty construction that wins me over. If you're someone that just wants a treadmill that lasts and are not to interested in all the flashy lights and so forth, this could be your next best purchase.
Ticks All The Boxes
The 425 pound rating in combination with the lifetime frame warranty gives the heavy user a certain amount of reassurance that the treadmill is in-fact a heavy-duty model. This is clearly demonstrated in the heavy gauge robust steel.
The motor is a Ac 4HP model with H grade insulation to keep the motor running at its optimal performance at all times. The motor can power the belt to a maximum of 15 mph with a 15 degree incline at its peak.
The rollers are also very large. Many cheaper options have rollers that are at the best 2.5″ in size, but the Ct850 features powerful 3″ rollers which make life easier for the motor compared to smaller sized rollers.
Great Size Deck For the Big User
The deck on the XT685 is ideal for the larger size person. The wider than average 22 width will give those with broader bodies extra space to land their feet on the running track rather than the side guards.
The length of the deck is pretty much commercial standard at 60″ and suitable for most people. People over 6'5″ may prefer an extended length deck of 62″.
The downside is that the belt is constructed using just 2-ply layers. Ideally you want a 3-ply minimum as a big user, however the 3″ larger rollers will help increase the longevity of the belt as a result. So it feels like the larger rollers where a trade off for a thinner belt.
For full specifications you can visit the SpiritFitness website and also look for dealers that sell the treadmill locally. As its a commercial treadmill you will need to find which dealers sell the "C" models, such as the Fitness Edge store in California, Doheny's in Wisconsin and so forth.
---
---
Spirit CT900 450 Pound User Capacity Treadmill

The third instalment of the Spirit 450 lb rated treadmills is the CT900. This is the powerhouse of the three with a industrial grade 5HP with AC drive system for maximum torque and performance.
The heavy-duty aspect of this model is evident the moment you go to move this thing. It is seriously built like a tank. The weight of the machine is heavier than the weight capacity as it weighs an incredible 273 pounds. If that doesn't scream heavy-duty quality, I don't know what does.
Being the most powerful of the three does come with a more expensive price tag. However, with this higher price point, you do get a longer deck at 62″ long by 22″ wide. So if you're big and tall, the extra length will certain be a benefit to your longer stride.
The longer deck is accompanied by 6 built-in cushioning pads to absorb the impact of running and heavier people. The cushioning is positioned so that that the weight of the user is evenly distributed under each step. Reducing the impact on fragile joints for a more enjoyable workout.
Overall, the CT900 is a beast of an industrial grade treadmill. If tough and durable with high power is what you desire, the CT900 can provide just that. It comes with the same features as the above treadmills, but boasts more power and an oversized pulley system and running deck.
Spirit CT900 5HP Treadmill
---
400 LB Alternative Commercial Grade Treadmill
As it is rather difficult to find 450 pound capacity treadmills, the next step down are 400 LB options. Below is the best choice for someone that weighs less than 450 LB.
Rehabilitation Treadmill For Heavy People

A rehabilitation treadmill can also be a convenient choice for someone that weighs 450 pounds. With the lower deck height and the full length handrails, the obese person can more confidently get on the treadmill and hold onto the rails to transition into walking their way to fitness.
This rehab treadmill for heavy people is by HCI Fitness and boasts a 500 lb weight capacity, making it more than suitable for someone that weighs 450 lbs.
It's Like A Regular Treadmill, But More!
But don't be fooled into thinking that just because it's a rehab treadmill you don't get the same functionality as a regular treadmill.
The PhysioMill by HCI Fitness boasts a top speed of 12mph with a maximum incline of 15°. However, what's great about this option is that you can also walk downhill on the treadmill. The belt can go in reverse so you can work on your downhill balance and the different muscle groups.
The belt and deck is also oversized giving the heavier person more space to feel confident when walking and running for the first time. The deck measures 20″wide with a length of 63″.
The treadmill is powered by a DC 4Hp motor making it suitable for home use while providing the power it needs to carry a heavy person back into fitness. The full length handrails are very convenient for the obese person, especially during the beginning of their treadmill workout journey.
HCI Fitness PhysioMill Rehabilitation Walking Treadmill
---
Spirit Fitness CT800 Commercial Treadmill Review

The CT800 is another 450 pound rated treadmill by Spirit Fitness. This time the motor is slightly different to the above Ct850. While technically this treadmill is rated as commercial grade, it operates on a 4HP continuous duty AC motor rather than DC motor like the Ct850.
DC motors are typically found on home use only motors and are usually less powerful compared to the commercial AC motors. But as a trade off, you get a much quieter running motor on the CT800.
The CT800 is another heavy-duty treadmill constructed from commercial grade steel. The treadmill is a solid frame and weighs 383 lbs, so assistance with assembly is certainly recommended.
In terms of functionality, the CT800 is pretty similar to the Ct850 model. 12 mph top speed, 15-degree incline and a multitude of workout programs including Fat Burn, Heart Rate x 2, Cardio, Steep Hill and a few fitness tests to replicate Navy, Army and Marines workouts.
The specs are pretty much identical to the AC motor version that is that the deck is 22″w x 60″L with large 3-inch rollers with a commercial grade ply belt.
High-End Treadmill Belt
The belt is wax coated using a double sided 1″ thick Phenolic material which is commonly found on high-end treadmills. This material is considered the best as it doesn't buckle or wear out like Teflon generic material. Phenolic belts are also very silent when gliding over the rollers adding to the overall quietness of the DC motor.
Overall, the CT800 treadmill is a great choice for a heavy person. There's not a great deal of difference between the two Spirit models, but if a quieter operating machine is what you're after, the CT800 may be the better choice.
Spirit CT800 4CHP DC Motor Treadmill
See The CT800 Up Close
Does a 450 Pound Person Really Need a Commercial Treadmill?
It's quite obvious that the 450 lb capacity treadmills mentioned above are predominantly commercial or home/commercial treadmills. Is this something a big person should be concerned about?
Absolutely not!. If anything, you should avoid home use only treadmills when you weigh more than 350 pounds in my opinion.
While you can get some home use 400 LB user capacity treadmills, the options for a 450 lb person are very limited. Most people are not even aware of commercial treadmills and unless they go to the gym regularly, then they will never know the difference between the two types.
But once you do experience both, you will understand why a commercial treadmill is a better fit for a heavier person. While there are other treadmills for the heavier person available, the above 4 are the best for the morbidly obese people.
If You Weigh Anywhere Close to 450 Pounds, You Need a Commercial Grade, Here's Why
More Powerful Motor
For me it's all about the power of the motor, without a motor capable of handling a 450 pound person without overheating and destroying itself is critical.
Standard home use models will typically have a motor with horsepower between 1Hp and 2.5HP. 3Hp treadmills are generally classified as Light Commercial whereas full blown commercial treadmills can have motors with horsepower ranging from 4HP to 7HP.
A treadmill with a 1HP motor will be working overtime under heavier loads and it is not recommended for serious users. A treadmill with a solid 3HP+ that can generate powerful torque at low speeds is ideal for anyone that is not considered average weight in my opinion.
Also, many home use options will beef up their HP rating by increasing the RPMs up to (8000) of the treadmill. What this does is causes the motor to spin faster increasing the workload on the motor and eventually causing it to shorten its lifespan. Not ideal.
A genuine 3HP+ with a lower RPM (around 4000) will provide much stronger torque at a slower speed which gives the motor no excessive stress and the ability to operate in ideal conditions.
Robust Frame & High Weight Capacity
A quick search online will quickly demonstrate that home use treadmills typically have weight capacities up to about 300 pounds. This is because the frame is not reinforced or made from high grade steel capable of handling a 450 pound person.
While you can get light commercial treadmills with fold up frames, they are generally fixed frames. Meaning you can't fold them up for storing away.
The folding design compromises the strength and integrity of the frame, which is not what you want when you weigh over 400 lbs. A solid fixed treadmill is a much more stronger and robust option.
However, don't be fooled into thinking all non folding treadmills are commercial, because you can get home use treadmills that are fixed position with very low weight capacities. They just use light weight steel in the construction, hence the lower rating.
The Deck & Belt
The commercial grade treadmills will have a larger belt for running on. They are usually wider also to cater to people of bigger sizes. Typically the belt size is 22″W x 60″L. Although this can vary slightly from brand to brand.
The belts on home use are often much smaller, as small as 30 inches long, which is not a long walking deck at all. The belt is also 2-ply compared to the 3/4 ply of light and commercial options.
The more ply levels, the more heavy-duty the belt is. The more heavy-duty the belt, the longer it will last, especially under the feet of a heavy person.
Deck Cushioning Is Critical
Some home use treadmills will offer deck cushioning, they are generally the more expensive options. However, most of the cheap options will offer no cushioning whatsoever.
As a big man myself, this is a complete turnoff. The impact on your joints and feet from just a 10 minute workout can be devastating. No deck cushioning = no treadmill!
Commercial treadmills will offer premium deck cushioning so that with every step you feel supported and some can drastically reduce the impact on you joints by up to 40%.
Each brand will usually offer their own specialized cushioning such as the Life Fitness 'FlexDeck Absorption system'. So you will need to do your home work on each brands technology and decide which of the treadmills with 450 lb capacity is best suited to your needs.