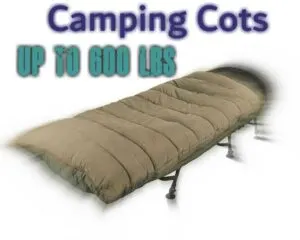 For me, the hardest part about camping as a big person is trying to get comfortable when sleeping. It's not as if bars and screws digging into our oversized bodies is bad enough, but the fear of collapsing the cot during the night is terrifying to me.
Fortunately there are extra large heavy-duty camping cots for heavy people available to buy which can actually withstand heavy weights and are wide enough so that we actually fit in the cot. But the question remains, which camp cot will suit your specific body shape and size?.
Compare Heavy Duty Camp Cots
Size Does Matter
The easiest way to find the best camping cot for your individual needs is to choose one that's capable and rated to hold your body weight. As us overweight/obese campers know all too well, size does matter. Extra-wide and high weight capacity camping products are what we are after to have a good camping experience. With high weight capacity comes a stronger build, well supposedly.
So to ease the mind and enjoy a good night under the stars we need to find an appropriate camp cot suited for large people that will stand the test of time. One with a heavy-duty frame and canvas that shouldn't rip under the extra weight us big guys carry around with us.
As I love camping, well the great outdoors in general. I have been through my fair share of camping gear. During my earlier years, I was not aware that camping cots had weight ratings, needless to say I broke a few before discovering this invaluable knowledge.
Know The Capacity Of The Cot Beforehand
Not knowing how high the weight limits for camping cots went, I would push the boundaries a fair bit. For whatever reason I believed a 300-pound camp cot would be sufficient for a 380-400 pound guy… Don't do this, it doesn't end well. One must allow for the extra impact our plus size bodies create when landing on the bed.
This impact alone is enough to break the infrastructure of the cot. So as a general rule I often recommend people to buy a camping cot with an extra 30-50 lbs on top of their actual body weight to be on the safe side. Below you can find my best recommendations for a heavy person needing to buy a camping cot categorized by weight capacity.
Highest Weight Capacity Camping Cot 900 Lbs

I was a bit sceptical at first, reading about this Aboron 900 pound capacity camping cot. It just seemed to good to be true, perhaps manufacturers are finally starting to listen to the big persons needs.
The first thing you must consider when dealing with such a heavy duty camp cot is the quality of the frame. Being rated to 900 pounds is not a label you can just whack on something and expect to get away with it.
So when going over the frame in more detail, you can notice the subtle differences that could in fact give this Abron cot the edge over its competitors. There are many structural components to the Aboron folding cot that I find quite impressive. Take a look at some of the highlights:
1-inch tubular 25 mm thick steel frames, which in some cases is 40% thicker than its competitors.
On the underside of the canvas pad there are 4 anti-sag reinforcement belts. This is a superb idea as it helps to evenly distribute body weight across the cot. Best of all, its not a steel tube sticking into your back.
Additional steel wire act as cross support between the underside of the legs. This prevents the legs from slipping outward.
Double layered 1200D high density oxford canvas for providing a strong firm sleeping surface. This in combination with the 4 anti-sag belts underneath the canvas makes it one of the most stable sleeping surfaces.
The 900 pound weight capacity camping cot also comes with other features such as a sleeping pad and boasts a slightly wider surface than most regular cots. However, it's the impressive nature of the sturdy frame and canvas that attracted me. The bed can also fold up extremely quickly with minimal hassle. Although, getting the mattress back in the carry bag is a bit of a struggle, but when isn't it.
All in all, if you are an obese camper looking for a super sturdy camp cot, the Aboron is certainly one to consider.
ABORON 900 LB Camp Cot W/pad
Camping Cots 500 Lbs To 600 Lbs Weight Limit
The Teton XXL Looks Impressive

There are a couple camping beds in this high weight capacity rating, and in my eyes only one stands out to me to actually handle the heavier weight. That is the Teton XXL cot. Now, this is one huge oversized sleeping cot.
Which is great for home use. But if you take it camping, you may have to allow for the extra space due to the size of this beast. A huge 40 inches wide makes this the biggest single cot I know of. Just look at how many guys are standing on this cot! Incredible.
One thing I noticed immediately with the Teton cot is its pure quality. Put this Teton cot beside any other cot on the market and I've noticed it to be noticeably higher in quality. Plus the heavy-duty frames on this cot are amazing to say the least. To be able to withstand 600 pounds is incredible for such a great portable camping cot.
However it is a tad heavy, so I don't suggest hiking with this monster. Assembly is so simple, it's just a matter of pulling it out of the provided carry bag and unfolding the legs. Done. Highly recommended for us extra large guys and gals. Heck even 'normal' size couple would love this temporary bed. Don't overlook this one guys.
600 Lb Monster Camping Cot By Teton Sports
Camp Cots Up To 500 Pound Capacity
In a hurry? The four camping cots below range in weight capacities from 300 pounds up to 500 pounds. All of these cots are available on amazon by clicking on the images below.
Camping Cots 300 lbs Capacity

Camping can be a tiring adventure at times and there is nothing better than a good nights rest to finish the day off. Coleman have this stylish camping cot which is a good choice for overweight people up to 300 pounds in weight.
One of the problems with traditional camp cots is the canvas is hard to sleep on when you lay on your side. I've found the Deluxe camping cot by Coleman to be the opposite, and rather nice to sleep on due to its padding.
The rings of spring coil system combined with a roughly 2-inch foam mattress are what I especially like about this bed. This is where I believe this Coleman Cot has the advantage over other camping folding cots.
So it's really comfortable for camping (especially when combined with uniquely designed sleeping bags for big people), but this cot can also double as a guest bed or portable bed. It looks good and folds away nice and compact. It should even fit in the trunk of a small Mazda, that's how compact it gets.
As for this cot's ability to handle 300 pounds, I'm comfortable recommending it. Do yourself a favor and grab one of these cots BEFORE your next camping trip. Its heavy-duty tubular frame can handle the weight limit and the fabric shouldn't rip apart on you.
There is a thin wire which follows the edge of the fabric, so when the springs get to action they won't pull and rip the fabric out. A superb idea and definitely something us bigger people should consider. The best 300 lbs weight capacity camping cot on the market in my opinion.
Coleman Deluxe 300 Lbs Camping Cot
Big & Tall Camping Cots 350 Pounds

I found the King Kot giant folding camping cot by Texsport to be even more heavy duty then the above Coleman with a 350-pound weight capacity and an impressive 35 inches wide. 5 inches wider than the 300-pound cot. It's the camping cot for big and tall people hands down.
As for the tall big guys, King Kot has most of you covered as well. Fully stretched out most people up to 6 foot 9 inches will be able to enjoy a great nights sleep.
This cot is raised to 20 inches from ground level, which is ideal for us large people. It makes getting into and out of bed that much easier, plus it allows for great storage area under the bed. Cant have enough storage areas when camping right. I believe this cot to be one of the highest quality material based in this category.
The frame is very high quality and made from sturdy aluminum. The (X) type support legs prevent the bed from wobbling and rocking around too much, plus it is rather quite to sleep in. Nothing worse than a squeaky camping cot.
The water-resistant Nylon cover is firmly positioned to create a tight and firm base for sleeping. Which is acceptable for a night or 2. But if your planning a long camping trip, I suggest you invest in a cheap 1-2 inch foam mattress. I firmly recommended this camping cot for plus size people up to 350 lbs, even tho from the manufacturer's picture you can easily see this cot holding much much more weight.
King Kot 350 Pound Capacity
400 Lbs Camping Cot
The Oversize Kwik Cot Review By Kamp-Rite
Be warned, this cot is huge so be careful what you wish for!. This extra wide and extra long camping cot is ideal for heavy to obese people. It holds an impressive 400 pounds and looks really top-notch too. If you have a small tent, it might be time to invest in a bigger tent also as this thing is pretty big.
The Kwik Cot is fairly easy to fold down to a compact 25 lb carry bed. But what's the true stand out for this cot is how well it's designed. The term heavy duty is almost an understatement for this camping cot.
It's well supported by the extra support frame system and the rip-proof material around the edges of the cover are a mighty fine touch. The 2 side pockets are also a nice touch and can be very helpful for us bigger guys that find it too hard to get up and down to grab a book or mobile phone.
The actual base of the bed stands at 21 inches from the ground. I found it's one of the highest standing cots on the market. Perfect for us bigger folk that find it hard sitting and standing up from the conventional lower camping cots. This is a highly popular heavy-duty camp cot because of its sheer quality and overall heavy-duty rating.
Heavy Duty 400 Lbs Kwik Cot
600 Lb Capacity Camp Cot

Having a bad camping cot can ruin a camping trip which is why it's important you get the right one. Alpha Camp has really stepped up with this excellent camping cot that will help with making your next camping trip a lot more comfortable.
One thing that I really like about the design of this camping cot is just how easy it is to set up and take down. It folds a lot like a camping chair which is very simple to do which makes this great for when you're in a rush.
Heavy-Duty 600 Lbs Capacity Frame
It's hard to go past just how good the frame of this camping cot is. The design of it increases the overall comfort and with it being made out of high strength steel tubing it has great durability for the bigger people out there.
Something that really impresses me with this camping cot is that even tho it's made out of steel tubing, it doesn't weigh very much. It has an overall weight of 14.55lbs which does make it very easy to carry in the carry bag it comes with. This makes it really good for a variety of different camping situations.
Comfort Is Superb
There is an issue that some camping cots have that make them unbearable to use. This is that they have a crossbar in the middle of them that you can feel when you lay on the cot. That's not the case here as the crossbar is 6-inches below so it can't stick into your back making it extremely comfortable.
With how the frame has been designed when you lay on this camping cot feels like you're on a hammock made out of 600D fabric. If you've ever been on a hammock before you will know how comfortable they are which is the case with this excellent camping cot.
ALPHA CAMP Oversized Camping Cot 600 LB
Best Camping Cot For Big And Tall People

Slumberjack knows that keeping a design simple is one of the best ways of getting the best result. This is what they've done with this impressive camping cot that does look fairly simple but offers a lot of comfort and high-durability for the people who need it.
There is a lot of clever design in this camping cot that was made for increasing the strength of this cot. By reinforcing several keypoints on this camping cot, Slumberjack has made it extremely durable offering up to a maximum of 500lbs for its weight capacity.
The stability of a camping cot can be overlooked but it's more important then you might think. Being stable will allow you to feel comfortable and help removes those worries of breaking the camping cot. This is something that this cot does extraordinarily well giving you peace of mind when sleeping.
Oversized Camp Cot For Big & Tall People
Being a big and tall individual can make it difficult when you want to go camping since very rarely are you the target audience. This makes me really appreciate that they made this camping cot to be 86-inches long by 40-inches wide with a height of 20-inches. Making this great for those who need that extra room to be comfortable.
Since this cot is a fairly decent height off the ground does lead it to have an extra advantage when you're camping. You can store things underneath it so you will have more space in your tent which is a really useful thing to be able to do. I wouldn't recommend putting anything that is higher than 16-inches underneath it.
Slumberjack Adult Big Cot 500 LB Capacity
Extra Wide Cot For Camping

There is a lot to like about this camping cot from Redcamp that has been designed with convenience in mind. It's been designed with ease of use as one of the key things which gives this camping cot a lot of versatility which adds a good amount of value to it in my opinion.
When it comes to the frame of this camping cot it's very durable thanks to it being made out of a steel tubing that also keeps the weight down at 17lbs. The design of the frame does prevent you from using the underneath area to store things which isn't too much of an issue.
Extra Wide 500 LB Capacity Cot For Big People
Often times camping cots will have a good weight capacity but no actual room to fit someone who is on the heavier side which makes the weight capacity pointless. That's why I really like this camping cot since it has extra width compared to your standard camping cots with it measuring 33-inches wide.
Easy To Setup
In my opinion, this is one of the best selling points of this camping cot is that it's extremely easy to set up. This makes it useful for when you arrive at a campsite late and need to set up quickly or if you have unexpected guests staying the night. This makes it very useful in multiple situations.
Not only is it easy to set this camping cot up but it's able to be done quickly. This also goes for when you have to take it down and get it into its storage bag. I really like these little convenience aspects of this cot that do make your next camping trip a little bit easier.
REDCAMP Folding Camping Cot 500 LB
Best Heavy Duty Camping Cot

The first thing you notice about this camping cot from Earth Products is that it looks extremely durable and perfect for camping. This is precisely what this camping cot is and Earth Products should be happy with this result as it's one of the best heavy-duty camping cots on the market in my opinion.
Something that I really like about this camping cot is the useful velcro straps that you can adjust. They allow you to increase the tension of the surface allowing you to make the cot more comfortable for your needs or to increase the back support.
There is no secret that camping cots can be loud when you sleep on them which can be frustrating when you're attempting to sleep. That's not the case with this camping cot with it being one of the quieter ones on the market.
Heavy-Duty Cot
To make a camping cot that's heavy-duty it needs to be more than just a strong frame. With this camping cot combining the strong steel frame with a tough 600D polyester cover really does make this camping cot tougher than your standard cots.
The Earth Ultimate Cot is capable of handling weights up to 450 pounds. While it's not the widest cot on this list, 25″ wide, having a very strong and robust frame like this is still suitable for many heavier people.
Extra Features Add Great Value
By adding some small extra quality of life features can add incredible value to a camping cot. With Earth Products adding things like a side storage pocket and the useful pillow really makes this camping cot stand out.
The simplicity of adding a side pocket makes a bigger difference than you might think. It allows you to put a variety of things in there that make it easier when camping. Simply adding a torch so you can find your way out at night is a massive help, or adding a water bottle so you can have a drink whenever you need it.
EARTH Ultimate Extra Strong Military Style Folding Cot
King Size Camping Cot For Tall People

It's hard to go past this camping cot from King Camp as it does a lot of things right that make it excellent for when you go camping. When you're looking to increase your overall comfort on a camping trip this camping cot is one of the best ways to do it.
They've made the frame out of a mixture of steel and aluminum which gives it a weight capacity of 440lbs. The most important bits of the frame are made out of steel which is the middle cross points which is where the weight will be.
Comfort Made For Kings
Without a doubt, the comfort on this camping cot is one of its best features. By adding a simple angle at the top of the cot has increased the comfort of this camping cot immensely compared to other cots. It allows you to sleep comfortably if you forget your pillows which is a nice advantage to this cot.
The fabric this cot is made out of is far the industry standard of 600D Oxford which is a decent fabric. But King Camp went with a 1200D Jacquard Oxford fabric which is a lot more durable and comfortable. The comfort of this camping cot really does stand out from the pack.
Extra Long For Tall People
The size of a camping cot is important since if it won't fit you then it's no good. This cot has a good amount of room to it especially for the taller people out there thanks to it measuring 82-inches long by 30-inches wide and 15-inches high. I would have liked it if it was a little wider for the bigger people who need more width.
KingCamp Camping Cot 82"L 440LB Capacity
Extra Large Camping Cots For Heavy Person

When camping cot does so many things right like this model from Araer it makes it very easy to recommend it. It offers a lot of versatility and will suit a wide range of people making it an easy choice if you're looking for a new camping cot.
Transporting this camping cot is made easy by it only measuring 38.6″ by 7.9″ and weighing 15.8lbs in its carry case. This was a little unexpected since it's a large camping cot measuring 74.8″ by 26.4″ and 13.8″ when it's unfolded.
This camping cot has one of my personal favorite features on it which increases comfort. They included an angle that works as a headrest which adds to the comfort and the usual bonus of if you forget a pillow you can use the cot without it. A small thing but something that I find extremely useful.
450 LBS Weight Capacity
A lot of camping cot frames are round tubes that are fairly strong and do their job. Something that Araer has done is go with square tubing that offers something you might not expect. It means that when it clamps together the surface area is covered more which leads to greater stability.
To make the excellent stability of this camping cot even better they took it even further by adding anti-sleep feet to the cot. This will allow you to sleep peacefully without having to worry about it tipping over which will make you more rested on your next camping trip.
Bonus Feature
Something that is only a small thing but offers a lot of use is the included side pocket that allows you to store things in it. This has numerous uses that make camping that little bit easier and something that should be included with all camping cots in the future.
ARAER 450 LB Camping Cot
Types Of Camping Beds For The Heavy People
There are a number of different types of camping beds for heavy people on the market that can make it a little overwhelming when you start searching. Thankfully it's not as complicated as you might think and once you learn some of the basics you'll know exactly what you're looking for on your next purchase.
Camping Cots
Camping cots are very simple designs that can offer a range of useful features that make them great for camping. They're known for being very durable which is a big part of the reason the military has used them for such a long time.
The simple design of the frame offers a lot of support and is generally made out of tubular steel which makes them very tough. Combine this with the fabric that attaches to the top can make this more comfortable than you might think.
People will often combine a camping cot with an air mattress. This will give you much more comfort and keep you off the ground making this a great option for those who don't mind spending that bit extra.
Air Mattresses/Double Height
If you're someone who wants to keep your comfort high when camping then going with a high weight capacity air mattress is the way to go in my opinion. Whether you go with a single height mattress or a double the comfort is unbeatable which will make the people around you jealous.
They're prone to losing air overnight which can be fixed by simply inflating it again so it's not a big issue. You will also need to watch out for punctures as most are made out of PVC which can be punctured fairly easily.
Self Inflating Mats
The design behind a self-inflating mat is actually very impressive and a good piece of engineering. Not requiring a pump to inflate them and how they don't weigh very much does make them a favorite for people who backpack camp.
All-In-One Beds
Think of these as a combination of an air mattress and a sleeping bag and you'll have a good idea of what they are. By combining these two things you have something that's extremely convenient that does have some of the same drawbacks like punctures that your normal air mattresses have.
Carp Fishing Beds
If you've never used a carp fishing bed before then you're in for a treat. They are a cross between a camping cot and a camping chair. They can be folded down into a bed or into a chair for when your fishing. This does make them fairly versatile and essential for the keen fisherman.
Before You Buy A Camping Cot For Heavy People
Quick and simple video on how to set up a cot. Very handy to know before buying a heavy duty camping cot. It's always good practice to try out new toys before heading out into the woods. So practice setting up and dismantling your new camping cot in the back yard first.
Save
Save