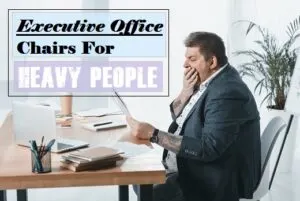 An executive office chair is a statement in itself, but when you're bigger then just a statement you will need to find the best executive chairs for heavy people to be able to pull off the bold claim.
While there are many types of office chairs for heavy people, it's the executive model that is the most popular for heavier workers. This is because they are bigger in size, well-padded and often have a higher weight capacity.
But don't be fooled into thinking just any executive chair will do the job because it won't. There's a reason the chairs listed below all have high weight capacities, to suit heavier people.
The standard executive desk chair is only capable of handling 250 pounds, some even as low as 200 pounds. So it's of extreme importance that you buy a heavy-duty executive office chair if you weigh more than 220 pounds. The office chairs listed below range in weight capacities from 330 lb to 500 lb.
Compare Executive Office Chairs By Weight Capacity
Genuine Leather Executive Chair 400 LB Capacity

There is a lot to like about this genuine leather executive office chair from Zuri Furniture. I find this to be one of the finest office chairs on the market, especially if you're after 'Genuine'. Being made out of Brazillian genuine leather should give you a bit of an idea of how high of a standard Zuri Furniture has set for themselves.
One thing that I really like about this office chair is the rocking capabilities of it. It has an excellent knee-tilt reclining mechanism that makes it easy to recline in which makes it comfortable to sit in for long periods of time.
One Of The Best On The Market
The quality of this office chair is what sets it apart from the other chairs on the market. Even tho they made the base out of aluminum it still has a great weight capacity of 400lbs. This makes it not only tough but also lightweight so you can move it easily.
Another often forgotten feature that I like is that you're able to move this chair well over most surfaces because the castors on it to spin really well. You're easily able to roll this chair over any standard surfaces without any issues.
The comfort of an office chair is one of the most important things it needs to be since you can be in these chairs for 8 -12 hours at a time. Zuri Furniture went with a high-density foam padding that is one of the most comfortable types of foam to use which also holds its shape extremely well, so there is no sagging.
High-density foam is also ideal for heavy people. This is because it offers greater support than less dense foam. Cheaper chairs can use low-density foam, but the result for heavier people is that you can feel the base of the chair underneath the padding as you sit don.
High-Quality Comes At A Cost
With this executive chair being made out of genuine leather, it does mean that it's going to have a high price tag attached to it. So this might be a dealbreaker for some people which is something I can understand, but it doesn't change the fact it's one of the best executive chairs for heavy people in my opinion. If you want the best, you simply have to pay top dollar for it.
Rockefeller Genuine Leather High Back Executive Chair
Heavy-Duty Executive Chair With Massage
500 Lbs Capacity

If you're looking for one of the most comfortable experiences you can get when it comes to office chairs, it's hard to go past this Giantex 500 LBS capacity executive office chair with 6 built in vibrational massagers. It has a lot of great quality of life features that make it extremely comfortable and well worth your time considering in my opinion.
Taking Comfort To The Next Level
Most office chairs you come across will have some sort of reclining function which is what makes them so good for comfort. But this model takes this further by adding in the ability to rock in your seat. Not many big and tall office chairs have the ability to gently rock, which is what makes the chair so special.
Didn't I Mention Something About A Massaging Function?
To top things off, this 500 pound capacity executive office chair also features built in massagers. Now there really is no better way to relax at the top. Getting a vibrational massage while you're typing away behind the desk.
These massaging heads directly address the pressure points in your back, lower back and on your backside. Not only does the massage feel nice, but it also helps to stimulate blood to flow around your body which can help prevent issues such as varicose veins and spider veins.
By adding this excellent feature to this office chair they have made it one of the most comfortable on the market. This makes it the perfect chair for those who are in the office for long periods and really need to be able to relax on their breaks.
Gives You Great Back Support
Considering how long you will be sitting in this chair your back will need some extra support. The way the chair has been designed gives it great lower back support which will make a big difference when you're stuck in the office for long periods.
Combining the excellent lower back support with the fairly high backrest (29″ high) this chair will be your best friend on longer days. This higher back works really well when you have this chair in its fully reclined position since you won't be overhanging on it.
Not Just Big, But Strong Also
The base of this office chair is made out of heavy-duty metal which gives it an impressive weight capacity of 500lbs. This works really well for the bigger people out there who are looking to increase there comfort whether they're at the office, or at home watching some Netflix!
500 LB Wide Seat Massage Office Chair
Executive Office Chair For Big And Tall People

Being a big and tall person has a lot of disadvantages that most people don't even consider, which is why I really like this office chair from Reficcer. It's easier to find something if you're just bigger or taller, but finding something that suits both is almost impossible, that was until this excellent chair was made.
This excellent combination of tall and heavy is one of the reasons this chair really stood out for me. It has a great weight capacity of 400lbs which makes it great for heavier people, and a seat height of 22″ which makes it great for taller people. This alone makes this chair one of the best on the market in my opinion.
Oversized Executive Computer Chair
The size of your executive office chair is more important then you might realize which is especially true for bigger people. This seat has an impressive width of 22.8″ and a depth of 24″ which gives both big and tall people a lot of room to fit on comfortably.
Something that really brings this chair all together is the backrest which has a lot of room to give your back full support. The height of the back is 31.9″ and 24.8″ wide so you're able to fully sit back in this chair which just increases the comfort even further.
Made Of Quality Materials
What an office chair is made out of can make a massive difference in whether it's worth your time considering. The base is a heavy-duty metal that is extremely tough but also makes this chair extremely heavy with it weighing roughly 61″. The weight isn't that big of an issue since you're able to roll this chair easily.
The combination of bonded leather and high-density foam makes this chair extremely comfortable to sit on in my opinion. Because of the excellent shape of this foam padding, you won't get a lot of the standard pain you can get from sitting in an office chair.
REFICCER High Back Big & Tall 400lb Leather Office Chair
Premium Executive Office Chair For Heavy Person
Size C 350 LB Capacity

When you're looking for a top of the line executive office chair then this model from Herman Miller Aeron might just be the model for you. It's made out of high-quality materials that make it really stand out from the pack in my opinion.
Something that I really like about this office chair is the number of options it has that make it extremely versatile. It comes in three different sizes and offers 6 different color varieties which help you find something that suits your office in my opinion.
Ergonomic Is Just The Beginning
When most office chairs are getting designed by a company, they will spend some time in making sure they get it right. Then you get companies like Herman Miller Aeron who have spent more than 20 years researching how sitting is so important which is why you get when you use this chair.
The science that has gone into this chair is more than some illnesses out there. This is why it does things such as help your muscles to pump nutrients to the spine better which makes this chair perfect for people who have back issues.
One thing I really like is the material used for the seat itself, which is an elastomeric suspension. What this does is help the chair breathe really well which will keep you cooler when you've been sitting in it for a long time.
Price Is An Issue
It's hard not to look at the price of this chair and just instantly walk away and I wouldn't blame you, it's a big ask for an office chair. If you do decide to take the plunge you will be getting one of the most ergonomic office chairs on the market that will really help with the pains of sitting in an office chair for long periods.
Aeron Chair By Herman Miller Large Size
500 LB Executive Office Chair Fabric Material

From a first glance, this office chair looks extremely simple which might make you dismiss it, but that would be a mistake in my opinion. This chair by Flash Furniture is one of the most durable on the market which makes it a great option for heavy people who need extra support.
While a lot of the chairs on this list have decent weight capacity, none of them come close to this impressive beast.
It has an impressive weight capacity of 500lbs which makes it perfect for the bigger people out there who need more strength than most other people. This particular model is one of my favorite 500 LB office chairs on the current market.
A big part of this comes from the extremely impressive base that this model has which is made out of extremely durable metal. This base gives it this strength but does make this chair weigh more than your average chair with it coming in at around 65lbs which is fairly heavy most people.
Padded Comfort For The Busy Executive
The padding on an office chair can make or break it, since if it's not comfortable then it won't make a good chair. By making the padding on the seat 4 inches thick they have made the seat part of this chair extremely comfortable to sit on.
One thing that I really like is that Flash Furniture included padding on the armrests as well which most companies leave in plastic. This is a nice touch in my opinion, as it makes relaxing more comfortable and at the end of the day, an office chair needs great comfort.
Small options Go A Big Way
I will always be a fan of options no matter how small they may be which is why I like that this chair comes in black fabric or black leather. This can help with matching it to your office and give it a sense of professionalism if you go with the leather option.
Flash Furniture HERCULES Series 24/7 Intensive Use 500 Lb
Executive Office Chair For Big People
Brown Leather Version
I'd argue that there is no one on earth who hasn't heard of the company La-Z-Boy and the excellent products that they're responsible for. La-Z-Boy keeps this impressive record with this great office chair that is great for heavy people and those who want quality without breaking the bank.
It's hard to ignore the stylish brown leather of this office chair which does make it stand out compared to a lot of the other office chairs on the market. It does come in black if you like the idea of this chair but would prefer a different color.
Comfort That Stands Tall
The comfort of this office chair really stands out in my opinion, especially since they went with memory foam for its cushioning. This makes the chair remember your groove which will turn this chair into your favorite as it will be perfectly fit with your body which makes it comfortable.
La-Z-Boy is known for creating couches that once you sit in you find it difficult to want to leave. Somehow they have brought this level of comfort to executive office chairs which is something that is hard to put into words. If you want comfort while working long shifts, it's difficult to go against this excellent chair.
Executive Chair For Big And Tall People
One thing you might notice when you look at this chair is that the seat on it looks fairly high from the pictures. This is because it's one of the higher seats on the market with it measuring 25″ at its highest which gives taller people a comfortable amount of legroom.
While the seat width could be a little bit wider for my bigger people out there but the 21.5″ is a good amount of width, and works well with the 21″ depth. This all comes together nicely with the 400lbs weight capacity that will allow heavier people to use it.
La-Z-Boy Delano Big & Tall Executive Office Chair
The Executive Heavy Person's Requirements
For an office chair to be classified as 'executive' you can already assume the chair comes with some pretty modern features, such as tilt, lock, rock/recline, lumbar support, etc. But for the heavy person, these are an afterthought. Primarily you need to ensure the chair has the following elements.
First and foremost, a high weight capacity. Never buy a chair that doesn't specify a weight capacity, otherwise, you could have problems further down the line in regards to warranty as seen in this post on treadmil weight capacities.
Seat width and measurement between the arms if applicable. The last thing you want is a chair that is too narrow and one that you need to sit in for 8 hours a day. Always consider the seat width along with the distance between the arms. If you can't fit between the arms and the arms are not removable, then you have a pretty useless office chair.
Heavy-duty construction is something I always look for when buying any product, but especially office chairs. Sure a chair may be able to hold 500 pounds, but will it last 6 months, 12 months, etc. You want one that will hold your weight and last a long time.
The Main Features To An Executive Office Chair
Adjustable Height Is Important For Tall & Short People
Being able to adjust the height of an office chair is something that is more important then you might think, especially if you share the chair. By making sure you're sitting at the right height you can help improve your posture which can help with some of the pain that comes with sitting down all day.
How Much Lumbar Support Does It Offer
This is similar to the first thing you should be looking for since back pain is one of the most common injuries office workers will face. So having the correct amount of lumbar support will help with preventing these horrible injuries and are worth considering beforehand.
Does It Have Back Tilt
You might start seeing a pattern here as this is once again related to your back and sitting for long periods of time. If you add a back tilt to your office chair you're able to stretch it out easier which will help the muscles and help prevent them from getting injured.
Don't Ignore The Depth Of The Seat
Something that no one really considers before buying an office chair is the depth of the seat. Having the wrong depth can cause a number of issues with the legs such as them going numb, or not having enough support. You will want to look for one that has an inch or 2 between the front of the chair and the back of your knees for the best result.
If you are big and tall, the seat depth is just as important as the seat height. If the seat is too short, your legs won't get the support they need and you will start feeling discomfort in the thighs and behind the knees. On the other hand, if you're short and the chairs seat depth is too deep, you simply won't be able to bend your knees at a 90-degree angle, causing serious discomfort.