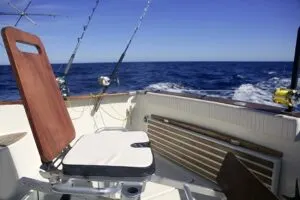 When it comes to accommodating boat seats for heavy people it's not an easy thing to do. Many people fear that a heavy person will be too much for their seat and end up breaking the foundation. Whether its the seat pole and mount or the actual seat itself, damage can be done.
This is why you need to invest in heavy-duty boat seats which can handle high weights, but not all or many boat seats include a weight capacity. So deciding which one is best for your weight can be tricky.
Below you can find suitable boat seats for bigger people along with a seat pole that can handle over 400 pounds.
Compare Heavy Duty Boat Seats
Best Boat Seat For Heavy Person 400 LB Capacity

Being comfortable when you're on a boat and fishing is one of life's best pleasures which is where this chair from Millennium Marine really shines. It has a lot of excellent features while still keeping the comfort level really high which is something I think most people will really like.
When you consider the size of this chair (22″ long by 21″ wide by 10″high) you'd be surprised at the amount of room you will still have on the boat. This is because they made the smart design choice that you can fold the chair up so you can move around easily.
Something that really impresses me with this chair is how quickly the seat does dry when it gets wet. Often an underrated feature that improves the comfort of the chair since who likes sitting on a wet sit when they're trying to relax and fish?
Durability Is King
There is one thing you want your boat chair to be, that is for it to be durable. They're often outside and get a lot of damage from the sun which can make them brittle and damage very easily. This is why I really like how Millennium Marine went with something that is UV, mold, and mildew resistant.
To increase the durability of this chair they also went with a frame that's made out of durable aluminum. I really like this as it won't have the problems other materials will have when you're out on the water which gives this chair a longer life than your standard chairs.
---
The Big Mans Boat Seat
24″ Wide Seat

When they made this chair Wise did a lot of things right that make it an excellent chair for the big men out there which is why they even named it the Big Man! So if you're a big man looking for a new chair for your boat, or you have a friend who is bigger and you want him to come boating with you than this chair is a good option.
One thing I really like about this chair is the padding they used for the seat that is extremely comfortable. A big part of this is the way the foam creates minimal pressure even after long periods so your legs don't feel uncomfortable.
They did go with tough high-impact marine grade for the frame. It's tougher then you would think but could stand to be tougher in my opinion. I do like the marine grade vinyl as the finishing material however.
Impressive Size For The Big Man
The amount of room that this chair offers the person sitting on it rarely matched by its competitors. This is thanks to its impressive measurements of 26″ high by 24″ wide with plenty of depth that measures 26″.
Designed For Convenience
There is nothing more frustrating than trying to find things that will suit the products you own. This is why I like that Wise includes a 8WD399-1 mounting plate that will work with any standard BIA 4 bolt system. So you won't have to spend hours researching and finding out if this will fit your system.
---
Extra Wide Boat Seat
22″ Wide Seat

When it comes to boat chairs there are a number of things that often get overlooked since they're just a "chair". This way of thinking will lead to you having a terrible experience on your next boating trip which is where Leader Accessories comes into play once again.
Leader Accessories understand the importance of a boating chair and this heavy-duty model is a perfect example of it. It has some incredible durability thanks to the molded plastic shell which is much more durable than you might think and can handle those times you need that durability.
A lot of the comfort of this boating chair comes from the impressive size and the compression foam they used for the padding. It has impressive dimensions of 22″ wide by 21.5″ deep by 19.5″ high which will allow you to sit on this boating chair in comfort and not feel like you're squished on there.
What You Can Mount It To
This is an important question as you need to know what you can mount it to and Leader Accessories have kept it fairly simple. You're able to mount this to your standard 5″ by 5″ or the 5″ x 12″ mounting bolt pattern which is a fairly common pattern and will work for a good number of people.
Wide Variety Of Choices
For some people, this is only a small thing but for others, it's important as they like things to match. This is that this chair has an impressive amount of color designs that offer you a wide variety of choices and will help you find something that will match your current boat.
---
Big Persons Captain's Boat Seat With Pedestal
22.5″ Wide Seat

Wise has a good reputation for making high-quality products that are suited to a wide range of people while not breaking the bank in the process. They've done it once again with this excellent adjustable boating chair that is not just comfortable but also durable.
This is one of the most comfortable boating chairs going on the market in my opinion. The foam padding is a good start to the comfort that is improved with how this chair actually has armrests. This makes sitting on this chair a lot more comfortable compared to your standard boating chair.
Thankfully they have treated these chairs vinyl with UV protection and mildew resistant making it very tough from the external elements. To protect it even further from the elements they made the base out of aluminum which when you combine these things you have an extremely durable chair.
Boat Chair Made Easy
Often one of the biggest problems people face when looking for a new boating chair is that they rarely come with the pedestal. So you need to go get that separate so I really like how Wise have included the pedestal with this chair making it much more convenient than a lot of other chairs on the market.
While I personally like how you can get these two together I know not everyone else does. If you just like the chair itself without the pedestal than you're in luck as you can just get the chair itself and save yourself some extra money.
---
Heavy Duty Boat Seat Stand 350 LB+

A lot of people out there already have a good chair and need a strong base which is where once again Wise comes into play. They've made this excellent seat stand for boating that will help increase not only your comfort but also give you peace of mind when sitting.
One of the biggest issues that can be difficult for boating chairs and big people is that most don't have a decent weight capacity. Which is one of the reasons that this stand is really great since it has a useful 350lbs maximum weight capacity that will give you peace of mind when sitting on the chair.
Stability Is High On This Chair
While the impressive weight capacity of this chair is impressive it would be pointless if you sat on it and it moved a lot you wouldn't trust it. So they added rubber leg caps on the feet of these chairs that keep you stable which will help you feel better when sitting on the chair.
The caps do help with the stability of the chair but it's the wide base that really stands out. The base is 19.25″ wide by 18.25″ deep which gives it a solid and strong construction that gives you peace of mind when sitting on it.
Durability Is Impressive
A big part of the durability of this chair comes from the smart decision that Wise made when designing this base. They made it from a very strong steel tube construction which gives it the impressive capabilities that this chair has.
---
Choosing your boat seat material is equally important as the seat you sit on. This short video below by Boat Outfitters will help guide you to choosing the best boat seat for you needs.