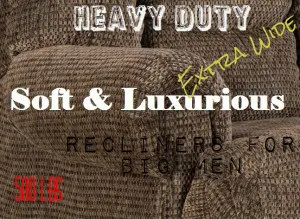 Tired of inferior recliner chairs that simply don't make the cut?. I know I was, which is why I searched for countless hours to find what I believe to be the Best Heavy Duty Recliners For Big Men.
Here we list only the recliners suitable for the obese, overweight and heavy people. Including big and tall recliners as many of us large people have extra height as well.
Nothing substandard for us bigger folks. It's time to kick the feet back and relax in style as we review some large capacity recliner chairs.
The Recliner You Buy Matters
Being a big guy myself, I know how important the right recliner is. Not only for durability and weight capacity. But also for ease of use. Which is why I tend to always recommend recliner-lift chairs for us heavy people.
A recliner alone is excellent, but when your larger than normal, getting out of the chair can be a massive struggle. Which is why I love these lift chairs that can tilt forward and basically ease the burden of trying to stand up. So let's get into it.
Quick Recliner Comparison Chart
| | Capacity | Features | Price |
| --- | --- | --- | --- |
| | 400 LB | 8 Point Massage, 150° Recline, Electric Power Lift, Thick Padding, 37"D x 37"W x 42"H | CHECK PRICE AMAZON |
| | 500 LB | 24" | CHECK PRICE AMAZON |
| | 500 LB | 27"x27" | CHECK PRICE AMAZON |
| | 500 LB | 25"x26" Seat, Reclines to the length of a King Mattress (suits Tall people up to 6'8", Thick 2.2 Hr Foam for extra padding. | CHECK PRICE AMAZON |
| | 450 LB | Made in USA, 24"x25" Seat, Powerful, yet safe 24 volt motor lifts with smooth, quiet efficiency Battery Backup System, | CHECK PRICE AMAZON |
| | 400 Lbs | This chair is 'Mammoth' in size. Boasting a huge 26.5" Wide seat and oversized length (85"), this powered recliner is ideal for the big and tall folks. | CHECK PRICE AMAZON |
| | 400 LB | 22"X22" Seat | CHECK PRICE AMAZON |
| | 400 LB Per Seat | 26.5"W x 24"D Seat Size, Available in up to 4 Seaters, ighted cup holders and base, hidden in-arm storage compartments, built-in SoundShaker bass shakers in each chair | CHECK PRICE AMAZON |
| | 350 Lbs | Oversized Manual 30 Degree Rocker and Recliner, Very soft padding with a breathable fabric finish. | CHECK PRICE AMAZON |
| | Unknown | Extra Wide Recliner 57" Wide in total, Zero Wall power recliner, Soft luxurious polyester microfiber finish. | CHECK PRICE AMAZON |
| | 325 Lbs | 20"x23", 2 Stage Motor Lift with Zero Gravity Infinite Position, USB Port, Side Pockets and more. | CHECK PRICE AMAZON |
400 Lb Weight Capacity Recliner With Massage Function

This massage/recliner chair by Homegear has been made with comfort and convenience in mind which I feel they have succeeded in doing. It offers some excellent features that should be on all recliners if mobility is limited.
Often the hardest thing about a recliner is getting out of it and with just how far back this chair goes it could have been an issue. That's not the case thanks to the electric-powered motor.
When you're a big person, getting out of the recliner after a nice relaxing time can be very difficult. It's so much harder to pull yourself up when you are carrying around a few extra hundred pounds.
Fortunately, the Homegear recliner features an excellent power lift and a very high capacity of 400 lbs. Just these two features alone are worthy of claiming this to be one of the best heavy-duty recliners on the market. Not too many, if any recliners can hold someone over 350 pounds, so this is certainly a rarity.
Full 150° Recline, Even As An Obese Person
Many consider best thing about a recliner is that they recline back into a super comfortable position. So I really like how Homegear allows this chair to go back the full 150° so you're able to lay down and forget about the world for a while.
The fact you can recline this far back without tipping or breaking the recliner for up to 400 pounds is astonishing. Being able to recline this chair so far back might worry some people for some very valid reasons, especially when you weigh more than 300 pounds. You can have peace of mind knowing that this recliner has been designed with an anti-back-tipping design to help with preventing this issue.
Features Durable Taupe Fabric
When it comes to upholstery for a recliner it can often get overlooked, which it shouldn't in my opinion. Having the wrong upholstery on your recliner can make it uncomfortable when you sit for long periods. Especially as a bigger size person trying to relax on a hot summers day.
With this chair using a durable fabric material rather than bonded leather, sweating is far less of an issue. Fabric material is designed to breathe better on hot days and nights. Getting hot and sticky on leather is not my ideal way to relax, so this durable fabric material is certainly a blessing for me.
Simple Things Done Right
Getting the simplest of things right is far more important then you might think. If they get the smallest thing right it tells me that the company actually cares about the product they're putting their name on.
So while putting dual storage pouches on this recliner may come across as a small feature, it's one I know many people appreciate. But at the end of the day, it's the heavy-duty 400 lb weight capacity and full recline that makes this recliner simply one of the best out there for heavy people.
400 LB Heavy Duty Power Lift Massage Recliner
Heavy-Duty Power Recliner
One of the first features people look to is recliners for heavy weights. The capacity to hold you safely should always he high on your priority list.
Like many of the recliners on this list, this Gladiator by Lane Home Furnishings has a high weight capacity of 500 pounds. Which is ideal for someone wanting a power recliner over 400lbs for their body weight.
The heavy-duty rating of this recliner is enforced by the fact Lane has used 7-gauge steel components when constructing this chair. The higher the steel gauge, the thicker the components are. Being a 7 gauge, you're getting a heavy duty steel component recliner.
To add to the strength and durability of this recliner, Lane has also bolted the armrests to the mainframe of the recline. This adds an extra element of safety and security when reclining in this chair.
Reclining Is Super Easy
Once you sit down on the relatively 24-inch wide seat, you can feel the robust heavy-duty nature of this chair immediately. The true test comes when you have to recline in it. There's nothing scarier as a big person than putting your life in the hands of gravity.
Reclining back on this 79 inch long recliner is doing just that. Fortunately, the Gladiator is up to the task. It provides the safety and reassurance a big person needs to recline back so far. One of the best power recliners for someone over 400 lbs.
The reclining motion is put into motion by pushing the button located on the left side. The button is at an easy to reach location, even if you have short arms. To engage the recline, you simply hold down the button, first the footrest will raise and then follows the gentle recline of the backrest.
You can stop the recline motion at any time by releasing your finger off the button. This allows you to have the chair in any position you like as you sit back and relax in true comfort.
I rate the Gladiator considerably high on the list of best heavy duty recliners simply for the fact it's powered and built for larger people. The framework is there, the durability is there an most importantly, the confidence to recline safely is there. Finding a heavy duty recliner that uses power to recline is rare, so I appreciate the fact Lane has provided this option for us larger folks.
Gladiator Power Rocker Recliner
Recliners For Heavy Weights
Power Lift Option
The Mega Motion company has released a Mega superior lift recliner chair just for us oversized fellas. Ok so not just for us big guys but you get the point. This is great news because Mega Motion is famous in the mobility industry and specializes in equipment to help specific people who find normal life activities a tad bit harder than the common folk.
This particular recliner for heavy weight is rated to a maximum of 500 lbs. That includes the lift feature as well. So to get in and out of the chair much easier all you have to do is press 1 button and your ready for easy sitting.
It reclines to 3 different positions including full recline so you can really relax in comfort. The recline feature is powered by an electric motor which is controlled by a handy remote (That can't get lost because it's attached to the recliner).
500 LB Power Lift Recliner Also Available In Ocean Blue
As for comfort and style, I usually prefer fabric chairs, and it's no different from the Mega Motion Heavy Duty Big Lift Chair. There's nothing worse than on a hot summer day and your skin sticks to the vinyl or leather sofa.
This material chair comes in a variety of colors too, so your not short on choices. I personally like this Ocean Blue variety. However, I have found it hard to track down Availablity is often scarce.
Overall, I like the amount of cushioning on this recliner, its a good balance between over the top squishy and rock hard. For a power lift recliner to be able to handle up to 500 pounds in weight is just mind blowing to me. Congratulations to Mega Motion for thinking about us larger folks.

500 Lb Big Lift Recliner
Best Big And Tall Recliners 500 Lbs

What a recliner chair this beast is, or should I say 'Comfort King'. It's another heavy duty recliner with a load-bearing capacity of 500 lbs. In my opinion, the best big an tall recliners on the current market. Brought to you by Lane Furniture and is proudly made in the USA.
Specifically Designed For The Big And Tall People
There's so much to love about this recliner chair but the most important factors are what matters most. Firstly this Comfort King recliner is suitable for big and tall people.
The high back and headrest ensure that tall people can easily relax in comfort. In fact, when fully reclined, this chair is the same length as a King size mattress which makes it suitable for people up to around 6'8″ in height. To be precise, the chair measures 40″ x 44″ x 48″.
If your height bothers you and you want more options, there's this article just on tall peoples recliners which may be of further help.
The Comfort King Is Rated Heavy Duty
When you recline in this chair, the wall-saver feature moves the chair forward automatically so that you're not banging into your walls. Its frame is made from all steel including the seat box, which is how it gets its heavy-duty rating.
The chair itself just looks so cozy and comfortable from all the thick padding, even on the footrest. The ComfortKing By Lane Furnishings is an all-round must-have chair for comfortable, relaxing, and watching the flat screen while confidently reclining in style. Big and tall people are in heaven with this recliner.
The Comfort King
Big Boys Recliner – 450Lbs Lift Capacity
More Than Just A Cat Nap!

Heavy-duty frame, heavy-duty materials, cushioning and pure comfort. This CatNapper 450 lb weight capacity recliner is one chair not to be messed with.
It's a massive chair that will keep you coming back for more. The oversized pockets on the sides are truly huge and perfect for almost anything you can think of. This is one chair you won't want to get out of in a hurry.
Heavy-Duty Build
Being a heavy duty lift chair means it's a good choice for obese and heavy people who struggle to get in and out of a normal sofa or chairs. All powered by an electric motor that seamlessly can recline to multiple positions.
One nice feature on this chair is the backup power. So if you lose electricity for any reason, you won't be left stuck in an awkward position unable to get out. The backup power comes from 9v batteries. Make sure you take advantage of this feature. Really important.
As for comfort levels, it's hard to be disappointed with the Omni Catnapper. If you have ever slept in a recliner before or basically use a recliner as a bed, I think you're in for a treat.
Amazing things can happen when you sleep in a lift chair of this caliber. It's also an acceptable temporary bed for people with bad backs or suffering from surgery. However, be sure to consult your doctor before using any chair as a sleeping apparatus. They should have named this chair the Everyday Napper!. Made in the USA.
Catnapper 450 Lbs
Best Big Man's Lay Flat Recliner
For Up To 400 Lbs

For those that simply can't have anything but pure comfort, then I think you will love this heavy duty 'Lay Flat' Power Recliner Chair by Catnapper. It's rated to hold up to 400 pounds of weight and this is thanks to the well constructed steel seat frame.
The steel seat box shouldn't warp out of place which tends to happen with the wooden frame recliners. This alone is a great feature for the heavy person looking for a reliable and sturdy recliner.
Mammoth Dimensions
This chair is known as 'The Mammoth' and its easy to see why. This chair is huge! Catnapper weren't messing around when they created this beast of a chair. In fact, the chair is recommended for people over 6 foot.
But its not just the length of the chair that is astounding, but the seat width also. With a 26.5″ distance between the arms, the extra wide seat gives you the space needed to really sit back and relax. This in combination with the 400 pound rating, makes the Mammoth a great choice for big and tall people.
A little feature I like about this recliner is the memory foam gel inserts. This adds a nice finishing touch to really amplify the comfort level. Us larger folks need as much padding as possible, by having these gel memory foam inserts it gives you that little bit more comfort and support.
'Mammoth' Power Recliner 400 LBS
Heavy Duty Theatre Room Recliners
400 Lb Capacity Per Seat

When it comes to theatre recliners it's hard to go past this top of the line recliner from Seatcraft. These recliner will improve your home theatre experience by not only being comfortable but offering a lot of 21t century features that are there to make your life easier.
When designing this recliner Seatcraft made sure they kept big and tall people in the picture. They did this by giving this recliner a wider seat and deeper seat that makes it more comfortable to sit in. The width of the seat itself is 26.5-inches and the depth is an impressive 24-inches.
The weight capacity is 400 pounds per seat and this is a result of the reinforced wood frame construction. A high-quality hardwood is a better option for heavy people as it is not prone to bending and warping like cheaper steel.
Feature Packed
The number of features on this recliner is incredible with all of them designed to make your experience better. Something as simple as having lights for its cup holders so you can find it in the dark. You're able to turn these off if this is something that you're not a fan of.
The backrest alone on this recliner is taken to another level as you're able to adjust the headrest, recline, and the lumbar on it at the touch of a button. It's made even better bt how you're able to save your favorite position on it so the next time you use it you can press a button and get back to your favorite spot.
Even More Quality Of Life Improvements
No matter who you are there is a good chance you have a phone or an iPad that you use to relax when you're on a recliner. It can be annoying when you're using it and the battery starts to die so you need to go leave it on charge. This recliner has a USB charging port so you're able to use your phone without worry of it dying on you.
Adding simple things like a hidden storage compartment in the arms and swivel tray tables really do add to an already impressive recliner. Then something like the ambient lighting underneath the chair is added and the chair looks even better in the dark. You're also able to turn the light off as well if you don't like that feature.
The SeatCraft Theatre Chairs Are available in 400 pound rated single chair recliner to seats of up to 4 (The LoveSeat)
Seatcraft Big & Tall - Home Theater Seating
Extra Strong Recliner Chair 400 Lb Limit

The advantages of owning a powered recliner far outweigh the higher upfront cost in my opinion. With how easy they make it too get out of the recliner and get into a good position it's difficult to go back to having to do it the old fashioned manual way.
With the power system in this Catnapper Burns recliner getting out of your recliner will be something that is no longer an issue for you. Having such a great engine and this quality of life improvement makes this a recliner you should consider to make your life easier.
Assembly of this chair can be a little difficult for those who might not be the most mechanically minded. Thankfully there is an option to have someone to put it together for you but it will cost a little bit extra. This is something you should consider as having a rough assembling process can ruin your opinion of something when the product itself is really good.
When You Demand Comfort
The woven velvet upholstery is durable and really comfortable against your skin when sitting on this recliner. It's also very breathable for when you need to sit for longer periods of time which adds to the comfort of this recliner even more.
One thing that really adds to the comfort of this recliner is the ability to just raise the legs without needing to recline the whole chair. This is a small thing but it can allow for a variety of comfortable positions that help with trying to get the right angle to face the tv you're watching.
Heavy-Duty Is The Focus
The reclining mechanism inside a recliner needs to be extremely tough and really durable. It's one of the most important parts of a recliner so it's not something that should be ignored.
Catnapper made the right choice in making this mechanism out of steel which is really durable. As a result of the reinforcements, this recliner has a capacity of 400 pounds.
Catnapper Burns Infinite Position Power Recliner
Heavy Duty Recliners – Extra Wide
As we know, weight capacity is not everything. Some of us just have larger rear ends. So a recliner with 500 pounds capacity may be more than enough, but simply not wide enough.
Fortunately, there are some heavy duty extra wide recliner options out there for us. One of the widest recliners I've come across is the wall-saver powered recliner by Ashley Furniture which is now on amazon.
When I say wide, I mean wide. This recliner is basically the size of a love seat but designed for single person use. So do keep this in mind when buying to make sure you have sufficient space in your room for this big boys recliner.
How Wide Is The

Clonmel

Recliner?
This oversized recliner has a total width of 57 inches, which is quite wide when you compare it to some of the other high capacity recliners. While the extra-wide seat is big enough for 2, it's perfect for one just one big man or woman.
Note that it doesn't recline fully flat, but close enough for the average height person. However, taller people may not enjoy the leg space the Clonmel offers.
The weight capacity is not exactly specified. I have heard rumors that it is technically around the 350lb mark, but I have also heard people over 400 pounds comfortably use this recliner.
But overall, it's hard to dispute that this is not one of the widest seat recliners available for a single person. In terms of comfort, it's very well padded and is finished with a plush microfiber material. So no sticking to leather on hot days with the Clonmel by Ashley Furniture. The only issue is fitting it through narrow door frames, so do keep this in mind when buying.
Ashley Furniture Clonmel 57" Wide
350 LB Capacity Recliner Rocker
Best For Overweight People

While it's great to see more and more manufacturers catering to people that weigh up to 500 pounds, it's important that there's ample quality recliner choices for overweight people. Because as we all know, the higher the weight rating, the more expensive the product genuinely is.
when you weigh under 350 pounds, there's not really much point in spending twice the amount to buy a 500 pound rated chair. So with that in mind, lets have a look at the best recliner for an overweight person weighing up to 350 pounds.
Affordable Yet Practical Reclining Rocker
Upon first glance of the 'Dreamsir' recliner, you instantly get that feeling of oversized, well padded luxurious comfort. Just by looking at this chair you can tell its going to be comfortable, even if you're not an overweight person.
But if you are overweight, you are in for a treat. Boasting a 350 pound weight capacity, the Dreamsir is in my opinion one of the better choices for overweight, yet not obese people. I say overweight because the seat size is not the widest, coming in at 20.4″ wide, so its not really suitable for a morbidly obese sized person. However the seat height is quite suitable, measuring 22″ from top of seat to the floor.
In terms of reclining, the Dreamsir also offers a 30 degree rocking feature, which I quite enjoy. Not all recliners offer a rocking feature, so its a nice touch. The chair reclines back 160 degrees, which is not quite flat, but in my opinion, a more comfortable position when chilling out watching TV.
Overall Dreamsir have nailed it in terms of an affordable, manual rocking recliner. Just enough padding and comfort to suit someone weighing in the 300's, while offering decent seat space at the same time.
Dreamsir 350 LB Rocking Recliner
Best Recliner For Someone That Weighs 300 Lb

Another great lift chair for overweight people that weigh around 300 lb is by Mega Motion. The infinite position chair does just what it's called. Two individual motors allow you to position both the chair and the footrest to any position imaginable.
This is ideal for people to find the correct position that suits there personal needs.
The material on the chair is so soft to touch and combined with adequate cushioning makes a really comfortable chair or temporary bed. This recliner has a heavy duty rating of 325 pounds. So make sure you adhere to the weight restriction ratings.
Like it's bigger Brother, this chair also has the backup power feature for those untimely electricity shutoffs. The lift feature also works like a charm for easy access. With quite a few choices for color, I see this recliner being a popular choice among the heavy community.
Infinite Position 325 Lbs
---
Video Review: 5 Recliners For Big Men
---
What To Look For When Buying A Big Mans Recliner
If none of the above recliners really do it for you, what are your options?. To continue the search or to drop your comments below with what you are after. If you decide to keep looking for suitable recliner chairs that meet your needs, there are a few things to consider when searching.
1. Try In-Store
While you can often find a bargain online, you don't get to interact with the chair. This can lead to disappointment when the chair arrives. So if you have the opportunity to view these recliners on a showroom floor, go for it.
2. Take Weight Capacities With A Grain Of Salt
The scariest thing about buying a recliner chair as a big person is breaking the chair due to excessive weight. So naturally, we look for the official weight capacity of a recliner.
But just like when buying a heavy duty treadmill, you don't actually know how these recliners are weight tested. Sometimes it's just a marketing ploy when in fact the chairs haven't had extensive use. So the safest bet is to look for consumer reviews that are around your weight and compare.
3. It's All In The Seat
A comfortable sitting seat can make or break your new recliner purchase. This is why it's important to consider 3 factors regarding the seat:
Seat Width: Will it be wide enough for you to actually sit in?
Seat Depth: If you're short or tall, the depth of the seat will determine how comfortably you fit in the chair. If the depth is too short, the tall people will have only their backsides planted, while if the depth is too deep, short people won't be able to have their feet planted on the ground properly.
Seat Height: This matters for both tall and short people again. But it's also important for heavy people as the lower the seat is, the harder it is to pull yourself out of the chair. Especially if its a well-padded and plush recliner.
Type Of Recliner
The type of recliner you buy is just as important as the weight capacity. The manual more traditional recliners can be hard to operate if you are too large or if you have a disability.
So it's important to check what type of manual action handle the recliner has. Some are wooden levers while others are small inconspicuous inward handles.
Of course, there are the electric recliner chairs that take the grief out of using a manually operated recliner chair. Just make sure the buttons to operate the recliner are in a convenient location.
If they are too far down the side of the chair, it can be very difficult to navigate the body over to push the buttons.
If getting in and out of any recliner is too much for you, or if using a manual handle release is too much work, the best bet for a bigger person is to opt for an extra wide power lift chair. These chairs do all the hard work for you. With the push of a button on the remote, you can have the chair raise up so you can sit in it while standing and vice versa.
Does Being Too Heavy Void Recliner Warranty
One thing that has always worried me about being a heavy person is voiding warranty due to my weight. While I have broken many chairs over the years as they have been designed for regular size people, not this big boy, I never bothered claiming warranty on the chairs.
So what would happen if you broke one of these heavy-duty recliners as a result of being too heavy? If there is a specified weight limit on the description of the chair, chances are you would be out of pocket. I don't see any company happily forking over the money on a product you broke as a result of being too big.
Especially as it has been specified before purchase. However, this is just how I feel and some companies may not undertake this practice.
A Recliner Chairs Weight Capacity?
Many times a recliner will have a weight capacity as a guide for the consumer. While it may have been tested out the back of the shop to hold a 500 lb weight on a once-off occasion, does this mean that the recliner can safely have a 500-pound man using it day after day?
This is the question that has bugged me for some time. I know some companies do in fact test their products for extended use, but how many really do.
Never Exceed The Weight Rating
Which leads me to the point of, never exceeding a specific weight capacity. That is if you're concerned about warranty and extended warranty options. If a recliner states that it has a heavy duty rating of 500 pounds and you weight 510 pounds, either lose a few pounds or look for another chair.
Why? Because you may void the warranty should the chair break on you.
2 Examples Of Voiding Warranty As A Result Of Exceeding The Weight Limit
Clinton Industries who specialize in medical products such as chairs, cabinets, etc mention in their 5 year warranty that the combined weight, stationary weigh, etc, should it exceed the specified weight capacity will void the warranty.
OFM who do a few products for heavy people also state in their warranty claims the weight capacities and what they consider normal use. As they have specified the weight ratings and normal use, should you not adhere to these conditions, I would assume warranty could be void.
---
The Recliner Chair Heavy Duty Components
There's more to a recliner than you might first think and this is especially true when you want something that's more heavy-duty. The materials it's made out of is crucial and things like quality control can't be ignored. Learning what these are and why they're important will help when you're looking for that new heavy-duty recliner.
What Goes Into A Heavy-Duty Recliner
In general, there are roughly 4 main components of a recliner that will affect how heavy-duty it is. Just ignoring one of them can lead to an inferior product that won't give you peace of mind when you go to use them.
The best thing the frame of a recliner can be made out of is some kind of hardwood, which thankfully most recliners are. Hardwood is essential in giving the chair more durability as hardwood is less likely to bow or crack compared to softwood. Then they also reinforce the frame with nuts and bolts with some chairs using steel corners for extra support.
When it comes to the insides of a heavy-duty recliner you can't afford to not pay attention to what the padding is made out of. Most companies will go with a polyurethane foam since it's good at holding its shape and being comfortable.
The last few things that go into making a recliner heavy-duty is what the fabric is made out of and how good is the activating mechanism. The fabric needs to be strong as it will be pushed and pulled against so it needs to handle that. Most activating mechanisms are made out of steel since it's durable and can handle the constant movement.
The Companies Quality Control
Most companies have will have inspectors to go over the quality over the chair even tho they don't need to if it's for residential use. This can make going for something that was meant for an office will be more durable but often not as comfortable. Thankfully there aren't a lot of companies who will skip doing this.
How Strong Is A Heavy Duty Recliner?
Depending on how thick the gauge of the steel frame can help determine the heavy-duty nature of the recliner. It's something that isn't very difficult to understand but a lot of people don't actually know there are different gauges of steel when it comes to furniture.
What Do The Numbers Mean?
You can be reading a review on a recliner and it mentions the recliner has 14 gauge steel and another has 10 gauge. Most people will instantly go 14 is higher than 10 and think that 14 is stronger. This isn't the case as the lower the number the thicker and more durable the steel is.
The gauge of steel is the measurement they use for how thick the steel is. The gauge of the steel can also affect what it's made of and might cause the steel to have some aluminum in it. So more goes into then you might think but the simple answer is the lower the number the thicker and more heavy-duty the steel is.
How Can This Affect Furniture?
Something that has a higher gauge like 20 won't be as durable but will weigh less than something with a lower gauge. So it becomes a system of do you want something stronger but weighs more or something lightweight that won't hold more weight.
Going with something that's a lower gauge like 14 will mean that the steel itself is thick and durable. By being that much thicker does mean that the piece of furniture will weigh more and can make it difficult to move.
So if you want a heavy-duty recliner as you weigh more than 250 lbs, you should aim for something that has a lower gauge steel. There's absolutely no point in cutting corners here because if the recline isn't constructed to be strong enough to hold a 400-pound person, then you are in for a surprise.