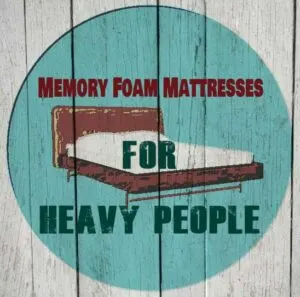 It's that time of year again. The mattress has busted out and you leave behind a sagging section from where your body once laid. It's time for an upgrade. It's time to find the best memory foam mattresses for heavy people so we don't continue this cycle of busting out old mattresses much before their expiry date.
It's an expensive routine after all. So it's now time to break the cycle and invest in your bed and your health.
In 1991 the first ever memory foam mattress burst onto the scene. Bringing with it a reduction in pressure points and the ability to conform to your body. But back then memory foam was far to expensive for the average American family to afford. But in recent years technology and process have advanced making memory foam more affordable for the common man. Even if we are the oversized version of the Man.
Best Type Of Memory Foam For Larger Persons
Since 1991 memory foam has advanced and so has the range available. So it can be a very daunting experience trying to choose a memory foam mattress when you have no clue as to which type is the best.
There are three main types of memory foam that are used in the production of mattresses. They are:
Traditional memory foam – Made from petroleum based products, the traditional memory foam is where it all began almost 30 years ago. To this day it remains pretty much the same.

Gel Infused – In recent years there has been an explosion of interest for making memory foam cooler. This is where gel infused or gel memory foam comes in.

Natural Material Based – Of the lot, plant/natural material based memory foam breathes the best due to the larger open cell design. Plant based was also introduced to reduce VOC's and increases response time from traditional memory foam. Some companies now use plant based products to replace the petroleum based products as a way to lower VOC's. How much will vary from company to company.
Innerspring Hybrid Mattresses: These types of mattresses are great for bigger people as they provide the strength and support of innerspring while offering the comfort and softness of memory foam.

Check out the heavy person options here

.
So Which Should You Buy?
Nobody likes to be too hot while trying to sleep. But as a heavy person myself, I know just how much more I feel the heat. It doesn't take much for me to start sweating. In fact all I have to do is sleep and I sweat. So finding the memory foam that best distributes my body heat away from me is the best.
For me this eliminates traditional memory foam. Of the three, it retains heat the best. Meaning it's great in winter, but an absolute nightmare during warmer nights. Even with the fan blazing at top speed.
Gel infused memory foam can come in multiple foams. Often infused throughout the mattress, or can be layered. It's true that gel memory foam does feel cooler initially. Which is great for when you're trying to fall asleep. However, there comes a point when the cool gel has adopted your body heat and will no longer be as cool. While still cooler than traditional, not as good as the plant based memory foam in my opinion.
Besides the low to no VOC's the plant based memory foam offers, one of it's greatest features is how breathable the material is. This is due to the larger open cell structures and the neutral temperature properties. So for me personally I would invest into a memory foam mattress that will help me stay cooler and sweat less during the night.
But as we are all different, the option is completely up to you. Some mattresses use a combination of products, including types of foam. Provided the base support is firm and dense to support the heavier weights, you can have a softer more plush type of memory foam layer on the top.
Below you can find my oversized recommendations for the best memory foam mattresses. I have tried to include a mix of both gel infused and plant based memory foam mattresses. This way there are more affordable options as well as the more premium mattresses available if desired.
Affordable Solution
An alternative to buying a completely new mattress is to invest in a quality mattress topper. A high quality topper can transform your run down mattress, give it a make over and even make it feel like a much more expensive mattress than what it is.
But as a heavy person, you don't want to buy just any topper as the majority of the options available are too thin and don't offer any support. For a heavy person you need to buy a rather dense memory foam topper to prove beneficial. This will offer greater support for larger people while maintaining a longer lifespan.
My #1 Recommended Gel Memory Foam Mattress
Besides becoming overheated, the next biggest factor I look at when buying a foam mattress is how much I sink into it. Being a larger person I'm going to sink more than your average size person. So as you can imagine, pulling yourself up when you have sunken into the mattress becomes that much harder.
So in regards to the best memory foam mattress for heavy people I can't go past this beautiful piece that's handcrafted in Spain. The Natures Sleep 13-Inch Gel Memory-Foam Mattress utilizes both comfort and heat reduction like no other.
The mattress comprises of two layers. A top layer which is 3 inches thick and the base layer that is 10 inches. Making it a total of 13 inches thick. Perfect for the bigger man. The base layer is a dense and firm Zenapur foam while the 3 inch topper is a bio renewable soy gel oil memory foam. A unique infusion that disperses your body heat to keep you cooler during the night.
What Makes This Mattress So 'Cool'
You may remember me saying that gel infusion doesn't always retain the coolness. Eventually it catches up with your body heat and remains stagnant. In this case, it's different. The natural soy oil not only helps control your body temperature, but it works alongside the 10″ Zenapur mattress to regulate far greater air flow.
This is done via the unique channels embedded on both the top and bottom of the base level foam. These channels circulate your body temperature in and around the mattress. By allowing cool air to flow through the channel and whisks away the warm air. Keeping you cooler and the gel memory foam pad which sits on top cooler also.
Level Of Firmness
Being a two layer mattress it's more of a medium to slightly firm sleeping surface. When you first lay down you notice how comfortable the top gel memory foam is and then seconds later you detect the nice amount of support from the 10″ layer.
When you lay down, the top layer natural contours to your body. But the second layer has these channels which also bend and move in order best support the body. So overall it's a very supportive mattress with some very cool temperature controlling features. The cover also helps to repel moisture and regulate body temperature. This of course is machine washable. Considering this it's handcrafted in Spain, the price is simply too good to be true. I was expecting at least $1500 for this mattress. I can say I was gladly surprised by the price.
European Luxury 13" Gel Memory Foam Mattress
Low VOC Open Cell Memory Foam Mattress
As stated at the top of this page, a low voc plant based memory foam is the best for heavy people. It's not only safer for you and the environment, but offers open cell foam. What this essentially means is that the mattress stays cooler and each cell act on its own. They spring back individually creating a more supportive and cooler for the body mattress.
The Live And Sleep Resort Ultra memory foam mattress is my number one recommendation in the safe non toxic memory foam category. Not only is this mattress CertiPUR-US certified (less chemicals used), but it is also Oeko-tex certified. Better for your health, the environment and of course a cooler more comfortable nights sleep. What could go wrong?.
A Little More About The Live & Sleep Mattress
12 inch total thickness comprising of 3 layers of foam. Base layer is 8.5″ thick high density, the middle layer is 1″ gel infused visco and finally the 2.5″ top layer of low voc memory foam.

Antimicrobial & hypoallergenic

Free memory foam pillow included with mattress.

One of the coolest beds to sleep on due to the open cell design of the top layer and the 1″ thick gel infused middle layer.

Available in multiple sizes.

Delivered ready to un-roll onto your bed. No messing around with squeezing through doorways and staircases.
How Firm Is The Live & Sleep Ultra Resort?
After you go through all the specs on how awesome this mattress is, what really matters is how firm or soft it is to lay on. As a bigger man myself I can say it's a nice medium firmness. Once you lay on this bed it's immediate comfort, but it doesn't take long to realize that there's some pretty solid support underneath. Which is a good thing when you are obese or overweight.
Overall, it's pretty much smack bang in the middle of soft and hard. Not too soft that our large bodies sink too deep and can't escape, but not too firm that you may as well sleep in the floor. It's the perfect blend of firmness for me.
One of the other things I noticed was that there was no smell commonly associated with memory foam mattresses. This will be from the green products used. It's a low voc, non toxic mattress designed to make you and the environment sleep better.
Another thing to note is that this mattress takes a couple days to take it's full toll on you. So on the first night you may find it to be uncomfortable. But after a few nights you will be preying for bedtime to come sooner as it's that comfortable to sleep in.
Certainly one of the best medium firm mattresses with the best kind of memory foam used to create a cooler nights sleep. While cushioning pressure points perfectly.
12" Live and Sleep Resort Ultra Queen Size
Popular Gel Memory Foam Hybrid Mattress For Heavy People
The Lucid 12″ Hybrid mattress is a popular choice for heavy people as it offers support like I've never seen on a memory foam mattress before. Especially around the edge of the bed which is one of the things that annoys me the most about other beds.
There is no outer edge support, so when you sit down, as we humans do, the mattress flops down from the excessive weight. Not ideal for a overweight person like myself.
But this Hybrid mattress by Lucid fixes this problem, which is why it is such a popular mattress. This is done via it's hybrid design. Taking elements of the coil mattress and sandwiching the coils between layers of foam. Leaving you with a well supported spring bed which caters to all the pressure points commonly associated with memory foam.
What Makes Up The Lucid Mattress
This 12″ Lucid mattress comprises many carefully constructed layers of goodness with each layer playing an important role.
Base layer is 1″ thick supportive foam. Think of it as the bottom piece of bread on a sandwich.

Next comes the foundation which comprises individually wrapped steel coils. This is where all the action happens in terms of offering support. As a heavy person, this 6.5″ of steel coil support is critical to finding a well balanced mattress. These coils also allow for warm air to transfer out of your body, through the foam and then circulate with the cooler air in the coils.

The next 3 layers comprise of transition and support foam which act like the salad on a sandwich. Topped off with the 1″ gel infused memory foam for added temperature control. I guess you could call this the cheese.

Lastly comes the top layer of bread to complete the hybrid mattress. Which is a 1.5″ thick genuine latex foam.

Lastly the mattress is covered in a two tone cover.
Custom Fit Your Level Of Comfort
What's really good about the Lucid mattress is that you can pick the level of firmness you desire to meet your custom needs. So if you like your mattress more plush than firm you can opt for the medium plush with a medium level of sink. However, as a bigger person you don't really want to sink to much into the mattress.
So this particular mattress is the medium firm with slight sink option enabled. However you can change it to your desired level on the description page on amazon. Regardless of what you choose, the most amazing feature is the 5″ supported edges. Finally you can sit down on the outer edge of the bed safely.
I like the Lucid option as it is good for people who are not quite convinced on buying a straight memory foam mattress. Which is fair enough, so this hybrid mattress is a good alternative.
With the Lucid you still get the contouring sink from the memory foam while enjoying the bounce of the the latex top layer and have support from the inner coils like never before. The big man can feel safe while enjoying a luxurious mattress that designed for support and keeping you cool during the night.
LUCID 12 Inch King Latex Hybrid Mattress - Memory Foam
Copper Infused Memory Foam Mattress
Copper is a highly conductive natural material, one of the most conductive materials found here on Earth. So what in the world does this have to do with a plus size person trying to buy a memory foam mattress?. Well simply put, it's attributes are amazing and are well suited to the heavy person.
The Layla Sleep mattress has this copper infused cooling system built into the mattress. Essentially what it does is makes the mattress cooler to sleep on over extended hours. But by having a natural product of the earth infused with your mattress has even more benefits.
Benefits Of This Copper Infused Memory Foam Mattress For the Big Guy & Gal
1. Cooling Attributes
As we know, having excess body weight makes us feel warmer than a normal sized person. So during the warmer nights, we feel hot and sweat a lot more. So a mattress with a cooling system is the way to go. Copper when infused with gel creates this cooler sensation.
Here's how it works. When you lay on a foam mattress, whether it be open cell or closed, you're essentially crushing the cells. This blocks the chance for air to flow and leaves the warmth of your body trapped.
So when you lay on a copper infused memory foam bed which also has gel, the two meet. The copper particles make contact with the gel particles and create a conductive heat transfer platform. The copper and gel particles suck the heat out of the compressed foam cells and distribute them to other areas of the mattress which are not compressed and become cool.
Now think about copper pipes, aren't they always cool to touch?. This is because copper doesn't hold onto heat, so it makes the perfect cooling agent for a memory foam mattress.
2. Health Benefits
A copper infused mattress can increase blood flow as copper emits antioxidants and anti inflammatory. This is why people wear copper bracelets. Increased blood flow means an increase in oxygen and nutrients throughout the body. Poor blood circulation can be a side effect of being a heavy person, so having copper infused into the mattress is a brilliant idea.
The antimicrobial effects copper can have are astounding. It is near impossible for live organisms to survive after prolonged exposure to copper. So it's a great line of defense against viruses and the flu. It's long known that copper has health benefits for inflamed joints for people with arthritis and such.
3. Copper Can Withstand Heavy Weights
One of the most relevant benefit to a copper infused memory foam mattress like the Layla Sleep is that it is more responsive to heavy weights.
When you put deep pressure on a foam mattress (hips, elbows etc) you can bottom out wear the mattress no longer supports the weight. But with copper, it infuses with the gel to create a solid core. This adds a layer of support from the flexible gel and will prevent the visco from bottoming out.
So Copper Is Cool… Now More About The Mattress
[review_bar id='2255′]
Wow that was a lesson on copper. So now we know how great it is that Layla Sleep have infused copper into this mattress, lets have a look at what else this mattress offers the larger people.
Available in many sizes

Has a unique feature whereby you can use both sides of this foam mattress. One side is slightly more dense than the other to suit people that like a more firmer bed. The other side is the medium soft for people that like it more padded.

The cover of the mattress is even gel infused to keep the surface from heating up too much.

4 layers of foam including 2 x memory foam. An additional layer is convoluted which is just amazing for comfort.

120 night trial (almost 4 months!) when you buy on amazon.com. If 4 months is not enough time to fall in love with this mattress, then it's certainly not for you.

Lifetime warranty is incredible.
Super Easy To Set Up
This short video demonstrates just how easy it is to set up one of the Layla Sleep mattresses. Take note on the size, it's a King, and also how much support the mattress offers immediately after opening. Simply incredible.
Overall It's The Best Mattress For Indecisive People
The reason I say this is because I am very indecisive. But with the Layla Sleep copper infused memory foam mattress I don't need to contemplate too much. The mattress covers both the firm and softer types of sleepers. Which is one less thing to worry about "Is this mattress too firm for me"….
Being over 10 inches of thick foam I can be sure that it's not too thin for my heavier torso. But with the reinforced core from the copper and gel memory foam I am even more at ease.
If I had to decide out of all these mattresses on this page, it would be hard to pass up on the Layla Sleep copper. The health benefits and the anti microbial defense against viruses and the flu play an important role for me.
Plus the fact it utilizes copper as part of the cooling system is just brilliant. Like I said, it would be hard to say no to this mattress and the best part is, it won't cost you anywhere near as much as those high end mattresses.
Layla Sleep Copper Infused Memory Foam Mattress
What Size Or Thickness Should A Foam Mattress Be?
This will greatly depend on your body size, weight and level of fitness. For me, it's too hard to get down low and get back up out of bed. So I need a mattress that is going to be 10 inches thick as a minimal. Provided your bed or box spring has at the bare minimal 10 inches of height, you are looking at a sleeping height of 20 inches from the ground.
But as I said, this is bare minimal for me. I would prefer to go higher, up near 30 inches or more from ground height. You may be in the same or slightly less overweight category and find 20 inches is fine. For morbid obese people, a hospital bed and bariatric mattress is often the case.
The level of thickness your memory foam bed also depends on your body weight. Because we are heavier and bigger, there's much more force pushed onto the bed. Squashing down the top layers of foam. So a more supportive and firmer base layer is almost a certainty when it come to buying a foam mattress for heavy people.
Another aspect to consider is the way you sleep. I sleep all over the place, so this doesn't affect me so much. But typically I am a side sleeper. What this means is there are more pressure points to be catered too. So a deeper mattress is recommended to cater to this pressure points while also trying to keep the spine from curving unnaturally.
When sleeping on your back, the weight is more evenly distributed. Less pressure points are impacted and the level of concentrated weight is reduced. Which basically means that anything 10″ thick and above should be fine to lay on. But side sleepers will need a greater depth to their mattress.
Do Memory Foam Mattresses Have Weight Capacities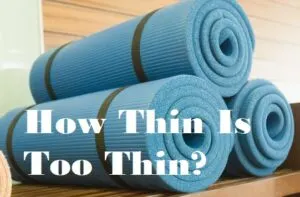 Some memory foam mattresses and mattresses in general do state a weight capacity. Not all, but some do like these heavy weight rated mattresses. Do I think this is terribly important?. Not exactly.
The reason being your bed frame or box spring takes most of the load. While the mattress does get squashed, it's not going to collapse under you if you buy a quality mattress. Some bed frames can support over 4000 lbs, so unless your putting a paper thin mattress on top, chances are you wont end up on the ground.
The level of thickness the memory foam mattress is important as stated above. Especially if you're a heavy side sleeper. So it's important you don't cheap out and buy a 5″ thick mattress.
The density of the foam is also an aspect to consider. This would be relevant to your body weight and could give you an idea of the weight capacity. How so?. Foam is rated by how dense it is. This will give you an indication of both the comfort level and the durability of the foam. The less durable it is, the more likely it is to not support a heavy person very well.
But if you go too dense, then the bed will be uncomfortable. But it will support your weight. Again, the level of density is unique to your comfort levels. Just don't go too low or you're asking for trouble.
As a estimate, any memory foam that is less than 4 lbs per cubic foot is no good. Over 5.5 lbs and you're probably going to think it's too hard to sleep on. So find a foam mattress somewhere in the middle and make sure your bed frame supports both your weight/your partners and the mattress weight.