As a larger person, a well supporting mattress is ideal to support the heavier body weight. But with this sometimes comes a feeling of being too firm. By using the best mattress toppers for heavy person, you can reduce the stiffness in the mattress without sacrificing the level of support.
Mattress toppers come in all sorts of thicknesses from 1 inch to 4 inches available in an array of materials from memory foam to latex. Choosing the right level of thickness and what material your mattress topper is made from is critical to improving the comfort of your existing mattress.
But it's not a case of one size fits all here. Choosing what mattress topper is best when you're obese can depend on a number of factors including your body weight, size, type of mattress and the level of support your existing mattress currently provides.
For example, if you have a relatively new innerspring mattress which is ideal for heavy people, chances are the bed is already quite supportive and includes a decent mattress topper. So the topper you chose will differ from someone with a pretty rundown mattress that lacks the support they need.
Compare Mattress Toppers For Heavy Person
The Types Of Toppers
No doubt you have seen the very large selection of mattress toppers available. It can be quite overwhelming when trying to choose one that suits your body size. Without physically sleeping on one for a few nights to get a real feel for it, choosing one can feel like you're going in blind.
To make choosing a mattress topper easier for the overweight person, you need to understand the basic benefits each type will provide you.
Latex and memory foam are typically best suited to heavy people. This is because they are more supportive and can mold to your body to provide support in the right pressure points.
But if you already have quite a supportive bed, perhaps a softer topper like a cotton or down topper is what you're after. Even a low-density memory foam topper can provide you with the softness you're after.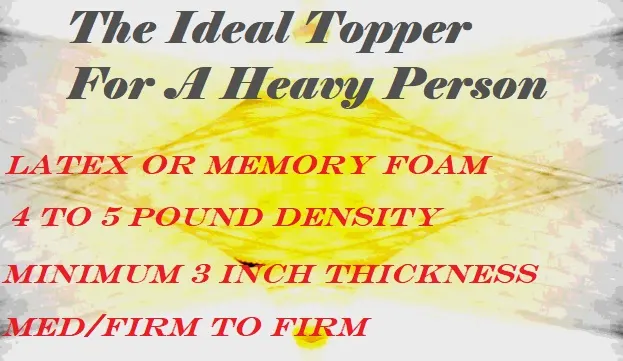 What Thickness & Density Does A Heavy Person Need
Generally speaking, a thicker topper is best suited to heavy people and side sleepers as they can take more of the grunt compared to a thinner topper. Again, latex and memory foam provide the thickest options, making them the ideal mattress for heavy people.
But in saying that, a 4 inch topper with a low density won't suit a heavy person. It will just crumble compared to a 3 inch topper with a higher density rating. The denser the memory foam topper, the more supportive it will generally be. Technically speaking, density is the measurement of weight per cubic foot and not how firm the topper will be. Firmness is measured by a number between 1 and 10 as seen here.
Heavy people need more support as the extra weight puts enormous pressure on their pressure points and a denser topper can help absorb this pressure and relieve some pain.
Understanding the density of the topper is rather simple. It is allocated a number between 1 and 6 usually. 6 being the most dense and most supportive as well as retaining its body contouring features for a longer period of time. Most heavy people will need a dense topper rated between 3 and 6. To work out the density of any mattress topper, use this calculator here.
As memory foam retains heat very well, its a very good idea to look for a topper with new cooling technologies built into the foam. This can include a layer of gel which helps keep you cooler by exporting the body heat away from you. Us bigger people tend to get hotter and sweating while you sleep is never fun. So try to find a gel infused topper or something along these lines.
Firmest 5 Pound Density Memory Foam Mattress Topper

One thing you will notice when searching for dense memory foam toppers is that the majority of the popular brands with thousands of reviews is that, the density is quite low. Most of them hovered around 2 pound density, which is far too lightweight for a heavy person.
As mentioned earlier, a heavy person really needs a thick and dense topper to support the extra weight to prove beneficial to them. The higher density also means it should last longer before needing to be replaced.
After much research, I finally found a 4 inch thick mattress topper with a high density rating of 5 pounds. Which I find is ideal for larger-bodied people. This topper is by 'Memory Foam Solutions' and has a variety of options available from 2 inch twins to 4 inch California king toppers with 5 pound density.
In terms of the density, it's been speculated that its not quite level 5 density, but pretty high in the 4 rating. Which is pretty good considering many companies claim they have a 5 pound topper to later discover it barely satisfies a rating of 3. So while not 100% accurate, I think Memory Foam Solution has done a pretty good job on this topper.
Best of all, their range of memory foam toppers are made in the USA without using harmful chemicals which have been approved by the EPA and CSPC standards. So all in all, you get a pretty solid topper suitable for heavier people. But do note, due to the high-density level, the topper is quite heavy to move.
5LB 4" Thick Memory Foam Solutions
Best Latex Mattress Topper For Obese People

If you've tried memory foam mattresses in the past, and find you get too hot, even with cooling gel infused, a good alternative is to invest in a 100% natural latex topper that doesn't consist of any synthetic fibers that could retain heat.
Similar in support functions as a memory foam mattress, but much cooler on the body as latex is heat neutral. Meaning it doesn't retain heat as well as memory foam. Being a natural composition, latex is also hypoallergenic (bar the tiny percentage of people with a latex allergy) and antimicrobial which is best suited to people known for sensitive skin and suffer from allergies.
In terms of support, even a soft latex topper can improve the amount of support your existing bed offers. The level of thickness you need really comes down to how much more support you need and the state your bed is in.
For a heavy person, a 3 inch thick 100% natural latex mattress topper like the Pure Green shown here, would suit. It will pretty much give your old mattress a makeover. Meaning you won't feel the things you use to feel, instead you will feel a whole new supportive mattress effect. Which is what you want, especially if your bed has seen better days.
Being quite dense at 4 pounds, the Pure Green Latex topper also offers a nice touch of softness thanks to its 20 ILD rating which also offers a high amount of support. So you get the best of both worlds so to speak.
What's great about the Pure Green latex topper is that you can choose the level of thickness as well as the level of ILD (firm or soft) all while retaining the 4 pound density that provides much of the support needed as a big person.
The one mentioned here is classified as a soft firmness, but is also available in medium to firm. However, I suggest the soft version as the 4 pound density and 3 inch thickness is quite supportive as is. I've heard the firm version of this topper is well, too firm. But if you like your bed very firm, it might be an avenue to explore.
3" 100% Natural Latex Topper 4 Pound Density
4 Pound Density Mattress Topper For Heavy People

Ever wanted a Tempur-Pedic mattress but just couldn't afford the luxury. Well the good news is, you can mimic the feel of a Tempur-Pedic mattress by adding one of these 3 inch thick, 4 pound density mattress toppers onto your existing bed.
This medium firm topper uses the same materials (Tempur) as one of the full Tempur-Pedic mattresses. As it is 3 inches thick, you can basically enjoy the benefits of Tempur-Pedic even if your existing mattress is not the best.
So what is this magical Tempur material Tempur-Pedic have been specializing in for over 25 years now?. Tempur is basically memory foam first created by NASA for the comfort of their Astronauts and Tempur-Pedic owns this special formula that put memory foam back on the map when it first came out.
Tempur Material VS Regular Memory Foam
The basic difference between Tempur and imitation memory foam is quality and heat distribution. Tempur has a pretty strong 10 year guarantee, whereas imitation memory foam is prone to deteriorating much quicker.
Tempur also uses an open cell structure, whereas many other memory foams are closed cells. This means Tempur material allows the foam to breathe which allows body heat to escape. All while escaping the stigma of memory foam being too hot to sleep on.
Tempur material also incorporates the benefits we all know and love about memory foam: contours to your body, provides amazing support, relieving tension etc.
This topper also comes with a cover which is washable and allergen resistant. All in all, it's a great way to experience the Tempur-Pedic feel, without handing over the big bucks on a full blown Tempur mattress. Being a 4 pound dense topper with a 3 inch thickness, I find it ideal for the heavier person needing that extra support and comfort to sleep painlessly through the night.
Tempur-Pedic 4 LB Density ProForm Topper
Best Mattress Topper For Obese People

Hammering home the importance of density when you're an obese person is this 3 inch thick, 4 pound dense mattress topper by Visco-Soft. Weighing just over 40 pounds, this King size mattress topper can be double the density of similar size toppers.
As density is directly related to the weight of the topper, you know this topper has a high level of density. Visco-Soft makes a point of this because many people are not aware that the denser a topper is, the heavier it will weigh.
This is not only good for providing adequate support a heavy person needs but also good for keeping the topper firmly in place on your bed. Nothing worse than a flimsy topper that slides all over the place during the night as you try your hardest to get to sleep.
The Features
The Visco-Soft topper is another quality choice for the heavy person due to its 4 pound density and 3 inch thickness. The dense foundation is ideal for overweight people that need extra support around the hips, shoulders and belly regions. A less dense topper will just sag in these areas and won't provide the support a heavy person needs.
Apart from being a highly supportive topper, it's also gel-infused. As us bigger people tend to feel the heat and sweat more, we need a mattress topper that reduces the amount of body heat build-up.
As I have already listed a latex topper which is another good choice for distributing heat, for the fans of memory foam, you really need to look into one with a gel-infused substance.
The design of the topper is already breathable (ventilated core), but with the inclusion of the gel, body heat can be transported away from your body. Unlike regular memory foam which retains the heat making you sweat more and feel hot during the night.
Like the above Tempur-Pedic, this Visco-Soft also comes with a hypoallergenic and washable cover for the topper. The cover is a mesh-like material which also encourages airflow and gives the body heat a way to escape from the topper. The cover also has straps to hold down the topper to your mattress.
Being Cetipur-US certified also means you're getting a high quality material backed by a pretty decent warranty. Mind you, not as good as the Tempur Material warranty. But still, this Visco-Soft is certainly a contender as one of the best memory foam mattress toppers for heavy people.
Visco-Soft 4Lb Density 3 Inch Memory Foam Topper
Best Mattress Toppers For Heavy Side Sleepers

This next option is also by Visco-Soft and I think it's one of the best mattress toppers for heavy side sleepers. This topper differs from the above models as its a hybrid two-layer 4 inch thick mattress topper. Consisting of a gel infused latex base for a dense foundation and finished in a down alternative topper to provide a softness like no other.
This type of topper is ideal for the heavier people that have a mattress which provides a decent amount of support already. The inclusion of the 2.5″ thick gel latex boosts your current level of support and can minimize any defects in your mattress.
The top layer is a 1.5″ thick pearl fiber down alternative. This pillow topper provides you with the plush soft feeling of sleeping on a cloud, while the 4 pound density gel latex topper beneath provides the extra support a heavy person needs.
However, as the important layer of latex is thinner than the above toppers, it may not suit the morbidly obese people. For most heavy people, a 2.5″ thick 4 pound dense topper will fit the bill.
Like the above Visco-Soft model, this one also comes with a cover. The cover on this one has a lower thread count of 300, which offers greater breath-ability. Ideal for people that feel the heat and sweat more.
Besides the added comfort the 1.5″ thick layer of down alternative pearl fiber adds, this layer separates you from the memory foam. While the foam is gel infused anyway to help distribute body heat, this dividing layer helps to keep you even cooler. So if you feel the heat and sweat a lot, this Visco-Soft 4″ thick dual mattress topper is certainly one of the best.
Visco-Soft Serene Dual Layer 4" Mattress Pad Topper
Low Density Heavy Person's Mattress Topper
Best Mattress Topper For Plus Size

While I have harped on long enough about the importance of dense memory foam when you're a heavier person, some people may still prefer a low to medium density topper. If your current mattress is rock hard and lacks the softness you need, this is when you start looking into lower density mattress toppers.
However, being a heavy person, you still need to make sure the low-density topper is quite thick. Otherwise, the added bodyweight is just going to squish the foam down into a pancake and offer no value.
This is why this 4 inch thick topper by Lucid is my best recommendation. The added thickness a 4 inch topper means that the gel infused memory foam can cradle your body better. It will contour to your body and still provide support without sinking through to the original mattress.
It's important for a memory foam topper to cradle your body if you want to feel the benefits. A thicker topper like this one does this by providing a nice 4 inch thickness. I would certainly not go under 4 inches thick on a lower density topper as a big man.
Heat Distributing Features
To help reduce heat build-up us bigger people experience, this Lucid topper utilizes a ventilation system combined with gel infusion. What this does is aids in heat escaping through the tiny air circulation holes.
The cooling gel helps to transport the heat away from your body and up and out through the ventilation system. but this topper doesn't come with a cover, so it's important you use a low thread count sheet over the top so heat can escape better.
The Main Disadvantage This Topper Has
As previously mentioned, this is a low density mattress. Somewhere between 1 to 2 in terms of density ratings. So it's quite plush. Being 4 inches thick does have its benefits for the heavier person, but can also double up as a disadvantage.
How so?. Being plush and quite thick can make it more difficult to roll over or move around on the bed freely. This is not a problem for everyone, but for some, it may be a deal-breaker. Which is why I recommend one of the more dense toppers mentioned above.
LUCID 4 Inch Gel Memory Foam Mattress Topper
Frequently Asked Mattress Topper Questions
How Long Until The Mattress Topper Needs To Be Replaced
Trying to work how long a mattress topper will last is a difficult question to answer since there is a lot that can affect it. Simple things such as how old your mattress is can affect how long your topper will last.
To get the best from your topper, start by not going with a cheaper low-quality topper. Spending that bit extra can help increase the life expectancy of your topper.
As a heavy person, the extra body weight does affect the lifespan of a topper. You would have noticed simply by the impression left on your original mattress. This is why a dense and supportive mattress topper is ideal for heavier persons.
To ensure a longer lifespan, be sure to rotate the topper every couple of weeks in the beginning and after a couple of months, span down this rotation to once a month. This will helps you from wearing out one section of the topper. Much like you do when you buy a new mattress.
Factors That Influence The Toppers Lifespan
If the condition of your current mattress is poor then it can affect the lifespan of your new mattress topper. The topper will mold to how the mattress is and this can damage the topper causing it to have excess pressure on areas where it should not.
This one is a little self-explanatory but everyday use of a topper will degrade your topper quicker.
Being a heavier person puts a lot of pressure on the topper and can hurt the shape of the topper which makes it unusable quicker. Use the above mattress toppers if you are a heavy person.
Like anything you own, you should do maintenance on your topper. Making sure to clean it and let it air out to help increase lifespan. Along with rotating the mattress topper as if it was a new mattress.
When choosing your mattress topper you should go for something that is higher quality since you can sometimes get 10 years out of a quality topper. Going with the cheaper option you might be lucky to get a few months out of it. This is especially important for obese and overweight people.
Depending on how thick your mattress topper is can greatly affect the lifespan of it. Something thinner might be a little cheaper but you won't get the longevity out of it compared to something thicker.
Do Mattress Toppers Help Back Pain
With so many obese people suffering from back pain, we are always looking for ways to help with just getting a little bit of relief. This is where mattress toppers can come into play with some of them being able to help give you some relief through the night and hopefully during the day as well.
So how does a mattress topper help with giving you relief from back pain? You'd be surprised at the number of times sleeping on a bad mattress has led to back pain for overweight people. Buying a new mattress for 400 pound person isn't always a financial possibility. This makes a mattress topper a good option for people on a budget.
Helps To Align The Spine
A mattress topper can help with keeping your spine in its natural alignment. This will help in reducing some of the back pain you might be getting and just make your life that little bit easier.
What this does is help your body when your sleeping by being in the correct posture. There is a reason you're told so many times when you were younger to correct your posture. Changing your posture when you're sleeping isn't as easy and why a mattress topper will help in alleviating your back pain.
Types Of Toppers For Back Pain
There are a few different types of mattress toppers that can affect your back in different ways. The main two are memory foam and a latex foam which I find isn't as good at helping with back pain compared to memory foam. Memory foam will help suit your body shape and gives your body the ability to be in its best position.
One thing I will say is that a mattress topper is not guaranteed success in fixing your back problems. They have the ability to help with it which is why even chiropractors will recommend them to some of there patients. But I'd still advise visiting a professional to help with your back pain if it keeps up.
Can Mattress Toppers Cause You Back Pain
A mattress topper isn't a one size fixes all situation and can sometimes be more of a hindrance then help if you get the wrong type. Getting the wrong mattress topper is very similar in having the wrong type of mattress for how you sleep so you can get the same problems.
Getting the wrong type of mattress topper can be the cause of why a mattress topper might be causing your back pain. Depending on how you sleep can affect if the mattress topper will be more of a help or a hindrance. If you got a soft topper and sleep on your back, this can lead to an increase of back pain since your spine needs a firmer surface when sleeping on your back.
So a mattress topper can cause you some back pain if you get the wrong type. Tho we are all different and what works for me might not work for you, so this might not affect you in the same way.
Are Mattress Toppers Any Good For Stomach Sleepers
Sleeping on your stomach and using a mattress topper is a difficult thing since sleeping on your stomach is one of the worst ways of sleeping. So finding the right mattress topper for your needs will be difficult since what you'll need is so specific that makes it hard to find.
You will want to avoid soft toppers if you sleep on your stomach since these can end up causing you more damage than relief. When you sleep on your stomach your neck is put into a bad position, and having a soft topper will make this even worse, and can cause damage to your neck.
If soft isn't good for stomach sleepers then is a firm topper a better fit for you? Sadly this isn't the case since a firm topper can prevent your body and most importantly your spine to not set in its natural position.
What you will want to look for is one that is roughly in the middle between a firm and soft. This does make it difficult finding the right one for you. As a heavy person, I find sleeping on my stomach incredibly difficult anyway, so it's not something I would actively go out and buy. However, you may be different of course.
Do Mattress Toppers Make You Feel Hot & Sweaty
There is nothing more uncomfortable than trying to sleep when you're all hot and sweaty. Not all of us sleep with airconditioning during the night, which can make it almost impossible to sleep on those humid hot nights.
The quick and simple answer to this question is yes a mattress topper can make it hotter and more uncomfortable to sleep. As us heavy people sweat more, why on earth would we want a device that encourages us to feel the heat even more?
The reason that mattress toppers can make it hotter is that memory foam doesn't transfer heat very well. But there are toppers with heat distributing features and there are also things that you're able to do that will help with keeping the heat down when using a mattress topper.
Mattress Pads Can Help Reduce The Heat
Adding something as simple as a mattress pad that's made of cotton can really help with keeping the temperature down. Another really good option if you have the funds for it is to get some sheets that are called moisture-wicking. These are designed to help with keeping you cool but can be a little bit expensive for some people.
Gel Infused Memory Foam Toppers
If you find a memory foam topper still being too warm then you could go with a gel memory foam topper. Which is very similar to a memory foam topper but they allow air to circulate more and keep your cool.
The gel that is infused in the memory foam helps to distribute your body heat away from your body. Whereas traditional memory foam retains the heat, which is why they can get so darn hot. But with a gel-infused memory foam, you will certainly notice the difference.
The last and simplest idea but not always the easiest is to try and keep your house cool. By either using a fan or airing out your room and getting some nice circulation in it. Taking a cool shower before bed is another way to cool down the body before going to bed.
The Big Mans Final Word
With the vast amount of options out there, choosing the best mattress topper can be very difficult. Especially when you're considered overweight or obese. Without the knowledge of density and levels of firmness, you're going to be shopping blind.
Hopefully, I have helped you out and now you understand the importance of density and how it directly affects the heavy person. There is not much point to buying a low-density mattress topper when you weight more than what's considered healthy. The support is just not there.
Unfortunately, buying a dense mattress topper is more expensive. There's more weight to them and less air, so the costs rise. Like many things for the heavier people, it simply costs more to live. But in order to get the best mattress topper for a heavy person, you need to invest more so.