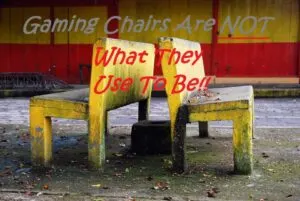 Finding the best big and tall gaming chairs for bug guys is no easy feat. This is one area the market hasn't catered very well to, in regards to the heavy or overweight population.
I don't consider myself so much of a full-time gamer anymore, but I do know that spending hours in front of the console and TV can become very uncomfortable. Especially if you're big and tall.
Back in the day, I played an online game from my laptop for almost 36 hours without sleep. This was an uncomfortable day and a half, but I was determined to level up my character so much, that comfort did not matter. Heck, I wasn't even aware of such a gaming chair.
What I Need
So as it stands now, I'm in the market for finding a decent heavy duty gaming chair. The 1 chair that is available at my local office store has a tiny 200 Lbs weight capacity. Which as you may know, will simply not do. I need a high weigh capacity gaming chair, or it's no chair at all.
So by doing some solid research I have found a few candidates as possible good gaming chairs for us heavy people. I will dig around to try to find the weight capacities and the dimensions to make it easier for any other large gamer needing comfort whilst gaming.
Compare Heavy Duty Gaming Chairs
The Highest Weight Capacity DX Racer Gaming Chair
The Tank – 450 Lbs Weight Capacity
One of the big names the gaming chair industry – DX Racer produces some of the highest weight capacity chairs perfect for the big and tall.
The 'Tank' is suitable for people up to 6'7″ (200 cm) and a maximum weight of 450 pounds (200kg). But being the biggest chair on the market (That we could find), comes at a price. It's also quite costly to be part of the 'tank' series. But if you can afford one, then you are not going to regret it. It's a beast of a chair with large amounts of functionality.
Available in both the US and the UK, the DX Racer 'Tank' series is going to become a very popular chair among bigger gamers. You are spoiled for comfort and ease of use with this chair. It boasts all the good ergonomic features required to play for hours straight without discomfort.
The lumbar support has an amazing affect on the lower back which is a godsend for people like myself that suffer back pain when sitting on the computer for hours on end.
The Tank Heavy Duty Gaming Chair
Being a 26″ gap between the shoulder areas should be plenty of room for most people I would assume. The seat size is what impresses me the most at 20″ in diameter and about 17″ wide at the front. Well it impresses me only because the padding on the seat is top notch. Otherwise, it wouldn't play such an important role in comfortable gaming.
Moving on to the arms. To have arms or to not have arms, that s the question?. With the Tank, you can shift them to pretty much anywhere you like. Being 4D adjustable arms gives us the freedom to put them where we want based on which type of game is on the menu.
While most of the time arms can be restrictive and make it harder to fit in the seat, they also act as great leverage points for pulling up out of the bucket style seat. So it's a good option to have these adjustable 4D arms.
Probably The Best Chair A Big Man Could Own
Overall its a high quality gaming chair which is literally built like a tank. But unfortunately the price tag may scare some people away. But my advice is this, if you can afford it. Get the DX Racer Tank.
When it comes to items that you use for 8 hours plus each and every day (Like a chair, bed etc) you cannot be tight with money. They are more expensive because they are simply better and will last a lot longer in my opinion.
DXRacer 'Tank' 450 Lbs Gaming Chair
Extra Large Vertagear Chairs For Gaming
The first few oversized gaming chairs are all by Vertagear. What drew me to these chairs was how big they looked. A lot of the other chairs I could tell immediately that they wouldn't be surface. But when I saw these 3, I knew they must have a heavier weight capacity. I was right.
440 Lbs Weight Capacity Gaming Chair!
The first cab off the rank is the Vertagear PL6000. The reason this is my number one choice is simply due to the fact it's purpose built for big and heavy people.
Compared to the other 2 Vertagear chairs (See below), this chair looks like a tank. It's bigger, stronger, has a 440 pounds weight capacity and is simply more bad ass than the other Vertagear chairs. Plus it's got a feature I simply love: Perforated material. Meaning an increase in air flow to the body. We all know how hot and sweaty it can get for long gaming periods.
The seat and back rest are slightly wider also, so it allows for extra rump storage. The only negative difference between this model and the SL4000 & SL5000 is that back rest itself doesn't recline as far back as them. This Big Man's gaming chair goes back 150 degrees compared to 180 for the other 2 models. Which is understandable considering it's high weight capacity of 440 lbs.
Because of the heavier weight capacity, the frame/base itself is built stronger from heavy duty industrial grade steel. Which is very reassuring for a larger person. If you are a fairly hefty sized gamer, I would highly recommend going with the PL6000. I don't think there is anything else on the market with a higher weight capacity. That is unless you venture down the big man's office chair route.
Vertagear 440 Lbs Gaming Chair
Best Big And Tall Gaming Chairs
It's a shame the AkRacing XL range Luxury Pro gaming chairs don't have a higher weight capacity. Even tho they are 330 lbs, I feel they are short changing a fraction of the market.
Any-who, there's much to love about these luxury big and tall gaming chairs. As the name suggests, they are the high end premium and downright expensive gaming chairs. So if you're on a tight budget, don't bother checking the price. But if you're curious, you can check the price on amazon here.
Also A Good Gaming Chair For The Tall People
Besides the weight capacity being good for a big person, the chair's settings allow for gamers over 6 foot to comfortably sit without strain. No more blaming the poor neck support of the chair for loosing in Team Deathmatch now. This chair by AKRacing certainly has got the big and tall community in mind with this release.
Keeping on with the luxury features, one of the best features I've seen on a gaming chair like this is the 3D arm rests. Besides eye sight, whats the most important feature you would consider about gaming in a chair?. Having your hands in a comfortable position that suits YOUR individual arms. If your hands are cramped or stretched out, not centered correctly. Then it may as well be game over.
With the AKRacing Luxury XL line, you have full control over the arm rests. More control than you may initially think. These armrests do it all, move up down inward and outward. But the cool feature about these arm rests are they twist. So that you can position your arm on the angle that you need to be at your best. It's the same with the recline tilt and lock feature. The chair can go all the way back to 180 degrees.
On a loosing steak?. No problem, take a 10 minute nap in the 180 degree position to recharge the batteries. The chair has other tilt and lock positions as well, I just love the 180 position.
Being an oversized gaming chair, I can confidently say anyone under 330 pounds would enjoy this chair. The padding, the custom features and the dazzling good looks make this one of the hottest gaming chairs on the market.
*Available in some pretty cool colors too. P.S. Don't say I didn't warn you about the price tag!
AKRacing Pro Luxury XL Gaming Chair
400 Lb Gaming Chairs For Large Adults
Extra Wide Seat

This Killabee Von Racer has a lot to offer a gamer who is in the market for a new gaming chair. What I like most about the Von Racer is that it stays comfortable for those long gaming sessions without having the pain issues that can come with them.
Comfort is one of the most important things when you're going to be using the chair for hours at a time. Von Racer made the right decision in making the seat out of memory foam which as most of us know, is super comfortable. This combined with the neck and back cushion allows for ultimate comfort for those long gaming sessions.
What makes this chair so good is the sheer amount of customization this chair has on offer. If you need to adjust a part of this chair you're able to do so which is what is so good about it. The arms, backrest, and seat are all adjustable to different levels.
Spacious For The Larger Adults
The Killabee chair Von Racer has a good amount of room for bigger people which is great but does mean you should measure how much space you have. The internal width of the seat is 21.7-inches and a depth of 20.5-inches which works really well when it's combined with the 23.2-inches for the backrest make this comfortable for larger people.
Being a gaming chair for heavy people it does need that good weight capacity which it does have. It is a robust, strong and durable 400 lb gaming chair. It achieves this by having an extremely durable and stable metal base which makes it safer to use. This is made even better as the chair itself has a metal frame, which adds to the overall durability and heavy duty long term use.
Big And Tall Features
While we have touched mainly on the heavy person features of this 400 pound capacity gaming chair, let's have a look as to why it's also good for the tall people.
Being rated as a big and tall gaming chair indicates a few things, firstly the weight capacity which we have already covered. The Killabee does a killer job at vouching for us heavy gamers.
If you are quite tall as well, the other factors to consider are seat height and backrest height. The Von racer has also got you covered here. The seat height can extend up to 22.8″ tall, which is about 2-4 inches taller than many other chairs.
The backrest is also quite tall, coming in at 33.5″. This allows taller people to lean back and stretch out with adequate head and shoulder support. Without a doubt, I find the Killabee Von Racer to be one of the best gaming chairs for big and tall people as a result of these dimensions.
Killabee Von Racer 400 Lb
Gaming Chairs For Fat Guys

When it comes to gaming chairs for fat guys, the Blue Whale chair comes to mind. With its impressive features, comfort, and the safety aspects it offers. When you add all those together you will be getting one of the best heavy duty gaming chairs on the market.
It's hard to go past the feature that makes this chair so good and something that makes it worth your consideration. This the excellent massage pillow that this chair has included with it.
You can easily plug it into a USB port to give you a lot more comfort than a standard gaming chair.
Being able to massage those tender back muscles after an 8 hour session on Call Of Duty is something I never imagined possible. But thanks to this awesome chair, you can now game in relieve tension at the same time.
Thick Heavy Duty Padded Seat
The seat of this chair is 4.7-inches thick which is made out of a high-density sponge which adds to the comfort of this chair even more. As you may have guessed, Blue Whale has focused comfort with this chair and in my opinion, I believe they have achieved this to a very high level.
Durability on this gaming chair is really high thanks to the heavy-duty metal base. Unlike a lot of other chairs whose metal base is at the front of the chair which can be dangerous at times. This one is near the back which becomes the center when you recline it back which makes it more stable. Making it a safe chair to relax on.
While this chair has a lot of great features and is really comfortable it does have one downside. That is you can't lock the armrests in place which is disappointing and really the only downside of the chair but far from a dealbreaker.
Big & Tall Details
400 Lbs Weight Capacity
20.47″ Wide Seat
Seat Height: 19.88″ – 22.63″
Backrest Height: 33.46″
Blue Whale Gaming Chair with Massage Lumbar Support
Heavy Duty Chairs For Gaming
So the other chairs I'm looking at are the Vertagear SL2000 and the SL line in general. From my research, I haven't noticed too much difference overall.
The noticeable differences are that the SL2000 has a flatter seat, while some of the others have the hump in the front of the seat. Another difference is that I believe the SL2000 will be better suited to the big and tall due to its 330 pound weight limit.
[review_bar id='1572′]
The Vertagear SL Vs PL Line
Differences aside, the rest of the features seem attractive to me. However, the advantage lays with the PLline in regard to the big gamers. The width on the back of the seat where your shoulder would rest is slightly larger at 21.5 inches. I have extra-wide shoulders, so this is really a plus for me.
While we are on the backrest of the chair, I must say I'm sold on the 2 extra support cushions. The lumbar and neck cushion will hopefully solve many sore necks and lower back problems from extended gaming sessions.
While I'm not normally a fan of PVC leather as I prefer mesh style padding, I must say that these chairs do look mighty comfortable. Lack of airflow to the body may be an issue, but heck…That's what fans are for right?.
The 2 other features that drew me to the Vertagear SL gaming series chairs are the reclining feature and the adjustable armrests. First, the recline feature allows the back of the chair to tilt to 170 degrees, which has me written all over it. The chair even has lock tilt mode. Meaning the front and back of the chair can be tilted back and locked into place to the position best suited.
4d Adjustable Arms
They call the adjustable arms 4d. Which I guess is relevant because the arm rest can pretty much be adjusted into any position. It can be raised, tiled back or forward and even moved inwards towards your body or outwards for extra space.
We often overlook small features like this when gaming. But at the position, blood flow is maximized which results in less cramping and strains. That means more gaming enjoyment.
Overall, Vertagear are one of my first choices. With a weight capacity of 330 lbs, I think many Gamers should find the SL2000 sufficient.
However, if you are bigger, go with the Pl6000 mentioned above. While the Vertagear gaming chairs don't have some of the technology other chairs may have, it does have the right build for a big Man.
Vertagear S-Line SL2000 Racing Series Gaming Chair
Rocking Gaming Chairs For Heavy People
X-Rocker Pro H3 275 Lbs Weight Capacity
According to the X-Rocker website, this Pro series H3 model has a weight capacity of 275Lbs. It looks awesome and boasts some cool features.
However, because it is a floor rocker getting in and out of this gaming chair could prove a struggle for gamers pushing 300 pounds. The floor is our worst enemy!. There is a pedestal version of this chair which is raised. But I couldn't find the actual weight capacity. It's called the X-Rocker Pro 2.1 if you want to compare the 2.
X-Rocker have been sponsors for competitive BaseLAN 27 tournament, which speaks volumes for the company. I trusted and very professional gaming authority. Knowing that company behind this gaming chair are leaders in their field, makes it a hard decision. Which is better?. The X-Rocker Pro H3Vs Vertagear SL6000?.
What I am having a hard time getting past is the built in speaker and sub woofer speaker the X-Rocker boasts. I mean…It's amazing!. Talk of the town if I had one of these beasts!. There are 4 speakers and 1 subwoofer which is built into the back. The other 4 speakers are beside the head rest and down by the seat.
[review_bar id='1576′]
[bannerbox id=18]
What Are Some Complaints About The X-Rocker Pro Wireless Gaming Chair?
This short video does a bang on job reviewing the X-Rocker chair. Make sure you watch it all the way through if you are considering buying the X-Rocker Pro H3. It's an insight you may want to see.
200Kg Gaming Chair (440 Lbs)

Because I'm a fan of Vertagera, let's have another look at why I think this is one of the best gaming chairs for the big and tall people.
One of the best 200kg gaming chair has to be this beast by Vertagear. The heavy-duty 200kg weight limit 9440 lb) is quite robust and is a direct result of the strong steel construction.
A lot more goes into a gaming chair then a lot of people think which is why companies like Vertagear are appreciated. They know that it needs to be more than just a fancy looking chair to be considered a gaming chair, especially for how long you can sit there and game!
One of the most overlooked features when it comes to gaming chairs is how adjustable are the armrests. You're able to adjust these in 4 different ways with the standard up and down.
But you can also bring them forward and back so you can get closer to where your keyboard is which provides a lot more comfort behind the desk.
Heavy Duty Steel Frame
The chair itself has a really durable steel frame that is more than just durable. The design is what many gamers would call a classic racing design, which is one of the most common. This is for good reason, as it looks stylish but also really comfortable to sit and game in.
For most gamers, their chair will be used for more than just gaming. Often we will use it for when we just want to relax and watch twitch. So this chair having the ability to go into a reclined position is excellent for more than just gaming.
Without a doubt, one of the most frustrating things when it comes to chairs like this is how hard they are to assemble. You normally need some a lot of room and two people to actually set them up which isn't the case with this chair.
Vertagear 440 Lbs Gaming Chair
Need An Extra Wide Seat For Gaming?
It's no secret that us bigger gamers have wider rear ends. But some more than others. So what are you to do when you need an extra-wide gaming chair?.
Since most of these options above aren't exactly the widest options, a gamer with a larger backside is going to have to revert to the classic office chair.
But not just any office chair, it has to also has sufficient space in between the arms in order to be comfortable. So it has to have a wider seat period. While you always have the option to get an office chair without any arms so that you are not constricted so much in width, I think arms are a must in this case.
The arms provide great resting platforms and help keep your arms still for precision gaming. It helps to keep the reticle steady when aiming down the scope. Which is critical in games like Call Of Duty.
Widest Office Chair For Gaming

When it comes to the widest office chair, not only is it wider by inches compared to a gaming chair, but it's also got a hefty 500 pound weight capacity. Introducing the Admiral 3.
The Admiral 3 has a huge 24 inch wide seat with a backrest that is 26 inches wide. It's also quite tall having a backrest that measures 36 inches tall. So there's no doubt this is certainly a chair designed for the big and tall.
The padding on the Admiral is also quite impressive. Something many gaming chairs often lack. So when you need a good chair for hours upon hours of gaming, padding is crucial.
But as this chair is finished in bonded leather, extra care should be taken to extend the life of the leather. I would even go as far as putting a cover over when gaming, this will keep the leather from gradually deteriorating.
The arms are also well padded which makes resting your elbows on quite comfortable. There's even a padded headrest which is slightly raised forwards which makes resting your head back on much easier.
Comfort Products Admiral III Big & Tall Executive Bonded Leather Chair
Unconventional Gaming Chair 350 Lbs Capacity

Thinking outside the box a little and you can find chairs suitable for gaming all around you. I hosted a party just recently and one of my gaming friends was over. I offered him a seat and he sat down on my zero gravity chair.
Within seconds he was like "Man, this chair would be so good for gaming". At first I thought was he must have been drunk, but I'll be damned. A good zero gravity chair is a great chair for gaming in. Who cares if it's intended for outdoors use.
Padded Zero Gravity Chair For Gaming 350 Lbs
So what makes a zero gravity chair so special?. Well to start with they are extremely comfortable. This is because they simulate the position astronauts use when preparing to rocket into space. This position has the least amount of pressure on the body which makes them so relaxing and comfortable.
This Timber Ridge chair is also padded, where many zero gravity chairs are not. So you get even more comfort from this chair. It also has a decent 350 pound weight capacity, so bigger uses are well catered for.
However, I don't think a zero gravity chair like this is suitable for all gaming styles. Due to being a more relaxed and laid back type of sitting position, focusing can be more difficult. Certainly not a chair I would use in a online battle of call of duty as I like to be positioned so I'm sitting forward and not tilted back even the slightest.
Oversized Zero Gravity Chair (Padded) 350Lbs
Are Gaming Chairs Good For Your Body
Because gaming chairs have grown in popularity so much over the years, many gamers are concerned as to whether they are good for your body or not. While many simply don't care, the people that take care of their bodies have serious concerns.
When it comes to gaming chairs, the same risks are involved as an office worker sitting behind a desk for 8 hours a day. Many people play games for longer than 8 hours a day, which can be concerning for a number of reasons.
Sitting For Long Periods Is Bad For You
Working behind a desk has been labeled by many as the 'new smoking' in terms of damage it can do your body. So with the power of many great minds, they came up with the standing desk.
This helps office workers get off their backsides and stand to allow blood to circulate and get in a little exercise at the same time.
But what option does a gamer have when playing games for 8 hours a day?. The best option for a gamer is to buy an ergonomic office chair. These chairs cater to your individual body needs and provide optimum support so that you can sit and play in the correct posture.
Slouching over or leaning back while sitting for long periods can take its toll on your body. Gaming chairs typically aren't designed to be all that ergonomic. Most of it's the visual appeal. So if you're concerned about your body posture and health. Take a serious look into an ergonomic office chair as a gaming chair replacement.
Why Do Gaming Chairs Have Weight Capacities
Like most products for heavy people, gaming chairs also have a weight capacity. But why do gaming chairs have a weight rating in the first place?.
One would like to think its for customer safety, but I believe the reason more and more products are now coming out with weight capacities listed is simply down to voiding warranties.
If you break a gaming chair while still under warranty, and there is no weight limit listed, the company can't hold this against you. But if the weight capacity is listed and you weigh more than the capacity, chances are they will void your warranty.
This is not just speculation either, there are products that disclose this on their product warranty. Specifying that the product is only covered under warranty fo the stated weight rating.
So its important that you buy a gaming chair with a weight limit which is below your actual weight. Otherwise, you may be risking the warranty should anything bad happen to the chair. At the end of the day, big and tall gaming chairs are designed to be heavy duty, but one should never assume that it is capable of handling any weight load.