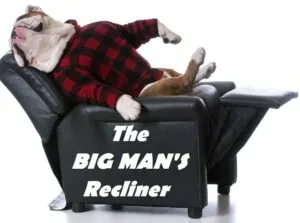 What are the Best Big Man Recliner Chairs with 500-lbs (pounds) weight capacity rating?. Well to start with…No cheap and nasty recliners that may fall apart within months. Only solid heavy-duty recliner chairs especially built for the Big Man & Women are even considered in our list.
After a hard day at the office, there's no greater feeling than coming home from work and crashing into the recliner. Laying back with those tired and busted feet up and simply taking a minute to enjoy 'nothingness'. It's a magical feeling that's hard to beat.
The problem is that it's not easy to find 500-lb rated recliners for the big man. Most recliners have a 250 pound capacity with the exception of the oversized models. Fortunately, there are some manufacturers that have heard the demand for these high weight capacity recliners and released recliners with the ability to safely handle people that are 500 pounds in weight.
Compare The Big Mans Recliners With 500 Pound Rating
| | Size | Type | Price |
| --- | --- | --- | --- |
| | 25" Wide seat, 79" Recline Length, Wall proximity: 10". Overall: 44" X 40" X 48" | Manual | Check Price Amazon |
| | Wall proximity: 17", Seat width: 27", Seat height: 20", Backrest: 31". Single motor | Power Lift | Check Price Amazon |
| | 24" Wide seat, Reclines: 79", Overall: 40" x 44" x 48" | Power Recline | Check Price Amazon |
| | 44" overall width, 79" full recline, 22" seat height, fits thru 32" doorway | Manual | Check Price Amazon |
Big And Tall Recliners 500 Lbs
While the Stallion recliner is not a 'Lift' chair like the Mega Motion mentioned below, it's still built to hold 500 pounds. It's one of my all-time favorite Big Mans Recliners without the Lift function.
Where it lacks in the lift feature, it makes u for in the cushioning department. This is one loaded up with padding and I certainly describe the Stallion as a comfortable chair.
If not one of the most comfortable chairs I've seen on the market, whether it's for big and tall people or not. Made in America, this chair has many attributes for the big and tall market.
Designed For The Tall & The Big People
The backrest measures in at an impressive 26 inches and when fully reclined it's just about as long as a King size mattress. To put this in perspective, a standard recline length is between 50 and 60 inches. With the Stallion, you get a mammoth 79 inches of recline length.
This is enough to suit someone about 6'8″ tall without having to have their head hang over the end and their ankles rubbing up against the hard part of the footrest. When you combine this with the 500-pound capacity, it's easy to see why this is the best recliner for the big and tall people.
Heavy-duty Reinforcements
The frame, as well as the seat support, is made completely from steel for added reinforcement, which differs from the normal timer and steel recliners. So you can really feel safe as a big man in this recliner.
The other notable feature of this Lane Furniture recliner is its wall-saver feature. This is ideal for small rooms when you have the chair positioned at the back of the room directly in front of the TV. The wall-saver feature shifts forward as you go into reline mode, so you don't smash into the wall and create more headaches for yourself.
Overall I find the Stallion a good option to buy for a recliner with such a high weight capacity. While I do prefer the Mega Motions recliner, this one is a bit cheaper. But take into consideration the amount of help an added Lift function would be in your life. To me, that extra couple hundred bucks is worth its weight in gold easily.
The Stallion 500 lbs Capacity Recliner
Our Top Rated Recliner For The Oversized
I find the biggest problem with being a really big guy is getting in and out of any recliner chair. Without the assistance of another person, it's almost impossible.
But with the 'Lift' technology that this Mega motion chair has, we can finally have Independence and can get into the recliner on our own. The lift feature is a motor that is powered and also has a backup battery option (For emergencies when the power goes out and your left stranded in the full recline position, the battery feature kicks in to save the day).
The lift is controlled by a simple to use remote control. With the push of a button, the chair will raise up and tilt forward or back for easy access. So basically your standing and just slightly bend the knees, push a button and you're now on the once impossible recliner.
Lower yourself down with the remote to the position in which you want to recline. There are 3 positions in which this chair has access to. The normal sitting up position, then slightly reclined and finally the full recline position which is my favorite for those afternoon naps.
It's A Heavy Recliner
As this is a 500-pound weight capacity recliner, you're going to probably need some help positioning the chair at your home. Although you can pay for a home delivery service that will install it into your home. It's not your average recliner, and that's exactly what us big people need. It's made from superior timber hardwood and reinforced steel supports, which make this one heck of a heavy-duty recliner.
Some size details I think you may need to know: The area between the arms is most critical and it measures in at 27 inches. The distance in height from the floor is 20 inches and the depth of the seat s 20.5″.
Will this recliner also suit a big and tall person?. Yes, it's perfect for people to probably 6'2″, but if your even taller then your feet may hang slightly off the end when reclined. Not a big deal tho.
Overall I find this Mega Motion the most comfortable and feature-packed recliner for many heavy people, especially for the big Men 400 pounds and upwards.
Mega Motion LIFT Recliner 500 Lbs Capacity
Big Mans Power Recliner 500-Lbs Capacity

If you weigh close to 500 pounds, ideally you would be looking for a 600-700lbs recliner, but unfortunately, there doesn't seem to be any in existence, that I could find. It would be especially nice on a power recliner like the Gladiator Power Rocker by Lane Home Furnishings.
Having that high level of support combined with the push-button technology of a power recliner would certainly make a scene. However, it's still nice to see that Lane has produced a power recliner option for the big man because, with the exception of the lift chair by Mega Motion, I'm yet to come across another power recliner option like this.
Extra Wide Seat
For some people, the power feature of the Gladiator may not be all that appealing, but I have a feeling the extra-wide seat on this beast will be. The seat and the distance between the arms are 24 inches.
This is a huge seating area that many of the bigger people will certainly enjoy. The padding under the seat is also quite responsive due to it's 2.5″ thickness. The padding on the seat I would rate as a medium-firm. Not so plush that you sink into the seat and feel the baseboard beneath, but firm enough to support the heavy weights it's designed to.
Once you're comfortable in your seat, its time to recline. The arms are bolted onto the chair to enhance the strength of the chair as you recline. How far back you recline is up to you.
You control the button which controls the movement. Holding down the button will at first raise the footrest and once that's raised, the backrest will recline backward. At its full recline, the chair can extend to 79 inches in length. Certainly enough space for the big and tall person to relax at full stretch.
At any point during the recline journey you want to stop reclining, just let go of the button. This is how you can customize how you would like your chair to feel. The chair is now firmly in your desired position, all that's left for you to do, is well nothing.
Gladiator Power Rocker Recliner
Want The Leather Look?

So far I have been pretty biased towards fabric recliners, but that's simply to do with the lack of 500-pound capacity leather recliners. But in saying that, I personally prefer the feel of fabric over leather as I find leather is too sticky and uncomfortable on the skin in the warmer months. Nobody likes to feel sticky and sweaty on a recliner.
But here's one for the lovers of the leather look. It's a 500-pound capacity recliner by, you guessed it, Lane Home Furnishing. These guys really do look after us big and heavy people don't they.
It's A Manual Recliner
Unfortunately, the Dorado recliner is not a power model, but it does have a pretty decent and durable lever. However, some shorter folks may find it difficult reaching it to engage it. Other than that, it does the job nicely.
Just like the other Lane recliners, the Dorado is also built with the same mechanisms that give it the durability and strength to handle people up to 500-lbs. This includes the 7-gauge steel that is made in the USA and implanted into the chair with the drop-in seat. The armrests are also bolted on for further strength and overall performance.
The Dorado recliner is also a wall saver. What this means is that you can position the chair about 2 feet away from the wall and when reclined, you won't bang into the wall. Hence the name 'wall-saver'. For a chair as robust and oversized as this is, 2 feet away from the wall is quite an impressive feet.
All in all, I would be pretty happy with any of the recliners by Lane Home Furnishing. They are built in the USA from quality hardwood and use heavy-duty steel materials to give them the strength and durability a Big man needs. Compared to many other manufacturers on the market, I can confidently say Lane produces some of the best recliner chairs for the heavier people out there.
Dorado Wallsaver Leather Look 500 Lbs
Have You Considered A 450 Lb Capacity Recliner?
As I previously stated, one of my favorite recliners of all time is the 'Catnapper'. But it's only rated to 450 pounds. However, I hold a lot of faith in this chair and would feel disappointed in myself if I didn't at least suggest it to you guys. So take a look anyway, and you may just like what you see.
Catnapper 450 Lbs
Most Recliners Can't Hold 500 Pounds Of Weight
However, when you're a Big Man like myself, you may already know that the standard recliner chair may not be adequate for our heavy load requirements. While the common recliner chair may appear to be large and look pretty darn nice, don't be fooled into throwing away a few hundred bucks without doing some research first.
They may not be built from heavy duty materials. Which is a deal-breaker for me. This is a common mistake I see folks make and it can be a costly one. Make sure you check the weight capacity rating before buying a recliner, that is my best recommendation.
Fortunately, I have got you covered here with ONLY recliners that support 500 pounds (Lbs). Nothing less. So if you're a big man and require a supersize recliner. Stay tuned and keep reading on. If you require recliner chairs that have various weight capacities (Over 250 lbs) you can visit Our Top 5 Big Boy Recliner Chairs.
Not interested in weight capacity and want just a wide recliner?. Check out these Extra Wide Reclining Chairs and see what the widest chairs available are.
Searching For The Best Big Man Recliner? – 500 Lbs Capacity Only
While there only a handful of recliner chairs that can actually handle up to 500 pounds that I found to be worthy. We will always be on the lookout for even more to bring you the reviews you need to help make a decision on what recliner to buy for a Big Man.
There are 2 standouts in the 500 lb category for us which come highly recommended. However, I still personally love the Catnapper Recliner, but do note it's only rated to 450 pounds.