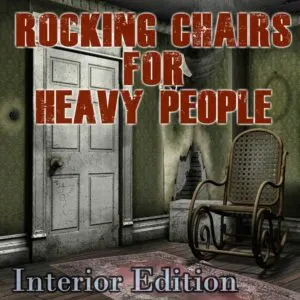 The number of indoor rocking chairs for heavy people have increased over the years, giving us heavier folks more opportunities to sit back, relax and rock ourselves to sleep.
Rockers are a great way to relax and pass time whether it be in the lounge room or in the nursery with bubs. But not knowing if the rocking chair will support your body weight can be a an expensive mistake.
A mistake that I will never make again. Which is why the chairs listed below take the guesswork out of knowing whether or not the chair will support your weight.
But much like outdoors rockers, the options for the overweight or obese person can be quite slim. This is not ideal for the big man as the thought of crashing down to the ground midway through rocking does not sound appealing at all.
So it's very important that you know beforehand the weight capacity of the rocking chair. Not only will this potentially save you from injuring yourself, but also the hassle of returning or buying a new rocker.
Compare Indoor Rockers By Capacity
264 Pound Capacity Steel Frame Rocking Chair

While wicker chairs are often associated with the outdoors due to their weather resistance, they also can make beautiful indoor rockers as well. If they are well presented and have an interior appeal like this rocker, you can easily use them indoors without looking out of place.
This particular wicker rocker has a weight capacity of 264 pounds, making it a great choice for plus size people.
The rust-resistant frame has been reinforced to able to support heavier loads. All while being hidden out of sight by the beautiful brown and black PE wicker.
This rocking chair also comes with the padding so no need to go out and purchase additional covers. It's also a soft sponge rather than a foam padding which I quite like. This is because foam can become flat and stay flat without bouncing back.
What I really like is the ability to recline the seat and bring up the footrest with the push of a single button. No need to push your body into the chair to get it to recline. The button is located on the right side and when you push it, both the footrest and the back will recline to the position you desire.
In terms of the rocking motion, it's not like your at an amusement park kind of excitement. But it's just enough to set the mood and with the recline feature life doesn't get much better. For a rocking chair to have this recline feature, it's quite rare and one that many big people will appreciate.
---
Modern Rocking Chairs For Overweight People
Moving away from the rocker recliners into the indoor rocking chairs is this 330-pound capacity mid-century option by CIMOO. This is they type of rocker you expect to see in an old cottage, farm house. It has that rustic feel to it.
The CIMOO chair is built from Oak hardwoods to give the rocker the ability to withstand 330 pounds. Oak is a popular wood used in the USA because it is readily available and a hard rated wood.
In terms of size, the seat measures 21.5 inches between the arms. I must admit that the 21.5-inch depth isn't the greatest for taller folks. However, being a padded rocker, its worth getting out the tape measure for.
The backrest total height is about 35 inches, giving you just the right amount of neck support. However tall people may find it is too short to fully support their neck
While there are there color and style options for this chair, not all options are always available. So you will have to check back from time to time. I personally prefer the vintage look of the dark brown rocking chair. The ribbed backrest adds an extra layer to the eye appeal of this particular model.
---
Extra Wide Rustic Rocking Chair
350 Pound Weight Capacity

Loveseats are ideal rockers for heavy people due to their wider seat. This rustic vinyl rocker by Henf is just that, wide! Coming in at just over 32″ between the small low cut armrests.
Normally I don't like armrests because they restrict your space on the seat, but as this chair has an extra wide seat, its nice to be able to rest your arms as a big man.
Another feature I rather enjoy about this Henf rocker is the backrest. It features tufted buttons, which is great on the eye. However, it's the contoured nature of the backrest that I find appealing.
The contour allows you to really wiggle your body into position and snuggle up against pillows. A hard flat backrest restricts you from maneuvering your body like this. I can imagine myself all snuggled up in this rocker after a hard days work.
Just be sure you take notice of the seat height if you have long legs as it is only 18.5″ from top of seat to the floor. This can make rocking back and forwards awkward with longer legs. Other than the lower seat height, I really find this indoor rocking chair for heavy people a nice choice.
---
Indoor Rocker 500 LB Capacity
With a weight capacity of 500 pounds, this next option by Idzo is a good choice for obese people. Available in grey or beige.
While this rocker technically is designed for outdoors, it also makes for a very appealing indoors rocker. Especially if you are going after modern comfort feel in the loungeroom.
Its a very sturdy rocker, having a 500 pounds capacity. What's a bit different about this chair is that it has 3 connection points to the rocking base, whereas many others are simply 2.
This extra support piece of hardwood can give the reassurance needed for the big person to feel safe and comfortable slowly rocking indoors by the fire.
My only gripe is that the seat is a little short. So tall people will find it more difficult to get comfortable as the back of the knees won't sit in snug with the seat. Also, some people may find the backrest to be too vertical and not slanted enough.
However having a more upright backrest is a personal preference. Some people prefer to be sitting upwards when rocking as it allows them to still read their books, play on phone etc.
If you do ever want to position these rockers outdoors, the cushion cases are water resistant and removeable. Being water resistant id also a feature you can embrace if you choose to leave them inside, should you ever spill a glass of wine while rocking away to your favorite book.
---
Interior Rocking Chair With 330 Lbs Capacity

This rocker by Giantex is quite similar in design to the Birch rocker by Haotian mentioned previously. This chair, however, offers slightly different measurements with a grey and natural Birch timber appeal.
With a 330-pound weight capacity and a 22-inch wide seat between the arms, many heavy people will be able to comfortably sit and rock away with the Giantex.
I do like how this variety of the Birch rocker uses a fabric padded cover rather than PU leather. The fabric cover is also removable to make cleaning it much easier. There's also a fabric pillow attached at the headrest. This too can be removed as it is held on using a magnet. Should you not like the pillow that is.
But like the brown version of this chair, this Giantex also slants backward a bit. Which may be concerning for some of the bigger people as getting up may be more of a hassle. Getting in not so much, but trying to pull yourself up at 320 pounds can be more difficult. Other than the laid back style of this rocker, its not a part product. Price is on point and is padded enough to do the job.
---
Oversized Indoor Rocking Chair

When you first look at this oversized indoor rocking chair your first thought will be that it looks extremely stylish! Thankfully this indoor rocking chair is more than just good looks and by adding it to one of your rooms you will help increase your relaxation time.
One thing that really stands out with this chair is the gentle rocking motion it provides thanks to it's tough (300lbs capacity) solid wooden rocker feet. This motion makes it extremely relaxing when you're sitting on it with the kids reading them a book or when you're just trying to relax.
Comfort is one of the most crucial things for a rocking chair and this model from Esright is one that really stands out here. The combination of the soft polyester fabric and thicker padded seat cushions make it extremely comfortable to sit on.
Perfect For Size For Big People
The size of this rocking chair is designed to be about one and a half times bigger than your standard rocking chair, which makes it a great choice for a bigger person. The seat itself offers 31.5″ of width so it should fit most bigger people comfortably.
One Thing To Consider
Something that does happen with this rocking chair is that when you get up from it the back has a tendency to slide backward. So you will have to move it back into place which can be a little frustrating but as long as you keep it away from the wall it shouldn't be a dealbreaker for you.
---
300 LB Rocking Chair For Indoor Use

If you're someone who likes the antique look of wooden furniture then you're in luck with this stylish indoor rocking chair by Coaster Home Furnishings. They have nailed the style and design aspect that makes it stand out in any room that you will want to put it in.
The foam padding they have used is firmer than you might think which works really well against the wooden frame. If they went with something softer you'd feel like you were sitting on the wood itself so I really like the firmer padding they have used.
Being a rocking chair requires the chair to have a good rocking motion since some can be somewhat jagged which makes it uncomfortable. Thankfully that's not the case here with it having a nice smooth motion.
Better For The Earth
They have made this out of a rubberwood which is more environmentally friendly as the wood comes from plantations. While this isn't something that will appeal to everyone, I know there are people out there who will like this aspect so it's something that I had to mention in this review.
Downside That Can Be An Issue
One thing that I've noticed with this chair is that it's not as durable as it really should be. Whether it's because the instructions weren't very clear and people put it together poorly or they got a lemon I've seen enough comments about it to make note of it. A lot of people also didn't have this issue so it's not a complete deal-breaker in my opinion.
---
Indoor Rocker Recliners For Heavy People

Rocker recliners are a good choice for bigger people because they can be well-padded and have bigger dimensions. However, finding one with a 500-pound capacity seems to be quite difficult, especially if the quality is what you're after.
So with that said, the closest rocker recliner with a high weight capacity I have come across is this 450-pound option by Best Choice Products. While it has a high maximum user weight, there are some things to consider.
The first thing is that it is PU leather and not the real deal. But when you see the price on amazon you can understand why. I haven't had the best experiences with PU leather in the past as it can deteriorate faster than genuine leather. Especially in hot humid conditions. Which is why I like to put a cover or towel down before using it.
The second annoying thing about this rocker recliner is the footrest can be challenging to put back down after reclining. This will depend on your lower body strength I guess. But if you're using this chair as a simple indoor rocking chair, this won't be an issue.
But it is worth noting that the chair doesn't switch off 'rocking mode' once you recline back. Most of the time this is not an issue. But if you have kids or a dog that loves to jump up on the sofa with you, it can still rock while you are reclined.
While it may sound like I am saying this chair is horrible, I am not. I think its quite the buy considering the price. I have a recliner five times the price of this and yet have had issues with it. Basically what I'm saying is this is the type of chair you buy for the weight capacity and affordability. Just don't expect high-end quality on a price like this.
Basic Dimensions
Seat height: 18 inches
Seat measures 21 (L)" by 20″ (W)
37″ Total height (Not the best for people over 6 foot)
Firm but supportive padding. Not too plush.
---
300 Lbs Capacity Rocker Recliner

If you don't need a higher capacity chair, then I would suggest considering this Mecor rocking recliner. While its weight capacity is lower at 300 pounds, overall I find it to be a superior option.
It has basically got the same measurements as the above Best Choice Products rocker, but with a better material to finish. I also like that the seat is one inch higher as it makes getting in and out of the seat that much easier.
The total height is 2 inches taller, so still not the best option for taller people, but a slight improvement on the 37-inch tall rocking chair above. The total length of the chair when fully reclined is 64 inches.
I much prefer the lever style of reclining this chair compared to the handle. Much easier to release the footrest. In terms of padding, it's about par with the Best Choice Products which I find to be the happy medium us bigger people need.
Overall this 330-pound rocker recliner is a decent chair. I love that it is a fabric material rather than a knock off leather. It's meant to be high-end material, whatever that means. Its meant to not deform, or resist it at least and be colorfast. But just remember it's only capable of handling 330 pounds in the tighter 20-inch seat.