These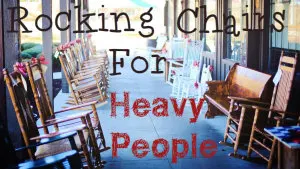 9 outdoor rocking chairs for heavy people are categorized into individual high weight capacities below. Starting from 300-pound capacity rocking chairs going up all the way up to 600 lbs.
Most rockers can undergo a fair amount of stress and high impact due to the rocking motion. Which is fine for the normal sized person (up to 250 lbs).
However for us overweight and big people, we can cause even more heavy-duty pressure on the high impact areas of the rocker due to our extra weight we carry around. This reason alone can limit our choices to finding a good oversized rocking chair.
Fortunately the market is slowly listening to our Big Man needs and introducing more products for the big and tall people. For now, we have sourced out 5 of our recommended outdoors rocking chairs for big people. Now is the time to finally enjoy a nice relaxing afternoon rocking away on a outdoor chair. Just be sure to note how wide these rocking chairs are so that they are suitable for your needs.
Quick Rocker Comparison Guide
Want Indoor Rocking Chairs?
The rocking chairs listed below are ideal for outdoor use, should you prefer to have a rocker inside the house you need to check out the selection of indoor rockers for heavy people.
Rocking Chairs For Obese People
Outdoor Rockers 400 Lbs Weight Capacity

Highwood produces this stunning 400-pound capacity rocking chair which was even tested by a 400 lb Samoan Man according to the specs. In case you didn't know, Highwood make all the 'timber look' products you can see on many theme parks and more.
So it's not actually a timber rocker but looks 95% like a real wooden rocker. The closest thing to real timber without having the hassles of maintaining a wooden chair, like oiling, painting, cleaning, etc. The timber look of the chair is in great detail. The grains and wood knots look amazing.
This Highwood chair is from the premium line and could set you back a fair bit. But it's worth every cent if you ask me. It's highly durable and really well made. It's a very wide rocker which also sits high which I do like. Which is just great for us bigger people because I find low sitting chairs a pain to get out of.
While the rocker doesn't have any padding to mention, it is still quite comfortable for a timber type chair. But I would suggest, being a bigger person. For extended rocking sessions, I would add a cushion or two for even more comfort. Available in many colors and made in the USA. If you have the money to spend, I recommend you get this chair.
Premium Rocking Chair 400 Lbs
Heavy Duty Rocking Chair

If sturdiness is what your after and you want to be able to enjoy a gentle rock outdoors, this 600 pound capacity rocking chair by Amish is a great choice.
Built using thick slats of treated pine and finished with 18 heavy-duty screws, the Amish rocker is built tough. This is one chair that won't crumble beneath you which is why it makes for a great choice when you're obese.
It also has a pretty wide seat measuring 23 inches giving you extra space to feel comfortable in. The height from the floor is roughly 18 to 19 inches which does make getting out of the chair a little easier.
The chair itself comes in a variety of finishes, including unfinished. If you want to color your chair to match your decor, this is the choice you want. But if you want it already colored you can choose from a number of Eco-friendly stained versions.
However, I would recommend adding another coat or 2 of stain in a year's time to prevent the sun and rain from damaging the chair. This is not a hard task and will add years to the lifespan of your chair.
Overall it's hard to beat the Amish if you want a really heavy-duty rocking chair. It's built super strong and uses heavy-duty materials to justify its 600-pound weight capacity. It's roomy enough for obese people to feel safe and secure while rocking.
600 Lbs Amish Wooden Rocker
400 Pound Rocking Chair For Big & Tall People
Trex Outdoors has this awesome looking 'Yacht' rocker which is ideal for big and tall people. While there is no specified weight capacity, the Seller does state it has a 400-pound capacity. Even on the Trex site, there is no mention.
I really like the look of this rocker, it just screams quality. It's also made from PolyWood so maintenance on this chair is slim to none. Which I simply love. No sanding, oiling or varnishing required, ever!.
In terms of size, its quite a tall chair measuring 42.5 inches tall which includes a high backrest. Both the backrest and the arms are about 25 inches, so the tall person can comfortably have his/her shoulders supported with their arms resting on a nice height armrest.
While the Trex rocker has a total width of 27 inches, between the arms its only 20 inches, which could be a cause for concern for the extra big people. So keep this in mind when t=checking out the Trex.
Trex Outdoor Furniture Yacht Club Rocker
Oversized Rocking Chair 400 LB

Castlecreek has kept the style of this chair very simple which is something that I really like. It doesn't look fancy which I think works really well with an outdoor rocking chair as it's not meant to be something that stands out. It works really well if you have woods behind your house since it can blend in with the view.
Some people might not like the natural wood look which is something I can understand. Since Castlecreek went with this design does mean that you're able to paint it or stain it to match your current setup outside. This is great for people who like to do those little projects on the weekend in my opinion.
Tough For The Outside
The chair has been made out of a Chinese Fir wood which I can already hear people clicking off now. It's a much tougher wood then you might expect and can handle the external elements really well which is one of the reasons this chair stands out in my opinion.
This type of wood has a natural resistance to decay and insects which gives it a much longer lifespan. Tough is how this rocking chair has been designed and you shouldn't let something like the wood it's made out of stop you from missing out on a great chair.
Durable For Bigger People
One thing that really stands out to me is just how durable this rocking chair is. It has an impressive 400lbs capacity that makes it a great option for heavy people who need that extra strength.
CASTLECREEK Oversized Adirondack Rocking Chair
Plus Size Rocking Chair Wicker
330 Lbs Weight Limit

There is a lot to like about this plus size rocking chair by Merax that you can get in a 2 pack so you can have a matching set for you're outdoor patio. While orange cushions may not be for you, there are other wicker chairs for heavy people available.
One thing that I do like is that you can get these rocking chairs in two different colors. You can get it in a stylish grey or a bright orange for those who want something that's a little different which is a nice touch in my opinion.
Comfort Is Important
A lot of companies will just make a rocking chair thinking that makes it comfortable but not Merax. They have added an excellent cushion that is a good thickness that makes not only the seat but also the backrest really comfortable when you're sitting on this rocking chair.
Something that really works well with the gentle rocking motion of this chair is the way the armrests are angled. They are slightly downward which matches the way you naturally sit on a rocking chair so you will comfortable just sitting naturally.
How Does It Handle The Outside
Being an outside rocking chair it does need to be able to handle the external elements. While the frame and the PE wicker are waterproof I would still recommend bringing the cushions in when you can just to protect them from the water. Since it can take a while to dry the cushions out.
Merax Patio Chairs Outdoor Glider Rattan Rocker
330 LB Reclining Rocker Chair For Outdoors

When it comes to comfort and outdoor rocking chairs it's hard to go past this excellent chair from Songmics in my opinion. The comfort of this rocking chair is one of the things that you can tell Songmics really focused on when they were designing this chair.
The reason the comfort on this rocking chair is so high is that they added the ability to recline on this chair as well. By adding these two features together they have made one of the more comfortable rocking chairs on the market that would make a great addition to your back patio area.
Useful Features
Headrests are a great addition to any chair and this one is no different. They have actually improved on your standard headrest by making it adjustable so you can move it to suit your needs.
Songmics have included a useful felt on the bottom of the legs of this rocking chair. This was a smart design choice since it helps stop the legs from scratching your floors and prevents it from sliding from where you put it.
Rocking Is Very Minimal
Depending on who you are this might be a downside that I can understand. The rocking of this chair is very slight and doesn't give you a lot of back and worth like some other chairs. In my opinion, the rocking this chair does works really well with the reclining function but if you want something with more of a rock, I'd suggest one of the other chairs on this list.
SONGMICS Rocking Relaxing Lounge Chair
Extra Wide Rocking Chair 500 LB Capacity

This extra wide rocking chair from Cambridge-Casual is one of the most stylish chairs on the market and will make a great addition to anyone's home on style alone. But this chair is more than just style it has a great amount of durability and comfort that just make it an even better choice.
The comfort of this chair is greatly improved by the rocking feature of this chair. One minute you will be relaxing reading a book then the next you're waking up because you have fallen asleep from the gentle rocking motion.
Room For The Big Person
Having space on your chair is just as important as having a good weight capacity in my opinion. So I really like how this chair has a width of 39.25″ wide between the armrests which will give you plenty of room making you more comfortable.
Tough For The Big People
Making a chair out of wood will never go out of style but you need to use a tough wood to make it strong enough for big people. Cambridge-Casual went with mahogany which is a very tough hardwood that offers plenty of strength which is something you can tell from the 500lbs weight capacity.
While having this weight capacity is extremely useful and is important. There is something that I consider to be just as important that often gets overlooked which is how sturdy it is. Being sturdy gives you peace of mind when you're sitting on the chair which is what this chair does.
Protection From The Elements
One of the best things about these types of chairs is that they can be used anywhere, inside or outside the house. This chair has a coat of polyurethane that protects it from the outdoor weather which makes it the perfect chair no matter where you put it.
Cambridge-Casual Solid Wood Bentley Porch Double Rocker
Sturdy Rocking Chair – 400 Lb Wicker

Enstver has knocked it out of the park with this excellent set of sturdy rocking chairs that are comfortable and stylish. They make a great addition to your patio or around the pool and will make your next visitors jealous that they don't have them!
Being made out of a combination of steel and wicker gives this chair more toughness then you might think. It allows this chair to have a solid weight capacity of 400lbs which makes this set of two good for the bigger families out there.
Giving You A High Level Of Comfort
While yes these are rocking chairs that do increase the comfort of any chair that has this. This has been taken even further with this set of chairs as they're also reclining chairs. If you've never had the pleasure of being on a reclining rocking chair then you're missing out as this is one of the most comfortable ways of relaxing in my opinion.
Comfort is one of the most important things a chair needs to have and these sturdy rocking chairs have this in spades. By using a soft sponge in the cushions of these chairs, Enstver has made the comfort higher than your non-padded rocking chairs which is something I really like.
The Rocking Is Impressive
The way that these chairs have been designed for rocking is impressive since it helps you rock without the constant need of doing it yourself. They're on an angle that allows them to continuously rock without the need for you to restart the motion which allows you to keep relaxing for longer!
Safer Than Your Standard Rocking Chair
In my opinion, this is one of the most crucial features of this rocking reclining chair as there is nothing more important than safety. They have included adjustable feet that will help prevent this from falling over which helps keep you safer which is something I really like.
ENSTVER Set of 2 Indoor & Outdoor Reclining Chair
Camping Rocking Chair For Heavy People

Camping is an extremely enjoyable and fun thing to do that can be difficult if you're a big person since rarely are there products designed for you. Thankfully Guide Gear is here to help us with this issue and has made one of the more luxurious rocking camping chairs for the heavier people out there.
Being such a large camping chair means that you will have a good amount of room (25″W by 21″D) to sit on which makes a big difference. You're also able to fold it up which can be useful on the back patio when you're trying to reorganize it or just need some more room.
Durability Is King With This Camping Chair
One of the biggest issues big people face when camping is finding gear that can handle their weight. This camping chair has an extremely durable steel frame that gives it a maximum weight capacity of 600lbs making it a great option for big people who want to go camping.
Since it is such a tough chair it does make for a great at home on the back patio chair as well. This way you can have peace of mind when you're at home as well making this a very versatile chair that a lot of others can't match.
Easy To Get In And Out Of
Guide Gear did something very clever with the design of this camping chair that will make it easier to get in and out of. This is they gave the seat height of 22″ which means you don't have bend over as far to get into it and getting out is much easier since you're not so low.
Guide Gear Oversized XXL Rocking Camp Chair
500 – 600 Lbs Weight Capacity Rocker
Semco Plastic Rocking Chair

This high weight capacity rocking chair is made by Semco Plastics, who are a large American company specializing in molding plastics to many industries. Including patio furniture like this 600 pound capacity rocking chair.
While it may look simple, it's one heavy-duty chair. Snaps together with 4 separate pieces of high-quality plastic. None of the flimsy cheap plastic chairs you may be used to seeing.
This chair is highly popular among large people because it is so sturdy and made from heavy duty materials. Without the fear of breaking yet another chair, its easy to see why many plus-size people choose this chair. I think it's almost a challenge to break one of these beasts.
Other benefits to this chair include an extra large seat (21 inches between the arms). Because of its high quality plastics and the fact it's not a timber rocker you can expect bare minimum maintenance. No rusting, no peeling, no warping, no painting, etc. It's a really good buy for us big people needing a solid, sturdy, wide, comfortable, and best of all maintenance free outdoor rocking chair. Hooray!
600 Lbs Capacity Semco Rocker
Folding Wicker Rocking Chair 300 Lbs Capacity
For heavy people up to 300 pounds, this folding rocker chair is my best recommendation. I find it's rather comfortable because it has a width between the arms of 25 inches. It has great eye appeal and is made from weather-resistant wood and resin wicker.
The resin wicker is the woven material on the back rest and seat, made to resist UV and water. While this rocker is designed for outdoor use, I suggest keeping it out of the rain for extended periods as it can cause paint to peel from the wooden frame.
One of the better features of this rocking chair, besides being rated to a 300 pound limit, is the fact it folds away. Which is perfect for outdoor patios and decks. Super easy to fold it away when not in use to gain extra lifespan from the rocker. Overall I find this chair to be very sturdy, comfortable, appealing and well built for a plus-size person. Highly recommended.
300 Lb Capacity Rocking Chair