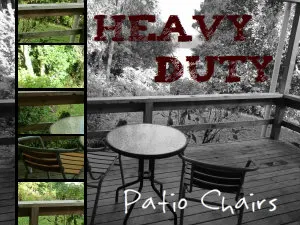 The outdoor patio or porch is one of my all-time favorite places to kick back and relax. When I'm not hanging in my hammock I can usually be found in one of my heavy duty patio chairs for heavy people.
It's a very popular tradition in my family to spend Birthdays, holidays, celebrations, etc as a group on our rear patio. As we have overweight and obese people in our generation, it's crucial that we are armed with the best heavy duty patio chairs to handle high weight capacities. Which is what is presented in this guide.
Now you are finally able to put your mind to rest as we showcase some super strong porch chairs that have the high weight capacities to hold large persons. Each chair presented here will be categorized into weight limits to help you choose appropriate patio chairs for your needs. Some standard patio chairs will be lucky to support 250 lbs. So we are going to give you options from 300 lbs upwards.
The things I look for in patio chairs for overweight people are that it must have an extra-wide seat and be supported by a heavy-duty reinforced frame. Without these, us bigger guys may struggle to actually fit in the chair. That's if we do manage to squeeze in, hope, and pray it supports our weight right. So let's dig in to see what patio chairs are actually available to us heavier people.
Compare Patio Chairs For Heavy People
Premium 500 Lbs Outdoor Chair For Heavy People

This outdoor chair for the heavy person is the best of the best in my opinion. It won't suit all budgets this is true. But if you can afford theses luxury chairs, I highly recommend them. Firstly they are ultra-low maintenance.
They are made by
Highwood
who specialize in the products that look like wood but aren't. They are the next best thing to the real thing, without the constant maintenance timber furniture is famous for. Many theme parks use Highwood to create the timber look you see in various sets for the low maintenance aspect and real-life looking timber.
The extra width of 27″ is complimented nicely by the 500-pound weight capacity. Making it the most heavy-duty patio chair on this list.
The seat size is roughly 23 inches wide and 18 inches deep. The top of the seat stands around 16 inches. Ideally, I would have preferred this to be taller because it makes it easier to get in and out of as a heavy person.
While the chair itself doesn't come with cushions you can quite easily pick up some nice 4 inch thick padded cushions. The size you want to look for is this: (22.5″ W x 16.75″ D).
Available in a vast selection of colors and styles.
500 Lbs Highwood Patio Chair
Heavy Duty & Extra Wide 400 Lbs

While its not the most modern-looking patio chair, it does the job for an obese person. With a stationary weight capacity of 400 pounds and a width of 26.75″, this BrylaneHome steel chair is quite the heavy-duty chair.
The seat sits 20.5″ tall which is not a bad height for us heavier people. Much better than a lot of the low sitting 12″ seats which are near impossible to get up out of.
The chair comes with a 2-inch thick padded seat available in a number of colors, but I would prefer to buy a separate 4-inch thick pad to beef up the comfort level.
I do like the bronze finish on this chair which has been powder coated. But using a special oil it has been made to look more like real bronze than paint.
While the weight capacity and the extra width are very appealing, I feel the arms fall a little short. In cooler months they would be cold to rest your arms on and they're not very wide. But if you simply need a wide chair with a 400 pound capacity, this might be a good option.
400 Pound Big & Tall Patio Chairs

This option by TechCare is also 400 lbs rated and made with a heavy-duty steel frame. Both the front and the rear legs have been reinforced with bars to keep it strong and sturdy.
However, it's not as wide as the above Brylanehome chair. This chairs total width is 23 inches but the measurement between the arms, where you need to squeeze your backside into, is just 19 inches. Which won't be wide enough for some of the larger people. So while it has a heavy load capacity, do take note of this crucial measurement.
However, if you're a big and tall person you are going to love the nice high backrest on this chair. It's a massive 27 inches in height from the seat to the top of the chair.
The only downside for tall people is the depth of the seat is 18 inches, I would have preferred something closer to 20/22 inches. But because this patio chair can recline into 7 positions down to an almost flat 150°, the shorter seat depth is less of a factor to consider.
Lastly, while the frame is super-strong steel, the thing I love most about the chair is its mesh backing. Mesh is the perfect big person material as it allows air to circulate between material and our bodies better. Reducing a build-up of heat and eventually sweat.
Overall this big and tall patio chair is a nice strong and sturdy modern type of chair. The high weight capacity and the fact it can recline makes it a very nice chair. Its really just the width of the chair which may be of some concern.
400 Lbs Heavy Duty Reclining Patio Chairs
3 Piece Patio Set For Plus Size Persons

I love this 3 piece set by Phi Villa, it includes 2 chairs and a side table. The price of the lot is rather competitive also.
Each chair has a weight capacity of 300 pounds, which is sufficient for most plus-size people. But it would have been nice if it had thicker steel and extra reinforcements to make it a 400-pound chair. Maybe next time…
While 300 pounds is not huge, the seat on this chair is. It's an extra-wide version which is a total of 26.8″. Between the arms, you get a generous amount of roughly 24 inches to play with.
The chair comes with padding that would suit most decors. The padding runs the entire length of the chair so you get full comfort. What's cool is that this chair can be reclined and also folded down even with the padding on. Space saver and time saver.
Phi Villa 3 Piece Patio Set 300 Lbs
Oversized Big Mans Chair

When the size is all that matters, you can't look past this oversized zero gravity chair. This thing is a monster and to top it off it has an incredible 450-pound weight capacity. You want a patio chair for obese people, this is the one.
Double the width of some patio chairs, this 50-inch wide reclining patio chair is by Best Choice Products. Normally I don't speak too highly of this brand, but in this case, they have got the chair spot on. The actual mesh are is about 37 inches wide.
So the chair can recline back into the zero gravity chair, which is the position said to be the most comfortable as it relieves all pressure on your body. The same position astronauts get into before being blasted into space. Good enough for them, good enough for me I say.
For a chair to be able to be reclined that far back and still be able to hold 450 pounds is quite impressive. However, I would still play it safe and test out the capabilities first before throwing yourself back like that.
The chair also includes a headrest, which is padded and removable. So when you recline out fully, you can take advantage of every inch of the surface area which is about the height of your average person.
Overall this is a super patio chair for very large people. While you may be thinking that a chair like this is not what you expect to find on a patio, believe me, it is. Once this thing lands on your patio it ain't never moving again. It's that comfortable to relax in out on the deck.
Double Size 450 Lbs Rated Zero Gravity Chair
300 Lbs Patio Chairs For Overweight People
Caravan Canopy Sports Folding Chair Review

The most appealing factor to this 300-pound patio chair is the fact it's made from really high-quality materials. The outdoor grade fabric appears very long-lasting and looks more expensive then what the actual chair really is.
The weather and rust proof chair is surprisingly comfortable for the price as well. It's one of those firm seats, but not too hard you get a sore butt.
The actual texteline material for the seat is held into place by a double bungee cord system which is meant to provide a heavy-duty support structure.
This combined with the texteline material which offers UV resistance and ease of cleaning makes this one of my all-time favorite day to day chairs. However, this patio chair probably won't be suitable for obese or rather wide backsides. As it's only rated to hold 300 lbs and isn't the widest seat 20.5″, on the market as shown from my research. So keep on reading.
Caravan Sports 300 Lb Patio Chair
600 Pound Capacity Patio Chairs
Timber Ridge Directors Chair

One of our more common folding patio chairs which has a huge weight capacity of 600 pounds is this directors chair by Timber Ridge. I generally prefer directors chairs when sitting out on the back patio simply for the reason they tend to be more sturdy. However, not all chairs are built and designed for heavy-duty use.
This Timber Ridge chair suits us bigger people because of a few important reasons. Obviously it can hold up to 600 pounds. This alone is great news, but what's even better is the seat width.
Being a large person makes getting in and out of seats is more difficult, especially if the chair in question has arms. Tight restrictive seat spaces are a complete turnoff for heavy people. Fortunately this chair has a nice 28.38″ measurement between the arms. Giving you that little extra breathing room.
Once you have established that you can actually fit between the arms, the next point to consider is the quality of the frame. Being an 'oversized' patio chair, Timber Ridge have reinforced this idea by enforcing a 25mm steel tubular design. Which provides great stability and heavy-duty strength needed to hold a larger person.
The chair is fully equipped with foam padded arms, which is not just a comfort feature. For a 400 pound person to get themselves up out of a chair like this, you need some form of leverage. This is where these foam padded arms come in. They are strong enough, and comfy enough, to help push yourself out of the chair.
Overall this heavy-duty deck chair performs to my big person's needs. Whether you plan to use it only as a patio chair or take it on your next camping trip, I think its a great option. Do note the little pocket under the seat, I think this is a brilliant idea for storing your smart phone while sitting around the campfire.
600-LB Capacity Folding Deck Chair
400 Pound Capacity Porch Chairs
Heavy Duty Directors Chair
The featured 400 lb patio chair is a very sturdy directors chair by Earth Products Store. This chair is a great product for big people wanting a patio chair or even a picnic chair. The attached side table is a good idea and works well for group gatherings. Especially when you are limited on tablespace. The side table on the chair is great for keeping a drink, plate, keys, etc on.
This director's chair sits a little higher than normal, which I like and thinks a good idea for a 400-pound person trying to get in and out of the 19-inch wide seat. The seat and backrest are made from a heavy-duty fabric that shouldn't sink like many other fabric chairs seem to do.
Its rather comfortable as well and the backrest offers just enough back support for my plump body. However, if you have frequent back issues I would suggest a chair with more lumbar support as this chair won't be ideal for lower back support.
Tough Steel Frame
The frame is made from steel and has plenty of support bars which I love. Hence how it gets the heavy-duty rating. It looks really solid and looks like it could last quite a few years without failure.
Besides not having a full back support rest, the only other negative worth mentioning is how heavy it actually is. But if you plan on using this chair as a patio chair, then this is probably a good thing to fight against strong winds etc.
But I wouldn't suggest taking this chair on hiking trips or long beach walks due to its heavier than normal framework. But again, the heaviness of the chair is only reflecting the heavy-duty rating this chair boasts.
Heavy Duty Directors Chair
You May Also Be Interested In:
Outdoors folding chairs and heavy duty outdoor rockers are another type of patio chair a bigger person can use on the porch. While they aren't the most eye appealing chair in the world, they do serve a purpose. Keeping the big man elevated.
Outdoor Chairs For Heavy People
Being cooped up inside or stuck in the office all day can really take a toll on the body. When the sun comes out you'll find you just can't help yourself but to go outside to soak up the rays. Or just sit out on the deck for a coffee....