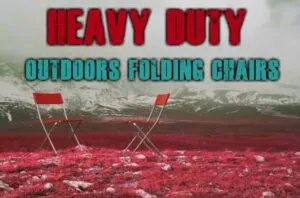 A quick and easy solution to providing seating for oversized guests are with outdoor folding chairs for heavy people. These chairs are great for temporary use as they can be packed away in storage without being an eye sore on your deck or patio.
Folding chairs are typically quite boring chairs, so being able to fold them up and store is their main attraction. However, they many do lack the ability to cater to the big people community. Which is why I have listed a bunch of folding chairs suitable for overweight and obese people.
Folding Chair Alternatives
While they may not be the widest chairs available for an obese person, at least you can be rest assured knowing that they have a high weight capacity to hold up to 1000 pounds. There are other suitable outdoors chairs for a heavy person such as camping chairs and directors chairs. But in this case, the intention is to present the traditional folding chair but with enough strength to hold a heavier person.
Quick Comparison Table
Why These Are The Best Outdoors Folding Chairs
My initial research was based on finding outdoors chairs for 20 guests due to arrive in a few weeks. Many of them are oversized like myself, so the chairs naturally had to be heavy duty. We are talking anywhere from 300 pound capacity all the way up to 1000 pound capacity folding chairs. Seat width and depth were also a factor to consider, but not a deal breaker. Because I knew finding a very wide folding chair that can hold over 500 pounds is near impossible. So I have to take what I can get.
As it's predominately an outdoor festival/get together the chairs also had to be able to withstand the elements without me having to do maintenance on the chairs year round. Which typically wipes out wooden folding chairs as they have to be painted or varnished periodically. But I have listed one set of resin folding chairs with vinyl padding below as I also use them as outdoor porch chairs throughout the year.
But for the majority, I have stuck with chairs that won't rust and won't be subject to mold and mildew. So fabric padded folding chairs a no go zone for me. Adding padded fabric cushions to the chairs is fine, as long as you can remove the cushions over night. As I don't intent to move all the chairs inside every night.
So below you can find some of the best outdoors folding chairs for the plus size people made from steel, heavy duty plastic resin and of course the padded set which make great patio chairs as well.
Best Outdoors Folding Chair
1000 Lbs Capacity

It's no secret that I'm a huge fan of mesh based chairs. They provide excellent air circulation for preventing the build up of sweat. Which is especially important as the chair is going to be used outdoors. So staying cool while sitting for hours on end is very important to me.
These 1000 pound weight capacity mesh folding chairs are what I consider the best outdoors folding chair. Known as the One Series Pro by Mity-Lite, these made in the USA chairs are a great fit for us overweight people. While they are a great outdoors chair, they look sophisticated enough to be used indoors for just about occasion as well.
What gives the Mitey-Lite folding chair the edge over the competition is the frame. It's not just steel, it's cold rolled steel. This is an additional stage during construction where the hot steel has been cold rolled to give it extra strength and also a smoother finish. Hence the very high 1000 pound weight capacity.
Need Comfort From A Folding Chair
When you think of a folding chair, you generally think of a hard flat surface and dread the thought of having to sit on one for hours. With the Mity-Lite you can forget this idea and embrace a new and advanced folding chair technology.
By this I mean the plastic mesh material. This material is known as polypropylene and it is a high impact material used to flex when pressure is applied without breaking. So when you go to sit on this chair, you will notice that the unique mesh design will contour to your body.
So instead of bracing for a hard flat surface, the polypropylene mesh will shift to create a more supportive and comfortable seat. Who would have though a folding chair could be so advanced.
The seat is 20 inches wide which is considerably wider than standard folding chairs and the seat sits roughly 18 inches from ground height. While not the best measurements in the world for a heavy person, they are quite good for a folding chair. The fact the chair is stain and scuff resistant while suitable for outdoors use makes this folding chair my number one option.
Mity-Lite 1000 Lbs Folding Chair
800 Pound Capacity Folding Chair For Outdoors
A much more basic yet still quite heavy duty outdoors folding chair is this 800 pound weight capacity chair by Flash Furniture. The 'Hercules' series is a strong and robust folding chair which has a few minor touches that make it stand out from the crowd.
The Hercules 800 lbs chair comes in a handful of colors including your common white and black. However, I do prefer the blue chair with the grey frame work. Adds an extra layer to what is typically considered a boring chair.
Whats different about this folding chair that makes it a better fit for heavy people is the design of the frame. Most folding chairs can topple over quite easy if a big person sits on it. This is because the front lip of the chair is not supported at all. It's no surprise really.
But this Hercules chair has the front of the seat supported by the frame. The frame runs from the back of the chair up and around underneath the front seat and back down the other side. This gives the chair much better support, especially considering it's a folding chair which are known for lacking support.
The seat and backrest is nice also. It's contoured so that your back and butt aren't sitting on/against a hard flat surface. The seat even has drain holes so that if you do live them outside and it rains, the chairs can drain off much quicker without pooling up with water.
The only real negative is that they are your typical width folding chairs. A total width of 17.5″ will simply be too narrow for some. Which is what makes the above Mity-Lite such a good chair, the 20.5 inch wide seat.
Flash Furniture Hercules Series 800 lb. Capacity Premium Plastic Folding Chair
Resin Padded Outdoors Chair Set
1000 lbs capacity

Available in a single pack or a 4 pack, these beautiful heavy duty resin folding chairs by Flash Furniture are great patio chairs as well as outdoors chairs. Available in black, white or this stunning red Mahogany color. I personally am drawn to the Mahogany color as it's so vibrant and makes a statement where most folding chairs lack.
These folding chairs have a weight capacity of 1000 pounds which is backed by the double brace construction. The heavy duty resin gives this chair its ultra strength while also pulling off a stunning look. Making them one heck of a study outdoors folding chair for heavy people.
What makes this a good choice for bigger people is the fact it is padded. While being padded you may think it's not the ideal outdoors chair. But the vinyl on this chair is waterproof and the interior padding is fire retardant. The padding is also removable should you chose to remove it.
But like most folding chairs, it lacks in width. This is a common problem for us large people that want full backside support. The overall width of the Flash Furniture padded chair is 17inches. So a few inches short of the Mity-Lite. But if your weight is more n the front end rather than width, these are a very good choice for holding heavy weights while maintaining comfort and style.
Padded Red Mahogany 1000lbs Capacity Folding Chairs
Outdoors Big And Tall Folding Chair

A slightly taller and wider folding chair provides great seating choices for the big and tall people. These Lifetime folding chairs have a 500 pound weight capacity with a slightly wider construction of 18 inches. While still not as wide as the Mity-Lite folding chairs, they are a inch wider than most.
When folded up, they have a 43 inch height and when unfolded the total height of the chair is 34 inches. Which is a good supportive backrest height for taller people.
The wider backrest is also an appealing factor for bigger and taller people. Many folding chairs lack support in this area which can lead to discomfort after extended periods. The seat is also unique in the way it is contoured. So it's a nice curve that is comfortable on the backside and the front of the seat tilts upwards. What this does is provides better support for behind the knees. Especially if you are a tall person.
The chairs seat and backrest are made out of Polyethylene, which is the high impact plastic material we discussed earlier. The frame is a durable steel which is weather resistant. Making it the ideal outdoors chair as no elements can be deteriorated. Cleaning the surfaces is very easy too.
Available in a few colors. I particularly like the granite white color (below) as it's not a bright white and can hide dirt a bit better. But black is also available to hide marks even better. But in saying that, these chairs are stain resistant.
LifeTime Heavy Duty Folding Chairs
Water Resistant Folding Chair 330 Lbs Capacity

The last set of folding chairs I've considered for heavy guests is yet again by Flash Furniture. This time it's the 330 lbs capacity variety available in black or white. Both colors come with a powder coated rust resistant charcoal colored frame.
What I like about these chairs is that the back rest is slightly larger. Which means it offers better back support which is especially important for people that get sore backs after sitting for long periods.
The seat and back rest are also contoured so they fit into your body better compared to a flat surface. Both surfaces are also textured for better grip.
In terms of size, these 330 lbs capacity folding chairs are a decent size. Almost as wide as the Mity-Lite chairs coming in at 19.25″ wide with a total height of 42″ tall when folded. Available as a singular chair or in a value pack of 6.
Flash Furniture 6 Pk. HERCULES Series 330 lb. Capacity
In Conclusion
From the research I have taken, it's not the easiest to find outdoors folding chairs for heavy people that meet the typical chair requirements of a bigger person. In particular a wider seat. Which is why the Mity-Lite is a good choice due to it's 20.5″ width.
Sitting high off the ground along with weight capacity are other factors to consider when buying a folding chair. The lower to the ground, the harder it is to pull yourself out of the chair. So anything above 18 inches seat to ground height is a plus.
With the above 5 folding chairs, you have a variety of colors and styles to choose from. Not all will be suitable to every person, but hopefully you have managed to fin the folding chair for you. If you have any recommendations or questions, feel free to leave them below in the comments section.