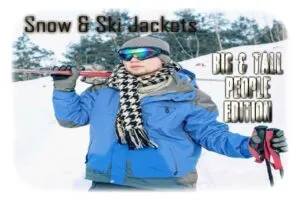 Buying a big and tall ski jacket or snow jacket when you're overweight and taller than average is no easy feat. There are more dimensions to consider then a typical 3XL or 4XL jacket for example.
I found out this the hard way when I went to hire a ski jacket at a Lodge when holidaying in Funäsdalen Sweden. Not only is it daunting telling people your size, but it's also quite embarrassing when you don't fit into their largest ski jacket size.
Needless to say next time I venture to the snow I will be buying a big mans ski jacket before I leave home. This way I know it will fit and not be left embarrassed in a foreign location.
Buy Ski Jackets Online?
However, buying in store is sometimes not that easy either. Online you have a greater selection to choose from, but are restricted to not being able to try it on before buying it. So with my research from scouring the net I have found a handful of plus size ski jackets for big and tall people.
Compare Ski Jackets For Big & Tall People Now
What Size Ski Jacket Does An Overweight Person Need
The first step to buying a plus size ski jacket is to actually get out the measuring tape. While some brands and stores have different measurements for their sizes, as long as you know your chest and waist measurements you're off to a good start.
It's important to read consumer reviews of the ski jacket to determine if the size fits true or is bigger or smaller than what is described. This will also help you decide what size to buy. I wouldn't risk buying a ski jacket online if it hasn't been reviewed yet. Chances are you may end up having to return it for a different size. Which is just a big pain in the behind.
In saying that, a rough guide to follow is that a 300 pound Man will be looking for clothing with measurements as follows:
Waist: 42″ to 48″

Chest: 48″ to 54″
Tall Big Man Measurements
It's not easy finding a big and tall ski jacket that fits perfect, lets be honest. The worldwide standard for clothing labelled as 'Tall' means the sleeve has a 97cm measurement. Which correlates with your leg inseam measurement (measurement from groin to back of ankle).
If a ski jacket has a sleeve length mentioned you should certainly get out the measuring tape. For the most part a tall person between 6'4″ and 6'9″, the sleeve size 37″ to 39.4″ is usually suitable.
For people between 5'11" and 6'4″, the advertised 'Tall' jacket is usually suitable. These 'Tall' versions typically include longer sleeves by 1.5″ and 2″ longer for the body of the jacket.

But again, it's almost impossible to be 100% accurate when buying clothing online. Especially for the big and tall. Shoulder size and belly sizes take clothing to a new level. So we have to work with what we know.
Best Plus Size Ski Jacket

Many of the big name ski jacket brands like Helly Hansen, La Sportiva and Stio seem to be ill equipped when it comes to dealing with larger people. Perhaps the target market is not big enough?.
However one high end brand however does. Arc'teryx, a Canadian based company specializing in outdoor clothing for almost 30 years now.
This Mens Beta Air ski jacket is ideal for plus size people, but not the very large folks. The sizes are as follows:
Mens XXL – Chest 50″ to 52″

Waist – 44″ to 46″

Sleeves – 35.5-36″
Looking at these measurements a tall person up to 6'3″ would be stretching it, but with a weight of between 250-300 pounds could find use in the Beta Air. However, do measure yourself for better accuracy.
A Little About This Jacket
Not only is this a stunning looking jacket, it's also quite functional. Your classic high end jacket with durable seams, material and hood to match.
The hard shell exterior is mighty tough. It can withstand heavy torrential rain and the soft white snow build up. It's the type of jacket you want if you never want to get wet. The length is not too short, but it's also not that long that it gets in the way.
The biggest downfall to this Arc'teryx ski jacket is that it's quite loud when moving. Like most Gortex jackets usually are. It has a great tough shell which will protect you from just about anything mother nature throws at you, but at a cost. You will probably need a thermal layer as well for extreme cold conditions.
Arc'teryx Men's Beta Ar Jacket
Big And Tall Snowboard Jackets

Everybody has heard of the brand Columbia Sportswear. Founded 80 years on American soil, many budding snow loving down hill enthusiasts have been seen in a Columbia Sportwear snowboard jacket.
This particular Columbia Tall Alpine Action jacket is a little looser fitting which is great for snowboarders. But still a good choice for the big and tall people that want to ski or simply use as a snow jacket. Here's why:
Big/Tall Measurements
Up to 4Xl Tall
Chest size: 57″ – 60″
Waite: 51″ – 54″
Sleeve Length: 39″
Packs Some Features
The Alpine Action boasts a moderate price tag but includes some pretty awesome features for a snow/ski jacket. One of them being Omni Thermal Reflective lining which helps to retain body heat while also being quite breathable.
This lining does not go up into the arms and it is not removable. However it still remains to be a very warm jacket. Whether you are ice fishing in the negative temperatures or skiing the slopes, the Alpine Action performs well.
While the thermo lining is not removable, the hoodie is removable for times of no need. The jacked also has an adjustable snap back powder skirt for getting down to business on the slopes. Overall, this is a super awesome snowboarding and skiing jacket for someone that is not only tall, but also quite a large person.
Columbia Men's Tall Alpine Action Jacket
The Largest Snow Jacket So Far..

The Freeze Defense is a unique 3 in 1 snow jacket for multi functionality. A bit to loose for the seasoned skier, but ideal for use as a snow jacket or even snowboarding. Given the fact this jacket goes all the way up to 6XL you better be prepared for a bulky item to carry around.
How This Big Mans Snow Jacket Measures Up
Up to 6XL with measurements as follows

Chest: 67

Waist: 60″ – 62″

Sleeves: 38.5″
What The Freeze Defense Is Good For
This Freeze Defence jacket is a 3 in 1 multi purpose jacket. It can be a vest, jacket and also a sow jacket. With each layer being insulated to keep you warm regardless of the temperature.
The vest by itself makes for a great alternative on a cold spring or fall day. The coat can also be used alone on a cooler day when weather protection is needed.
When it comes time to battling freezing temperatures and the snow, you simply zip the vest into the actual jacket. This provides you with a double insulated wall of warmth. The shell is both water and rain resistant, so it's a really cool idea to use this jacket for more than just out in the snow.
It also comes with a hood, which can be removed when not needed. The waistband can be adjusted along with the wrist cuffs. Finishing the jacked off are 9 pockets including one internal pocket. Overall, this is one of the best winter jackets for the big and tall due to its size and double insulation.
Freeze Defense Men's 3-in-1 Winter Jacket
Plus Size Women's Ski Jacket

Pulse have a stunning range of plus size Women's ski jackets with sizes at 3X (24) and when available 6X (34). Available in a selection of colors, this soft shell micro-fleece winter jacket is the ticket to staying warm while out on the snow. The soft inner layers combine with the wind breaking fabric of the external.
Because this jacket is a lightweight model, it's not the ideal extreme cold jacket. However it does run big so there is room for thermals and additional layers underneath when dredging through negative temperatures.
I like the fact it includes a hood which is big enough to fit snug on a helmet. But what is really unique about this Pulse ski jacket is the zipper function. The dual action zippers work by zipping up as normal. But when zipped up to the neck, you can unzip from down the bottom.
Both wrist cuffs use Velcro to tighten them off against the cold and the pockets are zippered. The pockets are quite deep allowing you to store cell phones and keys etc in. However, there are no internal pockets which I do find frustrating.
But overall it's a nice winter jacket for the price. When available it goes up to 6XL size 34 for the plus size Women. It's not too heavy or bulky so could make a good ski jacket for Women.
Pulse Womens Extended Plus Size Soft Shell Hooded Jacket
More Snow & Ski Jackets For Plus Sized Women
Below you can find a few more hand chosen plus size ski jackets for women available on Amazon.