When you're taller than average and certainly larger in size then what the BMI table recommends, finding the best big and tall snow pants can be quite the mission. I don't like to hem my pants at the best of times and I certainly don't want my ankles exposed to snow and cold weather. So finding the correct size snow or ski pants is a high priority for me before the colder months roll in.
Buying snow pants is no different to buying regular pants in terms of sizes. For a taller person the most important measurement to consider is the inseam measurement. The inseam measurement is the distance from your ankle to just under the groin area or top of thigh. Knowing your own inseam measurement will go a long way to finding the best snow pants for you.
As a larger person, the waist measurement is equally important. No actually it's more important because if the pants cant be done up, well then the snow is not an option. The average 300 pound Man has a waist measurement of between 42 inches and 48 inches.
The average inseam measurement for a tall person is 34-36 inches long for a Male and 32″ for a Women. So using these measurements as a rough guide, the below snow and ski pants for plus size people will have a minimum of 42 inch waist and 34-36 inseam measurements.
The Best Snow Pants For Big And Tall Men

It was certainly not easy finding snow pants that are suitable for both tall people and larger sized Men. The best I could find are these insulated technical ski and snow pants by Pulse.
Available in either black or light grey, Pulse offers a good choice in sizes that are suitable for tall and plus size people.
The Measurements
Up to 6X Big which is 58″-61″ around the waist.
Up to 7X Tall – Tall inseam measurement of 36 inches.
Because of the large variety of options when it comes to choosing your size, it's hard to go past the Pulse. Most snow pants only go as far as XXL with regular 30-32 inch inseams. So if you're in that hard to find category, these Pulse pants may be the best option.
These pants are a good quality outdoors winter pants as they are well insulated, waterproof and have gaitors in the legs to tie off any loose clothing. The adjustable waist straps are a nice touch. Because you should always buy one size bigger to allow for base layer of clothing, these straps come in handy for pulling tight any left over room around the waist.
Mens Extra Large Snow Pants
If the above Pulse snow pant was not your style, check out the other available big and tall shon pants on amazon. While these pants don't come in such large sizes, you may find some suitable to your size anyway.


Plus Size Snow Pants For Women

While the brand Columbia have some nice Womens snow pants, the general consensus is that the 3X is not really big enough in the backside area. As someone with a larger backside, I know all too well how embarrassing it can be to split down the back of any pants, not too mention snow pants when you may be trapped out on the snow for hours on end.
While Columbia are a great brand and all, I think the Arctix Womens insulated snow pants are the better product for plus size Women. Simply because they have a greater range in sizes up to 4X and even a model for taller Women. However the tall snow pants only go up to a X-Large size and they have a 34 inch inseam.
The regular length pants have 32″ inseams but go up to 4XL. The recommended measurements for the largest size snow pants are as follows:
Hips: 54″ – 56″
Waist: 48″ – 50″
Inseam measurements range from 31″ to 34″ depending on size you buy.
Features Of The Arctix Womens Plus Size Snow Pants
With the measurements out of the way, the Arctix snow pants boasts some pretty flash features for snow pants. I really like how the ankle section on the pants has a zipper. This makes getting the pants over bulky boots.
There is also elastic bands (gaitors) around the ankles to tighten so no snow or water can creep up inside your pants.
Around the waist line are your typical loop holes so that you can wear an additional belt if you choose. The waist also has side straps to tighten or loosen if need be. There is also a grommet for carrying a carabiner should you even need to.
The pockets are zippered shut which is a very handy feature to have when you're on the snow. I couldn't guess how many items have fallen out of my pockets over the years never to be found. Inside the pockets area nice fleece lining that are warm and soft to touch.
Overall Arctix has created a lightweight yet durable waterproof and insulated snow pant suitable for Women of many sizes. Available in a selection of colors but do note some sizes are not available in all colors.
Arctix Women's Insulated Snow Pant Up To 4X
Big And Tall Snow Bib

A snow bib is another popular choice for tacking on the cold and wet. A bib that is designed for the snow will keep you warm and dry. The good news is that Arctix has some big and tall sizes available.
This particular bib is 3000mm rated so it can stay waterproof for up to 3000mm of water per square inch. Not the highest rating, but still sufficient for your outdoors snow work.
In terms of sizes, for a big and tall person thee largest the Arctix comes in is 3XL TALL. The measurements for this Bib are 48-50 inches around the waist and comes with a longer inseam of 34 inches.
For bigger guys that only need a 32 inch inseam, the Arctix Bib goes up to 6XL which has a 60″ – 62″ waist. The snow Bib comes with what you would expect from snow pants: Gaitors to keep moisture and snow from entering up through your ankles, reinforced ankle and hem guards, zippers along the ankles for easy fitting of boots and Thermatech insulation to keep you nice and warm.
Available in a selection of colors which come in a variety of big and tall sizes.
Arctix Men's Essential Bib Overall
What To Consider When Buying Snow Pants
Now that you have seen a number off snow pants for the big and tall people, deciding which pair to buy can be just as tough. Ski, snow and snowboarding pants come in different styles and can be made from different materials.
With different ratings on breath-ability and waterproof levels, it's all a little confusing. To help you get over the line, I have summarized a few of the important features or ratings you need to understand.
Ski, Snow Or Snowboarding Pants…Arhh The Options
Chances are that you want loose fitting snow pants. I know personally tighter clothes simply don't work on this big torso of mine. Looser fitting clothes in general are more comfortable and allow more freedom in movement.
If you are going to hit the slopes, the main differences between skiing pants and snowboarding pants are that ski pants are more aerodynamic. Meaning they are tighter fitting. Same goes with plus size ski & snow jackets. Snowboarding pants are loosing fitting and the ideal choice for a heavier tall person.
How Waterproof Are Snow Pants?
The majority of snow pants will have a rating between 5k and up to 25k. What this means is the pants material have been tested per square inch to how many Mm of water can sit on top of the pants without the pants leaking. So the higher the number, the more waterproof the pants are. For example, snow pants rated to 10k waterproof means the material has been tested with 10,000mm of water sitting on top without any leaks.
While waterproof rating is good and all, it's not always the most important aspect to consider when buying snow pants. Depending on where you live/where you are going to visit the snow will determine the waterproof rating the pants will need.
For example, drier areas like Utah will be less wet compared to somewhere like Washington. In this case a higher waterproof rating would be recommended in Washington compared to Utah.
Look for pants with extra protection in the areas that come in direct contact with snow or water. If you are hitting the slopes, chances are your backside will get on the chair lift. So a reinforced backside is a good idea. But for regular walk around snow pants, you may only want to consider double backed knees for the odd chance you slip over on your knees.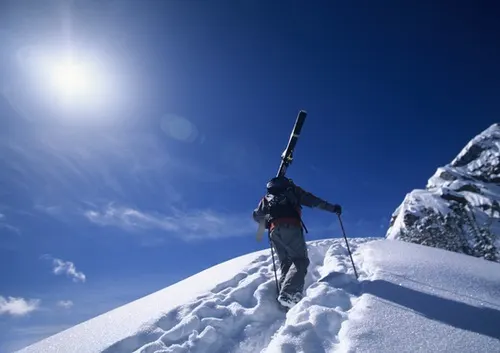 Insulated Or Not
Ski and snow pants can be either insulated to keep you warm or come as a shell which you build up with layers of clothing underneath. Depending on how hot you get, how long you plan to ski for will determine how insulated you need the pants to be.
I personally sweat a lot and find a simple lightweight pair of snow pants sufficient over some light pants. The legs aren't as important to keep warm as it is to keep your core body temperature right. Which is why you will find that the insulation in snow pants to be less than that of snow jackets.