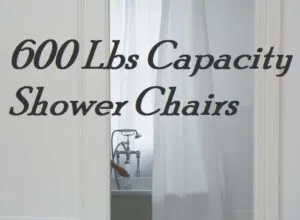 Bariatric shower chairs with 600 lbs capacity are few and far between. One reason being that manufacturers simply don't see the demand for them so don't put the extra reinforcements needed. The other reason being that many people find it too difficult to shower at this weight. However, a 600 pound weight capacity shower chair can also be useful when there is more than one in the shower. Having the high weight capacity is always a good thing as it generally reflects better construction of the chair or bench.
I have been keeping an eye out for such weight rated shower chairs for some time now. But unfortunately, the market isn't growing as I had hoped. While there are more (including a 700 pound limit shower chair) options available, most sadly don't have high enough weight capacities for a obese person to safely use.
But as time ticks over, more Bariatric 600 lbs weight capacity shower chairs may become readily available. As soon as they do, this page will be updated to represent the more options available. But in the meantime, here are the best ones I could find online.
The Best Shower Chair With 600 Pound Weight Capacity
Medichoice offer this great heavy duty 600 lb limit shower chair. It's pretty simple in design and set up. Which I like. There are no arms which some folks may or may not like. Both options have there advantages. The biggest advantage to having no arms is that the body can fit on the bench no problems. Whereas arms can restrict you more.
This bariatric shower chair is also height adjustable. This is especially important for obese people as the lower the chair, the harder it is to get off. Especially on wet tiles/floor. This chair by Medichoice has the option to raise from 14 to 17 inches in height. So if you are not super tall, then it should be a relatively comfortable height to sit at.
If you have used shower chairs before and had the wobbles or feeling of not being safe while sitting, then I'd say you got a cheaper chair not designed for heavier people. But with this heavy duty frame, I feel completely safe sitting on it without having to have the fear of crashing through the thing.
The rubber feet are made from rubber latex, so be sure you don't have allergies to this material before buying. They work considerably well in my opinion and complement the overall sturdiness of the chair. The crossbar beneath the seat adds another layer of security. This bar reinforces the overall chair.
I like how the seat is contoured so that water doesn't build up on the seat and make an unsafe sitting area. The handles on either end also come in handy more than you may think. When you have to stretch or lean over, these handles make for great areas to grab onto for support.
[review_bar id='2028′]
450 Pound Capacity Shower Chair With Arms

When it comes to finding shower chairs with arms and a high weight capacity, it's almost impossible. Most brands stop adding arms once capacities get higher than 300/350 pounds. This is probably due to arms being too restrictive as people over 500 pounds are generally wider.
However, I have tracked down a shower chair that has a 450 pound capacity and it has arms. This shower chair is by Mefeir and is available on amazon to buy.
Whats great about this chair is that the arms are padded. This makes gripping onto them much easier in wet conditions. The feet are also are quite special. They are designed so that they provide a sucking motion to the floor. This prevents the chair from skidding on the wet floor.
The Mefeir is also quite adjustable. The back rest can be removed if you prefer no backrest. The height can also be adjustable from 27.9″ to 34.2″. This is the height of the top of the backrest. The actual seat when your sitting down can be adjusted from 16.1″ to 21″ tall. Which is a good amount of height if you are taller.
The blow hole molded cushion seat is almost 16 inches wide and the distance between the arms is 19 inches. Overall the Mefeir is a good choice for heavy people that want arms on their shower chair. The fact this shower chair has been FDA approved speaks volumes. You can rest assured this is not some cheap rip off that will break and slip all over the shower.
Mefeir 450 LBS Shower Chair Bath Stool Transfer Bench Seat
Bariatric Transfer Bench With 600 Lbs Weight Rating

This transfer bench by Lumex is certainly not the best transfer bench. But it does match the quota of having a high 600 pound weight limit. To be honest, if you weight under 550 lbs, I would go with the Medline Transfer Bench. Overall its a better product and falls 50 pounds short of having 600 lbs capacity.
While a transfer bench is typically used for people that can't get into a bathtub without the assistance, I still find them great for using in the shower as well. The 6 legs compared to 4 of a shower chair means more strength and better stability. The only down side is the chairs back rest only covers 2/3 of the seat. But nonetheless, its a super wide chair with a very high weight capacity built to handle heavy people.
What I do like about this Lumex chair, even tho it isn't contoured, its still a very deep seat and has holes through out it. The extra depth is good for bigger and taller people, while the holes give the seat drainage so water doesn't build up.
600 Lb Shower Chair With Back Rest And Handle

Drive Medical are not new to looking after the heavier population and this is one of their finest shower chairs. It has the 600 pound weight rating we so desire. It's built very well and has a back rest which is the only stand alone chair (not bench) I would recommend at the weight capacity. The back rest has a hole in the top which is a handle which makes lifting it in and out very easy. Not that this chair is heavy at all. It weights just 9 pounds if you can believe that.
If you're a little bit taller than average, you will probably like the height adjustments on the seat. It can extend from 16.5 to 21.5 inches which is much higher than that of the MediChoice listed above.
The seat is fairly wide as well measuring in at 16.5 inches with an overall width of 21.25″. What I like about this seat besides the holes for letting the water run freely is the edge. It's curved and not a hard straight edge that digs into the back of your legs. So this is definitely a positive in my eyes.
Lastly, I feel this chair is built to survive a hurricane. It's that well reinforced and constructed I think 600 pounds may be a understatement. The back rest bars actually go underneath the seat. Here they are bolted into the chairs frame. This adds another layer of sturdiness. When you look closely at the other areas where two parts meet you can see that they are double bolts of reasonable size. This thing almost resembles a tank. If a tank was a chair that's used in the shower.
[review_bar id='2029′]
.