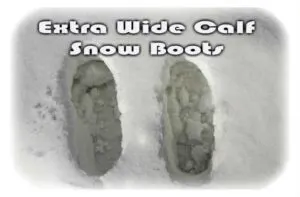 Winter snow boots are a necessity for anyone living in cold locations, but as a bigger person it can be difficult finding extra wide calf snow boots that actually fit. Show size is not often the problem. The problem lays in the fact us plus size people have larger calves.
Regular winter snow boots will have an opening of between 10″ and 12″ which is simply too tight to pull up over large calves. But finding snow boots with a extra large calf opening is quite difficult.
If you have exhausted your options at your local shoe store, turning to the internet is the next best option. While you don't get to physically try on the boots to see if they fit, you do get a larger selection to choose from.
However it's important that you get up to date measurements of your feet and around the calve muscles if you want an accurate guide to go off. Not all shoe product descriptions will state the opening size of the boot, so it can be difficult to know if the boot is big enough for your calf.
The snow boots I have listed below are for women with calves larger than 14 inches in diameter. If you don't know what size boot opening you will need, then it's time to get out the tape measure. With your feet flat on the floor and your backside sitting on a chair. Measure around the loose calf muscle area of your leg. Going all the way around so you get a true and accurate measurement of your calf.
Some boots are full knee high while some are mid calf height. So you may need to measure both your thickest part of the calf for knee highs and lower down the leg for half calf boots. With half calf boots you won't need such a wide opening as the boot doesn't go all the way up your leg.
With that said, it's time to discover the extra wide calf snow boots for plus size women. These boots are the results of sorting through over 100 types of winter and snow boots to find end up with a small selection of boots with a calf measurement greater than 14″.
Up To 17 Inch Wide Womens Snow Boots

Comfy Moda make these extra wide calf snow boots which can go up to 17 inches wide around the calves. Whats good about this pair of boots is that the back of the boot is stretchy. So it allows even the larger calf muscles to fit in with a bit of stretching of the boot.
The zipper that runs up the side from the top to the bottom allows you to easily get your foot in the boot. Again if the boots a little tight, the back of the boot stretches so you can fit the wider calves in.
These boots are a more stylish and sophisticated looking winter boot. While looking classy they still provide a warm and waterproof experience. The actual temperature rating on the boots is -22F. Part of this winter proofing is due to the removable thermal insole. The faux fur lining on the inside of the boot does the rest of the job and keeps your feet nice and warm.
The grip on the bottom of the boots is also quite good. This is something many forget when buying snow boots. But the Comfy Moda 'Thinsulate' provides a safe walking boot over snow.
Waterproof & Very Warm
The boots are waterproof as mentioned with the exterior of the boots leather outer console keeping your feet nice and dry. While the inside of the boot provides a 3 layer comfort system which also acts as the insulation to keep the feet warm.
The microfibers in the high density foam help to retain your body heat inside the shoe. With the middle layer of the sole being aluminum to protect your feet from getting wet and cold.
Because of all this heat retention technology is involved with the Comfy Moda, the boot is not exactly cheap. But when you want a high quality waterproof snow boot, you have to expect to pay a little more.
How much exactly?. Find out the latest price on amazon here. With the 17″ opening, people with larger calves can find comfort and reliability from this boot.
Comfy Moda Thinsulate Snow Boots
16.5″ – 17.5″ Wide Calf Plus Size Snow Boots

Another quality snow boot by Comfy Moda is the Alberta series. These boot also boast the 'Thinsulate technology". Which is the insulated shoe with aluminum to stop moisture and retain heat. So they are another waterproof and very warm pair of boots. The heat temperature rating for the boots is -25°F.
On a size 7 boot, the Alberta has a opening of 16.5 inches so a wider calf can slip right in. Size 12 feet get a larger opening of 17.5″. The Alberta boots also have wider toe areas. This is great for people like myself with wide feet to go along with the thicker calves.
The Alberta boots also come with the Comfy Moda base grip to prevent falls in slippery conditions. The bonus to this pair of boots is that they come with a pair of memory foam insoles which mold to the shape of your foot for maximum comfort. The insoles can also be left out if you don't like memory foam and you still have the thermal felt insoles in the boot for warmth and protection from water.
The inside of the boot is also lined with a soft yet warm faux fur. Feels great to touch and looks amazing to wear. However they are a more bulkier looking pair of snow boots. So if you're after a sleek and classy pair this may not be the best choice. But for warmth and protection from snow when walking in blizzards, the Alberta by Comfy Moda have got your feet covered.
Alberta By Comfy Moda
Cute Wide Calf Snow Boots

Kingshow make this cute and adorable winter boots known as the Globalwin. They come in a variety of sizes and widths. Look for the size with the extra wide marking (XW or E). Kingshow also has a variety of colors and styles available for this Womens winter boot.
There are a lot of reviews for this boot from people with wider calves which is reassuring. But will still have to take your own measurements and compare before buying.
They are a boot designed for cold winter conditions. They are snow proof and waterproof to a point. Below the ankle level is waterproof so they are great fro walking in the snow. But I wouldn't be walking through deep water puddles with them on.
While they are lace up boots, don't be discouraged. The laces are more of a visual factor. Once you tie them up once you can get your feet in and out by using the zipper. The laces just make them more attractive, but can also be used to tighten the boot if required.
The boots are not full calf size so you won't need as large of an opening to slip your feet in. But do be aware that they won't go up your leg as high to keep you warm. But if you're after a stylish looking pair of books to go trekking through the snow while staying dry and warm, these are a very good choice. I highly recommend checking out the reviews before purchasing a pair of your own.
Kingshow Women's Globalwin Waterproof Winter Boots
16.5″ Opening Wide Calf Knee High Winter Boots

The measurements on this boot state the opening is 16.5″ roughly based on a size 7 shoe. However there have been cases where wider calves up to 19 inches can fit into these boots. This is because the boots do stretch a little. But best of all you can loosen the buckles to make the boots wider. Do note that you do need to select 'wide calf' when buying to get the wider calve version.
These winter boots are made by Dream Pair and come in a variety of colors. Personally I like the brown version because of how high up the buckle is. It allows you to open the calf area much more. When selecting a color you can see which versions of the Dream Pair come in wide calf versions. So keep an eye out for this.
There is a zipper that runs down the side to make slipping wider calves and feet in all that much easier. The inside of the boot is lined with faux fur for added warmth and comfort.
Overall I find these knee high winter boots a reasonably good buy for a plus size person. They don't have all the bells and whistles the more expensive boots have. But they also don't have such a high price tag. For what you pay you get a rather comfortable and waterproof winter boot. Just make sure to check for wide calf boot options and your good to go.
Dream Pair Wide Calf Knee High Winter Boots
More Womens Wide Calf Snow Boots
If the above 4 snow boots are not quite your style, fear not. Amazon has a number of wide calf boots available. Above you can find 4 more options with boot openings of 14 inches or greater. Alternatively plus size rain boots can be just as useful if warmth is not your main priority.
.