I hope you love the products I've recommended below, just a heads up that as an Amazon associate, I earn from qualifying purchases. This means I may earn commissions on products bought via links on this page.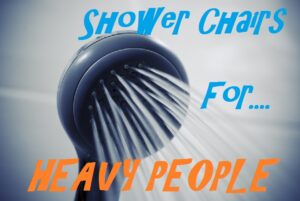 There are many reasons people use shower chairs or benches whilst washing themselves everyday. But as an overweight heavy person, just standing in a small shower can be a tough challenge in itself. Carrying around the extra pounds does take its toll on the body.
For me, it's the lower back, feet and knees in particular. So standing in one spot for a extended period of time can become very painful. Which is why a heavy duty shower chair is sometimes needed just for resting the body.
But when it comes to buying the best shower chairs for heavy people, not just any shower chair or stool will do. It's bad enough when we break a inferior chair due to being over the weight limit or poor design. Sometimes this can end up in a bad fall. Now I don't fancy taking a fall in the shower any time soon, especially if no one else is home.
So a big Man's shower chair or bench must be heavy duty for it to make it's way to my bathroom. The frame needs to be rust resistant while still having the capacity to hold up to 500 pounds. If the chair does have arms, they need to be wide enough to fit an XL Man. Otherwise a heavy duty armless shower chair will be my next best option. Padding on the seat is not all that important to me, as the time spent in the shower does not justify needing the padding you would expect from a big Man's massage chair for example.
The seat size is also an important factor to consider. It must be a wide or large enough shower seat to comfortably fit the backside or whats the point right?. Lastly a high weight capacity rating is something some folks forget about.
Don't forget to check the weight capacity of the shower chair!. Now with all the pre requisites out of the way, lets get into what we believe are the best heavy duty shower chairs for overweight people.
Our #1 Recommended Heavy Duty Shower Chair For Heavy People
The 700 Lbs Capacity Adjustable Bath & Shower Chair By AquaSense
While this tank of a shower and bath chair has a huge 700 pound weight capacity, there are many other reasons to love this chair. So the width of this chair will suit big bottom Gals and Guys being 17.1″.
The seat has good drainage via some holes to let the water slip through. The seat has also got a slip resistant surface to ensure a safer shower.
The design of the frame is where the heavy duty aspect comes in. The legs have a cross beam bar for extra strong support to provide this chair the ability to safely hold up to 700 lbs. The cross bar also prevents the legs from spreading outwards from excessive weight. That's another tick for the Big Man.
What makes the AquaSense good for bigger people is the fact it is very adjustable. Starting from the back rest, it can either stay on or if you prefer to be able to reach around behind you to reach those hard to get spots than you can leave the back rest on. But I must say, having the back rest attached does help a lot for comfort of the lower back.
The height of the seat can also be adjusted to any of the 5 settings. With the lowest being 16.2 for short people and up to 20.2″ for the big and tall folks. So it makes for a good all round shower chair for people of different shapes and sizes.
Overall we find the features such as the anodized rust-resistant aluminum frame, non slip rubber feet (very grippy) and the extra strong support offered by the AquaSense a very good choice for heavy people.
AquaSense Bariatric Shower Chair 700 Lbs Capacity
Shower Chair 400 Lbs Capacity
A shower chair or bench with 400 lbs capacity will suit most people. Which is why this Drive Medical shower tub bench is a very good choice. Besides being available in three colors, there are some unique features that I like about this chair.
Optional back rest. I like the safety of a back rest so would always have it on. The back rest helps for balancing and holding onto when entering and exiting the shower. The back rest also has a handle cutout for moving the chair easier.
The feet have suction caps on the end so that using this chair in a bathtub is safer.
The ends of the almost 20″ wide contoured seat has handle cutouts. This makes it easier to move the chair and also sit on and get out of.
Drainage holes in the seat prevent water from building up on the seat which can lead to slips.
Adjustable legs provide you with height settings between 15.5″ and 19.5″ with 1″ increments.
The whole chair is tool free. It is constructed with those push button tabs that lock into position. So you can remove the legs and backrest if you want. This makes storing and or travel much more compact.
When you take a good look at all the features, you can easily see why this is a popular choice. Not just among heavier people, but people of any size. Safety is our number one priority when entering a tub or shower, so having a chair with the safety features of suction cap feet, handles and water dispensing holes is a huge benefit.
Anything that makes the battle of having a shower safer and easier is a winner in my books. While the Drive Medical doesn't have the widest seat in the world, the addition of a back rest and foot suctions makes me feel more comfortable. Which is why I think this is one of the best 400 lbs shower chairs on the market.
Drive Medical 400 Lbs Capacity Shower Tub Chair
The Best Swivel Shower Stool For Overweight People
By Drive Medical – Rotating Bath Stool 450 Lbs Capacity

There's many reasons I like the Drive Medical swivel shower stool, but none more than the ability to easily turn in the shower without tipping over of pulling a muscle. Having a swivel shower chair is a massive helping hand for a big Man in the shower. Especially if you have a small bath or shower. By swiveling around you wont bang into any foreign objects when reaching for the soap.
It has a decent weight capacity of 450 pounds and the rust resistant aluminum legs are constructed straight up and down. Because of this design, a heavy person won't flatten the chair if the legs were spread out on an angle like you see on many shower chairs these days.
The legs are adjustable as well, so whether your short or tall the Drive Medical bath stool may cater to your needs. The increments the stool goes up is by 1 inch. From 16 inches at the lowest point to 23 inches at the highest level.
The stool raises with a simple push button technique. I recommend adjusting the height settings before you enter the bath or shower. Nobody likes to take a fall when assembling a chair in the water.
Another handy Big Man feature of the Drive Medical stool is the underneath shelf. Here you can put the necessities that you normal have to stand up and reach for. But with the underneath shelf having soap, shavers, scrubbers etc are at less than an arms reach. So this makes showering as a big guy slightly more safe.
Finishing off this awesome swivel stool is a padded top. While it's not extremely thick, it does take the edge off a hard seat, especially when you swivel around (I find it puts more pressure on the backside).
The seat itself can even be detached so cleaning the padding is not 'in shower' risky job. That is if you even feel the need to clean the seat. The only possible negative some of the larger community may consider as a turn off is the width of the seat. The seat itself is 14″ wide, so ideal for overweight people, but obese persons may need a wider shower chair.
Drive Medical 450 Lbs Weight Capacity Bath Stool
Extra Wide Heavy Duty Shower Chair For Big People
Medline Bariatric Bath Bench 550 Lbs Capacity

Whats great about the heavy duty Medline shower bench besides its 500 pound weight capacity is the width of this chair. Probably one of the widest shower chairs on the market.
At a width of 20 inches and a weight capacity of 550 lbs, the Medline shower chair will suit many of us overweight folks. There are many other great features of this Medline, so lets get into them:
Suction cap feet that stick firmly onto the bath tub floor or shower tiles. This adds an extra element of safety.
Rust proof design: Unlike many other models, the Medline is a tubular aluminum design with leak holes. So not only won't it rust, but it will prevent build up pf water which can lead to algae, mold etc.
Heavy duty shower chair design. The legs have a cross bar which add a huge amount of extra support to hold high weight capacities. Unfortunately not all shower chairs do this, which is why the Medline is so good.
Chair can be adjusted to a height of 17 inches. Which is about the height of a common toilet.
Overall, the Medline does a superior job of handling large people with weight capacities up to 500 pounds. The curved seat also make it really easy to sit in and the rounded corners add that little extra bit of safety to the user. The extra wide seat and sturdy strong rust proof design are all features I look for and the Medline has delivered.
However, there are 2 things which may be of concern to some heavier persons. The first is the height from floor only extends to 17 inches. So this won't suit the big and tall people so much. The other thing is that it has no arms for leverage.
Some people rely on arms to elevate themselves out of the shower chairs. But there is a solution, and one which I recommend all big people use anyway. A bath or wall gripper. This particular bath gripper is a suction cap handle which you attach to your shower screen or wall to use to provide stability and extra support.
Medline Bariatric Bath Bench 500 Lbs Capacity
Want More Heavy Duty Shower Chairs For Oversized People?
A large variety of shower chairs and bath chairs with high weight capacities and much more can be found from various online retailers. Check out the available heavy duty shower chairs available on amazon for more great ideas and reviews.
[bannerbox id=20]
Save