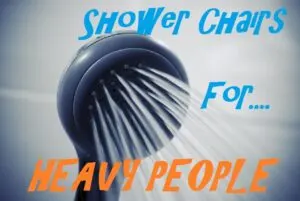 Standing in the shower as a big man for an extended period of time can become very painful. This is why a heavy-duty shower chair is needed when you're an obese or heavy person for resting the body safely.
There are many reasons people use shower chairs or heavy-duty transfer benches whilst washing themselves every day. But as an overweight heavy person, just standing in a small shower can be a tough challenge in itself. Carrying around the extra pounds does take its toll on the body.
For me, it's the lower back, feet, and knees in particular. For others, it can be due to a lack of mobility. Whatever the reason is, these shower chairs for heavy people listed below are built strong and robust to hold up to 700 lbs of weight.
Below you can compare the 7 shower chair options for heavier people along with 2 heavy duty Shower Bench transfer seats.
#1 Shower Chair For Heavy People
Buy Heavy Duty Shower Chairs & Benches
My #1 Recommendation 500 LB Capacity

If I had to chose just one shower chair, it would have to be the NOVA Heavy Duty Shower Chair. This is because I know first hand the dangers involved with sitting on chairs that aren't structurally sound. While some chairs may claim to have a high weight capacity, they lack the reinforcements in the foundation for me to feel safe and stable sitting on.
When it comes to my safety, I don't mind spending a little more if the chair has the features that give me the confidence to sit on.
This is precisely why I recommend the NOVA shower chair. It is the Heavy-Duty version in their line of shower chairs with a weight capacity of 500 LB. But the feature that really makes this shower chair one of the best for heavy people is the fact the frame has reinforcements to make it stronger overall.
Built Strong
Unlike many other bath chairs, the NOVA features an additional crossbar support system. This crossbar connects to all 4 legs around the middle of the chair. What this does is creates a stronger foundation and eliminates the chances of the legs buckling due to excess weight.
This is a really good feature because when you go to stand up or sit down on the chair with uneven weight distribution, the leg won't fold under. All the legs are connected by the crossbar giving them the resilience and strength needed to handle bigger people.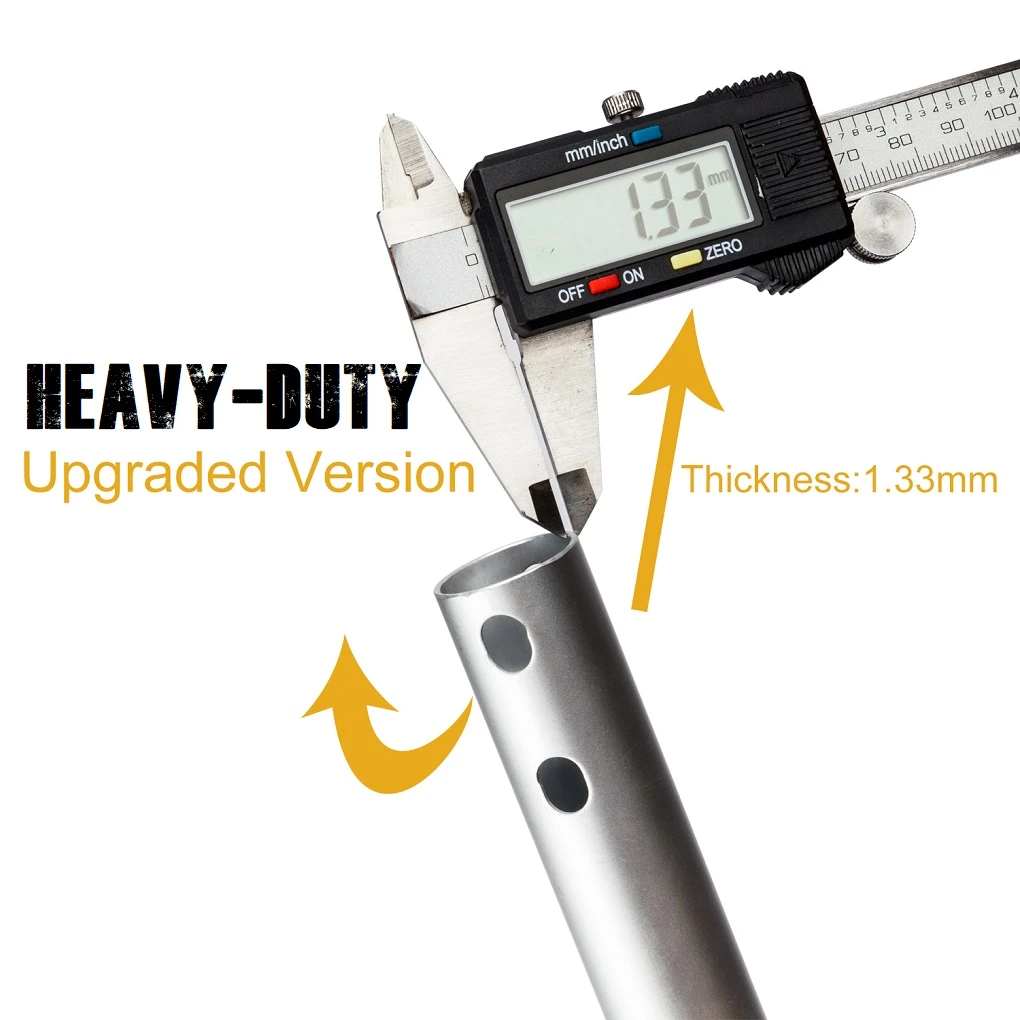 No Arms, No Worries
Some people see arms on a chair as a good thing, and I can understand why. However, when you're twice the size of everyone else, trying to fit your body in between narrow arms is sometimes impossible. In a wet and slippery environment like the bathtub or shower, this is not what you want.
The NOVA doesn't come with arms so you don't ever need to feel restricted for movement on the chair. The backrest can also be taken off during assembly if you don't like the back support. Personally I like the backrest and leave it on.
Like most shower chairs, the NOVA is also height-adjustable (17″ to 23″ seat height), making it a good choice for the big and tall people as the maximum height is just shy of 20 inches. But overall for me, the key takeaway for the NOVA shower chair is the reinforced structural components. I would much prefer a safe and sturdy seating area over any other feature.
700 Lb Capacity Shower Chair
While this tank of a shower and bath chair has a huge 700-pound weight capacity, there are many other reasons to love this chair. So the width of this chair will suit big bottom Gals and Guys being 17.1″.
The seat has good drainage via some holes to let the water slip through. The seat has also got a slip-resistant surface to ensure a safer shower.
The design of the frame is where the heavy duty aspect comes in. The legs have a cross beam bar for extra-strong support to provide this chair the ability to safely hold up to 700 lbs. The crossbar also prevents the legs from spreading outwards from excessive weight. That's another tick for the Big Man.
What makes the AquaSense good for bigger people is the fact it is very adjustable. Starting from the backrest, it can either stay on or if you prefer to be able to reach around behind you to reach those hard to get spots than you can leave the backrest on. But I must say, having the backrest attached does help a lot for the comfort of the lower back.
The height of the seat can also be adjusted to any of the 5 settings. With the lowest being 16.2 for short people and up to 20.2″ for the big and tall folks. So it makes for a good all round shower chair for people of different shapes and sizes.
Pros
Huge Weight Capacity

Reinforced Cross Bars

Height Adjustable 16/25″ to 20.25 inches

Slip Resistant Seat With Drainage Holes
Cons
Seat Width Only 17.1″

Not Suitable For Tall People

No Handle In Back Rest For Easy Moving
Overall we find the features such as the anodized rust-resistant aluminum frame, nonslip rubber feet (very grippy) and the extra strong support offered by the AquaSense a very good choice for heavy people.
Shower Chair 500 Lb Capacity
Eagle Health Supplies are one of the market leaders when it comes to shower chairs with their constant high-quality chairs and it's easy to see why. This chair is designed with high-quality and lots of versatility in mind which makes this shower chair for big and tall people an obvious choice.
Since this chair is designed for the big and tall it's not going to fit in your standard bathtub which is something you will need to consider. The base of this chair is 24.5 inches – 25.5 inches which makes it quite large. However, it needs to be to handle the heavier people out there and the oversized frame is essential.
The frame has been rated to a heavy duty 500 lbs capacity. To go with this strong and robust foundation is an extra-wide seat with arms. The seat itself measures 20.25″ x 18.5″, between the arms. So you get a decent amount of space to sit and feel safe from the side arms as you lower yourself into position.
Adjustable Leg Height
One of the best features of this shower chair is how its legs adjust. Being able to adjust the legs to suit your height is a great feature that does make it a more comfortable chair. Once you've had a shower chair that is the right height for you it will be difficult to go back to anything else.
You're able to remove the backrest if you're someone who doesn't like backrests on these kinds of chairs. This is a nice feature you're able to do but sadly you can't remove the arms since that would reduce the durability of the chair.
However, I like that this shower chair is extra wide with arms. It does give you the extra safety element in what is normally is a wet and slippery situation. You just need to make sure you can fit between the arms before buying.
It's a lightweight and easy to move chair which I find impressive for one as big as this. This is because it only weighs around 15lbs which is lightweight enough that you can move it without much hassle. This is important for when you're trying to get the chair into position in the shower.
Shower Chair 300 Lbs Capacity
A shower chair or bench with 300 lbs capacity will suit most people. This is why this Drive Medical shower tub bench is a very good choice. Besides being available in three colors, there are some unique features that I like about this chair.
Optional backrest. I like the safety of a backrest so would always have it on. The backrest helps for balancing and holding onto when entering and exiting the shower. The backrest also has a handle cutout for moving the chair easier.
The feet have suction cups on the end so that using this chair in a bathtub is safer.
The ends of the almost 20″ wide contoured seat has handle cutouts. This makes it easier to move the chair and also sit on and get out of.
Drainage holes in the seat prevent water from building up on the seat which can lead to slips.
Adjustable legs provide you with height settings between 15.5″ and 19.5″ with 1″ increments.
The whole chair is tool-free. It is constructed with those push-button tabs that lock into position. So you can remove the legs and backrest if you want. This makes storing and or travel much more compact.
When you take a good look at all the features, you can easily see why this is a popular choice. Not just among heavier people, but people of any size. Safety is our number one priority when entering a tub or shower, so having a chair with the safety features of suction cap feet, handles and water dispensing holes is a huge benefit.
Anything that makes the battle of having a shower safer and easier is a winner in my books. While the Drive Medical doesn't have the widest seat in the world, the addition of a backrest and foot suctions makes me feel more comfortable. Which is why I think this is one of the best 400 lbs shower chairs on the market.
Heavy Duty Shower Stool
By Drive Medical – Rotating Bath Stool 450 Lbs Capacity

There are many reasons I like the Drive Medical swivel shower stool, but none more than the ability to easily turn in the shower without tipping over of pulling a muscle.
Having a swivel heavy duty shower stool is a massive helping hand for the big person in the shower. Especially if you have a small bath or shower. By swiveling around you won't bang into any foreign objects when reaching for the soap.
It has a decent weight capacity of 450 pounds and the rust-resistant aluminum legs are constructed straight up and down. Because of this design, a heavy person won't flatten the chair if the legs were spread out on an angle like you see on many shower chairs these days.
Height Adjustable To 23″
The legs are adjustable as well, so whether your short or tall the Drive Medical bath stool may cater to your needs. The increments the stool goes up is by 1 inch. From 16 inches at the lowest point to 23 inches at the highest level.
The stool raises with a simple push-button technique. I recommend adjusting the height settings before you enter the bath or shower. Nobody likes to take a fall when assembling a chair in the water.
Padded Seat
Another handy Big Man feature of the Drive Medical stool is the underneath shelf. Here you can put the necessities that you normal have to stand up and reach for. But with the underneath shelf having soap, shavers, scrubbers etc are at less than an arms reach. So this makes showering as a big guy slightly more safe.
Finishing off this awesome swivel stool is a padded top. While it's not extremely thick, it does take the edge off a hard seat, especially when you swivel around (I find it puts more pressure on the backside).
The seat itself can even be detached so cleaning the padding is not 'in shower' risky job. That is if you even feel the need to clean the seat. The only possible negative some of the larger community may consider as a turn off is the width of the seat. The seat itself is 14″ wide, so ideal for overweight people, but obese persons may need a wider shower chair.
Extra Wide Heavy Duty Shower Chair For Big People
Medline Bariatric Bath Bench 550 Lbs Capacity

What's great about the heavy duty Medline shower bench besides its 500 pound weight capacity is the width of this chair. Probably one of the widest shower chairs on the market.
At a width of 20 inches and a weight capacity of 550 lbs, the Medline shower chair will suit many of us overweight folks. There are many other great features of this Medline, so let's get into them:
Suction cap feet that stick firmly onto the bathtub floor or shower tiles. This adds an extra element of safety.
Rustproof design: Unlike many other models, the Medline is a tubular aluminum design with leak holes. So not only won't it rust, but it will prevent the build-up of water which can lead to algae, mold, etc.
Heavy-duty shower chair design. The legs have a crossbar which adds a huge amount of extra support to hold high weight capacities. Unfortunately, not all shower chairs do this, which is why the Medline is so good.
The chair can be adjusted to a height of 17 inches. Which is about the height of a common toilet.
Overall, the Medline does a superior job of handling large people with weight capacities up to 500 pounds. The curved seat also makes it really easy to sit in and the rounded corners add that little extra bit of safety to the user. The extra-wide seat and sturdy strong rustproof design are all features I look for and the Medline has delivered.
However, there are 2 things which may be of concern to some heavier persons. The first is the height from floor only extends to 17 inches. So this won't suit the big and tall people so much. The other thing is that it has no arms for leverage.
Some people rely on arms to elevate themselves out of the shower chairs. But there is a solution and one which I recommend all big people use anyway. A bath or wall gripper. This particular bath gripper is a suction cap handle that you attach to your shower screen or wall to use to provide stability and extra support.
Shower Chair 300 Lb Capacity Person

Platinum Health has made a very versatile shower chair that gives you a good amount of customization for how you use it. You're able to use it for more than just a shower chair which is an appealing aspect of the chair. You're able to use it as a bedside commode or a mobile commode chair which does make it a unique chair.
I find this is the ideal shower chair for a 300 lb person as the chair itself has a heavy-duty rating of 330 lbs. I always recommend you get a product with a weight capacity that is at least 10% more than your body weight to be on the safe side.
22″ Wide Between Flip-Up Arms
Something that I see a lot of people request is the ability to remove the arms. While you can't do this on this chair it has the next best thing, which is the ability to raise it out of the way. This is helpful to the larger people that may not fit between the 22 inches normally.
This shower chair is one of the most comfortable on the market with the extra padding it has. It has extra padding on the seat, backrest, and armrests which makes it easier to sit on for long periods of time. While this won't always be useful, the times when you do need it you'll be thankful for it.
You might get worried about the padding and getting wet from the shower. Thankfully they're made out of a non-slip material that won't absorb water which will ease the mind of those who were worried about it.
Getting into and out of a chair like this can be really difficult since there are things like armrests and footrests in the way. I did mention the armrests folding before but you're also able to fold the footrest which makes this really easy to get into.
As this shower chair is on heavy duty wheels, the person that pushes the chair into the shower can make any necessary adjustments to the armrest and footrest before entering the bathroom.
---
Heavy Duty Shower Bench Seats
500 Lbs Capacity Bath Transfer Chair

The design behind this transfer chair is really clever and made to make your life as a larger person easier. This is one of the reasons this transfer bench from Healthline has made this list, as it will make your life easier when you need it.
There are a lot of reasons why this is a great shower bench, but the high weight capacity is one of the best. It has an impressive 500lbs weight capacity for those who are worried about it not having enough support. There aren't a lot of chairs who have this level of capacity so I really like this chair for this reason.
Since it has a bench design they went with just having one armrest on one side which is a big plus for this style of chair. You're able to get on and off very easily with this design choice. Since we all get weight in different areas, only having one armrest is beneficial for the wider people out there.
The width of the transfer seat is just over 25 inches. This allows the bigger person to sit on the edge of the seat and transfer over to the bath safer.
Adjustable Height Features
Having adjustable legs as this shower chair does is really beneficial and mandatory for some people. This chair seat has the ability to be as low as 15.5-inches and as high as 19.5-inches. This is some nice versatility to have especially if multiple people are going to be using it.
While the incredible weight capacity is great for safety purposes this chair has more than just that going for it. The special clips they include for the backrest of this chair are great since they aren't exposed so there is less danger of the person getting injured.
---
Big & Tall Transfer Chair
If a company gets the small things right it makes me have a lot more faith in the company and its products. This is something OasisSpace has done extremely well in my opinion.
With something as simple as being able to change the side the backrest is positioned. This allows you to trust that you can set it up the best way for the person using it.
Considering the bench only weighs 10lbs you might be worried that it isn' going to be durable enough for your body weight. That's not the case here since this chair has an incredible 500lbs limit. This is impressive in my opinion since most benches are quite heavy to help give them that high weight capacity.
Seat Adjusts Up To 22″ Tall
It's also big and tall rated because of the height-adjustable legs. With this bath transfer seat, the legs can be raised to 22 inches high. This is a good height for most tall people and from edge of the seat to the edge of the arms, it's 27 inches wide. Which caters to the bigger people as well.
The base of the bench is fairly wide, it measures 30.5 inches at the base which and the slight angle of the legs can make it as wide as 34.5″ due to the legs being extended. It works extremely well in bigger bathtubs where there's plenty of space to position this transfer chair.
Assembling these types of shower benches can be time-consuming which can put people off from them. That's not the case with this bench as the instructions are simple and very easy to do and will only take you roughly 10 to 15 minutes the first time.
A feature I really like that they included with this chair is how the suction caps that go in the bathtub are much larger. This makes them easier to stick and not slip which adds to the safety of this bench.
---
Extra Wide Shower Chair With Arms
This shower chair is a little different from the others listed so far, as this is a mobile option. It is on caster wheels so you can transport the chair into the shower without having to compromise their safety on a wet floor. The addition of a heavy duty commode also helps people that have trouble controlling their bowels.
MJM International has kept it very simple with this chair and making sure they got the basics perfect. You're not going to get all the fancy features of some of the other chairs on the market, but you will get a solid and reliable shower chair that will last you a good while.
Staring with the 425 lb weight capacity, at this level, its the ideal shower chair for someone that weighs 400 pounds.
When you weigh close to 400 pounds, safety in the shower becomes your number one priority, which is why this extra wide shower chair with arms is a good option.
Extra Wide Seat With Hand Grip Arms
A good shower chair for big people does need that extra bit of seat width. The internal width of this shower chair is 26-inches which offers a good amount of room for the bigger people. Combine this with the height of the seat being 20.75-inches makes this a great all-round chair for big and tall people.
One thing I really like about this shower chair is the mesh backing which is comfortable and durable. While there isn't anything wrong with chairs that have a solid plastic back I just find adding the mesh to be more comfortable.
Moving this chair is really simple since they added wheels to the bottom of this chair. This was essential for them to do since the chair is a little on the heavier side with it weighing around 37lbs.
Something that you need to know before getting a shower chair is just how wide it is to see if it will fit in your shower. This chair is 30-inches wide by 29.5-inches deep so it's quite large and might not fit in your shower and something you should check beforehand to make sure.
But if this chair does fit, the extra few inches in width that the seat provides will make a huge difference.
---
Shower Chairs For Heavy People Guidelines
But when it comes to buying the best shower chairs for heavy people, not just any shower chair or stool will do. It's bad enough when we break an inferior chair due to being over the weight limit or poor design. Sometimes this can end up in a bad fall. Now I don't fancy taking a fall in the shower any time soon, especially if no one else is home.
Shower Chair Weight Limit Explained
A shower chair's weight limit will vary and for the larger person, it needs to be rated relatively high. This is because it can be quite dangerous in the shower due to wet and slippery surfaces. Not all shower chairs have a weight limit stated, so its best to avoid a chair if it doesn't clearly state the weight capacity.
So a big Man's shower chair or bench must be heavy-duty for it to make it's way to my bathroom. The frame needs to be rust-resistant while still having the capacity to hold up to 500 pounds. If the chair does have arms, they need to be wide enough to fit an XL Man. Otherwise, a heavy-duty armless shower chair will be my next best option.
Padding on the seat is not all that important to me, as the time spent in the shower does not justify needing the padding you would expect from a big Man's massage chair for example.
Oversized Seat
The seat size is also an important factor to consider. It must be a wide or large enough shower seat to comfortably fit the backside or what's the point right?. Lastly, a high weight capacity rating is something some folks forget about.
Don't forget to check the weight capacity of the shower chair!. Now with all the prerequisites out of the way, let's get into what we believe are the best heavy duty shower chairs for overweight people.
Save