I hope you love the products I've recommended below, just a heads up that as an Amazon associate, I earn from qualifying purchases. This means I may earn commissions on products bought via links on this page.
These big Men approved armchairs for heavy people are exactly what my oversized family lounge room has been waiting for. The one room where we are meant to kick back and enjoy some lazy TV or simply chill out with a book has been tainted with inferior and in supportive armchairs for far too long.
Fortunately for us large people we now have more heavy-duty armchair options available thanks to the ability to buy armchairs online.
Below you will be able to find various styles of heavy-duty armchairs that all have high weight capacities. However, if you're looking for reclining chairs you will have to visit our high weight capacity recliner chairs section.
For more options than the ones listed below, I have included 7 more chairs on the heavy-duty living room chairs page. Here you can find chairs with up to 500 LB weight capacity.
Compare Armchairs By Weight Capacity & Seat Size
Heavy-Duty Oversize Armchair 400 LB Limit
When it comes to buying heavy-duty armchairs, sometimes the simple approach works best. PlushCore have done just that, they have created a heavy-duty 400 LB capacity armchair oversized to suit a larger size person.
Check Price & Availabilty Atomicbuys.com
While 400-pound rating may not be high enough for every obese person, for the majority this will work fine. What makes this option a good one for heavy people is the fact it has an extra-wide seat. Between the arms, you get a clearance of 24-inches.
This 24-inch wide seat is ample for the majority of heavy people and with the 19-inch depth, it makes it a suitable option for the big and tall people.
The frame is constructed using solid kiln-dried hardwood. All the pieces are solid with no adjoining connections. Meaning the frame is as solid as they come and how it came to gaining the heavy-duty label.
While the armrests aren't padded, I quite like the contrast of the grey fabric padding and the espresso look of the frame. It sparks a bit of character and life into the room.
But the clear winner for this chair is its wide seat and high weight capacity. These features are critical to finding the best armchairs as a big man.
PlushCore™ 400 LB Heavy-Duty Armchair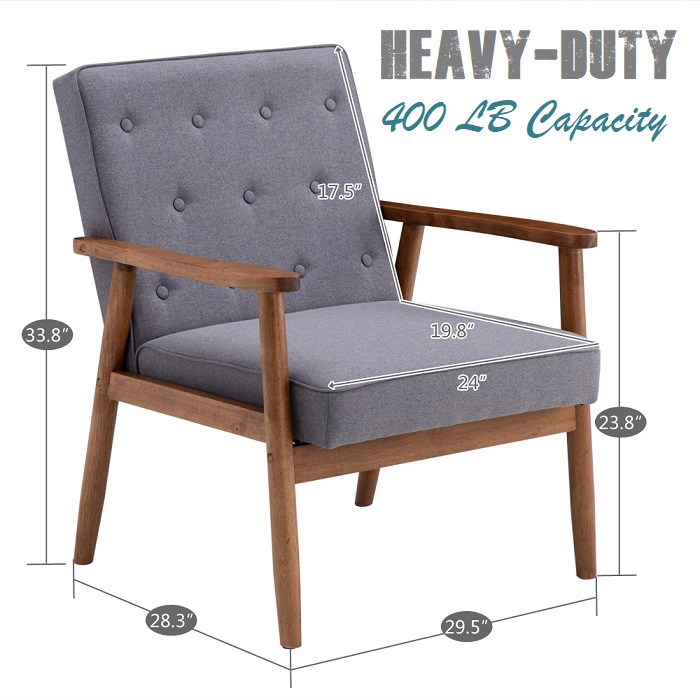 400 – 500 Lbs Capacity Armchairs

The brand LexMod are ever-increasing their presence in the big and heavy market, in particular the highly popular office chairs for large people. This beautifully upholstered armchair is another shining example of the high-quality products LexMod produces.
Note: This chair Is now by Modway. This chair is one large armchair with a high weight limit of 440 lbs. The seat is so wide 2 'normal' sized people may even fit on it. So for us heavy people, we shouldn't have to worry too much about with sufficient space.
The armchair is very well padded (which looks fantastic as well). This is a personal preference for the cushioning to be not too squishy or soft, as it just makes it that much harder to pull yourself out of any chair. So this armchair is perfectly cushioned for my liking, not too hard, not too soft.
This mid-century appealing armchair comes in a variety of colors. As for assembly, it's as simple as screwing the 4 legs into the well constructed and reinforced base. Do note some people have had trouble lining up the legs (legs screwing in on an angle), I've seen this happen on so many types of furniture.
It's not a hard fix, so don't ship anything back yourself as it's not worth it. Just bog up the existing screw hole and make a new centered hole and you should be good to go.
LexMod 440 Lbs Armchair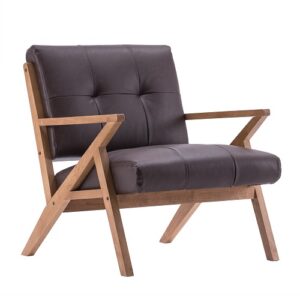 PlushCore™ 330 LB Oversized Retro Mid-Century Armchair
PlushCore returns with a similar size armchair, but this time it goes back in time to recreate the classic 60's silhouette appeal with a modern twist. This is the LZ PlushCore oversized armchair.
With an extra-wide 24″ seat and a weight capacity of 330 pounds, most overweight and some obese people will find this chair a great addition to their living room.
The PlushCore LZ Retro armchair is available in either a blue denim fabric or a coffee brown suede. Both materials look very appealing in contrast to the unique LZ wooden frame.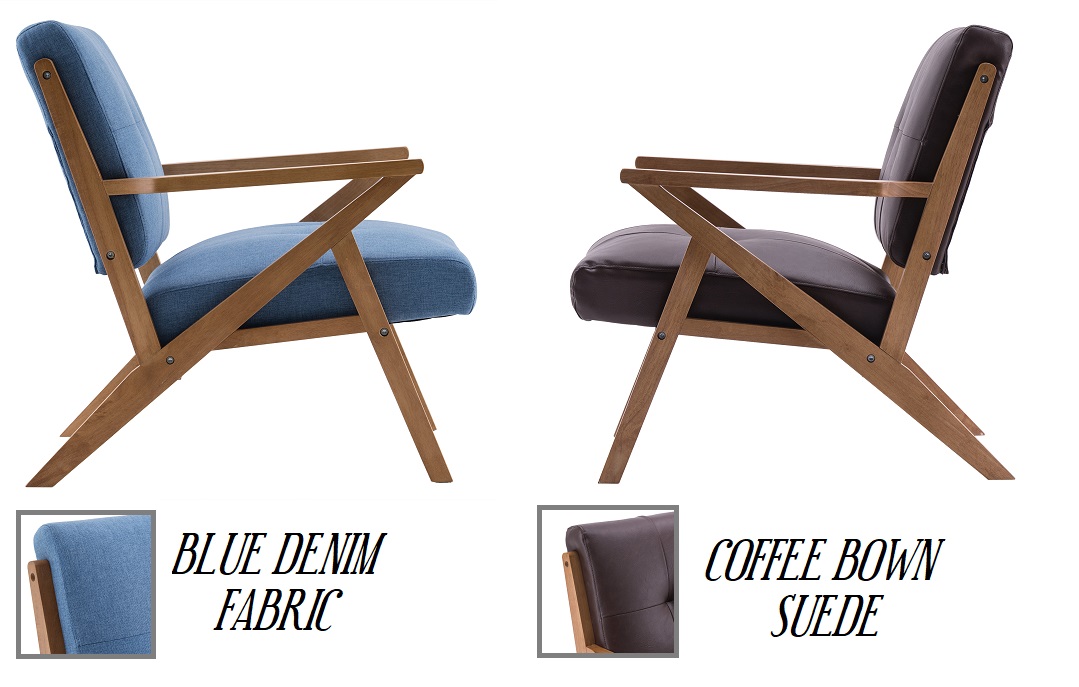 Unique But Sturdy Solid Wood Frame
What first took my attention with this PlushCore chair was the unique frame. I had never seen anything like it before. Like the other PlushCore chair this list, each part of the timber is one solid piece. So you get a good sturdy foundation to sit on.
The unique frame which represents the letters 'L' and 'Z' into the construction give it a real retro mid-century vibe. Even if you aren't into decorating your living room in a particular way, the contrasting design of either the suede or fabric with the LZ frame will work quite well.
I also like how thick the cushions are (about 4 inches thick), but it is the high density of them that is relevant to us larger folks. A low-density cushion would just flop out the sides and sag. Leaving you with the feeling of sitting on hard timber.
But with this higher level of density, heavier weights can be supported much better. The density of the foam padding and the wide seat alone is enough to make this a contender as the best armchair, but when you add in that unique LZ frame I think this chair just nails it.
The only disappointing aspect is the weight capacity is not as high as some other chairs on this list. However, I have the feeling that the way they designed the frame could have compromised its 500-pound potential capacity.
PlushCore™ Retro LZ Series Armchair 330 LB
Heavy Duty Club Chairs
By Lexmod Prospect Button Armchair

What a great heavy duty club chair for big people. This chair has a modern and professional appeal, which makes it ideal for home use and also for waiting rooms and such. Available in black or white and also as a 2 seater love chair.
While this armchair looks amazing and stylish, it's not the most heavy-duty rated. As the price reflects, it doesn't have such a large weight capacity as the above LexMod chair.
I would suggest between 285-300 pounds maximum. But for the price of this chair, I find it also makes a great footrest.
LexMod Prospect Armchair 285 Lbs
Universal Armchair 250 Lbs
The Boss – Captains Chair
The Captain's Chair by Boss has delivered a very versatile armchair here. It's fancy and elegant enough to adapt to many environments. This armed chair can suit many types of bars, game rooms, guest rooms and even the office as caster wheels are optional. Available in two-toned black or red, which adds a nice level of depth and character.
While this chair is only rated to hold 250 pounds, it's still one extra-large armchair. The seat space is wide enough to suit just about any backside, making this a good optional armchair for overweight people. Besides the luxury eye appeal factor, what's probably most attractive about this chair to me is how affordable it is.
A similar chair of this caliber you could easily expect to pay double if not triple. Depending on which shops offer this chair tho. Overall I find this chair is really comfortable for such a big chair at a very modest price. The Boss Captains Chairs is sure to be a winner in an open area at my place.
250 Lbs Capacity Armchair
Alternative Heavy Duty Armchairs
Whether you're obese or simply plus-sized, having more options when it comes to furniture is something we all strive for. If the above armchairs don't take your fancy, perhaps you could consider these heavy duty living room chairs.
With extra-wide seats and weight capacities from 330 lb to 500 lb, these chairs are sure to suit your needs.
Alternatively, you can check out the best power lift chairs for plus size people, these lift chairs are some of the widest on the market. A power lift chair is helpful for heavy people as the lift function allows us to get in and off the chair much easier.
Save
Save