Plus Size Recliners For Big Men
Find Plus Size Recliners, power lifts, rockers and standard oversized recliners for big men on display here. Categorized into weight capacities to make buying a Big Mans recliner chair less stressful and easier for you.
As the overweight and obese population continues to grow in large numbers, it's no surprise manufacturers are finally listening to the needs of the plus size community.
Instead of shaming us and telling us to lose weight, some companies are actually taking positive steps to help the heavy community enjoy life to the fullest. Which is great considering obesity rates have risen to 27.7% and continue to grow year after year. So now that we know we are being taken care of now and into the future, lets have a look at some Plus Size Recliners on the market.
Compare Oversized Recliners
We have categorized the Recliners into individual weight capacities where you can find the appropriate Power Lifts or Rockers suitable to your weight. Click on the appropriate links or images to get the full lists, read more reviews and where you can buy one for yourself.
It's important to remember we should all aim for a recliner with a higher weight capacity then our body weight. This is because our initial impact of sitting down has a greater force then our standalone body weight. As a rule of thumb, I generally recommend a person buys a recliner that's 50 pounds heavier then their body weight.
Rocker Recliners Options
A recliner that also has the rocking feature is certainly a great addition. However for heavy people the options are quite limited. This is due to the amount of pressure places on the structure under heavy loads.
To see what options are available, check out the recliner rockers for big people here.
450 Lbs Lift Recliner – My All Time Favorite

I'm going to start by recommending my all time favorite plush recliner for big men who need a 450 pound weight capacity rating. The Omni Catnapper – Power Lift.
A couple years ago, one of my friends was suffering severe back pain (A fellow big guy as well), so much so that he could no longer use the lever on his recliner to get into the recline position. The pain was too intense on his back that his old and dated recliner was rendered useless. So he came to me for advice as he knew I had some previous experience with the Catnapper.
It only took one quick demo and my friend was sold on the Catnapper Power Lift. Fast forward a couple years and he still continues to thank me for the recommendation. He even bought a second recliner for his Wife, as she became a little to comfortable 'sleeping' in his recliner. Smart move my friend.
Comfort Is Important As A Larger Person
The comfort level is something else, especially when in the reclined position. It works wonders for when I'm getting to sleep when the bed is just not doing the job. It seems to cure that 'I just can't get comfortable feeling' when finding it hard to sleep. Or when I have stayed up too late and the bed just seems so far away.
What The Catnapper Power Recliner Offers
Well as you can tell from the name, it's powered. What's even better is that it comes with its very own remote control. With the handy remote you have full access to any available recline position with the push of a button. Which is very handy for big people with sore bodies, back pain and or illness.
Another quality feature is that this chair has a battery power back up installed. Just in case your taking it very easy one day, fully reclined loving life and out of nowhere you lose power. The battery power will kick in and can be used as an emergency power source to get you up and out of the chair.
It's Also A Lift Chair
The lift feature is particularly handy if you're an obese person, suffer from bad knees/back or have a physical disorder. Without a lift feature, I find it almost too hard getting in and out of any recliner. Especially if the seat sits low to the ground.
The lift features basically helps you get in and out of the chair. By raising and tilting forward you can be seated while standing. When it comes time to get out of the chair, the lift raises you up and onto your feet again. Very handy feature.
So an extra large recliner needs to have this lift feature in my opinion. It's just too helpful to disregard. Especially as the years seem to pass so quickly, before I know it I will have no other option to use the lift feature to raise me out of the chair. So a good future investment.
I personally rated the Catnapper Omni as the #2 lift chair for heavy people. Find out which lift chair I rated #1 here.
Catnapper 450 Pound Lift Recliner
Big & Tall Recliners 500 Lbs Capacity
If your in the market to buy a 500 pound Big and Tall recliner chair, but have no idea where to get one. I've narrowed down 500 lb capacity chairs to just 2 suitable candidates we recommend.
These 2 chairs are beasts when it come to seat size and sturdiness. One's a Power Lift recliner and the other is a standard recliner. If you are a really big person, I highly recommend getting your backside into a Lift recliner. It could change your life in regards to easy access in and out of the chair.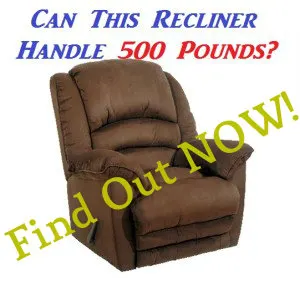 View Our Recommended 500 Lbs Recliners
Click on more details below to see the 500 pound weight capacity recliners I Highly recommend.
Big Man Recliners 400 Lbs Weight Limit
Malone Catnapper Recliner Review

The Malone Catnapper Recliner is another popular Big Man's recliner with a weight capacity limit of 400 pounds. This huge recliner is available in store from Jackson Furniture and is also available online. Online I have found it on the Amazon store, you can check availability here at Amazon.com.
The 400 pound weight limit is made possible because of the Malone's unique heavy duty frame. The reinforced steel frame and full steel seat support are what contributes to this recliner's ability to hold heavy weights. Having a good foundation like this is critical if you want a chair that lasts more than a few months.
Unique Padding
Most padded recliners that are plush yet supportive use foam padding. There is nothing wrong with this. But the Malone is unique in the fact it goes one step further towards making the user feel comfortable.
This is done by adding memory foam which is infused with gel. Memory foam is a comfortable material that molds itself to the shape of your body for what I reckon is complete comfort.
But there is one drawback to memory foam. That is it gets quite hot under your body, especially during the warmer months. However, this chair combats the heat by adding gel into the foam. What this does is allows the body heat to be transferred out of the foam and allows fresh air to circulate. Which keeps you cooler as a result. Traditional memory foam has no way for heat to escape, which is why it can get warm after some time.
I must say I do like the idea of gel memory foam inserts on a recliner like this one. Memory foam is especially comfortable in office chairs, and mattresses. I'm liking the idea of it becoming more popular in recliners too.
The added ottoman or leg rest on this oversized chair is a great idea, especially for the big and tall guys. Nothing worse then feet hanging over the end and the footrest digging into your ankles. So it's a nice addition if you ask me.
400 lb Capacity Catnapper Malone
500 Lbs Premium Comfort Recliner With Massage
[review_bar id='2041′]
This is going to be my chair for 2018, no ifs buts or maybes. This is a beast of a chair which also happens to have a 500 pound weight rating. I'm not sure how long it's been on the market, but because of the features on it, I would assume less than 2 years.
The chair in question is by Therapedic. Not a huge brand name in the recliner market, but still an awesome addition to any lounge room. While it may be considered expensive to some, what you get for the dollar is really valuable when you consider the features it offers.
Some Of The Notable Features
For starters, this power lift recliner has the widest seat (distance between the arms) for a power lift chair that I've seen. As presented here on the widest recliners page. The distance between the two arms measures about 27 inches. Which is about 8 or 9 niches wider than a standard power lift chair.
A lift chair by itself is a great investment for heavier people as it literally helps you get in and out of the recliner. The chair is operated by power (most have battery back up power) and raises to a height where you can just fall back into. Push the button again and get lowered into position. Same with getting out of the chair. Push the button to lift you out of the chair. Very much a much loved Big Mans tool.
So it's big, wide, has a high wight capacity and makes life easier for the big person via a power lift. What about the other features I've been going on about?.
Well, a hidden gem in this recliner is the gel infused foam that makes the comfort on this thing out of this world. Inspired by the above 'Malone chair', I wanted to find more recliners that use this technology.
With traditional memory foam, big people like us tend to sweat a lot. That is because memory foam retains heat very well. Nobody likes sweating in a recliner right. But with the gel infused foam, air can circulate much better letting heat escape. Genius idea and one I haven't seen too often on recliner chairs (just yet).
This chair also offers massage and heat options. This is where the real value is added to this chair. A massage chair for heavy people can cost double if not triple the price. So getting a feature like this included just adds great value to the Therapedic recliner.
Power Lift Recliner With 500 Pound Capacity
If the above Therapedic was not for you, perhaps the Mega Motion easy comfort 'Superior' power lift is a better option. While similar in specifications, the 'Superior' is a completely different chair.
It's different in that it is fabric (knitted polyester) rather than leather, which in my opinion is a better choice. Leather gets too hot and sticky in summer, but fabric of course is harder to clean yet lasts longer when looked after.
Size Does Matter
In terms of size and capacities, the Superior is another 500 pound capacity recliner. The furniture grade frame made from hardwood and steel lift ensure its a heavy duty chair.
The size of this chair is just huge. With an incredible 27 inches of seating space between the arms, most heavy people will enjoy the ability to move and not feel squished.
The seat sits about 20 inches tall which is a good height. Not too low that its extremely difficult to get out of. But then again, it's a power lift chair so you can easily get in and out of this chair anyway.
Some folks have complained about the armrests height as they sit 6.5″ above the seat. Which for taller people may be a little low. But when it comes time to reclining, the armrests are perfectly positioned. So it will be a case of it may annoy you, or it may be perfect.
The Reclining Options
With the Superior you get 3 set reclining positions. Seated, semi reclined and fully reclined. When fully reclined the total length of the chair is about 6 foot. But as it is not a straight flat surface, people over 6 foot may still enjoy the full benefits of being reclined.
The simple to use push button remotes allows you take advantage of these positions, while also operating the lift options. So while big and intimidating, it's quite easy to operate. Like all good power lifts, this one also comes with a battery back up power bank. But you will need to provide your own 2 x 9V batteries.
A Sturdy And Reliable Recliner
Being a lift chair, you want to make sure it's sturdy to use. Especially on surfaces that may not be completely flat. Fortunately the Superior recliner has 4 steel leg levelers to do just that. Make sure it is sturdy and level regardless of where you use it.
Overall the Mega Motion Superior is quite a heavy duty chair with modern technology to make life easier for the big person. The power lift operates smoothly and isn't too loud. There's sufficient lumbar support for looking after people with bad backs and even comes with 2 pockets on the sides for keeping remotes and magazines in.
The extra wide seat and 500 pound weight capacity make the Superior one of the best choices if you can afford the upgrade to a power lift recliner.
Mega Motion Easy Comfort Superior 3 Position Heavy Duty Big Lift Chair
Best Recliner For Big And Tall People
Many of us heavy people are quite tall, so a recliner with a high capacity also needs to have height specific measurements also. When it comes to recliners for big and tall people, I haven't seen a better chair than the Lane Stallion Comfort King.
With a 500 pound weight capacity and the measurements to suit tall people up to 6'8' comfortably, I think it's a tough ask to find a better recliner.
For big people, the 25 inch distance between the arms means greater seating area. This is a true oversized recliner, not one with a high weight capacity, but small measurements. So the width of the seat and the 500 pound weight capacity ring true.
For The Big And Tall People
So heavy people are covered, what about the taller bulkier people. Taller people will enjoy the higher seat, which sits at 22 inches off ground level. The seat depth is also a generous 21 inches, so room to support those knees and thighs. The armrests are 28 inches from the floor which is about 6 inches above the seat height.
The Lane Stallion Comfort King when reclined is the size of a king mattress, length wise. So if you are tall and sick of your feet hanging over the ends of the footrest, this Stallion King may be the best option. Because of these oversized dimensions, the Stallion King is one of the longest recliners out there for tall people.
It's A Basic Recliner, Yet Amazing!
Sometimes technology is best left out of certain things. This is the case with the Lane Stallion Comfort King. Being a simple wall saving recliner that operates with a long lever/handle to recline, there's no way to let technology ruin this experience.
It's just your old fashioned comfortable recliner, but on steroids. It doesn't rock, only needs about 10 inches from the wall as the seat reclines forwards and best of wall it doesn't need to be close to a power source.
However it is quite heavy (169 Lbs), so if you can afford the White Glove Delivery, let the delivery guys bring this chair in and set it up for you. Your back will thank you. Otherwise its up to you to drag the 169 pound beast inside.
Lane Stallion Recliner
Should You Buy A Recliner Online?
A concern for many people is whether or not it is a good idea to buy a recliner chair online. It's a tough question because there has been and always will be cases where issues arise. But this too is the case when you buy in store.
However, in store you have the luxury of sitting in a recliner and determining if its right for you. As a big person, it's very important to know the weight capacity and not all stores provide these details.
Buying online is good in that the chair gets delivered to you and usually comes with a decent warranty. So there is no need to worry about transporting such a bulky item to your doorstep.When ordering online, you may come across the option to buy White Glove Delivery.
If you can afford to do so, take this option as it means the delivery guys will actually bring the chair inside your house for you. Not just leave it on the curb like many do. So of course there is some risk when buying online, but if you buy from a reputable company like Amazon, you know you are in better hands.