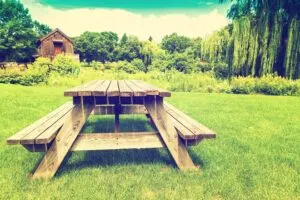 It has never been easy to find safe and secure picnic table sets for heavy people. The truth of the matter is that these kinds of tables and chairs are not best suited to us bigger people.
More often than not the picnic benches are so close to the table that even non overweight people struggle to slide in to sit down. Even when we go to the park, the permanent picnic benches are difficult to sit on.
Most of the time it forces us to have our backs to the table and face away from the other people at the table. while some people may see this as being rude, but the reality is, it's the only way we can sit on the picnic bench.
When it comes to buying a picnic table set, there are 2 types to keep in mind:
The portable options suited for taking camping, to the park and outdoor gatherings.
The permanent picnic table solutions for setting up a nice looking picnic area in your backyard and garden.
Below you can find a couple of both portable and permanent picnic table sets for heavy people based on our research. Unless you plan on getting a custom made picnic table to suit your size, unfortunately there are not a lot of options for bigger folks.
Heavy Duty Camping Picnic Table & Bench Sets

I can honestly say I have never trusted or felt safe sitting on those folding camping table and chair kits. They always look so flimsy and only strong enough to hold children.
However, that all changes with this Stansport heavy duty folding picnic table set. It is the perfect size table for 2 overweight people to have for a romantic picnic down in the park, or for their evening meals under the stars while camping.
The table is designed for 4 people to use, however it is best suited to 2 oversize people and may a small child. Each of the picnic benches can hold up to 500 pounds which is decent for the heavy person.
Supportive Features
What stood out on this Stansport folding picnic table to me was the greater range of supportive features. Other sets like this often have just one solid bar supporting the entire bench.
With this one, there are 4 legs to support each bench and a wide footing to give greater counter balance when sitting down.
Additional, there are 2 reinforcement bars that connect from the middle of the bench to all 4 legs on each bench. Without this feature alone, I would not dare sit on a folding chair like this. However, Stansport have taken the initiative to give this picnic table and chair set the reinforcements us larger people need.
I also like that the stools are a little higher than standard (about 18″ to top of seat", while still not as high as I would like, but its an improvement over the ones that look like they are only suitable for children to sit on.
Picnic Table For Oversize Family

With a bench weight capacity of 900 pounds, this Lifetime folding picnic table set is probably the best portable option for a family with multiple overweight members.
This table set is a bit bigger than the above Stansport, having the capacity to sit 8 people. But in reality, this will be more like 4 or 5 people. Especially if there are several bigger people required to use the picnic setting.
Unlike the Stansport, these Lifetime benches don't have any additional support bars in the centre of the seats. So I would feel a bit nervous sitting in the middle of the bench. Leave this are for the children while us larger adults sit on the ends where the support poles are located.
While the frame is made out of heavy-duty steel, my concern with this set is that the entire table and chairs are interconnected together. While this could prove beneficial in terms of stability, it also gives me some scary thoughts.
Such as, what if you are sitting on one end of the table and the steel can no longer support your body weight. The leg bends underneath you and down comes the whole table as a result of all benches and the table being connected.
This may be a very rare case indeed, but still one that plagues my mind. However, unless you take standalone camping chairs for heavy people, I feel this Lifetime picnic table and bench set is the best option available at the moment.
Heavy Duty Commercial Picnic Tables For Home
When it comes to setting up a permanent picnic table and bench in your garden or on the lawn, as a heavy person there is no alternative solution other than investing in a high strength commercial grade kit.
A commercial grade kit will effectively cost you more upfront, but you can be rest assured knowing you got the best product to suit your needs.
A weak and flimsy picnic table and chairs that wobble the moment you rest your elbow on the table or become weak the moment you sit your backside on the chair, is just not acceptable.
The Best Commercial Picnic Tables
There is one company that appeals to the heavy people with their heavy-duty grade table and chair kits. This company is Norwood Commercial Furniture.
Norwood sells more than just tables, but it is there commercial line of picnic tables that are of particular interest. Reason being they construct the picnic table and benches from 14-gauge commercial grade steel.
2000 LB Capacity Outdoor Wood Picnic Table Set

Nothing beats a solid wood structure in terms of strength and reliability. If you look after wooden products like this, they can last a lifetime. Unlike metal, wood doesn't bend as such and provides a strong and sturdy platform for heavier people.
This heavy duty outdoor picnic table set is made by Giantex and one feature I appreciate is the round table. For a large person, things with sharp pointy edges are a huge obstacle.
With a round table like this, you don't have the ends of the table to deal with. Which gives you more area to walk in between the table and bench, without having to worry about knocking the table over with your body.
Heavy Duty Design
One of the key features of this Giantex wood picnic table is the design. The construction of the table gives heavier people more confidence to sit on the benches safely. This is achieved by the fact that each of the benches is mounted to the support foundations of the table.
More importantly, the middle of the bench is directly supported by the horizontal beam of the table to give it that extra strength needed.
Having this support allows you to feel confident sliding over to the middle of the bench without the fear of it breaking in half. This is where a lot of benches come undone as they don't provide sufficient support to the middle of the bench, which is a nightmare for heavy people.