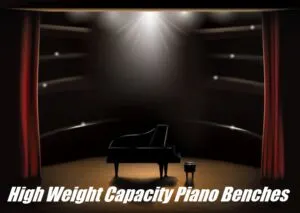 When mastering the piano for hours on end, the last thing you want to happen is the seat to break beneath you. Finding a piano bench for heavy people that wont be a pin in the backside to sit on and won't crumble under your body weight can seem intimidating at first.
Finding the best piano benches in general can be challenging with the large number of options available. With varying sizes, colors, builds and adjustable features, beginning your search online is a quite route to becoming overwhelmed.
The advantage an obese or overweight person has is the fact the options available are far fewer, making the buying decision all that much easier. However, you should not just buy the first heavy duty piano bench you lay your eyes on.
The factors to consider as a big person can include the following:
Weight Capacity – The bench must have a higher weight capacity than your actual body weight.
Seat Width: Most heavy people need to be looking at the double or duet benches for the extra seat width. With seat sizes around 30 inches, you don't have to worry about the chair riding up your backside.
Dense Padding – A seat that is too squishy will leave you with the feeling of sitting on hard wood. A heavy person requires a high density seat to provide sufficient support.
Heavy-Duty Build – Piano benches can be made from a number of materials including wood, steel, and MDF. Regardless of which option you choose, you should consider the actual construction of the frame. has it been reinforced to hold higher weights for longer periods of times? Don't be afraid to ask the salesperson or online seller these questions.
Best Piano Bench For Big & Tall People

This is one of those products that you can tell is heavy-duty just by looking at it. This bench is by CPS Imports and it makes for a great option for the big and tall people.
What gives this bench the heavy duty rating is the fact it is constructed from 100% solid hardwood. It is not constructed using cheap MDF or particle board and as a heavy person, this is simply a must.
Height Adjustable for Tall People
Short people miss out with this bench, but average height to tall people reap the rewards. With a height adjustable seat, this bench can raise form 18.5″ to 21″ tall. However, do keep in mind the height of your piano to ensure its not to tall to have your wrists comfortably positioned on the keys
Made With Genuine Leather
A rarity for a bench in this price range is to find one that actually uses 100% genuine leather. No fake synthetic materials are used in the covering. With real leather, it is important that you maintain the upkeep on it so that the leather remains pliable, soft and moist.
Otherwise it will dry out and eventually peel. If this happens, you have wasted your money on genuine leather and could have just bought a cheaper PU leather option for half the price.
Extra Wide Bench
Lastly, the bench offers at least 5 inches more sitting space than many double benches. At 34.5″ in length, you get ample space for wider backsides to comfortably sit.
The bench weighs close to 50 pounds, which is a good indication of the strength of the seat. While the heavier the seat makes it harder to easily move around, it gives you the reassurance of a stable and reliable bench.
CPS Imports Genuine Leather Adjustable Duet Size
Highest Weight Capacity Piano Bench

After extensive research, the piano bench with the highest recorded weight capacity is a 550 pound capacity option by AW. This is a duet bench, but best suited to one large person.
It's your no bells and whistles approach to piano seating, which does have some drawbacks. The main drawback is that it is not height adjustable. With a set seat height of 17.84″, most average height people will find it suitable.
However, the tall and short people may find it difficult to get comfortable at this height. With a lack of other 500 pound options available, short and tall people can use assistance aids to prop themselves up to find a comfortable height for them.
The bench features a folding lid for storage under the seat. The important aspect of this is the reinforcements made. Each of the internal corners has a steels brace connecting the two sides together.
This helps to give this piano stool the robust and heavy duty rating a plus size person requires. However, the price of the chair and the low product weight suggests to me that you may be replacing this seat more often than one that would cost you over $1000. Is this one of those cases where cheaper is not better?
Available on amazon in either black or white.
AW 550 LB Capacity Dual Piano Bench
440 Pound Capacity Piano Bench

For a more of a country vibe, this reddish brown Birch wood bench by HomCom will do the trick. With a 440 pound weight capacity and internal seat reinforcements, this bench is a suitable option for the overweight piano players out there.
The bench measures just shy of 30 inches in length giving plenty of seating space for the larger person. The foam padding used is quite dense giving the support required. The seat is finished in PU leather, which is cheaper than real leather. So don't expect it to stay in tact as long as genuine leather.
The interior storage area is quite decent going the full width of the seat. The internal clearance allows for 2 inches of height, which is sufficient for most music books to fit in without issues.
Being constructed from Birch wood does give it an overall lightweight. So if you need to transport the bench from room to room, the weight won't be an issue.
Keep in mind, you do need to assemble the legs to the main part of the bench. The wrench is included to make life easier. While it is simple to assemble, just be mindful of the seat falling down on you if assembling while open.
HomCom Duet Piano Bench 440 LB
Height Adjustable Piano Bench For Heavy Person

If you are not wanting to take up the extra space that a duet does, you need to look for a high weight capacity single bench. This option by GoFlame provides just that.
With a 395 (400) lb weight capacity, this height adjustable option is perfect for the big and tall person. The width of the seat is 25 inches allowing a single big person to safely sit. However, its not the ideal piano bench for short people.
This bench has a very high maximum seat height of 23 inches, and at it lowest it only goes down to 19 inches. So quite the tall piano bench.
To raise the seat height, there are two knobs on each end of the chair. You simply twist these knobs and the heavy duty mechanism inside the seat will raise or lower the seat to your desired height.
The biggest issue with this bench is the lack of under-seat storage, but this is pretty normal for a chair that raises in height like this. So you wont be able to store thick music books in the seat sadly.
The winning factor for this bench is its pure strength. The frame is complete solid wood, giving it a real robust feel. With an almost 400 pound weight capacity, this piano bench should be strong enough to handle most heavy users.
GOFLAME 395LB Capacity Single Piano Bench
Heavy-Duty Portable Folding Keyboard Stool

The last piano bench/ keyboard stool I want to mention is a little bit different. It is a folding and portable option suitable for musicians and people that take piano lessons away from their home.
It's not common to find such heavy duty options that are portable as well, which is why it is necessary to list this stool here. It has a 360 pound weight rating so it is suitable for many heavy people, but probably not ideal for the morbidly obese.
In terms of seat size, you get a decent amount of space for a fold-able bench. It measures just over 23 inches wide width a depth of 12.5 inches. Most heavy-duty folding chairs don't have seats as wide as this bench.
Another impressive feature, again for being a portable option, is the padding. The level of thickness and density is quite impressive. The total thickness of the cushion is 3 inches and again, is very supportive.
Overall, its hard to beat the On-Stage KT7800+ for portability, durability and all round strength if you need a piano bench that is easy to transport.
On-Stage KT7800+ Deluxe X-Style
Need Help Choosing A Piano Bench?